The Truest Eye: Wisdom and Vision from Toni Morrison
Selected Quotations from an American Icon
Through bricolage—construction or creation from a diverse range of available things—The Measure of Our Lives aims to limn the totality of Toni Morrison's literary vision and achievement. It dramatizes the life of her mind by juxtaposing quotations, one to a page, drawn from her entire body of work, both fiction and nonfiction—from The Bluest Eye to God Help the Child, from Playing in the Dark to The Source of Self-Regard. Its sequence of flashes of revelation—remarkable for their linguistic felicity, keenness of psychological observation, and philosophical profundity—addresses issues of abiding interest in Morrison's work: the reach of language for the ineffable; transcendence through imagination; the self and its discontents; the vicissitudes of love; the whirligig of memory; the singular power of women; the original American sin of slavery; the bankruptcy of racial oppression; the humanity and art of black people.
*
"Don't you remember being young, when language was magic without meaning? When what you could say could not mean? When the invisible was what imagination strove to see? When questions and demands for answers burned so brightly you trembled with fury at not knowing?"
*
"Their conversation is like a gently wicked dance: sound meets sound, curtsies, shimmies, and retires. Another sound enters but is upstaged by still another: the two circle each other and stop. Sometimes their words move in lofty spirals; other times they take strident leaps, and all of it is punctuated with warm-pulsed laughter—like the throb of a heart made of jelly."
*
"I have only to break into the tightness of a strawberry, and I see summer—its dust and lowering skies."
*
"The visionary language of the doomed reaches heights of linguistic ardor with which language of the blessed and saved cannot compete."
*
"Language, when finally it comes, has the vigor of a felon pardoned after twenty-one years on hold. Sudden, raw, stripped to its underwear."
*
"Definitions belonged to the definers, not the defined."
______________________________________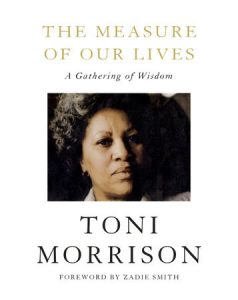 From The Measure of Out Lives: A Gathering of Wisdom by Toni Morrison. Used with permission of the publisher, Alfred A. Knopf. Published by Knopf December 3, 2019. Copyright © 2019 by The Estate of Chloe A. Morrison.
---