The True Stories of the Women on the Front Lines of America's Fledgling Intelligence Services
Nathalia Holt on the Early Wise Gals
The message could kill someone. It moved from Berlin to Lisbon to Normandy. Then it was stolen off the coast and sent to Bletchley. Twisted around until nearly unrecognizable, it was shipped off to America. In Washington, D.C., it was jumbled once more before being sent to London and then back to France. The paper swam in a sea of secret messages that formed a flood of intelligence during World War II. Finally, in Normandy, on December 20, 1943, X-2 counterintelligence agent Jane Burrell caught it and read the name that had been hidden between the mixed-up letters.
The name: Carl Eitel.
Carl Eitel had other names. Ten years earlier, when he worked as a waiter on the SS Bremen, moving between Germany and New York, he had been known as Charles Rene Gross. The waiter had spent long hours detailing the ports of New York in his notebook, with an emphasis on their fortifications and aircraft support. Once in the city, he slipped off to the Roxy cinema and then got a beer at Café Vaterland on the corner of Eighty-Sixth Street and Second Avenue.
Relaxed and happy, he casually wandered the streets, stopping at every bookstall he could find. He didn't look for reading material. Instead, he purchased technical magazines by the dozen. No matter the subject, Eitel wanted them. Although his behavior had been unusual, he'd passed unnoticed at the time. It was 1934, after all, and the borders of America were then wide open for Western Europeans… even those with an odd penchant for technical detail.
In his hotel in New York, Eitel took a tube of what looked like modeling clay, working it through his fingers until the material was soft and supple. Squeezing a little into a glass partially filled with water, he stirred the substance until it turned a mustardy yellow color. He dipped a toothpick into the thick liquid and dragged it across a sheet of rough paper, writing sentences that quickly faded as the fluid dried on the page. The rugged bond obscured any imperfections caused by writing with a crude toothpick, and soon the sheet of paper appeared blank again. Eitel then used that same piece of seemingly blank paper to write an innocuous letter to Germany, sharing mundane details of life in Manhattan and how much he missed his homeland. But underneath these pleasantries, the contents of his missive were anything but harmless.
The message could kill someone. It moved from Berlin to Lisbon to Normandy. Then it was stolen off the coast and sent to Bletchley. Twisted around until nearly unrecognizable, it was shipped off to America.
Eitel was in fact working for Abwehr, the German intelligence agency, scouting details about the technological capabilities of the country his homeland would soon be at war with. Of all his various duties in the US in that precarious inter-war period, however, none was more important than recruiting new agents. Earlier in 1934, he had introduced a young Spaniard named Juan Frutos to the world of German espionage. Frutos was at the time a baggage handler who also worked on the SS Bremen.
An ocean liner was a wonderful place for a spy like Eitel to enlist new agents: it was full of young people who spoke multiple languages, were accustomed to travel, and were in need of money. Frutos was enthusiastic about working for Eitel, no matter how seemingly inconsequential the mission. On one trip he had extravagantly handed Eitel an envelope, as proud as if it contained Winston Churchill's darkest secrets. Instead it was packed with the modest request made by Eitel: dozens of postcards, each one depicting a different French warship. Simple, yes—but these sorts of details would inform crucial intelligence for the years and conflicts that followed.
The two men had kept in contact over the years, as Eitel moved from New York to Germany and then on to Brest, France. The location had the strategic advantage as the closest French port city to the Americas. There Eitel's life had become increasingly luxurious, as World War II had begun and Eitel enjoyed the fruits of his years of intelligence work. During the day he worked inside the charming surroundings of an ancient stone castle, the Château de Brest, which was seized during Germany's occupation of France. He was building an intelligence service using the port's fishing boats. Every day was profitable: even if the boats didn't turn up information about the suspicious travel habits of French citizens, the daily catch made a healthy addition to his bank balance.
His hair had started thinning and his potbelly ballooned, but Eitel was happy. In the evenings he took his girlfriend, Marie Cann, to the bistro he purchased from the profits of Abwehr and the fish market. The rest of his money he blew on extravagant gold jewelry, not for Cann but for himself. His small, round glasses often reflected the glinting light from his gold chains and rings.
The good life was about to end for Eitel. In the summer of 1943, he left France for Lisbon, pulling behind him a web of intelligence agents that stretched across Germany, France, and now Portugal. In his pockets were papers that identified him as a French citizen named Charles Grey. If arrested, he would show those papers to authorities and pledge his allegiance to the Allies. Yet hidden deep in his belongings, where he hoped they would never be found, were a German passport, a gun, and a vial of cyanide.
The message that would lead to Eitel's downfall seemed harmless at first glance. It was only a few lines long and one of thousands of transmissions moving through Bletchley Park, Britain's premier cryptanalysis operation. While America's fledgling spy agency was just starting to take baby steps, Britain's MI6 intelligence service was already at a full gallop, and Bletchley Park was the beating heart of the whole operation. And it was a surprisingly equitable one as well—through a combination of availability (most men were off at war, after all) and smarts (specifically in mathematics, where many of the women shined), 75 percent of the team at Bletchley was female, and together they received encrypted messages that had been intercepted over the radio.
In 1940, the team at Bletchley had broken Germany's intensely difficult cipher, Enigma. Codes and ciphers, terms often used interchangeably, are in fact distinct. A code replaces the word or phrase entirely, while a cipher only rearranges the letters. Both codes and ciphers make a message secret and comprise encryption. There were thousands of Enigma ciphers being sent by the Germans, and Bletchley Park was swimming in data, only able to decipher a percentage of the transmissions. But as the Allies were finding, breaking the cipher (as huge of a feat as that had been) wasn't going to be enough.
Even after the jumble of letters and numbers were deciphered, they still didn't make sense. There were too many acronyms to understand the cryptic transmissions, and then all the individual snatches of conversation needed to be pieced together to comprehend the larger message. The codebreakers analyzed the material, fitting together the pieces of information like a puzzle. When they were done, the intelligence they had gathered, deciphered, decoded, and reassembled was called Ultra.
It wasn't difficult for her to keep quiet. Addy felt special, and she knew she was going to hold on to her secrets, no matter what.
The group at Bletchley did not decide what to do with Ultra. Instead, the messages were disseminated to a select group of high-level agents at British intelligence and in the newly developed US spy services, who would use the hard-won intelligence to their advantage. These messages were precious and seen only by a small number of operatives. They were code-named Ultra because this prized wartime intelligence was considered elevated above even the highest British security clearance—it was the most secret, most valuable commodity the Allies had.
Meanwhile, half a world away from the front lines in Europe, another Wise Gal was struggling with her own sea of secret messages.
In Washington, D.C., months before Eitel moved to Portugal, his name was revealed in a coded message. It was winter, with air so cold and dry it could make your skin crack, but inside her office, Adelaide Hawkins was dripping with sweat. You might think the trouble was the stress of her job. As chief of the cryptanalysis section, she hired, trained, and organized her team of dozens of men and women. The center prepared messages, encrypting and transmitting them across the globe, before decrypting the replies and routing the messages to the appropriate individuals. Her office was nothing like the Bletchley Park complex across the Atlantic. Instead, the majority of American codebreaking during World War II was handled by the US Army Signal Corps and the US Navy Signal Intelligence Group. Addy's work was starkly different, yet it would wield a critical and lasting impact. She was on the forefront of an American experiment that would later be called central intelligence.
Addy was a founding member of a group that was fumbling for recognition: the fledgling American intelligence organization called the Office of Strategic Services, or OSS. The OSS was the world's newest intelligence agency… and by far its least talented. The inexperienced US agency could hardly be compared to the well-established British intelligence service, a massive organization broken into MI5 for domestic spying and MI6 for international espionage. Yet the need for an American system of organizing, evaluating, and communicating intelligence operations across the globe was pressing.
On this Saturday morning in February 1943, inside the headquarters of the OSS, the problem was not the gravity of her work. Instead it was the stuffy basement in which she and her team were confined. There was no air circulation, and the room was packed with young people working elbow to elbow, dancing around the room during moments of success, and even occasionally breaking out into song. But no one was singing now. It was too hot. Then, the door swung open loudly, and General William Donovan walked in.
Donovan was known by the fun-loving nickname Wild Bill, although there was little crazy about his personality. The man who once planned to become a Catholic priest did not smoke or drink to excess. He was sixty years old and spoke in a reserved voice. He had a round face, a head full of gray hair, and blue eyes that, when narrowed at you, reflected the sagacity of his years of experience. All that experience and gravity was put to the test in his current role as head of the OSS.
As he barged into the room, he remarked, "It's awfully warm in here."
"I know," Addy replied mournfully. "The windows are closed and they've gone away without working on the air conditioning and I don't know what we can do." She gestured toward the small windows above their heads—they were at street level and didn't appear to open.
Although uncomfortable in the hot basement, Addy rarely complained. She was thirty years old, married with three young children, and she adored her job. She had initially joined the OSS in 1941 as a way to escape her annoying mother-in-law, a prickly woman who had come to live with the family after her husband was deployed overseas. But she'd grown to love the work and the way it made her feel irreplaceable.
She sat at her desk and pondered the stacks of paperwork in front of her. We're fighting for our lives, she thought to herself. I can do this. Yet when her thoughts turned to the men and women suffering overseas, she felt a sharp pang of guilt. If she was being truly honest with herself, she had to admit that she had never been so happy as she was right then, during World War II.
Like the work of everyone on her team, Addy's work was secret; she could tell no one in her household how she spent her days at the agency. To the outside world, even her in-laws, she was merely a clerk. Addy found that people rarely questioned her. "Oh, is that so?" they would say, before losing interest in her unimpressive job. It wasn't difficult for her to keep quiet. Addy felt special, and she knew she was going to hold on to her secrets, no matter what.
The work represented far more than a retreat to her. She couldn't imagine her life without it. Still, she knew that she was considered a placeholder. Her position as chief was too critical to entrust to a woman, and certainly not one like her, a mere high school graduate from a small town in West Virginia. All around her were men who had graduated from Ivy League institutions, who were lawyers, professors, and journalists. It was only a matter of time before administrators hired a man to fill her position. She would then have to work under him, as a deputy. Whispers about possible replacements were already circulating, and Addy knew that she needed to make herself indispensable if she wanted to keep her job. Right then, however, she was too hot to think.
"Why, you young people can't work like this," Donovan said as he looked around and then headed back to his office upstairs. Addy assumed he was getting on the phone to maintenance. Instead, a brown shoe suddenly kicked through one of the windows from the outside, and her desk was covered in shards of glass. She stood, openmouthed.
"And a good thing I wasn't sitting down," she said.
The solution was pure Wild Bill—bold, immediate, and a touch reckless. Despite Donovan's age, there were moments when the years rolled right off his back. "Anyone could do it," he'd say, the excitement spreading across his face as he spoke of an operation's potential success. In reality, few were as skilled as Addy.
At the moment, Donovan was as animated as a teenager. Addy had decrypted a new message, deciphered its meaning, and then had rewritten its contents, jumbling its letters once more according to their code, so that it could travel secretly to Donovan's London office and then to Jane Burrell in France. The new intelligence would draw Donovan back across the ocean to London, where he would spend most of the next few years establishing a new group of spies, ones bent on penetration and deception.
__________________________________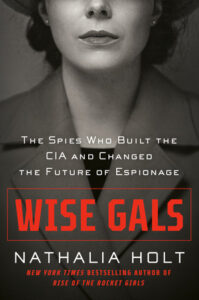 Excerpted from Wise Gals by Nathalia Holt. Excerpted with the permission of G. P. Putnam's Sons. Copyright © 2022 by Nathalia Holt.
---