The Trailblazing Black Models of Miss America
Margot Mifflin on Lencola Sullivan and the Racism of Beauty Pageants
When would a woman of color become a finalist? Miss USA was already way ahead of Miss America in embracing diversity; its first Asian American winner, Macel Wilson of Hawaii, took that crown in 1962. Jayne Kennedy, the first black Miss Ohio USA, was a semifinalist at Miss USA in 1970. Miss America was mulishly slow to evolve.
Throughout the 1970s, black women made sporadic progress as four more won their states. In 1973, Lydia Lewis of Kentucky became the first black Southerner to compete. Miss Wyoming, Cheryl Johnson, followed in 1974 and found a nasty note in her Atlantic City dressing room labeled Ticket Back to Africa. Johnson was a football player—football!—on a female team at Laramie Community College, probably the only one in Miss America's history. ("I'm no women's liberationist," she said in a caveat that would be echoed by generations of reluctant feminists, in and out of the pageant world, through the decades, "but I guess you could call me a sympathizer as far as jobs are concerned.")
Finally, in 1976, Delaware's Deborah Lipford became the first black woman to break into the top ten. In 1980, Lencola Sullivan, Miss Arkansas, hit the top five. After almost sixty years, the crowning of a black Miss America finally seemed possible. And with Doris Janell Hayes (Miss Washington) arriving the same year as Sullivan, the job of the trailblazing black contestant became a little less lonely.
Sullivan's grandparents, who had 11 children and no college education themselves, had worked picking cotton and beans to put their kids through college. But they only earned enough for one child's education. The oldest of five, Sullivan decided to pay her own way by competing in pageants, where she not only determined she could make good money even as a runner-up, but also had fun and enjoyed "discovering things about myself," she told me. She won three locals, making history as the first black winner in each, then went on to the state competition. After twice making the top ten at Miss Arkansas without winning, Sullivan planned another try, but her mother, convinced that a black Miss Arkansas simply wouldn't be crowned, questioned the decision. Why not enter a pageant like Miss Black America, she asked, where her chances were better? Sullivan wasn't interested; not only were the winnings much smaller, but she wanted to be prepared for the real world, "and the real world has more than only my culture represented," she said.
Racism, subtle and overt, awaited Sullivan and Hayes in Atlantic City. Hayes was harassed at the opening parade. "Oh go take a bath, Miss Washington," a bystander taunted her. "You're too dirty to be in the parade." They fielded endless questions from journalists about race ("How does it feel to be a black contestant?") and were often pitted against each other. Asked, "What do you think your chances are against Miss Washington?" Sullivan wanted to say, "Well, there are fifty other women in this pageant!" Her chaperone finally snapped and told reporters their line of questioning was rude. But Sullivan said it was okay, because her parents had taught her not to let racism get in her way. "They said, 'Life isn't fair. You just have to be twice as good.'"
She won her least favorite part of the pageant: swimsuit. Her discomfort about it still crackles 40 years later in a phone interview from her home in the Netherlands, where she works as a diversity and inclusion trainer for Shell International. "We had to walk and stand in front of the judges and let them look at us to see and compare us to all the others. And that was horrible. When I think about it now, I think, Oh my God. And some girls—I could see their knees knocking, they were so nervous to stand there. [The judges] looked you up [and down], head to toe, to make sure you had what they call the three diamonds" (spaces between the upper thighs, knees, and ankles). "And then you could not leave until the head judge nodded his head to say you could go."
Why not enter a pageant like Miss Black America, her mother asked, where her chances were better? Sullivan wasn't interested.
Earlier that year, 65-year-old Bert Parks had been rudely sacked without warning, after 25 years as host, causing the pageant switchboard to light up with furious callers and prompting Johnny Carson to launch a "We Want Bert" campaign. Marks had made the decision in hopes of drawing younger viewers and boosting droopy ratings after the sponsors told him Parks was too old. He approached several dashing younger potential successors, including John Davidson, an actor and game show host who responded, "I wouldn't sing that lousy song for a million dollars." Former Tarzan Ron Ely took the job, serving respectably for the next three years, though no one since Parks has ever so perfectly matched the occasion.
When Ely called Hayes out as a semifinalist, Sullivan assumed she herself wouldn't advance further "because I never thought they would have two [black women] in the Top 10." Then her name was announced. She strode across the stage in her sleek black beaded gown. Minutes later she was named fourth runner-up, making history as the first black woman to place that high. But the crown went to Miss Oklahoma, Susan Powell.
Sullivan's disappointment was crushing, but the pageant sent her on an unexpectedly varied career path. She had already been working as a TV anchor when she competed, and she continued off and on. But she also sang, having picked this as her talent in Atlantic City even though she had no training. "All those other people competing with me had years of dance, years of classical piano, years of voice lessons," she says. "And I had nothing. I just had guts." She later went on to sing with Lionel Hampton, Kool & the Gang, and Stevie Wonder, whom she dated in 1988. (When she took him home to meet her parents that year, he sang at her church, causing a two-day traffic jam after word spread that he was in town.) Her background in TV and public speaking led to her job at Shell, where her diversity work has brought her full circle after her Miss America breakthrough. Since then, she says, many black Miss Americas have thanked her for opening the door.
Even, she says, Vanessa.
__________________________________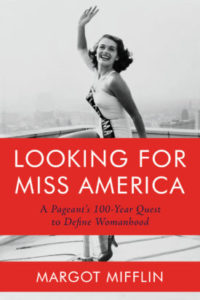 Excerpted from Looking for Miss America by Margot Mifflin. Copyright © 2020. Reprinted with permission of the publisher, Counterpoint Press.
---