The Story Behind One of Hadestown's Most Beloved Songs
Anaïs Mitchell on "Wait for Me"
It was the chorus of "Wait for Me" that set me on the road to Hadestown. I was early in my career as a singer-songwriter and driving a lot; back then I'd drive a ridiculous distance, alone, for a tip gig, and that's what I was doing when that melody came, along with these words:
Wait for me, I'm coming / In my garters and pearls /
With what melody did you barter me / From the
wicked underworld?
The first two lines had to do with my own love life. I met Noah when I was just 19 and had the sense early on that I was going to marry him. I was young, though, and ambitious to become a touring singer-songwriter, so I was asking him to "wait" while I did some literal and figurative "running around."
The next two lines were mysterious, a free association, but they seemed to point to the story of Orpheus and Eurydice, which had been a favorite myth of mine as a kid. Interestingly, neither the melody nor the lyrics appeared in the 2006 version of the show.
In 2007 I wrote the version of the chorus that audiences would recognize today, but it was intercut with these dialogue-style verses between Hermes and Hades:
Verse 1:
 Hades: Hermes! / Hermes: Hades! / Hades: Back in
town ! / Please, sit down / Please, relax / You've been
around the world and back / Haven't you, Hermes? /
Hermes: I have / Hades: How's the weather? / Hermes:
Worse than ever / How's your wife? / Hades: My wife is
fine / Hermes: You've been spending a lot of time
together / Haven't you, Hades? 
Verse 2: 
Hades: What have you brought? / Hermes: The latest
crop / Hades: The freshest cut? / Hermes: A cut above /
Hades: How many of them, a lot? / Hermes: A lot /
Hades: A few too many, perhaps / What's this? / Why
have you brought me Orpheus? / I know I never
ordered that / It seems you've gone behind my back /
Haven't you, Hermes?
Verse 3: 
Hades: What was that? / Hermes: What was what? /
Hades: I heard a voice / Hermes: I heard it not / Hades:
Someone singing / Hermes: I heard nothing / Hades:
Some kind of song / Hermes: You could be wrong / It
could have been the wind / Hades: The wind? /
Hermes: It could have been the rain / Hades: The rain?
/ Hermes: It could have been the train . . . (the train / the train / the train / the train…)
*
I rewrote the verses of "Wait for Me" entirely for the studio album. I remember feeling that our 2007 production had skewed too "dark," and part of it was that our "coyote" Hermes seemed to have joined the dark side. I wanted him to be more of a mythological helper, Joseph Campbell's "mentor" figure in the "hero's journey." I worked on the new verses on the first tour I opened for Bon Iver.
The other note we'd received fairly continuously was that Orpheus's journey to the underworld didn't seem too tough on him.
It was Europe in 2008, the first time I'd met Justin (Vernon). I was in search of an Orpheus; I'd already asked a few people who'd turned it down. This turned out to be for the best, because the moment Justin opened his mouth on the first night of the tour, my heart exploded. I thought, It has to be Justin! But I was shy to ask him, having just met him, and he was already doing me a great favor by having me support the tour. I'll wait till the end of tour, and then ask, I thought.
But a couple nights later we were on a ferry from Scotland to Scandinavia; I'd had a bit of wine and couldn't contain myself. "I'm writing a folk opera," I blurted out all in a rush. "We're making a record, Ani DiFranco and Greg Brown are on it, I need you to sing the role of Orpheus." He said simply, "Sure." It was on another ferryboat during that same tour that I wrote most of the new verses of "Wait for Me."
The band and crew had flown somewhere on a day off for a television taping, so it was just me and the bus driver on the long drive to Dublin for the end of the tour. Because I was with the driver, I got to enjoy the section of the ferry devoted to "lorrymen," including a little sleeper cabin, where I worked on the new verses. The off-Broadway and Edmonton versions of "Wait for Me" were the same as the album version.
*
At some point before London, we started to become aware that Orpheus had almost no songs that ended on a "button" that gave the audience permission to applaud for him. I don't think it was arbitrary. There was something in his poetic nature that leaned toward musical suspensions and away from "zazzy" resolutions. But we started to worry that by not allowing the audience to applaud for their hero, we might be undermining their ability to fall in love with him.
At the same time, I remember a book-writer friend watching a pre-London workshop performance and saying: "You could use an eleven o'clock number!" To me, that moment of bring-down-the-house-style energy capable of revitalizing us for the show's denouement had to be "Wait for Me Reprise."
But as it stood, neither of the "Wait for Me" numbers had a button; both ended on a suspension. This is where the London and Broadway outros of those two songs—I'm coming, wait for me / I hear the walls repeating . . .—came from.
The other note we'd received fairly continuously was that Orpheus's journey to the underworld didn't seem too tough on him. We didn't witness what Joseph Campbell called the "road of trials" in real time, only heard Hermes's ominous instructions about it. At the same time, Ken had tasked me with finding a way for Orpheus to "go a few rounds" with the Fates over the course of the show, so that by the time we got to "Doubt Comes In" we were witnessing a familiar, inevitable struggle.
It turned out to be the simplest thing in the world to add a bridge to the song. In it, the Fates confront Orpheus, and we're introduced to the "Doubt Comes In" theme for the first time. This is countered by Orpheus, who sings his "Epic" melody, which is picked up by the Workers in a choral moment that succeeds in "cracking" the wall of the underworld. It was almost infuriatingly simple.
The music-theater lesson for me had two parts: One, music is emotional shorthand. It took only a few bars of "Doubt" followed by "Epic" to make the point. Two, bridges are a music-theater writer's best friend. A musical departure and return signifies travel—real and psycho-emotional—and travel is what's required in order to feel we've arrived someplace at the end of a scene.
__________________________________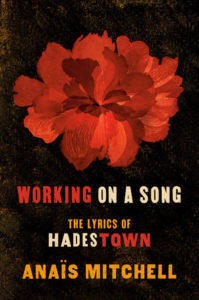 From Working on a Song: The Lyrics of Hadestown by Anaïs Mitchell, published by Plume, an imprint of The Penguin Publishing Group, a division of Penguin Random House LLC. Copyright © 2020 by Anaïs Mitchell.
---