The Sound of Muses: On Literary Comebacks and the Importance of Listening with Purpose
Louis Edwards Traces His Long Publishing Journey
Midway along the journey of my publishing life, I woke to find myself in dark wood. Well, ok, it wasn't so dark and the French Quarter in New Orleans isn't so woodsy, but Dante's metaphorical forest is an apt enough stand-in for the ironically poetic sensation that is literary obscurity. Extending this analogy into its inevitably hellish dimensions would be comical (almost divinely so), for my nearly 20-year trek back into print has occurred on a path that has always felt closer to the opposite, more joyful pole of experience.
Setting the scene: in 2003, at the age of 41, entering midlife, I had just published my third novel, Oscar Wilde Discovers America, the story of Wilde's fascinating 1882 lecture tour of the United States told from the perspective of his African-American valet. It seemed to me a worthy idea for a work of the imagination and an interesting, irresistible way to explore post-Civil War America. Post-9/11 America disagreed. While the book found critical support, it did not find its audience. Thus began the long march, undocumented but eventful, from there to here, then to now.
In case you're wondering, the sound of the world yawning is inaudible. So into a gaping quiet I stepped, quite unwittingly, for an 18-year amble on a veritable yellow brick road toward discovering whether or not my own supposed wizardry was real (complete with real-life musical accompaniment, as we shall see).
Along the way, I never stopped writing, to be sure. My meandering has left behind me a trail littered and lit with, well, literature—or something like it. Littered with the papery detritus of effort. Lit with the same, as handwritten manuscripts gave way to digitization. Somewhere in the files (in boxes in storage, on the sleeping hard drives of desktops and laptops) are, in their unpublished entirety, the following: an epistolary novel; a romantic comedy (novel and screenplay); a series of sonnets (like, 200—snickering is allowed); and, yes, a memoir of Hurricane Katrina, for New Orleans, while not so woodsy, was indeed for some time during my away-ness, really, really dark.
Curiously, one of the themes of Ramadan Ramsey, the novel that returns me now from my absence, is exile. Forced or self-imposed? Physical or existential? Ill-advised or necessary? Hard to know sometimes in the realm of fiction. In real life, too.
At various times while not publishing, I suppose I, too, swung back and forth on a pendulum of emotional uncertainty. This vacillation between extreme angst and glorious acceptance lent, as I've said, a pronounced literary quality to the enterprise of oblivion. For a writer—at least for me—it's remarkably easy, not to mention satisfying, to imagine oneself a character (as Dante did more self-consciously), especially when one is not, on a daily basis, busying oneself with imagining fictional characters. There's comfort in embracing, as yet another poet once said, the world as a stage and yourself a poor player upon it.
And as any player knows and must accept, almost every role commands one to spend a fair amount of time on "the boards" listening. Then, when it's your turn—and only then—you say your lines.
I have indeed been doing a lot of listening. Almost 20 years' worth. "Listening" to life. "Listening" to literature, aka reading. And listening, with my ears, to music, which has actually supported me most of my life. As it does for us all, music has provided spiritual sustenance of course, but Music—specifically the artists who create and perform it and the millions who love it—has also given me a career. As a producer of music festivals, I've had the sheer pleasure, and the awesome responsibility, of listening with purpose.
In my various roles, of late all at once—Chief Creative Officer, Chief Marketing Officer, publicist—I've had the fortune of promoting and being inspired by live performances by a list of artists so legendary they blur the line between reality and myth: Ella Fitzgerald, Sarah Vaughan, Lena Horne, Carmen McRae, Anita O'Day, Nina Simone, Miles Davis, Dizzy Gillespie, Max Roach, Aretha Franklin, Chuck Berry, Luther Vandross, Prince. Even a partial list of the living artists I've seen work their magic makes me wonder if I've dreamed it, am still dreaming it: Stevie Wonder, The Who, Bruce Springsteen, Bob Dylan, Fleetwood Mac, Patti Smith, Tony Bennett & Lady Gaga, Destiny's Child, Anita Baker, Kanye West, Lauryn Hill, Nas, Public Enemy, Common, Drake, Kendrick Lamar, Taylor Swift, Luke Bryan, Kenny Chesney, George Strait…
Experiencing life with a soundtrack is helpful when one is engaged in the art of inventing oneself.
So my time away from publishing—time spent in some instances literally on stage while waiting metaphorically for my turn to say my lines—has ticked out to the strains of nothing short of the great American symphony.
All of this sublime excess of listening has required that I traverse countless thousands of miles. New York, Philadelphia, Washington, D.C., Los Angeles, Houston, and many other stops along the way. My "journey" has been a journey. I've travelled. A lot. And yes—not surprisingly—travel is also a major theme of Ramadan Ramsey.
In a twist so mystical you'll think I've made it up, Ramadan Ramsey exists only because once, in July of 2012, on the way back from consulting on a music festival in Batumi, Georgia—the Republic of Georgia, that is—I made a fortuitous stop in Istanbul. It just happened to be the holy month of Ramadan in a predominantly Muslim nation. In the middle of the night (not in a dark wood, but in a Ritz-Carlton hotel room overlooking the Bosphorus), to the melodious sounds of a pre-dawn call to prayer, I woke to find myself with a novel.
But whatever the excursion, even one as fruitful as the one to Turkey, the final destination has always been, of course, home.
New Orleans. Where music and myth are one. Louis Armstrong so fancied himself the quintessential 20th-century American that he fictionalized his birthday into July 4, 1900. It was really August 4, 1901. New Orleans, where music moves magnolia leaves, your eyelashes, and your soul, seduces its inhabitants into living as if we are stars in our own musical. Experiencing life with a soundtrack is helpful when one is engaged in the art of inventing oneself. Or reinventing oneself. Every musical needs music and lyrics. But it also needs a book. Spoiler alert: Ramadan Ramsey is also about New Orleans.
I must confess that much of my listening—like reading, like writing—has been a solitary concern. Most of my strutting and fretting has played out in my living room(s) to a soundtrack whose delivery has morphed from vinyl to cd to Spotify. When I last published a novel, the world had not yet discovered Kanye West or Taylor Swift. Kanye would prove helpful in articulating how sometimes dropping out of something is the only way to graduate, however belatedly, to something else. Taylor would preach (and practice) fearlessness, and famously espouse the benefits of shaking things off.
Hearing philosophical intonations in something as lasting as classic poetry, or even in a pop tune, is one sure way to quell the occasional anxiety that comes while waiting to say—or sing, for that matter—your next lines.
__________________________________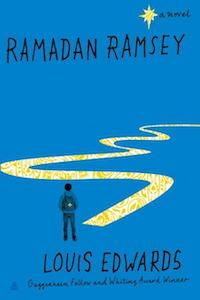 Ramadan Ramsey is available from Amistad, an imprint of HarperCollins Publishers. Copyright © 2021 by Louis Edwards.
---