The Sociopath in Black and White: A Reading List
From Mr. Ripley to Fagin, a List of Favorite Characters Who
Lack a Conscience
Seventeen years ago, in 2003, when many people had never heard the term sociopath, I began to compose The Sociopath Next Door (though it did not yet have that title). My aim at the time was to write a book about conscience, about the strange, seemingly counter-evolutionary, selfless, and powerful entity that prevents most of us from doing bad things most of the time.  At first it really didn't sound like very much. . . until I began to reflect upon people who have absolutely no conscience—the sociopaths.
Such people exist and in fair numbers. About 1 in 25 people, 4 percent of us, are sociopaths who possess no conscience at all. They are male and female, of high intelligence and low, found equally across all socio-economic strata. Sociopaths cannot form feelings of connection with others, due in large part to congenital deficits in the brain's ability to process emotional and interpersonal input. Sociopathy is little understood, infrequently diagnosed, and there is no cure. What are such people like?  It's surprisingly difficult to fathom.
The Sociopath Next Door became a book about them, and got its title. And now, for 2020, I've written a new book, Outsmarting the Sociopath Next Door, about dealing successfully with the sociopath when he or she cannot be avoided, when he or she is a family member, a coworker or a boss or a ruthless professional, or a powerful politician, or the opponent in a custody proceeding, or, worst of all, one's own child. Such people are not neurologically equipped to love, and therefore they can do anything they please, including kill, without a moment's guilt or remorse or self-doubt.
Unimaginable.
And so, how do they appear in literature, where unimaginable things are vividly imagined and portrayed?
All criminals and bad guys are not sociopaths. Sociopaths are special creatures, loveless, charming but emotionally cold as ice, conscienceless. They lie and torment and sometimes kill, for none of the usual reasons—rather, they do so simply to amuse themselves, or to make their other sinister plots a little easier to do. They are also surprisingly difficult to put into literature, where characters are supposed to be affected by something and then to change. And, by definition, a sociopath never changes. A good one requires a very skillful writer.
*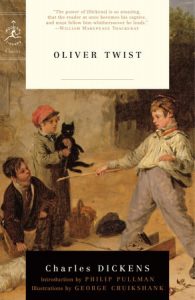 Charles Dickens, Oliver Twist
Many of us encountered our first sociopath, our first absolutely unrepentant bad guy, in one or another book by Charles Dickens, the master of characterization. A fine example is Fagin, in Oliver Twist, an underworld character who leads a group of children whom he has taught to pickpocket and do other crimes, for shelter, and then to turn most of the money over to him.  He is a miser who, despite his stolen wealth, does little to improve his life or the lives of the children. As a sociopath, he can care nothing about them. We cringe as he beats the Artful Dodger, though we know that, as he does so, Fagin is cold as ice.
The name Fagin, in popular culture, has come to mean an empty-souled adult who uses children in illegal activities and then keeps the loot for himself.
Near the end of Oliver Twist, Fagin is captured and sentenced to be hanged. In prison, awaiting his fate, he behaves in true sociopathic fashion: Fagin plays as hard as he possibly can for everyone's pity.
Fagin fascinates readers, and has been performed in productions of Oliver Twist, or stories based on it, by many actors, including Richard Dreyfuss, the voice of Dom Deluise, George C. Scott, Ben Kingsley, and Alec Guinness. He lives vividly in our collective memory.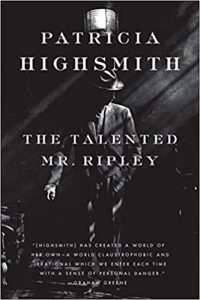 Patricia Highsmith, Mr. Ripley
Patricia Highsmith's Tom Ripley, a "charmingly slick killer who can worm his way out of anything," is too big for one book—and so this suspense expert wrote five for him.
The Talented Mr. Ripley: A penniless Ripley is newly arrived in the glittering world of Manhattan. He meets a rich industrialist who wants to hire him to bring his son, Dickie Greenleaf, home from living a playboy lifestyle in Italy. Ripley goes to Italy, and before long, his fascination with Greenleaf's lifestyle becomes obsessive.
Ripley Undergound: We find Ripley nested in a wealthy French estate, with a wealthy wife, a world-class art collection, and lot to hide.
Ripley's Game: Living on his estate with his elegant wife, and on the verge of middle ago, Ripley no longer has to strive. But having made a fortune through a long career of forgery, extortion, and serial murder, he longs to get back in the game.
The Boy Who Followed Ripley: Ripley develops a strangely paternalistic relationship with a troubled young runaway, whose abduction leads him into Berlin's sordid underworld.
Ripley Under Water: Ripley is visited by a snooping American couple interested in the disappearance of an art collector who visited Ripley years ago.
Ripley is handsome, smart, and debonair, just as a sociopath should be. Read all five books and see whether, perversely, you don't begin to fall in love with this anti-hero—just a little bit.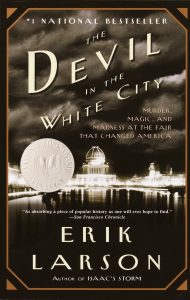 Erik Larson, The Devil in the White City: Murder, Magic, and Madness at the Fair that Changed America
Be careful whom you fall in love with.
In a time when our language did not yet have the term serial killer, H.H. Holmes courted and wed several wives simultaneously. He got rid of bodies by turning them into skeletons and then selling them to medical colleges.
In The Devil in the White City, Erik Larson tells the story of architect Daniel H. Burnham as he coordinated the construction of the 1893 World's Columbian Exposition, in Chicago, and H.H.Holmes, who used the Fair's appeal and his own sociopathic charms to lure scores of women to their deaths. Dr. Holmes built his own World's Fair Hotel, a disguised torture facility, complete with gas chamber and crematorium. Burnham and his Fair marked the beginning of a new epoch in American history, and Holmes marked the beginning of a new American character—the serial killer who thrives shamelessly amidst the new forces driving the culture.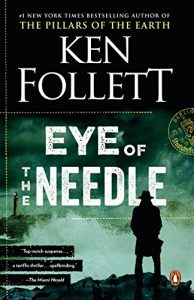 Ken Follett, The Eye of the Needle
Closer to the present (it's World War II now), Ken Follett fictionalizes a war-altering struggle between an Englishwoman, young and breathtakingly vulnerable, and a brilliant—and violent—master spy, "the Needle," who is the object of the most desperate manhunt in history.
One of the most suspenseful novels ever written.
And what defines the Needle as a sociopath is his cool. The stakes could not be larger or more meaningful (the fate of the world…), but the Needle cares only about his own wholly meaningless but carefully constructed plan.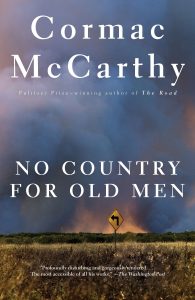 Cormac McCarthy, No Country For Old Men
Most of the sociopaths spoken of here are killers. This makes them somewhat unusual. Most killers are not sociopaths, and most sociopaths are not killers. Most sociopaths torment and do damage in ways less likely to end them up in prison.
In No Country For Old Men, Anton Chigurh is a killer, and an icy cold, utterly amoral sociopath who decides life or death for his victims by the flip of a coin. He is horrifying.
The book, like so much of McCarthy's work, asks the question, "What is the nature of ethical behavior?" as the characters are forced to make choices in life-altering circumstances. At the bottom of his examples is a sociopath, Chigurgh, who is concerned not at all with ethics, or with human feeling.
__________________________________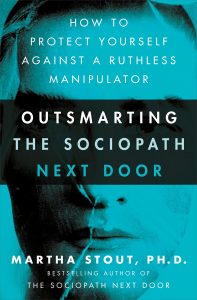 Dr. Martha Stout is the author of Outsmarting the Sociopath Next Door, available now from Harmony Books.
---