The Romanticized Belle Epoque in Paris Was an Age of Political Crisis
Julian Barnes on Fake News, Religious Tension, and "Gangster Imperialism" Abounded
Merrie England, the Golden Age, la Belle Epoque: such shiny brand names are always coined retrospectively. No one in Paris ever said to one another, in 1895 or 1900, "We're living in the Belle Epoque, better make the most of it." The phrase describing that time of peace between the catastrophic French defeat of 1870–71 and the catastrophic French victory of 1914–18 didn't come into the language until 1940–41, after another French defeat. It was the title of a radio program which morphed into a live musical-theater show: a feel-good coinage and a feel-good distraction which also played up to certain German preconceptions about oh-la-la, can-can France.
The Belle Epoque: locus classicus of peace and pleasure, glamor with more than a brush of decadence, a last flowering of the arts, and last flowering of a settled high society before, belatedly, this soft fantasy was blown away by the metallic, unfoolable 20th century, which ripped those elegant, witty Toulouse-Lautrec posters from the leprous wall and rank vespasienne. Well, it might have been like that for some, and Parisians more than most. But then as Douglas Johnson, wise historian of France, once wrote, "Paris is only the outskirts of France." 
At the time, however, the Beautiful Era was—and felt—an age of neurotic, even hysterical national anxiety, filled with political instability, crises and scandals. In such hyperventilating times, prejudice could swiftly metastasize into paranoia. So that "known affinity" between the historically persecuted Protestant and Jew could be turned by some minds into vivid threat.
In 1899, a certain Ernest Renauld published Le Péril protestant, whose purpose, he explained, was "to unmask the enemy, the Protestant, allied with the Jew and the Freemason against the Catholic." 
Nobody knew what would happen, because what "should" have happened rarely did. The Prussian demand for reparations in 1871, which should have crippled the country for decades, was quickly paid off, and cost France much less than the phylloxera epidemic which had devastated the French vineyards from 1863 onwards. Enormous constitutional changes which should have come about were averted at the last minute for seemingly trivial reasons.
After the defeat by Prussia, the monarchy was all set to return until the Pretender, the Comte de Chambord, jibbed at having the tricolore as the national flag. He insisted on the white fleur-de-lys or nothing; he got nothing. In the late 1880s General Boulanger—Catholic, royalist, populist, Revengist—was expected to win power in the 1889 election. (One of his more unlikely candidates was Prince Edmond de Polignac, chosen to stand in Nancy, but who found the campaign trail all too fatiguing and withdrew.)
Political corruption in France was endemic: it was said that "each banker has his personal senator and his deputies."
After this democratic bid failed, a coup d'état seemed certain; except that Boulanger too balked at the last minute, seemingly on the advice of his exquisitely named mistress, Mme de Bonnemains. One major constitutional change which did happen was the separation of church and state; the law of 1905 remains the basis of the French secular state to this day. 
The cure for—or at least distraction from—domestic political confusion is often the same: foreign adventure. The French believed at this time, as did the British, that they had a unique mission civilisatrice in the world; and each, predictably, thought their own civilizing mission more civilized than the other's. Although to the actual civilizees, it felt different—more like conquest.
Thus, in the spring of 1881 the French invaded Tunisia, and in the autumn of that year they put down a rebellion. In between, they signed a "treaty of protection" with the country's previous rulers. The phrase is telling. Those who offer protection have their hands out for protection money: this was the era of gangster imperialism. Meanwhile, between 1870 and 1900, the British Empire expanded to cover 4 million square miles. 
Political corruption in France was endemic: it was said that "each banker has his personal senator and his deputies." The press was violent in its language; libel laws slack; fake news prevalent; and killing never far away. In 1881 the International Anarchist Congress gave approval to "propaganda by the deed" (the very phrase was French), and the high life of which the Belle Epoque boasted—the world of opera houses and fashionable restaurants—was targeted.
When the Anarchist Ravachol was tried and guillotined in 1892, the response was a nail bomb thrown into the Chambre des Députés which injured 50. There were high-level assassinations: of the President of the Republic, Sadi Carnot, in 1894; of the Socialist anti-war leader, Jean Jaurès, in 1914. 
There was also a rise of blood-and-soil nativism, which urged a "reawakening" of Old Gaul; a fierce desire, articulated by Boulanger, for revenge against Prussia; and convulsive, nationwide eruptions of anti-Semitism. All three strands were plaited into the Dreyfus case, the overriding political event of the period, one which, beyond the "simple" matter of justice, concentrated the past and shaped the future. Everyone was involved, in one way or another. At Dreyfus's "degradation" in 1895, Sarah Bernhardt sat in the front row. At his second trial, at Rennes in 1899, Pozzi was there (Pozzi was everywhere). 
And yet—and in keeping with the historical illogic of the period—the Dreyfus case had an effect out of all proportion to its content. Its victim confirmed the rule that the martyr often fails to live up to the mystique of his own martyrdom. "We were prepared to die for Dreyfus," commented the poet Charles Péguy, "but Dreyfus wasn't." As for the gravity of the actual spying, "There was nothing in it," concluded Douglas Johnson.
The case was far more important for what others made of it than for what it contained in itself. Indeed, if you were looking for an example of high corruption liable to promote anti-Semitic feeling, then the Panama Scandal of 1892–93—in which three Jewish financiers bribed several cabinet ministers, 150 deputies, and virtually every major newspaper—ought to have been far more significant. But there is often little "ought" in history. 
Political memory runs long in France. In 1965, the novelist François Mauriac, then 80, wrote: "I was a child at the time of the Dreyfus Affair, but it has filled my life." That same year I was teaching in France, and discovering French (and Francophone) singer-songwriters. My favorite was Jacques Brel, who 12 years later—and 63 years after the event—was to record his lyrical lament "Jaurès," with the refrain, "Pourquoi ont-ils tué Jaurès?" 
Enormous constitutional changes which should have come about were averted at the last minute for seemingly trivial reasons.
And then there was a quirky, minor, amusing business thousands of miles away, which nicely demonstrates the historical law of unintended consequence. In 1896, during the Scramble for Africa, an expeditionary force of eight French and one-hundred twenty Senegalese soldiers crossed the continent from west to east: their target was a ruined fort on the Sudanese Upper Nile. Frenchly, they set off with 1,300 litres of claret, fifty bottles of Pernod, and a mechanical piano.
The journey took them two years; they arrived in July 1898, two months after Zola published J'Accuse. They raised the tricolore at the ruined fort of Fashoda, and seemed to have no more geopolitical purpose than to annoy the British. This they did, just a little, until Kitchener, then in charge of the Egyptian Army (and, contrary to his reputation, a Francophile who spoke fluent French), turned up and advised them to hop it.
He also gave them copies of recent French newspapers, in which they read of the Dreyfus Affair and wept. The two sides fraternized, and the British band played "La Marseillaise" as the French withdrew. No one was hurt or abused, let alone killed. 
How could this not have been a trifling comic sideshow amid the broader imperial rivalry? The British have long forgotten Fashoda (but then it was they who forced the tiny withdrawal). In French eyes, however, it was a key moment of national humiliation and dishonor, one that made a profound impact on a certain eight-year-old French boy, who in later years remembered it as a "childhood tragedy."
How was Kitchener to know, as he was drinking warm champagne with eight Frenchmen at that distant fort, and noting how its brief occupants had even planted a garden—"Flowers at Fashoda! Oh these Frenchmen!"—that these events would play out, decades later, in Charles de Gaulle's obstreperous and infuriating (translate into French as "determined and patriotic") behavior during his London wartime exile, then later in his stubbornly vindictive ("principled and statesmanlike") triple refusal to allow Britain to join ("disrupt") the European Common Market? 
__________________________________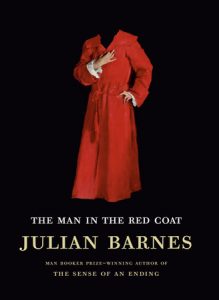 Excerpted from The Man in the Red Coat by Julian Barnes. Copyright © 2020 by Julian Barnes. Excerpted by permission of Alfred A. Knopf, a division of Penguin Random House LLC. All rights reserved. No part of this excerpt may be reproduced or reprinted without permission in writing from the publisher.
---