The Role That Got Away: Hayley Mills on (Almost) Playing Lolita
The Iconic Actor Recalls the Near Misses of Her Post-Pollyanna Career
Apart from Walt Disney, no one had offered me a job after Tiger Bay, but things began to change with Pollyanna. Thanks to the film's success and the growing buzz around The Parent Trap, by the time I returned home there were some amazing offers on the table. Firstly, Lew Wasserman had been approached by the flamboyant and famously unpredictable Otto Preminger, who wanted me to play a part in his new film Exodus. It was going to be a big movie with a blockbuster budget, all about the founding of the State of Israel. I was to be cast alongside stars like Paul Newman and Eva Marie Saint, Ralph Richardson, Peter Lawford, and Lee J. Cobb, so as you can imagine, I was thrilled to be asked. They offered me the role of Karen, a young girl who falls in love with Sal Mineo (although at that point I hadn't even been kissed).
It was a good part and obviously I was keen to work with Preminger and all these fantastic actors, so I told Laurie Evans and my parents I wanted to do it, but they refused. They thought that I was too young and turned the offer down regardless. But Otto Preminger was not a mogul to take "No" for an answer, so not only did he offer me more money—he also offered to throw in a Renoir painting! I never did find out which one, but it was academic because they turned him down again, and that was that. Jill Haworth eventually played the part. She was fifteen at the time and very lovely.
I'm a parent now myself, so I can understand it must have been tough for my mother and father to have to make these career decisions on my behalf but, really… think about it… my very own Renoir!!?
I had actually met Sal Mineo in New York and a year later at   a crazy party at his Hollywood home. I really liked him. He was sweet and genuine but also seemed very young and vulnerable. All over the walls of the house were paintings of different parts of his naked body, which I found rather disturbing.
I was also offered a job by William Wyler, who was in preproduction for his next film, The Children's Hour by Lillian Hellman, starring Shirley MacLaine and Audrey Hepburn, about two women who start a school for girls. Wyler wanted me to   play the part of Mary, a disturbed child and a conniving little troublemaker who tells terrible lies about the two women that ultimately destroy them both. It was a good script and Willie Wyler was one of the great American directors. He had an astonishing track record of films which practically defined classic Hollywood; movies like Ben-Hur, Roman Holiday, and Funny Girl— he was a powerhouse who just kept making hits, launching the careers of stars like Audrey Hepburn, winning Oscar after Oscar (he won three Best Pictures and three Best Directors practically all in a row!). So, you can imagine, this was like being summoned by royalty. MacLaine and Hepburn were actresses I loved and admired, so of course I wanted the job. My parents were ambivalent—which I still can't understand to this day—but Walt was adamant. In a letter to my parents he made it quite clear:
It is not a nice story, and the role Wyler has in mind for Hayley is not nice …in fact she is a brat. As I recall she creates quite a scandal. While I do respect Willie Wyler still I think that this particular story is one that should be carefully analyzed to determine whether it is the right type to further Hayley's career.
So that was that. Perhaps Walt wasn't wrong, but I was actually rather attracted by the idea of playing a brat. I wanted to do good work. I wanted to act and these were exciting parts to play.
Then came the most interesting offer of all.
A script arrived from Stanley Kubrick—it was called Lolita.
Now I could see that it was a good part. This really was an exciting role to play; she was so uninhibited and sassy, and I understood—or rather recognized—certain things about Lolita, without being fully cognizant of the implications. She was teetering on the brink of womanhood, like me; aware for the first time that men and boys are noticing her. She's becoming aware of her looks, of her body, and yet not quite understanding the effect she's having. She's a difficult adolescent, argumentative and bolshie with her poor mother, played by the great Shelley Winters. She wants her own way, she's moody, she wants to be treated like a grown-up, but she behaves like a child. I got all that.
The full implications of Humbert's obsession with Lolita were lost on me, but I don't think it would have been to the detriment of my performance. An inexperienced girl of fourteen like Lolita wouldn't have fully understood it either; like me, she grasped it intuitively. There's a big difference between having an "awareness" of one's sexual power and actually "understanding" or being in control of the effect it's having. Lolita's feelings toward Humbert are complicated; he's like an indulgent father, he spoils her. Lolita enjoys his attention, she likes showing off to him, while infuriating her mother.
The full implications of Humbert's obsession with Lolita were lost on me, but I don't think it would have been to the detriment of my performance.
James Mason was going to play Humbert; he was a friend of my parents, so I knew and liked him. Shelley Winters was a formidable talent, and everyone knew and loved Peter Sellers, cast to play Clare Quilty, Humbert's rival for the girl's affections.
For Stanley Kubrick to make such a leap—from Pollyanna to Lolita—is somewhat mysterious, but on reflection, I suspect it was Lee Thompson's Tiger Bay that caught his attention, with its ambiguous emotional relationship between Gillie and Bronik— which Horst Buchholz had played so intelligently, treating Gillie like the child she was, but with the sensitivity of a man relating to a woman.
The crucial difference between Gillie and Lolita, however, is that Gillie loves Bronik and wants to protect him, whereas, for Lolita, the character of Humbert is a curious plaything whom she exploits. The girl doesn't really care about him, or even about her poor mother for that matter.
I had been allowed to read the script for Lolita, but my opinion wasn't asked. Unlike Tiger Bay, the decision as to whether I could play the role was made by my parents, without any discussion. Naturally, they didn't like the idea of my playing the nymphet and, needless to say, neither did Walt, who made this very clear   to them. My reputation was being protected and my image was still in the process of being "honed" by the studio, to whom I was under contract. To be a "Disney Star" meant being family friendly, so Lolita was politely turned down—and with it went my opportunity to work with one of the masters of twentieth-century cinema.
It was a bitter disappointment.
After the School Nativity, Lolita was the "role that got away." That was the one that hurt the most. I've always wondered how things might have gone if I had taken such a radically different path. I know it's fruitless to speculate, but I can't help it. Sue Lyon eventually played Lolita, and very well. She and I were the same age, we both took on roles that were to have a major influence   on our careers and on our lives. After the film came out and was such an enormous success, Sue later talked about being forever labeled "the girl who played Lolita," which she felt affected not only her career but also her private life. She was labeled the nymphet, I was labeled Pollyanna, which could hardly have been more different. Perhaps the Disney legacy was easier to bear, I don't know; but it certainly affected all aspects of my life.
When you're very young, you sense people's expectations and you don't want to disappoint them. You still want to please them, even though a part of you wants independence. Both Sue and I played roles at the very beginning of our careers that left a lasting impression, and both of us experienced how difficult it is to break out of these images once they have coalesced around you, like a fly in amber. It impacted the kind of roles that I was considered for—as well as not considered for—and for a long time afterward, without my realizing, it even influenced how I thought about myself.
To be a "Disney Star" meant being family friendly, so Lolita was politely turned down—and with it went my opportunity to work with one of the masters of twentieth-century cinema.
Once when I was sitting by the pool at the Beverly Wilshire Hotel, a handsome boy came up to me and asked for my autograph; I was delighted. I leapt to my feet and signed my much-practiced signature with a flourish and added lots of best wishes and love and handed it back. He stared at the autograph, furrowing his brow. "Oh…" he said, with a look of disappointment. "I thought you were Sue Lyon."
I was now fourteen. My time had come. I was about to tip, head first, into the adolescent abyss. So many remarkable things were happening but I didn't feel any ownership, because I wasn't the one making the decisions. I was going through all the inevitable birth pangs of trying to find myself and to mature, while my fame was growing exponentially, like an inflating balloon; it was all beyond my control and beyond the reality that I actually lived in.
At this point something strange happened. As the combined successes of Pollyanna and The Parent Trap took effect, I began to observe a peculiar phenomenon: there were two of me.
There was the me who I thought I was—looking at the world, trying to make sense of everything. And then there was this identical twin—"Hayley Mills"—staring back at me: an image projected by my movies, by the Disney publicity juggernaut, by the hundreds of interviews, magazine stories and articles, which combined to create a character that I didn't even recognize. She was having relationships with other film stars and dating teen idols, she was having feuds with other young actresses. All complete fiction and there was nothing I could do about it—suing teen magazines seemed an overreaction, even in those days. And most worryingly of all, the other twin was far prettier, wittier, and sexier than I actually was.
Who was this Hayley Mills?
The real one could only be a huge disappointment.
_____________________________________________________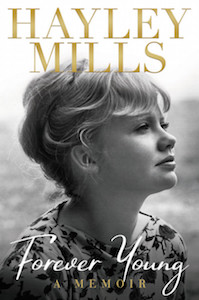 Excerpted from FOREVER YOUNG by Hayley Mills. Copyright © 2021 by Hayley Mills Productions. Reprinted with permission of Grand Central Publishing. All rights reserved.
---