The Revelation of Reading Toni Morrison in Moscow
Kristina Gorcheva-Newberry on the World Expanding Experience of The Bluest Eye
I first read Toni Morrison's The Bluest Eye in graduate school. I was frightened by how it made me feel—in awe of the writer's genius, of her ability to weave together horror and beauty, the mundane and the sublime. I called one of my friends in Moscow and said, "I just read the most gorgeous and terrifying book by Toni Morrison." And my friend asked, "Who is that?"
The year was 2001, and nobody among my very educated, book-loving cronies in Moscow knew who Toni Morrison was. Russian-speakers remained in the dark, even after Morrison had received the Nobel Prize in Literature in 1993. The next time I traveled back home, I brought copies of her books to my friends, who found Morrison's novels just as poignant and heartbreaking as I did, her characters looming off pages, alive and unforgettable.
Occasionally, we would gather in my flat, and I would read out loud and translate passages from Morrison's books, pages and pages of magnificent scenes or descriptions and also those that I found most difficult or tragic or controversial. We would then discuss them, zealously, pointing at the differences or similarities between African American and Russian women, and how little control we still had over our own lives, at the mercy of our government or newly hatched oligarchs.
We compared Morrison's heroines to Tolstoy's or Chekhov's and found them to be just as strong and passionate, imprisoned by their historical past or trapped in the reality of living in a man's world, where a woman's body was nothing but a commodity; her fate and worth designated by her father, her husband, her lover, her children, or her community, like a town of Eloe in Tar Baby. There was little empathy in that world, and little glory. But there was friendship, and there was motherly love, and there was the desire to break free from the oppressiveness of our homes and the country that supported patriarchy in all its evident or inconspicuous forms, at home and at work, in science or arts.
The year was 2001, and nobody among my very educated, book-loving cronies in Moscow knew who Toni Morrison was.
For me and many of my female friends, Morrison's books became portals into a new, freer world of self-discovery and womanhood; they peeled away the scar tissue that our hearts, our souls had grown like a protective shell, a carapace, in order not to be crushed, annihilated by a male fist. Her books gave us, if not solace, then hope, hope that one day we would be able to speak our minds, to express what we truly felt, to chart our own destiny, and to denounce the current regime that continuously suppressed, suffocated women. After reading Morrison, my friends and I grew courageous, ready to defend one another, to fight for our right to birth not only children, but books, music, paintings; to fly planes, perform surgeries, make scientific discoveries; to be regarded not only as nurturers, Morrison's "swamp women" deified by their "ancient properties," but as artists and politicians, the architects of our own lives.
Even now, years later, when I reread the passage about soldier ants in Tar Baby, I can't help but hold my breath and press the book closer to my heart because, once again, Morrison had written about me—a proud laboring insect, a determined female who has so much to do "bearing, hunting, eating, fighting, burying…."
Morrison's unfathomable ability to make us empathize with her characters on a very personal, intimate level allows us to inhabit her fictional world, become an organic part of it. No matter how strange or harrowing that world is, as readers we have no choice but to surrender to the bewildering power and beauty of her language, her striking command of the narrative art. We embrace her rich, thriving landscapes so fully, so completely, the remarkable interiority of her worlds, we can't separate ourselves from them or the characters—male or female, old or young. Just like them, we suffer and fight and plead, choking on anger or tears.
The more we read her novels, the deeper we descend into her worlds, where we turn into Sula, Nel, Pilate, Milkman, Jadine, Son, Sethe, Paul D, or little Pecola who prays to God to change the color of her eyes. Page after page, we find ourselves transfixed and transformed by the sound of Morrison's voice, so proud and distinct in all of her work. And I think: How fortunate we are to have been graced with her presence, her literary genius, her humanity, which she continues to share with us, her soul hovering about the universe, immortal.
I met Toni Morrison twice, and both times, when she appeared, she reminded me of a great ship entering a town's harbor. She made everything look small—the stage, the room, the building, the people inside, the trees outside. When I finally dared to speak to her, I found myself stumbling for words. Not only was I afraid that she wouldn't understand my accent, I also kept asking myself: What could one possibly say to the sun, or the moon, or the universe that might seem important or even necessary? In October of 2012, Morrison was honored at Virginia Tech in Blacksburg. I carried a bouquet of fifty red roses to a private reception preceding the official ceremony. A crowd gathered. Morrison had trouble walking and was slowly wheeled out to the middle of the room. For a moment, all I could hear was my heart thrashing about my chest, exploding from pride and joy and from the sight of her face, so close to mine. I kneeled beside her chair and laid the roses in her arms.
Morrison's books became portals into a new, freer world of self-discovery and womanhood; they peeled away the scar tissue that our hearts, our souls had grown like a protective shell.
I said, "What I know about life I've learned from my mother. But what I know about fiction writing I've learned from you." She studied my face, her gaze heavy but also warm, like a late-afternoon sun. When she asked whether I'd brought vodka, I shook my head, embarrassed, mumbling that had I known, I would've brought the best vodka, the best pickles, the best pumpernickel bread. "What kind of Russian are you? If you don't have anything to drink?" she asked and then laughed—a hearty, full-throated laugh, which made me feel awkward but also known, understood. I have never forgotten that feeling.
My debut novel, The Orchard, couldn't have been conceived or written had I not read Morrison's books, especially The Bluest Eye. I was born and raised in the Soviet Union, a country that forbade any sexual discourse. Before perestroika, in novels and short stories, as well as in movies and plays, sex scenes were omitted, or they happened to be so chaste, depicted in sighs and whispers. No one talked about rape, incest, pedophilia, or women-trafficking, although we knew all of that existed. The Orchard—among many things—is a story about a young girl, Milka, neglected and abused by her parents. She carries a shameful secret, one she doesn't share with anybody, not even with Anya, her best friend and the novel's narrator. When Anya learns about Milka's predicament, the tragic circumstances of her life, she refuses to believe her, and later feels helpless and aggrieved trying to help her friend.
Just like Claudia, the narrator of The Bluest Eye, Anya tells the story through a prism of memories, resurrecting the ghosts of her youth, the years she spent together with Milka, dreaming about boys and foreign lands, unaware that soon nothing would remain of their dreams but the dumb, "unyielding earth." Neither Claudia nor Anya can explain why things happened the way they did, but we, as readers and human beings, must "take refuge in how."
Writers like Toni Morrison are the universe's response to everyday ugliness and the cruelty of existence, to wars, murder, genocide, torture, rape, gender and racial discrimination. They provoke and astound us, lure and haunt us; they "gather" us, "the pieces" we are, and "give them back" to us "in all the right order." Such writers search for wounds to expose, for souls to heal; they bear witness, unveiling a higher truth, one that we might have never discovered or have discovered too late. They show us who we are as a species—weak, vulnerable, unfaithful, ignoble, but also those capable of surviving any tragedy, any loss, any pain; of building cathedrals and spaceships. Such writers remind us that at the beginning there was sound, and then there was word, and that if they dared to write those stories, we should dare to read them because in doing so we can recover, reclaim our humanity.
I was visiting my homeland when Toni Morrison died, in August of 2019. All day long my friends called or sent me messages with their condolences; they knew what she meant to me. In our Moscow flat, my mother lit a candle next to Morrison's picture on the cover of Song of Solomon. My heart wept; my soul orphaned forever. As the evening drew closer and the darkness settled in the sky, I walked to the kitchen, poured two shots of vodka, and sliced two pieces of pumpernickel bread. I imagined her sitting in front of me, the glass raised in her strong, beautiful hands. I imagined her face—so intelligent, so sincere, so warm. I remembered Milkman whispering to Pilate, "There must be another one like you… There's got to be at least one more woman like you." I lifted the shot glass, saluting my invisible guest, my mentor, my muse. "No, there isn't," I said. "There isn't anybody like you on this earth."
Beloved.
__________________________________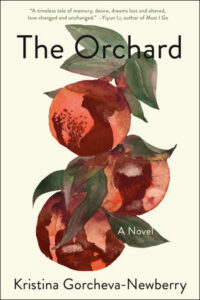 The Orchard by Kristina Gorcheva-Newberry is available now from Ballantine Books. 
---