The Restless Ghost Stories
of M. R. James
Adam Scovell on Visiting the Writer's Grave
M.R. James, the noted antiquarian and celebrated writer of ghost stories, rests quietly today in a graveyard. It is not an oft-visited place, being a little out of the way and adjacent to the crumbling, residential walls of Eton College in Windsor. It is situated at the point where the town begins to fade, fragmenting into the surrounding countryside and meadows along the Thames. Graveyards featured variously in James's macabre stories, an obvious regular for tales of the supernatural, but if such a resting place could be said to summarize the writer's eerie atmospheres, it would not be a fictional one of his own creation but the real one he has occupied since his death in 1936 at the age of 73.
James's life was largely without misstep and littered with academic achievement. Born in Goodnestone, Kent in 1862, the writer grew up in Suffolk under the intellectual influence of his clergyman father. He studied initially at Temple Grove preparatory school before successfully traversing the well-worn route from Eton to King's College, Cambridge. An unparalleled academic career saw him take the reins as provost of the college in 1905, steering it through some of its most difficult years, before returning to Eton as provost in 1918 until his death.
In spite of his myriad successes, it is his ghost stories that have guaranteed the writer posterity, exerting a growing influence on writers, filmmakers and artists of all sorts. Told initially as a diversion for the Chit-Chat Society at King's College, their notoriously effective horrors soon found James published in a realm far beyond the dusty manuscripts that occupied much of his time. His first collection, Ghost Stories of an Antiquary, was published to great acclaim by Edward Arnold in 1904, followed by several equally celebrated volumes establishing him as the foremost writer of the genre, still arguably unsurpassed.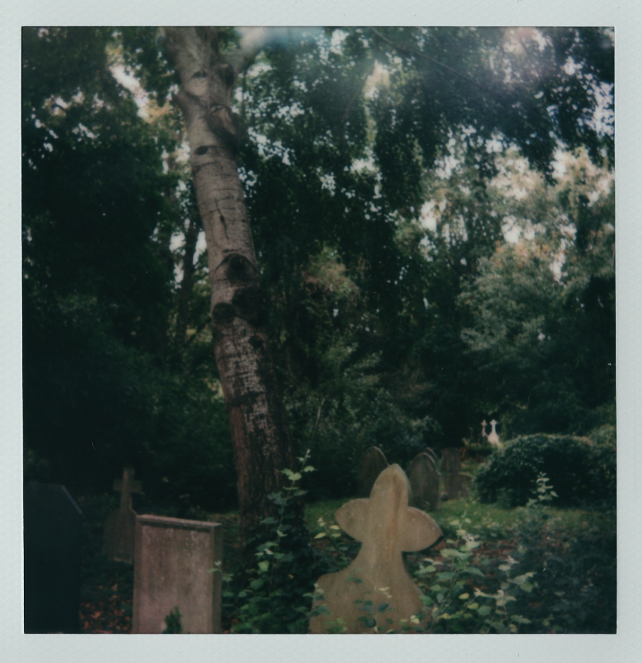 Fictional dread can be a powerful combatant against the real thing, something I think James himself understood. His stories read equally as an unconscious release from his own stubbornly repressed feelings and fears. Autumn's arrival was one that used to fill me with a very particular but powerful horror, one alien to that found in his stories. Initially signaling a return to a school life on Merseyside that I found miserable and hellish, it was James's work many years later that rehabilitated my love for the colder seasons, replacing memories of black mornings and banal schoolboy tyranny with his self-proclaimed "pleasing terrors." As Susan Hill has suggested, writing these stories was cathartic, they were "his relief from a secret madness in his inner soul." My own irksome memories were gradually replaced with his tales of malevolent ghosts. If he found solace in writing them, many have since shared it in reading them, even if strange considering their terrifying nature.
James's stories of antiquarians unearthing forgotten horrors are enhanced by the cold's arrival, constructed on some level in collaboration with the darker seasons. His is a catalogue overtly designed to be enjoyed in cosy surroundings, his words leaking in the chilly unknown like a draft. A Jamesian world is one of cursed artefacts, endlessly subsuming landscapes, forgotten manuscripts and tactile beings that punish the curious and intellectually arrogant. In spite of being fantastical curios, his stories are not simply diversions. His strongest moments of horror—a fully formed mouth felt by an unsuspecting hand under a pillow, a Saxon crown's guardian spirit smashing a man's jaw to pieces on a desolate East Anglian beach, an empty bed suddenly revealing a form sitting up and aware—never leave those who experience them, such is their authenticity of recollection. As Ronald Blythe has pointed out, "none of his ghosts are benign; they are horrible and extremely shocking."
Many of James's ghost stories are natural maps and can be walked. Even the act of reading them simulates a traversing of sorts, such is their detail.
Since living in London, I have visited James's grave each year at the first instance of rusting leaves and darkening evenings. The journey is undertaken partly in respectful gratitude for rekindling the joy to be found in autumnal pleasures. The grave's placement is far from the wide-skied, yellow-hued East Anglia that so much of his work evokes, the landscape that, as Professor Darryl Jones has suggested, "was to inform his stories in a profound way."[i] Eton is at least nearer, and his presence there suggests that his adoration for the academic institutions where he embedded himself took precedence over his favorite landscapes. In spite of my small, yearly pilgrimage being one of knowing ritual, however, my visits have never yet failed to unnerve me, albeit in ways that leave me giddy. Fact and fiction excitingly share the world for a time in the graveyard.
Many of James's ghost stories are natural maps and can be walked. Even the act of reading them simulates a traversing of sorts, such is their detail. They are filled with askance for journey. James was a landscape artist who, more often than not, subverted such journeys into the pastoral. As Robert Macfarlane argues, his vision of landscape "is never a smooth surface or simple stage-set, there to offer picturesque consolations." [ii] His very first story, "Canon Alberic's Scrap-Book" acts almost as an antiquarian tourist itinerary for the small French town of Saint-Bertrand-de-Comminges in the Pyrenees, while his last, posthumously published story "A Vignette" recalls the landscapes around his childhood home in Great Livermere. Authenticity is a strange ally to terror in James's fiction, and it comes most of all from the reliance on his personal experience of place. His landscapes are lonely, as in "A Warning to the Curious" where "there is nothing but the shingle for a long way—not a house, not a human creature, just a spit of land." It must be said that this isolation is not one that remains undisturbed for long. [v]
Such inconsequential journeys in curious pursuit of antiquities are the writer's quintessential story arc, not least because he was, to paraphrase one of his more unnerving descriptions from "Canon Alberic's Scrap-Book," writing from the life. He wrote books about venturing in search of such rural antiquity, in particular his notices to East Anglian churches in Suffolk and Norfolk, published with the catchy subtitle A Perambulation of the Two Counties with Notices of their History and their Ancient Buildings. He was the chief inhabitant of his fictional worlds, as suggested by one of James' great admirers Ruth Rendell. As she says about his characters, surely "they are all M.R. James himself, and none the worse for that."[iii] Searching for his grave becomes a metaphysical irony, being one of the most deeply Jamesian things to do. Either way, James and journeys go hand-in-hand.
The day I made my pilgrimage was an overcast one this year, heavy with rainy potential. I made my way from Paddington, stopping briefly in Slough where the passing trains threaten to sweep you away with their great speed. The train from there to Windsor is more like a model novelty, the type found in British seaside resorts that scoot happy children over short but exciting distances. Windsor itself was typically subdued like most towns post-COVID, an archaic place full of contradictions and the friction between old and new. Over the Thames and away from Windsor's intimidating castle, the compacted buildings that eventually lead to the college unfurl with ease. A few winding roads later, however, and the town seems imagined, virtually nonexistent.
I imagine if he does still walk, his image is one more akin to a mossy dryad, a figure of intertwined bark, than a more typically spectral image of a ghost.
The small church at the heart of the graveyard is today seemingly abandoned and owned by the college. They have yet to do anything with it, though it looks to be little more than a Gothic broom-cupboard. Thankfully, this benign neglect has been applied to the graveyard and its flora too. It is a pleasantly untidy place, where the paths struggle against the confidence of plants. Only if James himself had designed the plot could it have been more in keeping with the sensibilities of his fiction. The gravel crunches loudly underfoot in the surprising quietude, threatening to suggest the following steps of another in-between each silence. Ivy grows over many fallen graves, moss huddles close to the stones like a green shadow and the northern most part is darkened to a shadowy emerald by a minor forest.
On my first visit, I had initially worried that James's grave would be pristine, having read of its restoration some years closer to the millennium. It was to prove a needless concern, for the site is overgrown to the point where actually finding the grave was a challenge on that earlier visit, so determined was the brier to swallow James's memorial whole. The earth seems particularly hungry around his remembrance. Even today, James's grave resembles vegetation more than stone. I imagine if he does still walk, his image is one more akin to a mossy dryad, a figure of intertwined bark, than a more typically spectral image of a ghost. It was this image that followed me most as I wandered and stumbled alone between the stones and the woods, swearing again and again to register juddering movements at the edges of my vision.
Even knowing the location of James's grave failed to help find it this time round. I swear that it moves between my yearly visits. It appears to shift further and further into the foliage, increasingly protected by a natural barbed-wire of bramble. James understood the subtle, unnerving qualities underneath the pastoral, so it is fitting that the small landscape he now inhabits refuses to conform to a polite, picturesque stasis. Housing malevolent spirits renders his landscapes all-seeing, shifting with violence and menace in response to the writer's variety of fusty, academic interlopers. His graveyard is no different. It was peaceful among the dead for a time, and I sat on a bench there eating and smoking alone, disturbed only by an occasional plane from Heathrow and the rustling of a black bird. On a previous visit, a fallen urn next to a more dilapidated bench had revealed a variety of scurrying life and some white eggs, possibly reptilian. Graveyards are livelier than their morose reputation.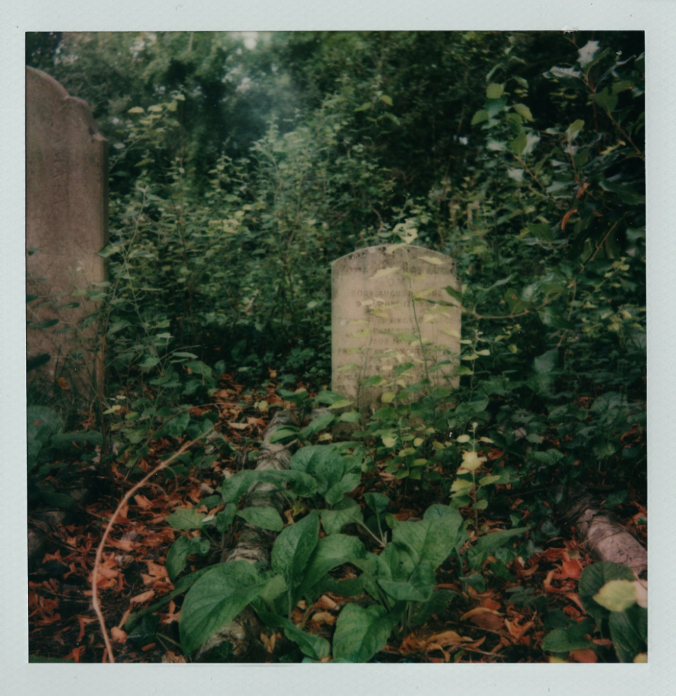 Taking my Polaroid camera along for the journey, I aimed to snap a few photographs of the grave and its watchful surroundings. The dampness of the stones was in retreat from a brief burst of afternoon sun making a slight appearance through the clouds, so I thought it best to take the photographs then. The grave actively resisted my first two Polaroids, reflecting the light and causing the colors to fade as if taken in harsh sunlight rather than Eton mugginess. I waited for a time, taking one of James' view over the plot and the determined, spindly fingers of ivy climbing the church wall, before aiming for two more of the grave. I waited patiently for the images to develop, watching a shape form above the grave like a wisp. Just as in James's short story "The Mezzotint," the image seemed to contain something on the approach, summoning presences out of the earth. It was time to leave, pleasantly unnerved once again by this contradictorily quiet and busy place. I could not help but glance back as I made my departure, ignoring the undeniable increase in speed of my footfall as something fleeting dared my eyes to look back in nervous curiosity once again. I left the empty graveyard contented for another year, aware that my departure was conducted under an observant gaze.
*
[i] Jones, Darryl. "Introduction" in "Collected Ghost Stories" by M.R. James. Oxford University Press, September, 2013.
[ii]James, M.R. "A Warning to the Curious" in "Collected Ghost Stories" by M.R. James. Oxford University Press, September 2013.
[iii] Rendell, Ruth. "Introduction" in "Ghost Stories" by M.R. James. Vintage, October 6, 2011.
---