The Republican Party Now Backs an Anti-Democratic Insurgency
Malcolm Nance on the Trump Insurgents and the Conspiracy Thinking of Their MAGA-Hat-Colored World
Feature photo by Rachel Cobb.
The U.S. Army and Marine Corps Counterinsurgency Field Manual defines insurgency as "an organized movement aimed at the overthrow of a constituted government through the use of subversion and armed conflict." Insurgencies are designed to seize political power by inciting chaos and overtly or clandestinely supporting armed violence. As I noted in a Washington Post Opinion piece soon after the January 6 attack, the "principal goal of an insurgent political party and their paramilitary or terrorist allies is to make existing governments seem powerless, feckless, and incapable of protecting their citizens."
The insurgent party, politically and paramilitarily, will always be quick to criticize and capitalize on the actions of the legitimate government. Through protest, propaganda, and street action they will tear at the fabric of stability. Outside the walls of power and under the table, they will also encourage, fund, or control terrorists and armed militias and try to gain power in regions that the government can no longer control. The popular image of an insurgency is poorly clad military irregulars vying for control of remote police checkpoints and trying to seize TV stations, but in fact almost all start with a political disagreement by a party that has been pushed out of control. That party usually forms a secret underground and explodes onto the national stage as the radical alternative to the main government.
One of the reasons political upheaval often flashes out from insurrections is that the government in power fails to recognize the severity of the threat. In an effort to maintain an image of calm, national cohesiveness, and political comity, democratic governments fall to radical revolutionary communists, fascists, and illiberal warlords because they refuse to allow that a successful insurgency is ever possible. Often, the seeds of insurgency take hold right before their eyes. The tendency of democratic powers is to believe in the strength of their political processes, the resiliency of their well-crafted laws, and the goodwill of their citizenry. The moment of ignoring an insurrectionist threat is precisely when a guerilla force led by an upstart political group will try to seize power.
Insurgencies often occur when internal political disagreements between two or more established parties move off the debate floor and into the streets. Political disagreements have easily become hostile words that formed revolutions and ended up toppling democracies. Many such disagreements result in party loyalists then establishing paramilitary forces. These groups take on weakened police or military forces.
The Field Manual also notes that insurgencies, once launched in earnest, are neither "fair" nor "play by the rules." The unbridled ability of the insurgent to ignore laws and craft lies and propaganda to match the reality they choose gives them political advantages. On the opposite side, governments working to keep order must maintain rule of law. They are constrained by decency, morality, ethics, and the civil conduct of war. The very definition of insurgency tosses those considerations out the window for the rebel forces.
Insurgencies are often won by the force that can maintain initiative both politically and tactically. In the world of social media and breaking news, the dynamics of political conflict favor those who move quickest to exploit information. Through propaganda, legislation, protests, or carrying out acts of terrorism, the political initiative is often in the hands of those who can challenge stability and push their agenda to the forefront of public consciousness. Speed in information gives the insurgent the opportunity to seize the imagination of the public, for both good and evil.
Every insurgency requires a political body to represent their views, even if they fully intend to have a cataclysmic breach of governance using force. Political movements on occasion ally themselves with or secretly form paramilitary and even terrorist groups. This allows politicians to publicly reject political violence but side with the perpetrators should their goals be popular.
Every insurgency requires a political body to represent their views, even if they fully intend to have a cataclysmic breach of governance using force.
TITUS is a pre-rebellion political-paramilitary alliance that intends to use politics, instability, and violence to meet its goals. The number one goal is reestablishing the Trump dynasty as the primary operating system for America. Then they will use the power of the government to punish their enemies. The political wing of TITUS, the Trump-dominated Republican Party, has already initiated a dangerous plan to embrace the launch of protracted political warfare in America.
More insidiously, the Trump insurgents are diabolically unified in their beliefs. They are a political party that suffered a stunning loss of power. Losing the presidency, the House of Representatives, and the Senate would usually make thoughtful, mature politicians reevaluate their situation dispassionately. Not in this instance. Under Trump's guidance, Republicans are determined to chart the exact opposite course.
The potential for loss of power was always present, despite the bravado and chest puffing of the leadership. The defeat in the 2018 election provided a stimulus that galvanized Trump's senior deputies, who saw the need for a long-term political strategy.
Steve Bannon, in particular, understood both the national and global potential of spreading Trump's personal philosophy (populism, arrogance, race hatred, lying, greed, nepotism). Bannon knew the power of raw fascism firsthand. He saw the visceral, spittle-flecked hatred dredged up in the Republican base when Trump designated a race or class of people as an enemy at rallies. When Trump spewed insults and hate, the authoritarian genetics of the Republican base flashed to life, with crowds swearing eternal enmity and vowing violence—and, in fact, physical attacks against protesters and news media occurred many times at Trump's rallies, with his smiling approval. Bannon knew this power to motivate had to be harnessed.
Never mind that he was arrested and charged with stealing money from these very crowds and embezzling funds from an imaginary wall project on the Mexican border. Trump understood that Bannon was right. A revolutionary rejectionist movement had to be built to destroy the Biden presidency. So, Trump pardoned Bannon for his crimes and let him loose to evangelize Trump's brand of fascism. Bannon started his own Trump-worshipping podcast, not surprisingly called The War Room, because to be taken seriously as a pro-Trump ideologue, you had to bend a knee to him as well.
By Election Day 2020, the Trump-dominated Republican Party solidified itself for what it perceived to be a battle to change the soul of America permanently.
By Election Day 2020, the Trump-dominated Republican Party solidified itself for what it perceived to be a battle to change the soul of America permanently. Trump's financial backers saw endless opportunity for tax cuts and limitless, tax-free profits. The stock market saw a president who would ruin nearly a century of regulation and allow them unimaginable capital gains that they could pass on to their children without paying taxes.
The party investors saw a middle and lower class that would pay for virtually everything Republicans wanted and divest from virtually every social program liberals wanted. In their eyes, the average American would see none of the profits of America but literally pay for the wealth and prosperity of the richest of the rich. In fact, Trump and his lieutenants managed to do precisely that in his first four years. By the end of his administration, money allocated for education, childcare, and mental health would pay for mega yachts. In Trump's America, executive jet purchases were tax free.
In 2021, the Republicans were faced with an American public that wanted calm and stability. However, as they propagandized internally, TITUS found success in portraying the Biden administration in conspiracy-theorist terms, framing Biden as a secret communist who worked as a handmaiden for Chinese president Xi Jinping. TITUS adherents claimed he was too demented and too feeble to resist the commands of Black Lives Matter protesters, whom they labeled terrorists. They drew sinister parallels between Vice President Harris, the former chief law enforcement officer in California, and cop-killing gangs. Seventy-four million Trump-supporting Americans believed these lies with all their hearts.
This leads to a natural question: are these conspiracy theories being pushed to fuel a planned insurgency or are they developing organically as a spasmodic reflex to Trump's falling from power? But posing this question in either/or terms misses the complexity of the issue. Trump understands that his raw, nakedly abusive politics enthralls the white authoritarian-tolerant class of Americans, and this suits his personal politics. He led them for five years like cattle by the nose ring, and nothing he did or said could dissuade them from holding a mythical image of him as the white patrician strongman they admired. It was quite the myth: the rich, white, golf-playing bon vivant who says he stepped into politics to help poor men be more like him.
Many of his most devoted followers harbor the fantasy of being a billionaire, having a fashion-model wife, and saying whatever they want, whenever they want, and not giving a damn about how people feel about it. This myth, though, is only for white men and their white families. These same devotees yearn to undo the diversity of the nation because it threatens their privilege, passed down from centuries of killing or enslaving all people of color. Most Trump supporters did not equate the desire to maintain their privilege with racial violence or understand that they epitomized white nationalism. But when they found out, they did not care. All the better. They wanted to be heard. But more important, they wanted to command the lives of all other Americans from a position of privilege and absolute power, even if it meant minority rule. And with Trump they got it in spades.
This leads to a natural question: are these conspiracy theories being pushed to fuel a planned insurgency or are they developing organically as a spasmodic reflex to Trump's falling from power?
The white nationalist desires were fulfilled by Trump's almost exclusively white government, which ignored the needs of the racially diverse 60 percent of America to reward the white voters who put him into office. Trump, unlike many Republican politicians, knew very well that his base of rural white men is what needed to drive the goals of his administration. Trump merely verbalized their hateful, racist, bigoted desires. They ate it up and placed him on a pedestal that no other Republican politician had ever achieved—even the sainted Ronald Reagan. Reagan himself paled in comparison to Trump in overall popularity.
The Republican Party now completely and utterly believed itself to be "red-pilled," a term taken from the movie The Matrix, in which taking the red pill allows one to see the truth of reality. In the TITUS context, being red-pilled means believing in the conspiracies and propaganda of the red-MAGA-hat-colored world. Being red-pilled is an act of faith. It is literally a cult behavior. In cults, the leader's word is absolute and no other thought is allowed or tolerated. Over seventy-four million Americans have chosen to accept the red-pilled MAGA worldview and reject all outside reality.
After Trump's election in 2016, his political ideology, which was more of a series of whims and bravado that made him the equivalent of a capricious king, transmogrified the party from within. Trump's white male image of glory is sustained by the fantasy of armed militancy, the acceptance of terrorism, the insane Q-Anon conspiracy network, and raw nationalism. It distills down to pure, uncut white supremacy. By 2021, Trump transformed moderate republicanism into an openly radical fascist party advocating the elimination of democracy.
____________________________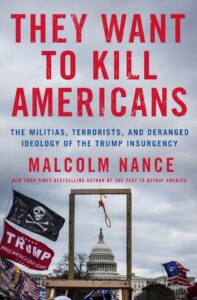 From They Want to Kill Americans: The Militias, Terrorists, and Deranged Ideology of the Trump Insurgency by Malcolm Nance. Used with Permission of the publisher St Martin's Press. Copyright 2022  by Malcolm Nance.
---