The Questionable by Judith Keller
At the Festival Neue Literatur, a Crash Course in Contemporary German Literature
This year's Festival Neue Literatur runs from November 11th to 14th. To reserve your seat, click here. The following excerpt was translated by Tess Lewis.
__________________________________________
BUCHEGGPLATZ
Art
Patrick is an art student. On one of his pictures is written: I love my parents. Everyone thinks this is funny. But Patrick is serious.
Literature
The boy came in and sat at the table. It was his favorite dinner, but he didn't say a word. After sticking a French fry into his mouth, he suddenly burst into tears. When his mother stroked his head, he buried his face in his arms and sobbed. His mother was not one to ask many questions, but we know that he was grieving for Winnetou, who had died on page 474.
Five Women
Theodora doesn't want any children, yet she's always expecting. Augustine would like everyone to miss her. Gudrun is always getting into something. Claire is always said to be on her way. Veronique is a very promising woman. However, she doesn't know what her promise is. Not keeping something—that's what she's always afraid of.
The Brothers' Visits
Once a year, one brother would visit the other. They both looked forward to it. When the brother was there, the two were annoyed that they could never think of anything to talk about. After three days, the brother would leave again. He would always write about a month later of how pleasant their time together had been. Until the next visit, they both believed the time spent together had been pleasant. Then, for three days, they no longer believed it. Afterwards, they'd believe it again for almost an entire year. Only three days a year were they sure they didn't like each other.
A Moral Tale
With regard to Mrs. Ochsenbein, she is currently on vacation near a lake in which mountains are mirrored. Mrs. Ochsenbein has come up with a new variation on encountering burglars. This is her new method: At home, there are three wallets on her kitchen table. Two are empty. In the third, there are a few twenty-rappen coins. The three envelopes surround a note which says: Burglar, this is all I have. The rest is in the bank. And when Mrs. Ochsenbein explains her method to the other hotel guests, she slyly adds that of course there are a few hundred francs in the apartment, namely, between pages 306 and 307 of Green Henry. At this the other guests nod just as slyly. When Mrs. Ochsenbein returns home from vacation two weeks later, she finds the lock on her door has been broken. Yet the apartment is neat and the bills are still in Green Henry. The note is on the kitchen table. Under her lines, an unfamiliar hand has written: Fair enough. Since then Mrs. Ochsenbein has been tormented by a guilty conscience and as far as slyness goes, she has given it up completely.
Relationship
A man wishes that the woman he's with would knock him out. Because she won't, he can only appreciate her. The fact that he can only appreciate her and that she won't knock him out fills him with a complicated sense of guilt he tries to put into words on long Sunday afternoons. She, however, would much rather be appreciated by him than knock him out. They aren't quite on the same wavelength.
Freddy or Maximilian
A man named Freddy or Maximilian always took views that those around him at any given time did not share. He wasn't sure if the views he took were sound, but with his eloquence, he could convince everyone. While he wasn't sure if his views were sound, those around him suddenly were. He would then let himself be convinced by them. But what others said never completely convinced him. As a result, he was never convinced of himself either.
The Son-in-law
The family of the newly married bride expects their son-in-law to behave as the family members expect him to. But he wants to behave in ways they don't expect in order to train his in-laws not to expect anything of him. He does this because he doesn't want to disappoint his in-laws under any circumstances.
In Principle
Ferdinand only meets women who, in principle, want him.
Xavier
Xavier always falls in love with women he doesn't like. He never notices this while he's in love. But he does see it afterwards.
Anticipation
Muriel is one of those women others prefer to think back on than deal with directly in real time. Thus everyone is grateful for the memories they will have of her and so leave her with a certain sense of anticipation.
High Time
This afternoon, a far-fetched woman is crossing a vast, brightly shining gravel covered lot, at the far end of which tiny people are pottering about in flower beds. Behind them rises a gleaming housing development that looks like it landed there. The air is saturated with rain; the first drops have fallen and disappeared into the meadow. The heavy sky is blue and gray and it's as if the development were illuminating the sun, which shimmers far away in the sky like a silver fish. The development gleams silvery dark green in front of the forest and it swallows all sounds, even those of the children who are carrying heavy shopping bags home to their apartments, past the ducks swimming wildly back and forth in the elevated decorative fountain. Behind it, there it stands—the distribution substation, just before the forest. She has been waiting until it's high time for a good while now.
SCHWERT
Memory
Sometimes she thinks she sees him from a distance. She almost follows him. But then she remembers: he is already much farther away.
Missing
She misses him. She can't do anything about it. But he is missed. Although there's nothing she can do, he can be missed. But she has to be there, because he can only be missed if she's there. She's there so he can be missed. It's the only thing left he can do.
Time
After he died, she felt that his time could no longer run out. Now it still counted.
Assignment
Mrs. Vogelsanger was not happy when a lovely word occurred to her. Then it occurred to her that there were lovely words. In the last few years she had become smaller and had withdrawn into a small part of her body. When she walked, she seemed to lose ground, that is, to go backwards, even though she was going forwards. She recently received an assignment in the middle of the night. She got out of bed, put her clothes on, and slowly limped downstairs. She greeted the surprised cleaning lady, opened the heavy door, and—the sky was still almost completely dark—went to the train station. "Tonight, I fulfilled an assignment," she said to a trembling woman sitting in the restaurant and waiting. She positioned her sentences so they were clearly visible in the air and looked up at them from below, always speaking rather triumphantly. She tensely searched her listeners' reactions for the meaning her sentences acquired. "Following the instructions, I took the train," she said and waited to see how the expression on the shivering woman's face would change with this information. "You only dreamed of the assignment," a thin voice said. It was the voice of another woman also sitting in the restaurant, who had sharp ears. Mrs. Vogelsanger became dejected. She slowly made her way back to her room, supporting herself on the wall the entire way. Exhausted, she sat on the edge of her bed. When she took off her wool jacket, she noticed the ticket that proved she had taken the train at five thirty that morning. She wanted to keep the ticket and laid it carefully in the waste basket.
Mrs. Sägisser
Mrs. Sägisser wants to set out to help her parents make hay. She rushes in the good weather. The sliding doors open. Cars drive slowly past. A younger woman, who looks familiar, stands next to her and asks, "Wouldn't it be nicer if you visited your parents tomorrow?" Behind the cars is the church and behind it is the hill on which her parents live and between the hill and the church is the cemetery where her parents lie. Mrs. Sägisser shrinks back, the sliding doors open behind her, she steps into the elevator, enters a room, Mrs. Züger lies in bed, asleep; in her sleep her mouth has shifted—a crevice in the middle of her face—she snores, the television is on, the church bells ring, the heat, the hay, the hill, the hay, what's with the hay, Mrs. Sägisser gropes her way to her room, looks out the window, the weather is beautiful, relief spreads through her, she no longer knows why.
High Time
Tonight, a far-fetched woman is walking through the city. The air is warm and saturated with rain and in the direction from which the evening sun had earlier thrown a sharp rectangle onto the houses, she senses someone looking at her. Empty tramcars with open doors stand, unlit, at the stations. The drivers stand next to trams, talking at them as they smoke. People in sombreros are also waiting and gradually the night mosquitoes arrive. Dark water streams from the ground and a truck crosses the bridge. Before long the far-fetched woman passes single family houses, catalpas and their scent. She feels she's being watched by a glowing pink head, sticking out from under the room's heavy curtains, which is also a lamp gazing out into the night. The terrain is stepped with trees and garbage bins, mosquitos and flowers. As she walks down a long street, she sees on a staircase below her a fox that stops when she does. Behind it stretches the valley, filled with shimmering lights. When she turns away, so does the fox, or, when the fox turns away, so does she. She doesn't look back, walks past the bundles of cardboard boxes, through the thick undergrowth, and leaves the rain-covered plates and the glass take-away table they're lying on and follows the arrows. At Schwert Station, she stops. It's drizzling and there are night mosquitos. She drinks white wine and eats braided bread. She listens. She has been waiting until it's high time for a good while now.
MICAFIL
Paragraphs
Last night the paragraphs appeared in her room again. They advanced through the darkness, stood at the side of her bed for a long time, letting their gaze rest on her. Their feathers rustled in a draft of air. She sat up and opened the window. "Off with you," she said, and a fluttering motion spread through the paragraphs. Indistinctly they left the badly heated room and entered the forest. The next morning, once again, there was no letter in the mailbox.
Casting
A police car drives slowly along the streetcar tracks in front of the central station. The officers scrutinize the waiting pedestrians through the window. Most of those waiting here are out of the question. But some do come into question. These are the questionable ones.
Extraterrestrial
It's not possible to cross this desert. It's not possible to climb this fence. It's not possible to cross this sea in a rubber boat. Those who saw him coming were blinded. From far away, he had shone like a never-before seen star. But when he reaches shore, he's one of the ones wearing a gold space blanket. The people on the beach can't believe he's still alive and greet him a bit incredulously, like an extraterrestrial. The farther away from the shore, the less they believe he was ever in danger, because if he really could have died, then he would have. It's not at all possible that he's still alive. And anyone who's not alive is impossible.
No Papers
A few years ago, Esperance fled over the sea in a boat. She didn't drown, but now she lives underground.
War
He declares war on them. They don't understand him. He declares war on them. They don't understand him. He tries one more time. They don't understand him. Because he can't explain it, he has to return to the war. There's no time to waste. There's only one seat left on the plane.
Cecilia and her Friends
A group of unkempt people are sitting at the table. They're friends. It's already late. They can tell by the reflections in the window, in which one woman spots herself like a discarded sketch. They can tell by the feeling that their brains have shifted slightly because of the wine they'd started drinking when the half fir tree was still visible through window in the twilight. The tree's missing top left a clear view of a window behind which first a woman ran past, then a man, as if they had to divide up the time. Maybe it was an argument, however not much could be heard.
The woman, who lives on the third floor where the friends are gathered around the table, sometimes notices that she lets a lot of things happen but nothing ever happens to her. Those who always want to come over have become her friends. Every evening they sit around the green metal garden table in her living room and talk. When a glass is put down on the table, it makes a banging sound. The woman these people gather around is called Cecilia. She welcomes her friends every evening with a friendly, desperate smile to which they've grown accustomed. There are breadcrumbs on the table, along with cheese rinds and the foamy ashes of many cigarettes; the friends bring something to eat every night. Anyone who looks into the others' faces at a late hour sees their features far away through the smoke. The friends turn their innermost parts outward and talk about their fears and what they've observed about themselves. They often speak in astonished tones. Every evening they empty several bottles of wine from the corner store; no one ever gets seriously drunk. To Cecilia, it all appears very far away and she watches herself and her friends like cyclists lost on meadow paths.
She's not sure she wants to hear everything her friends say. When not talking about themselves, they tend to analyze Cecilia and tell her how she is. They don't believe Cecilia is in a position to free herself on her own. Cecilia nods sweetly and pulls out a cigarette with her slender fingers. She encourages those who are speaking with approving nods because it's good to talk late into the night and to push further back those days on which night advances like the imperceptibly shifting fir trees at the forest's edge. Besides, everything she hears about herself seems clear to her. She now hears a languid voice saying that the speaker is afraid to walk past a group of people unless they have a few tired dogs with them. Cecilia nods because she would like to support everything that is expressed. What gets into a sentence seems comprehensible. Only later does she ask herself if she's the one who said the sentence, but it probably wasn't. Cecilia's friends enjoy her approval and that may be a reason they come. They always come as a group. If they came alone, they would feel trapped by Cecilia's shyness and would sit there mutely. When Cecilia talks about herself, she has the impression she's merely maintaining something, even when she tries to pull something out of herself so that afterwards it won't be there anymore.
She says in an astonished voice: "Before, a tree's beauty moved me to tears but now I seem to be dried out; nothing touches me anymore." Moreover, she always seems to be nodding. Her head sways slightly as if it were shakily trying to keep its balance on her neck. Some of the approval others have experienced from her could perhaps be attributed to this particular physical trait.
The door to the living room opens quietly and suddenly a little curly-haired person who can't sleep appears in the doorway. Confident she's not interrupting, she scampers over to Cecilia on thin, little legs. Cecilia is alarmed at the late hour and the clouds of smoke through which she notices her daughter only after some time. She feels ashamed because she senses her friends think she has no authority but is ruled by her daughter, just as she herself has always thought. She strokes her young daughter's head and tells her in a friendly voice to go back to bed. But the girl pulls on Cecilia's leg and pushes her cheek out with her tongue. Cecilia can see her friends looking askance. Cecilia summons all her courage and says, "I can also remember feeling as a child that having to sleep at night was a humiliation." The friends hear her high, helpless voice, which Cecilia also notices as soon as she hears herself with her friends' ears. The friends are hoping the child will be considerate and recognize the barbarity of robbing her mother of this moment of freedom and intimacy. Does the child, with her large eyes, not see the tears of shame above her mother's friendly smile? The friends now intervene and start shooing the child away in Cecilia's stead. Once again, they've taken something out of Cecilia's hands. She is only just able to see it, before she understands again.
The process takes a long time. Many pedagogical pronouncements are made; the friends' voices harden until a thin, hairy man comes up from downstairs. He greets no one and resolutely picks up the small, now screaming daughter, and carries her to her bed in the dark room with glowing stars on the ceiling, which at night seem to be harboring rather pointed plans. He will tell her she must sleep and then he will leave the room. Cecilia will be stricken with embarrassment, which will bloom heatedly over her face. At the same time, she envies the thin man his power. In the living room, the mood has become strange. The friends are not fond of the thin man and for good reasons, which are now laid out on the table. They blame him for Cecilia's state. "Is there even a shred of pride in you?" she is asked. When he comes upstairs again to make himself a snack, one of the friends asks him why he's with Cecilia when he obviously looks down on her. The thin man with the long face says with a sneer that only people who haven't done anything with their lives ask questions like that. The question fills the early morning hours. Anyone listening closely is aware of the first birds and sees a branch on the fir tree sway. The friends discuss how Cecilia can be helped. Meanwhile, Cecilia studies her grimacing face in the wine and worries that her reflection has recognized her. The friends are certain that Cecilia must leave the thin man with the tattoos. Cecilia's mouth wears a friendly smile as she listens to them. She understands everything and, behind her lowered eyelids, collects all the fluid helplessness flowing inexorably into her.
Dawn has broken and the half fir tree is visible again. The friends are still there, but their sentences have grown sparse. The first heads are sinking onto the tabletop. Others stretch out on the sofa or directly on the floor. The friends are everywhere, breathing deeply. Cecilia stands still for a long time and listens. Then she steps quietly over the sleeping bodies and slips downstairs and out of the house. The early morning air greets Cecilia as if it had been waiting for her for a long time. She shivers, but nothing seems easier than to go, now, walking along the street with long steps, walking on and on, out of the city, past the gas station towards the wintery horizon that is rising like a bright line over the houses, it even turns slowly and clearly towards her so that now she is walking directly towards it, towards the horizon – and yet her legs have turned off into a side street and entered the first open bakery. Cecile only wants to buy one roll, but her hoarse voice has conspired against her. She buys several.
GLATT
A Bleak Beginning
At this very moment, Marie develops—why will forever remain a bit of a mystery—an intense fear of dirt. Marie is in a train. She should get out at this stop but can't bring herself to touch the button on the door. She stands motionless in front of the button. She's not able to push the button at the next station either, nor at the one after. More stations pass, distant names on the station signs. Marie simply can't touch the button. The train is empty. Marie travels from station to station. She can't get out. Marie travels to the train depot. A kind train conductor frees her. Thirty trains are lined up next to each other as in an enormous stall. They are completely still. Marie looks at them for a long time as darkness falls. After many hours of waiting, her uncomprehending parents come and get her. Marie's inability henceforth to explain her reaction to them has its bleak beginning here in the nightly train depot.
Albertine
It's said that Albertine feels very well supported in her relationship, at work, in her apartment. Without her ever having heard this said, the moments when she feels supported increase. Suddenly she looks down at the ground, far below her. Despite her efforts, she can't reach it, she's too light. She's awake while sleeping. Sleep lies below her like a dark river. In the middle of the day, she has a fear of heights. It's evident when you look at her. Someone lays a calming hand on her shoulder. She's grateful. She is surrounded by good people, all at a loss.
Potential
People say that Josephine remains far below her potential. Even she notices how she tilts back her head. There it is—my potential, she thinks looking up at the scaffolding that extends metallically in all directions. Far below, Josephine can hear the wind shake it. She calls out, "My potential, come down, I'd like to stay with you a while, I'm with you, I'm part of you."
The Announcement
One evening, Mrs. Finsterwald prepares a special dinner. She has an announcement to make to her family. "I've got an announcement to make," she says, first looking down at her plate, then into her daughter's eyes, then into her son's eyes, and finally into the eyes of her husband. "We'll have to find a solution. I'm sure we can find one." She gives each of them a long look, her husband, her son, her daughter. Then she gets up from the table. "I knew we were a strong family." She leaves the dining room to give her long suppressed emotion free rein. She'd like to jump for joy. She has forgotten that she hasn't yet made her announcement. She'll remember soon; that's not a sight we'd like to see – quick, let's leave!
WALDGARTEN
Max
One summer Max felt the need to reinvent himself. He reinvented himself on a cruise ship. He reinvented himself exactly as he was before. But this time Max knew that he was the one who'd invented him. And everyone agreed that Max had finally found himself.
Nepomuk's Jealousy
Nepomuk has the characteristic of always reminding others of someone they once knew and loved. They approach and hug him. This happens all over the world. He doesn't know who that person might be. But he's certain it's not him. A profound jealousy begins to rage inside him.
Beside Herself
Melanie has a bad back. At night she is beside herself with pain. When she is beside herself with pain, she realizes that she's never beside herself. There's just her.
High Time
Tonight, a far-fetched woman gets out at the underground tram station Waldgarten. A man wearing a uniform a size too large and carrying a flashlight gets in the elevator with her. Above is the warm night. A Dachshund waddles past, the forest rustles and sways back and forth behind the house like an enormous pelt. The houses are flagged for demolition. During the day, he fishes in the lake; at night he wanders through the tunnel. Every night at exactly 1:31 AM, when all the doors close, he sets off from Schwamendingerplatz. He always takes 35,000 steps but adds another hundred every night. The distance between the tram stops grows, the universe is expanding. He looks at his watch. "It's high time," he says and steps into the elevator. The door closes behind him.
________________________________________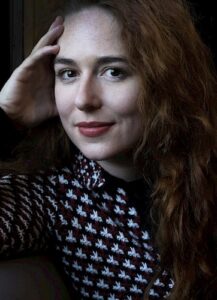 About the author
Judith Keller studied German language and literature in Zurich as well as literary writing at the Swiss Literature Institute in Biel and the German Literature Institute in Leipzig. She also studied German as a foreign language in Berlin and Bogotá and was editor of the literary magazine Edit. In 2014 she received the New German Fiction Award for her short story "Wo ist das letzte Haus?" (The Last House) which was subsequently translated into English by Katy Derbyshire and published through Readux Books. Her book Die Fragwürdigen (The Questionable), published in 2017 by Der gesunde Menschenversand, won an award by both the City of Zurich and the Canton of Zurich. Die Fragwürdigen was also performed as a theater production and featured as an audio play for Swiss radio.
---