The Color of the Pomegranate by Anna Barr
At the Festival Neue Literatur, a Crash Course in Contemporary German Literature
This year's Festival Neue Literatur runs from November 11th to 14th. To reserve your seat, click here. The following excerpt was translated by Sophie Duvernoy.
__________________________________________
Then the summer arrived when she stopped coming. At my age, it's best to be near a hospital, she said on the phone. I hung up in fury and threw the phone against the wall and wailed, because I understood that our patch of earth would remain lifeless, this patch of earth into which she had seeped, as if through a bloodstream branching wildly beyond her own bodily dimensions, a deep web of veins forcing its way through foundations and dirt. Her final departure from this corner of the world seemed to me like a premature death. I was inconsolable. And relieved. For the first time, I had the prospect of a summer without fear and war.
That summer, the weather went haywire. After countless days of tropical heat, it cooled, the cicadas fell silent, the rain streamed down, splashing and gurgling over the roofs and in the gutters and cisterns, a moody, percussive concert: trickling, dripping, babbling, then roaring, rushing, and thundering like wild applause. The earth exuded its scent, breathed, and brought forth its tiny creatures, a feast for lizards and blackbirds, wild pigeons and sparrows, who gave thanks in reverential songs, which drifted gently through the din of the pattering drops, shrill whistles, calls and coos, always, as one says, con spirito.
The warm earth steamed, so that thick fog rolled over the land, and in the hot, humid air lay a stirring, a wild sprouting, budding, and blooming, a return to oneself, just as if creation had, after a feverish delirium, recalled its purpose again.
But for the potted flowers on the veranda and the terraces, the rain and cool air came too late. The poor things, whose sensitivity to sun and heat had incited Nada's doggedness and defiance, were withered, usahnuti: such a bleak word for death that she could not help but revolt against the laws of nature, if only for the sake of a few sickly plants, which she had latched onto because of their beauty, though they drank up precious water meant for throat and hide.
*
Even the house is crumbling. Ants and termites hollow out the beams of the pergola and the handrail of the wrought-iron fence, endless streams of workers carry out sawdust and heap it into small mounds in the corner of the veranda.
The light of my glowing cigarette illuminates the blind spots of my memory and I see Nada painting the weathered handrail, the beams, the window frames, splashes of paint on the walls of the house, splashes of paint on the white marble floor, pearls of sweat on her brow. I see her working, always working, fighting against the ravages of time and the grasses growing wild. Yet just like the ocean swallows the shore during stormy winters, decay spreads, as if overnight, over all things. The garden twines its stems and leaves around her efforts. The withering pleasure garden, its tongues curling in the heat. Da barem kia padne!—If only it would rain! Someone heard her plea.
*
What must she have felt! She had only to turn her back on the garden for a day and it would send out shoots and ruin everything she had worked so hard for. A weed was growing in the spot she had just weeded yesterday. Ivy snaked around the almond tree, the ashes from the fire were scattered across the floor, even though they had just been swept up.
She yanks and rips at the vines and weeds with bare hands, her fingers rubbed raw and bloody, grumbling alone at the mosquito bites and thistle pricks, a cigarette in the corner of her mouth, flinging out quick prayers like curses, wiping her brow, sweaty already by early morning, with the dirt-covered back of her hand—dirt under her fingernails, splinters in the soles of her slippers, refuse in the plastic bucket missing its handle, which she would, when she felt no one was watching, empty in the neighbor's garden.
And who knows? Perhaps phantoms had long since crept up on her, stalked her, quietly whispered into her ear as she bent down and weeded and puffed and ash fell to the ground, to dust you too shall return. Perhaps they did so in those moments when she grew short of breath and looked over at us sullenly, because we didn't lift a finger, though everything had grown beyond her control.
*
Mother, Teta, and I couldn't keep up Nada's dogged struggle against dessication and overgrowth, this rebellion against God's plan. For many years we reproached her for fussing over the house and garden, partly to mask our own laziness, which was perhaps more reluctance, because everything had to happen according to Nada's wishes, because she had taken everything upon herself while claiming to do it all for us, to work and suffer only for us, for the children. Had she ever asked me? Oh, generosity and kindness: the last morsel of yesterday's bread, mother's blood, pain, all for us, as if her pain hadn't also been ours. You didn't suffer for me, Nada, but against me! Not for my sake, but for my harm.
Now idleness set in, as if we wanted to prove to each other that we were right and Nada was wrong. We neglected the scraggly flowers, let the lavender grow wild, justified the leaves underfoot by claiming the garden needed a layer of humus anyway. When the rain finally relented after days, we haphazardly sawed at the olive branches hanging over the garden path, which year after year had lovingly scratched our faces and mussed our hair.
After weeks of lethargy, Mother and Teta were gripped by a curious frenzy of activity. They outdid each other in disposing of this and that, junk Nada had stubbornly clung to until the end. They were like children who secretly enjoyed turning the house on its head while their strict governess was away. There was no one shuffling after them now, no one throwing her hands up in despair. Free reign, at last. Eagerly they stuffed sticky, smeared pickle jars filled with flour, sugar, lentils, spices, and jams, along with hundreds of empty yoghurt cups into black plastic bags, as well as pots and pans of all sizes, canned fish from the nineties, even the broken, discarded crisper drawer of the Obodin Deluxe Frigidaire and the standing fan which had given up the ghost. But no one had the heart to get rid of a single one of the garden gnomes we children had bought her, glad that Nada could be so easily made happy, though we mocked her love of kitsch; how could we have persuaded her to let go of this girlish indulgence, which embarrassed her but which she couldn't give up?
These were fruitless days. The figs were ready to be picked, but we let them wither; the weeds had to be pulled, but they took over. Nada was gone, gone from every room and nook, from every space, every plant, every stone of this overgrown garden, even from the butterfly wings and larvae, from the spirals of the empty snail shells which had been my trophies long ago. One day, when I'm no longer here, you'll know how good you had it.
*
Sometimes I see her walk past me without a word. She looks through me. I don't dare speak to her. I rub my eyes, but she's still there. I run cold water over my face, but the image keeps returning. Eyes can't be trusted. Then I feel as if I hear her: the scrape of the brushwood broom, the trickling of the garden hose, the tinkling when she sat on the toilet at night with the door open and we worried whether she would find her balance when she stood up and shuffled back to her bed half-asleep, cockroach shells crunching beneath her slippers, to which the human blood of crushed mosquitos stuck; in the late morning, the clatter of dishes, the hiss of the gas lighter, the creaking wickerwork of her old cane chair, the katriga, the pop of her pill-box and blister packs in the mornings, afternoons, and evenings, Popila sam Apaurin!, the hiss of the iron, the hiss of nitroglycerin spray, her coughing and wheezing, scratching at the burn marks on the tablecloth. I listen tensely, my breath shallow, but don't hear anything except a ghostly silence that wraps itself around my head like a cloth soaked in vinegar, drugging me quickly.
Sometimes Nada appears in a different form, as cigarette smoke that enters my nose and makes my eyes tear up. It rises behind white linen cloths, trembling on lines strung between olive trees, snow-white sails moved gently by the Mistral.
*
I search for Nada in everything. I want to find her. I stare, sniff, listen, wander through the rooms as if we are playing a dark game of hide-and-seek. I find her ancient brushwood broom and sweep every corner, every nook of the house, find traces of her ash in the cobwebs which she could no longer see, comb the fringes of the carpet, which Mother, as a child, in an attack of wild distress, had tried to cut off with scissors so she wouldn't have to keep them straight.
Under the chest of drawers opposite the mirror, I discover a mousetrap containing a small, grey, furry thing, which on closer inspection is a moldy piece of bait that Nada, blind in one eye, short-sighted in the other, must have placed under the spring-loaded bar years ago. A piece of lard, perhaps. I open the drawers and find nail files, rusty pincers and scissors, needles and thread, caked shoe polish, always applied so sparingly that it had become unusable, lipsticks in fiery colors, broken sticks of kohl eyeliner, dried-up mascara.
I tug on the knobs of the drawers, greedily breathe in the scent of tools, oil, and medicine, find a stack of paper—the same one from which I, as a child, would sneak a leaf to write on without having to show Nada what I'd written—and the ancient gauze compress with which I had once bound my growing breasts, half a pack of Ronhill Super Lights, Nada's pocket calendar, 1989, with phone numbers and addresses written in cursive on the first two pages, urgent care at the top, the other pages empty, her notebook with the sayings and quotes she had collected somewhere and then repeated to herself over and over, to impress them upon herself, to make life comprehensible: A clever man learns from his mistakes; a wise man learns from the mistakes of others.
At every moment, I expect her to appear behind me out of thin air, to creep up on me, take the notebook from my hand, slam the drawers shut, and ask what business I have here, just as she had done at every turn. From the top shelf, I take out the elixirs and healing potions she had amassed over the years in her blind belief in the wonders of pharmacology. Healing came from the fatherland. On each package of medication covered in German writing which Mother had brought her from Austria, Nada had written in her beautiful, spidery hand its use: Protiv bolova—for pain, Za srce—for the heart, Za spavati—for sleep, Protiv straha—for fear. And even if there was an herbal remedy for every ache and every fear, for everything except death—Protiv umiranja—the optimistic promises of the package inserts written in the murderers' tongue remained incomprehensible to her.
I discover several blister packs of Valium and remember how I once stole the tablets from Nada's white ostrich leather purse, the cigarettes too—for Hanin's sake.
*
The Bora had torn the leaves from the trees and scattered them across the garden path, where they remained for days. The piece of cardboard with the words Room to let, which Nada had affixed to the back garden gate last year, had been softened by rain and wind. No one bothered to remove the rest of the tape with which she had tacked up the cardboard sign to attract foreigners no one really wanted. I sweep the path to the aleja, pull every leaf out of the cracks between the flagstones, which have become loose. The beeping of her electronic blood pressure monitor sometimes mingles with the cries of the cicadas. We didn't get very far, Nada, in our quest for a brief escape: just to the garden––but at least we got that far!
In the potpourri of leaves, stones, and grass, I discover pomegranate seeds and olives, as well as stray screws, cigarette butts, plastic filters—Imam cigaretšpic!—some of the ends still red and greasy with lipstick. Will you cry for me, my child, will you be sad?
The garden gnomes are sun-bleached, hurt, as Nada always said, each one too often toppled by the Bora and set upright again, by her, even the one who had his head severed by the fall. She simply placed the chipped, hollow head back on his shoulders. The little great-grandchildren were frightened of him at first. Then they grew used to him, just as one grows used to everything. A movement sensor was put into the garden gnome with the broken head. In the first year, it still whistled when someone approached the house, whistled through its demolished skull (no one thought to exchange the dead batteries).
The ugliness which she clung to, clings to still, and always will—dead or alive—is my most difficult inheritance. Now my own heart clings to it, shuts out the new. They are already bringing in new stuff—the children, Mother, Teta—practical things, they say: a hygrometer with an integrated thermometer, plastic chairs, and a tea cart made of white plastic—tanti piccoli fa un grande. The objects oppress me, the junk and bric-a-brac, the violent ascent of the new rulers, saplings eating at the remains of the rotten motherwood. They have gotten their hands on my refuge and extinguish, like ceremonial candle-snuffers, the smells, the sounds, the aftertaste. I can do nothing against this work of destruction, which they think is improvement. The words say everything: they say nothing. I am silent. It's their turn, not mine.
*
Some nights, Nada appears in my dreams, puts out her traps, scatters ant poison over the veranda. Ashes on the kilim, in the fringe of the carpet, in my nostrils, on my tongue.
On one of these afternoons, she calls me up. Are you well? What else! She immediately asks whether we are watering the garden, if we have guests, if everything is the same as ever and is fine. She'll ask about the fringe of the carpet now. I flinch. She doesn't ask. Maybe because she no longer relies on the fact that I will cleanse the truth of unpleasantries to protect her. Maybe because she has forgotten to broach the subject. Maybe because she doesn't give a shit. She asks whether I've been to the flea market. I don't ask which flea market she means, or what day. I carefully lay out every sentence so there is nothing to bump against, no sharp corners, so she will not notice her mistakes, not notice I've outgrown her. We've padded all the corners of the house so you won't hurt yourself.
She'd dyed her hair, she said, and was enjoying the summer days on the terrace, walking around her house in Zagreb every day—oko mog svijeta, around my world, as she said. And she in heaven, sa neba, would be proud of me one day, when I would turn ninety. When I was a child, long before I had lain on the cross with God, she tried to convince me that there was nothing up there but clouds and air. She had seen it with her own eyes from an airplane: no angels, no God, nothing. Perhaps, I had thought then, her heaven was not beautiful enough to hold God.
When the cold comes, it gets into her bones, and when the days grow shorter, fear comes. Maybe she will take a look at the Jewish nursing home that Teta recommended. Nursing home, I think. I have to swallow. I can't swallow.
I don't tell Nada that Mother and Teta use oil and teabags only once, that they bought a dishwasher, that they throw out yesterday's bread and cut the unwanted rinds off fresh bread for the grandchildren, who have never been hungry. I don't tell her that we leave the lights on, even when we go out for hours into the village: lit up for a feast day!
*
Da barem kiša padne! Nada, it rained, it rained buckets! Now, of all times! I step out onto the veranda, spew wild curses at the southerly wind. Why now? The silence dissipates. Something makes me forgive God and her. A starved cat appears. It gets frightened and ducks when it sees me, but then approaches, rubs its purring side against my leg, and I cry like a child.
Were you ever so close and dear to me as you are now, when you are gone?
Go to the sea, she says, perhaps as an excuse to end the phone call, Idi na more. She says it entirely without sadness, not like someone who will never see the sea again, hear it, breathe it in, but as if she'll be right there, and she says it just as joyfully as always, so that it sounds like a single word: idinamore, because going to the sea can only be one single, holy word, a call to embrace life—idinamore.
I follow her as I always do: I dash like a dog that's been let off its leash, wipe the day from my eyes, turn them inward, see us both at the beach, one heart and one soul, see us laughing and fighting and needling each other—two unyielding figures at odds, I somewhat more yielding than she. I see us inhaling smoke, expelling it angrily, see her lifting the newborn child from its cradle with sticky, floury fingers, my child, blond, blue-eyed, babbling in the murderer's tongue, whose name she loves because it doesn't belong to the fatherland: Rahel.
Coughing fits, spurts of laughter, quaking shoulders. The dry seaweed trembles in the wind, lažina, the old women say. It seems as though the beach is moving under the twitching of thousands of tiny creatures. Small crabs scurry to the sea as I approach. Waves creep up, spit salt and foam. I can hear its trembling, and think of the countless hours in which I walked beside her, see us hand in hand, marveling at wonders, stepping close and jumping away, and then? Pay attention to your feet when you walk! And then? Children's bare feet on hot sand: on tiptoes, balancing. And then? Her hand turns to ash because I squeeze it too hard.
I see wizened women in black stockings, pointing out Baba Roga's rock to their granddaughters. They are half-grown girls, arms crossed in front of their naked, budding chests, pale pink like the noses of newborn kittens. They count the days, not knowing that the matchmakers and the spoilsports will ruin the days of their bloom, whether they are faithful or beautiful, for all wishes will one day turn into sacrifices. In the evenings, the old women scrub stained sheets and plait thorns into their hair and tell the virgins to swim in the sea only when they are bleeding, so the sea god's sperm won't get in.
The girls catch dragonflies, fly paper kites, load up paper boats until they capsize, force their friend underwater until he no longer struggles, pull him onto shore, adorn him with shells. I bend over the drowned boy and see Hanin's face.
Idinamore, she said, and in farewell I pressed my lips against the phone, kissed her on her sweaty brow, inhaled the scent of her hair. It felt like old times, when she tiptoed away and I pretended to sleep. Once again, a final farewell, because the angel of death must be spreading its wings out over her, though she is haggling for time and won't go quietly.
*
On the day before my departure, I go to the cemetery and observe the back and forth of ebb and flow, the sky reflected at my feet. Occasionally, something breaks the surface, snaps at food or air, and plunges below again before I can tell what it is. If you dip even your little finger into the sea, you'll be joined to all the oceans of the world. I stood here—holding Nada's hand, in the frightened dreams which faded with the first pale rays of light and turned into their opposite, for in the early morning hours, in which the air was still abundant, the fright had passed and the day unfolded like a peacock's fan. Will you be sad, my child?
Here, at the cemetery, we are together in a strange way. I kneel in front of Beppe's gravestone, stroking the little five-pointed star chiseled into the marble slab, Nada's guiding star, the star in a sky that couldn't even change the weather when we wished for rain.
I place a sprig of oleander on Teta Franka's tomb, and wipe away pine needles, dried wildflowers, and the hard, crackling remains of fire lilies and chrysanthemums from the rough tombstones, which have metal rings in them large as children's fists, inscribed with the chiseled names Pjero, Frane, Lucija, Lodina, as well as the name of the other cousin, the one with the beautiful eyes who bore an inbred bantling, and the names of the cut-throats and abortionists and even those black widows of yore, who had tried to outdo each other in their grief over the dead, jealous of the happiness of others, quick to put their fingers to their lips when someone made a joke so they would never be suspected of having fun or succumbing to a fancy, even though they would have liked nothing better than to spit on their husbands' graves, since the wearied heroes were good for nothing more than pulling out their wallets on payday and shielding the children from them every now and then.
When I was a child, I asked myself if I might manage to lift one of the slabs—and see what? Could a child be rotting in there, staring wide-eyed? Sometimes I put an ear to the stones to hear the whispers of dead children, to feel afraid, since fear was my ownmost feeling, my shelter, my refuge. Perhaps they stuffed up the mouths of the little ones with stones and dust so they couldn't complain about all the hands that had slipped, which were only a sign of love, just as everything happened in the name of love—spare the rod, spoil the child. A sign of love, even the Judas kiss of the mother, since sad mothers are the measure of all things—and sad as well those whose children were too small for a gravestone, the miscarriages and aborted fetuses, which they buried hastily under cover of darkness under the trees, or birthed into plastic bags and threw into the sea, with a heavy heart for their sons and a lighter one for their daughters. Woe to those mothers when the sea spit the sacks back on shore and the children were not allowed to open them, because what if there were kittens inside? These tiny children took on the voices of strays at night, and when the cats vanished in the dark, their cries turned into children's cries.
Sometimes I feel as if Nada's voice is joined with the tossing waves. Don't stare at death like that! You'll never be able to forget it! And then, when we walked back from the cemetery: What's that look on your face?
*
This land is no paradise to be regained. Perhaps it never was one. The abortionist, who never hurt a single fish, sits by the Riva in the evenings, making lace doilies and selling them to strangers. You can't see the blood on the crochet hook anymore—Blessed be the fruit of your womb. The children's summer camp is a refugee camp. The flowers on the graves curl in the heat and snake away. The cries of swallows cut through the burbling of the dripping air conditioners, which hang like growths on the façades.
This land can do nothing about the satellite dishes and brightly flapping laundry on the balconies, the ever-growing throngs of people in front of the churches, standing in line for confession, the empty or occupied houses of brothers turned foes—Oče naš, otpusti nam duge naše!—but those who curse their brothers won't reach heaven. It can do nothing about the new faces of those exiled from regions turned into war zones and hot spots, nothing about the checkered flag, nothing about the losers of the past war who have been brought into this new land and given positions and honors, nothing about the damage and destruction wrought upon the monuments for the war against fascism and the murdered victims, nothing about the new street names, which I don't want to translate, just as I've never wanted to translate anything, because terms are only valid in the places they originate, if they are valid at all. It can do nothing about the Ulica Domovinskog rata, which is not Nada's war, but the war of brothers that, instead of ruins, left behind new houses with corrugated fiber-cement roofs.
I don't greet people in the village and they don't greet me, but sometimes I stand next to complete strangers who look like me. Our land is an airship on fire, sinking in the sea. Only its shadow still glances off the water. There is no local time. There is no real time. Everything will be fine. When the time comes, Nada will return to this place. As ash, at least.
*
During my visit to the Jewish nursing home in Zagreb, I wheeled her through Maksimir Park, wedged a Ronhill Super Light between her flaccid lips, 0.4 mg nicotine, 4 mg tar, pushed her as close as possible to the large pond, pointed at the ducks, herons, and turtles teeming in it, Look at them, look!, was touched when she anxiously checked the brakes of her wheelchair, pushed her even closer to the water's edge, until she cried out and scolded me. Didn't you say you weren't afraid of death? Come on, show me you want to live!
I count the goodbyes. Last time, I'd already feared that her answer to my question about her health might worry me. I won't ask anymore. You didn't stick to the rules, Nada, you said you wanted to die. Twice now, I've said goodbye forever. The die was cast, but nothing happened.
*
The border is gone, I said.
Nada looked at me expectantly.
Yes, we've united now. Somehow we're one big country. We're Europe. What do you think about that?
The border, yes, she mumbled, and nodded.
*
In Maksimir Park, I handed Nada a package of sugar wafers. She crumbled them between her fingers. A flock of sparrows alighted beside us, and disappeared seconds later as a cloud into one of the hazel bushes. The trees here are old, I said. You can tell, she replied. I kissed the tips of her fingers. They smelled like smoke. Her fingers were still laden with rings, they'll have to bury them with her or pry them off with crowbars. As we noticed the distant grumbling of thunder, she began to sing—Grmi sijeva, oluja se sprema, a ciganke varošanke još iz sela nema. I found an empty snail shell, laid it on her lap, and she continued: Pužu, mužu, vadi roge van, da ti kuću ne prodam staroj babi za duhan.
I didn't mention that shortly before, I'd been to her house in Zagreb, which she will never see again. I didn't tell her about the smell of childhood that greeted me in the hallway like an old friend you embrace after a long absence and don't want to let go of. Time, frozen! Teta had moved the old Bösendorf grand piano against the wall, one of its legs all crooked, and taken the heavy, dusty pink velvet drapes to the cleaners. A massive, unframed mirror still hung on the hallway wall, my reflection growing ever taller. Pictures still stood on the piano, framed photographs in several rows: the children, the little cousins, my brother and I, the great-grandchildren, Rahel, Ivo, Ana, the in-laws at the El Shatt refugee camp.
I wanted to look at one of the pictures more closely, lifted the silver frame up from the Bösendorf, and noticed that something had fallen out of the frame and onto the floor: a black-and-white portrait of the Admiral which she had hidden behind a childhood photo of me, maybe to look at it secretly in moments of devotion or merely to know that he was there amidst all her other loved ones, between the small and large sculptures made by sculptors who were her friends, between the porcelain vases with the hairline cracks and the crystal ashtrays. O partigiano, portami via!
In the cabinet are the same old books, awards, insignias, and between them the clay figures I gave her as a child, which she loved just as much as her medals for bravery. They'll be thrown away, they're not even good enough for the flea market.
I sit down at the old Bösendorf, under which there are boxes now—play, just play!—find the first chord of the Pathétique. I've played it a thousand times and can't even finish the first bar. Think how much we spent on piano lessons!
I'm still the foolish child who shot up too fast, until I was as tall as the top of the mirror. Now the cabinet isn't at eye level anymore, but level with my chest. The drawers of the old German sideboard contain silver flatware, napkin holders, an ancient Easter egg. The bathroom is full of dried-up hotel soaps, which Teta Svetlana brought back from her spa visits in Abano and Montegrotto, here and there an old piece of candy, a tube of mascara with an Austrian supermarket price tag.
*
A small statue of the Virgin Mary now stands next to the General's bust, which is as big as a head of cabbage. Would you like to take the bust with you? she'd asked the last time I'd visited her at home and we'd sat, enveloped in heavy swaths of smoke, in the poorly heated salon over a glass of cordial—I'm not cold. Ever! Not since that winter in Bosnia. I live in Carinthia, I answered. She seemed to understand immediately and looked at the bust, as if she were quickly thinking of how we could manage it, little and frail but erect and stubborn with the ever-present look of a little girl on her face. Ha! she cried, as if the world belonged to us, and shrugged her shoulders. Where would I put it? I asked, sheepishly. But on the next day, I forgot it after all.
*
I won't tell Nada that when the times comes, I will remember those summer days on which she lay down to die, neither for the first time nor the last, and tried to calm my fears by imploring me not to be sad. No, she wasn't afraid of death, because as long she was alive, it wasn't there yet, and when it came, she wouldn't be there anymore. Don't be sad. She'd had a rich, long life, and death was something to laugh at. I bite my tongue for her sake, say nothing about the ripe figs and lemons for fear it could make her sad, stir up longing. I don't tell her the old almond tree has been cut down.
I threw the bougainvillea, which I had brought her from the island, into the garbage bins behind the nursing home.
*
No one waves, no one follows the car as it drives away ever more quickly, no one hands me a plastic bag with snacks for the road, no tears are shed, none of those things that make my throat clench up too soon. Will you be sad, my child? Should I be?
Sretan put! says the sign at the island's exit, Have a nice trip! The sea bubbles and foams behind the ferry, lights reflect on the horizon, twinkling like mica. At the Pazar in Split, I buy a few peaches for my onward journey and pass a stand with embroidered cushion covers. One says, Call your mother—she worries. Quickly, I take my cellphone out of my bag, dial Nada's number, and want only to hear that she's alive, forget that she's had some bad days lately, days so bad that even she, the junakinja, thought of giving up. But her spark of life is a hellish heat fanned by every breath, every drag from each cigarette. Hoilalila-hoilala, umro miko hoilala—I see myself staggering through the funeral home in a wild spin, at my wits' end. Smooth down the edges and corners in the house, so I won't run into them, the way I ran into your love!
I don't want to see you like this: bloodless ears, heavy tongue, hair that no one dyes blond for you anymore, so that you are startled every time I push your wheelchair past the mirror in the nursing home's long hallway. Nothing will save you this time, Nada, no trenches, no hiding-place. Not even Mother. I told you, she'll come soon—always and forever: soon. I'm afraid for you. Die, then it'll finally be over! Cough up your life, spit it out! You haven't missed a thing. Except for Rome, perhaps. My God, Rome! I break the broom into bits, fall to my knees, bite off the carpet fringe, spit it out before your feet, crush the flowers in the garden, throw the rolling pin sticky with potato dough against the mirror so that it shatters into a thousand pieces, roll the kilim into a cigar and light the fat end. The flames eat through its weave until it crumbles into ash. Hoilalila-hoilala!
 *
Nada picks up. I shout, It's me, it's me. I shout louder. Passers-by look at me, shake their heads. Everyone can hear me except Nada. Then, on my second attempt, a young woman's voice answers: The person you have dialed is currently unavailable. Please try your call again later. Later? For us, there is no later!
*
Recently, she stopped smoking. From one day to the next, as if she had simply forgotten. And who knows, perhaps she'll forget to die as well, and be forever content to exist in a twilight realm. She's shrunk, as if she wanted to expunge herself from the world, as if she didn't want to leave us her mortal remains, as if she wanted to dissolve into the void—become the long ash at the end of a cigarette, which rolls first over the veranda, blown by the Bora, and then scatters in all directions, while laughing, of course—what else?
________________________________________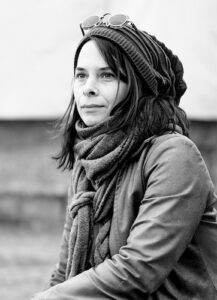 About the author
Since 2012 Anna Baar published numerous short stories, essays and poems in magazines and anthologies. Her first novel Die Farbe des Granatapfels (Wallstein)—The Color of the Pomegranate—was published in 2015. An excerpt from the manuscript was shortlisted for the Bachmann Prize at the Festival of German-Language Literature 2015. The novel was ranked # 1 on the ORF Best List for three months and was awarded the Rotahorn Literature Prize. For her second novel Als ob sie träumend gingen (2017, Wallstein)—As If They Were Walking in a Dream—Baar received the Theodor Körner Prize.
---