The Migration Patterns of the Privileged: On 21st-Century Climate Gentrification
Parag Khanna Considers Who Can Survive the Coming Disasters
As remote work policies kicked in during the pandemic, Manhattan's financial jet set wasted little time in snapping up beachfront real estate in tax-free Florida, ensuring they spent as little time as possible in their New York high-rises. Florida's "Follow the Sun" campaign was a resounding success—but how long before these mobile elites have to abandon their coastal mansions?
Natural disasters are forcing more and more Americans to move. With sea-level rise punishing the Atlantic and Pacific seaboards, coastal living is shifting from rite of passage to reckless luxury. America's four most populous states—California, Texas, Florida, and New York—all face climate reckoning. Among all global coastal cities ranked by asset value at risk, New York and Miami rank first and second. New York has yet to prepare itself for the next Hurricane Sandy–like superstorm that could bring even more coastal and inland flooding of its subways and streets, nor has it upgraded its electricity grid that suffered major outages during the 2019 heat wave (that also led to the cancellation of its major triathlon). Miami's South Beach, downtown, and even the new tunnel from its port have been flooded; the Florida Keys will be sunk as there are too few homes to merit spending on raising roads. The psychological and economic impact may be far greater: With each story of climate disaster emanating from Florida, fewer people plan to buy property or even visit.
Florida could, however, be home to ever more of the Caribbean's climate refugees, much as it took in victims of Haiti's massive 2010 earthquake. Within one year of the devastation wrought by Hurricane Maria in 2017, more than two hundred thousand Puerto Ricans had fled to the mainland US, most if not all for good. Despite the Bahamas' high income from tourism and offshore finance, the island of Grand Bahama was declared "dead" after Hurricane Dorian in 2019. Thousands of the country's four hundred thousand residents have already resettled in Florida and other states—and perhaps eventually they all will.
More than a century ago, millions of liberated black sharecroppers embodied the Great Migration as they shifted northward to the Midwest. In 2005, Hurricane Katrina pushed nearly one hundred thousand poor black residents of Louisiana out of the state—and perhaps many more will leave after the state's poor handling of the coronavirus. Already cities such as Atlanta, Dallas, Charlotte, and Austin are gaining climate migrants from elsewhere in the southern US.9 The next great migration is accelerating. Each time an American family loses everything, they become that much more likely to move. Vast swaths of American real estate are no longer deserving of their price—and certainly won't be a decade or so from now. As sea levels rise, towns on the "new coast" from Connecticut to Louisiana will have to raise taxes to fund sea barriers—and they'll have to pay for the barriers themselves since catastrophe insurance is drying up.
The EPA currently ranks Alabama, Mississippi, Florida, Georgia, and the Carolinas as the states least prepared for climate hazards, with hurricanes reaching deep inland from America's Atlantic and Gulf coasts. But inland flooding from the Missouri and Mississippi Rivers also torments more than two dozen states, wiping out roads and bridges, wrecking countless homes, and even threatening nuclear reactors. According to BlackRock, most of American real estate west of the Mississippi is in water-stressed areas. The Great Plains states, such as the Dakotas, Nebraska, and Oklahoma, are America's breadbasket, making the region among the leading producers of corn, soybeans, cotton, and alfalfa, as well as livestock (cows, pigs, sheep, chickens). But while they're safe from the sea, they suffer from the combination of floods, which alter planting seasons, and oppressive summer heat waves. Together, these climate risks have made property insurance either unaffordable or unavailable. Property owners and workers have crunched the numbers themselves: It's much cheaper (and smarter) to just move.
In the cottage industry of climate gentrification, the Rocky Mountain region appears ascendant.
The federal government is finally taking a pragmatic stand. After $500 billion in disaster-related expenditures since 2005, adaptation is no longer a worthwhile expense. A coalition of agencies such as FEMA, HUD, and the Army Corps of Engineers (ACE) is pushing an agenda of "large-scale migration or relocation" packages for threatened coastal areas, especially along the Atlantic and Gulf coasts. Next they'll exert eminent domain, destroy at-risk homes, and provide buyouts for occupants to move.10
The more the financial industry quantifies climate risk, the more it will motivate migration decisions. Already baby boomers are reconsidering where to retire, both for their own sake and to avoid handing down depreciating (or nonexistent) assets to their children. Older Americans tend to want to pick one place to live and stay put—but this is not as easy as it seems. Retirement used to mean heading for the seafront, but increasingly it implies moving inland or into the mountains.
A map of the population density of the US and Canada reminds us how much space we have to spread into in search of livable geographies to cultivate. As in most industrialized countries, two-thirds of the American population lives in cities, which represent just 3 percent of the land area. Half the American population lives in just nine states—but they won't be the same ones in 2030, 2040, and 2050. Which American states bring together the combination of climate resilience, job creation, and progressive politics young Americans are looking for?
As much as California has led the way in liberal governance and even (ironically) emissions regulations, the state is ill equipped for the climate challenge. America's West is two decades into a mega-drought in which hotter air absorbs more water from the ground while rainfall diminishes, turning California and its southern neighbors Nevada and Arizona into tinderboxes. Each year brings hotter temperatures and more severe wildfires, meaning California faces water, energy, and housing crises all at the same time. From the Bay Area to Los Angeles, thousands of homes of both the rich and poor have been charred, with insurance companies decades behind and billions short on payouts. California's utility PG&E has preemptively shut down power supply to prevent wildfires spreading through burnt power lines, but also blocked homeowners from switching to off-grid solar power, so the utility can continue collecting fees, effectively leaving even some of the richest Americans without power for days. Meanwhile, Los Angeles County continues to approve new home construction in fire-prone areas, but the more Hollywood studios and film sets get disrupted by climate change or coronavirus, the more the entertainment elite may decamp to European countries that offer tax breaks and healthier lifestyles.
California is becoming like its counterparts on the Atlantic and Gulf coasts: a survival society, an economy built around rebuilding itself. It has been pumping ever more from underground aquifers for agriculture, to cope with declining snowmelt and rainfall in the Sierra Nevada Mountains. But unless it can solve its water crisis by replenishing Lake Mead and Lake Powell and ramping up desalination, living there will become more liability than asset. For many, it makes more economic sense to just leave and start over someplace cheaper. California had long been America's promised land—until it wasn't.
Many Californians have already pushed into the inland West, but from Glacier National Park in Montana to Yosemite in California, the major parks they seek to be near have closed for months at a stretch due to wildfires. Authorities across the region will need more funds to absorb new migrants from the coast—and prevent their new homes from burning as their old ones in California already have. Duke University researchers have modeled the complexity of each American habitat zone to forecast the interactions of human, local animal species, soil and flora, tree cover, emissions, and other elements of our ecosystems, showing how easy it is for the delicate balance that we consider "normal" to be upset by increasing the temperature, the number of people, or other factors. As we move, we bring risk.
In the cottage industry of climate gentrification, the Rocky Mountain region appears ascendant. Colorado has the altitude, water supply, and progressive politics that attract ever more millennials. Denver has expanded its airport, built a light-rail network downtown, and launched a World Trade Center business campus. The state's ski season is getting shorter, but it's attractive year-round for hiking and cultural festivals. Boulder has rejected high-rise buildings, adding to its aura as "America's happiest town."12 But as temperatures rise, Colorado also faces winter rains and rapid snowmelt, drier summers and a diminishing Colorado River that sustains 40 million people across the southwestern US. Snow can only last as the state's most important source of water so long as there actually is snow.
In the Midwest, breadbasket states such as Nebraska, Kansas, and Oklahoma also face rapidly depleting groundwater. Particularly the southern US and Mexico rank among the most water-stressed regions of the world. But there are exceptions. Houston, America's busiest port city and oil capital, is gaining about a hundred thousand people per year, but its drainage system dates to a time when it barely received any rain. No wonder many areas are still recovering from Hurricane Harvey in 2017 and Tropical Storm Imelda in 2019, which brought five feet of flooding.
The complexity of climate change means that we can't be too confident in any one place guaranteeing safety from extreme climate events. For example, a 2012 report by the Nature Conservancy identified the long-derelict Appalachian region as a "natural stronghold" against climate change. Back then, one might have assumed that the hiking season would be longer and the ski season shorter, but otherwise no major downside effects in the medium term. More recent studies, however, suggest that the central Appalachians will actually experience significant temperature rise, biodiversity loss, and increased incidence of forest fires.
A roughly rectangular or diamond-shaped box around the Great Lakes region, from Minneapolis down to Kansas City in the west, eastward to Pittsburgh, and angling northeast to Poughkeepsie, with Canada's powerhouse provinces of Quebec and Ontario to the north—enjoys an abundance of freshwater and is set for milder winters. This greater rust belt region has been losing population since the financial crisis but will regain it due to climate migration. Illinois today is a fiscal basket case and Chicago ranks as America's most bankrupt large city—none of which will matter once Americans surge toward the region seeking a more stable climate. Duluth, Minnesota, has earned the "climate refuge" moniker and is branding itself accordingly to boost its population of just under a hundred thousand people.13 Well aware of their propitious geography, residents of Toledo, Ohio, have been pressing for a "Lake Erie Bill of Rights" to allow them to sue polluters. Bringing more residents there without strengthening environmental protections first would be a grave mistake even if it were not a crime.
People will move to places whose administrations take the reins after climate crises rather than bumbling along.
Other climate-resilient zones are retrofitting themselves for their future as neo-industrial hubs. Minneapolis and Kansas City are recruiting startups, while Dayton is revitalizing its historic downtown district, known as the Arcade, that had been shuttered for several decades. Abandoned company towns such as Buffalo are attracting Arab asylum seekers, Puerto Rican climate refugees, and fresh-off-the-boat Indian families. University towns such as Rochester (New York State's third biggest city) and Pittsburgh (home to more than three dozen higher education institutions, including Carnegie Mellon) are doubling down on innovation districts and upgrading their water pipes and sewage treatment to prepare for future populations. Ann Arbor, Michigan, whose university represents more than one-third of its population of 120,000, needs to do all this as well since these college towns are well suited to absorb both academic and climate refugees from the south. Grand Rapids, Michigan, has nearly 1 million people in its metropolitan area (up from 750,000 in 2000) and is building an ecosystem of multipurpose technicians for the automotive and biomedical sectors.
There is an irony to how difficult it has been for retirees to sell their homes in the Hudson River Valley, from northern Westchester to Albany. While it's understandable that young families don't have the financial security to invest in large homes beyond the commuting range of New York City (especially since companies from IBM to Pepsi have shrunk their headquarters), few geographies offer the combination of elevation, freshwater, tree cover, safety, and other virtues. Climate change and Covid herald a regeneration for such climatically livable areas, as the new telecommuting class seeks out leafy and spacious suburbs. Even before Covid, clever states such as Vermont launched tax break schemes to attract remote workers. Tulsa, Oklahoma, is giving $10,000 to each new arrival. Other states with low living costs, such as Alaska, Tennessee, Idaho, Wyoming, and North Dakota, could easily do the same.
People will also move to places whose administrations take the reins after climate crises rather than bumbling along. Boston expects to have thirty days of high-tide flooding annually by 2030, and Logan Airport to be among the first in America to sink under the sea.14 The city's authorities are now planning to buy and rezone land to build a new airport despite local political obstacles. By contrast, it's wise to avoid states losing people and facing a wave of municipal bankruptcies; they'll play chicken with Washington and lose, their decrepit public services eroding further. From North Carolina to Texas, the trash is no longer being collected in some small towns as the state abandons them and big cities finance only their own roads and sanitation.
Could there be an upside to America's staggeringly underfunded infrastructure renewal? America is littered with hundreds of thousands of derelict bridges, dams, and power lines. The country gets barely 10 percent of its energy from renewable sources such as wind and solar, and with three separate grids (East, West, and Texas), a Green New Deal seems a long way off. But new infrastructure plans could incorporate climate assessments and prioritize renewable power, with roads and residential zones located in areas from South Dakota to Missouri to Pennsylvania that are most likely to gain in population. Putting their overhaul first would bring America's future geographies into better alignment.
__________________________________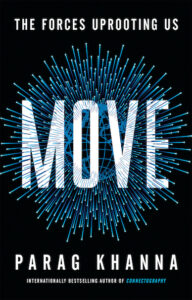 Excerpted from Move: The Forces Uprooting Usby Parag Khanna. Copyright © 2021 by Parag Khanna. Excerpted with permission by Scribner, a division of Simon & Schuster, Inc.
---