The Massive Chicago Operation to Save 800,000 People From Hunger
Working for Food Security in Greater Chicago
"If you've come here to St. Kevin's Church looking for food, don't waste your time, they're not open today." 
"What do you mean they're not open?" "What I said. Not open." 
The man introduced himself as Gordon. He looked to be in his sixties, with a stained red jacket, boots without laces, a gray wool beanie with a pom-pom that said "White Sox," and an expression on his face that said he could give a shit what he was wearing. 
I checked my phone to confirm the hours. St. Kevin's Food Pantry Open from 9:30 am to 11 am every other Wednesday. It was 10 am and no one was around. I did some further googling and discovered on other pages what I had already begun to fear. The pantry date had been changed. They now opened every third Wednesday. 
"I'm afraid they changed the day of the food pick up." "What do you mean changed?" 
"It says it's open every third Wednesday instead of every other Wednesday." 
Gordon threw up his arms then shook his head. "Whatever." "Do you not care? 
"Course I care, but what am I gonna do? Break down the door?" 
The church was a solid building on the corner of a desolate avenue. It was a church like a lot of churches, pseudo-Norman or pseudo-Swiss, pseudo-something, with its little tower, its big windows, its signs inviting people to pray and instilling in them the fear of God. At least until recently, it passed out food on Thursdays, but Gordon didn't get the memo. 
"You always come here?" 
"Course I always come here. What, do I look to you like a tourist? This is my neighborhood, and this is where I come every other Wednesday to get my two-week supply of food. No one told me they were gonna change it." 
A flotilla of trucks left these hangars every day to distribute food to more than 650 shelters, pantries, and soup kitchens all over Cook County.
We stood there together for a moment, looking at the locked doors. "How am I supposed to eat this week?" 
"You don't have any other options?" At the question, he stared laughing.
"Oh, I got other options. You just don't want to hear about them." 
He adjusted his pom-pom hat and walked away with laughter still in his voice. 
"Nah, you don't even want to know." 
*
Most of Chicago's food pantries and soup kitchens are supplied by the Greater Chicago Food Depository (GCFD), which is in the southwest Chicago neighborhood of Archer Heights. Founded in 1978 by Robert Strube, a local fruit and vegetable merchant, the GCFD now occupied a building that in a less wealthy country could've been the headquarters of any old multinational corporation: an expanse of glass, steel, the stars and stripes flapping from its roof right above the state and city flags.
Wendy, my host, informed me that the building covered an area equivalent to five American football fields. Wendy was tall with thin blonde hair. She wore large eyeglasses and her thin lips were always ready to break into a smile. She was under thirty and had been working here for eight years. As we made our way down long corridors that emitted that omnipresent scent of chemical pine cleaner, people greeted her warmly. The GCFD appeared to be a place people were proud to work. 
"Last year we distributed 64 million pounds of food," she said, "approximately 30 thousand tons, the equivalent of 140 thousand meals per day. Can you imagine how satisfying this work is, knowing that you are sating the hunger of so many people?" 
Wendy noted that the GCFD did more than just distribute food and pointed to rooms with industrial kitchens where people could take restaurant and cooking courses. There were also rooms with oversized conference tables and lecterns where people could learn more about hunger activism. But it was the enormous warehouses filled with produce and packaged goods that most commanded my attention. These storerooms were as big as ball fields, if not bigger, the size of hangers perhaps.
A flotilla of trucks left these hangars every day to distribute food to more than 650 shelters, pantries, and soup kitchens all over Cook County, which included the entire Chicago metropolitan area, and was the second largest county in the United States. The GCFD itself was responsible for feeding more than 800,000 people, 15 percent of Chicago's population, who Wendy described as being afflicted with "food insecurity." 
"The worst part is that the numbers just keep increasing. Five years ago, there were half a million, now it's four-fifths of a million. But no matter how many people we need to serve, we make sure to give them quality, nutritious food."  
I asked Wendy where Strube got the idea for such a vast operation. "In a bar after having enough drinks to believe that something like this could be possible. Strube and his friends were sick of throwing out all the leftover merchandise. Using his own food stall, he and a small group of volunteers started stockpiling what market owners could no longer shelve but what was still edible, and began to distribute them to those who needed it. Demand was so high that in the first year of operation, his team distributed nearly 500 thousand pounds of food donated by nearly 100 agencies." 
The initiative was part of a growing food bank movement that had begun in 1967, when John van Hengel, a devout Catholic and grassroots entrepreneur, opened the world's first food bank in Phoenix, Arizona. It was so successful that van Hengel began to preach across the country of the benefits of food banking. It's possible that Strube had heard one of van Hengel's talks before he convinced himself at a bar to try and start his own.
What is known is that the GCFD was so successful that within three years of its founding, state legislature passed a law that limited labiality for merchants willing to donate. More initiatives followed including a "food rescue" program that allowed grocers to donate produce and a mobile food truck that would post up in lower-income neighborhoods to distribute food and teach people about good nutrition. 
Wendy pointed to a poster that showcased 18 common foods and their benefits, including rice, noodles, beans, crackers, canned tuna, but also fresh fruit and vegetables, meat, eggs, and milk. 
"We want our clients to have the best we can possibly give them." 
I wondered if the word in English left the same bad taste as the Spanish clientelismo, which had by our Latin American governments been led to mean a kind of cronyism. 
"No, client means something much different here. Companies exist to serve a need for their clients. Therefore, every company respects, or should respect, its clients above all." 
But didn't their clients, their customers, the city's 800,000 people who lived without the security of food need them just as well? That the GCFD was given government funds and subsidies was substantial, but did the United States not have wealth to address hunger more directly than offer palliative solutions? 
Up through the 1970s, particularly during the Jimmy Carter years, the grand food bank experiment appeared to be working. It seemed that after decades of struggle, hunger in the United States was coming under control. But under the Reagan presidency and later the Gingrich congress, taxes were reduced on the rich, military spending ramped up, and budgets for social welfare were cut. Poverty levels in the United States reached a peak in 1993 with 15.1 percent of the population living below the poverty line.
For many in the United States, subsidies and food distribution and soup kitchens are more than a stopgap measure: they are a survival strategy.
Throughout the 90s, that number fell, reaching 11.2 percent in 2000. After the financial and food crashes of 2007 and 2008, poverty jumped back to 15.1 percent in 2010, a percent at which it hovered for nearly four years before dropping down to 12.7 percent by 2017. That same year, the GDP for the United States was $14.96 trillion, the highest in the world for that year. What these statistics don't account for is how many people 12.7 percent actually is: 39.7 million people. In this there was something to the logic of the United States that has never ceased to amaze me: 
The United States has the highest amount of wealth in the world. 
The United States has one of the highest poverty rates in the world. In no other rich country do so many poor people live. 
Even so, about 80 percent of insecure families have at least one member working. Here, marginalization does not always mean unemployment; it is, also, doing jobs that do not pay you enough to eat as you should, and that force you to be dependent on charity—both public and private—to keep going. 
For many in the United States, subsidies and food distribution and soup kitchens are more than a stopgap measure: they are a survival strategy. "Most of our clients receive assistance for more than six months," Wendy told me. And the number of people receiving help increased by almost 50 percent in the last eight years. "What's changed since then is the demographic composition of hungry people. Before it was only the homeless, poor, elderly, and drug addicts. Now we have middle-class people who've lost their jobs, or people whose salaries aren't big enough to feed their children." 
More than 20 million children receive free or highly subsidized food at school; these numbers are sharply increasing. The government pays $2.79 per meal, double what one out of every five people throughout the world have every day to feed themselves. But the hard truth is that $2.79 is not enough for a meal that isn't merely a heap of fat and carbohydrates. 
Food stamps, which are given in monthly allotments, amount to around $3.00 a day (since raised to $4.00 as of 2019). To demonstrate just how difficult it is to live healthily on that little money, Jim McGovern, the Massachusetts congressman and cochair of the House Hunger Caucus, along with three of his colleagues, once spent a week in 2007 eating on this amount. During this time, he updated a blog describing the stress and low energy that resulted from being underfed.
Speaking before Congress on this final day of his "Food Stamp Challenge" as he called it, McGovern recounted thousands of comments he received from people who faced enormous stress difficulties to make this budget work to feed their families day after day. 
McGovern also makes an appearance in A Place at the Table, a documentary about food insecurity, where he describes the long term of having little to eat: "The loss of human potential is terrible. Some of those kids could become great scientists and leaders in our armed forces, but the impact of hunger ruins everything and, as a result, is weakening our nation."
The easy joke would be, hunger weakens the might of the US military. But joking aside: this also seems to miss the point. Not feeding children won't just make them lose out on their potential as adults, it will make them suffer in childhood. If we only worry about who might be able to best serve the country later in life, then should we starve the children who might not be leaders, who want instead to live an otherwise normal life, in order to save a few bucks? 
__________________________________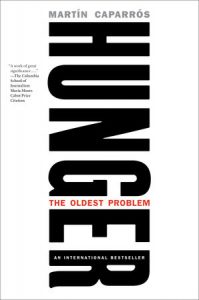 Excerpted from Hunger: The Oldest Problem. Reprinted with permission of the publisher, Melville House. Copyright © Martín Caparrós, 2014 Translation © Katherine Silver, 2016 All rights reserved.
---