The Long Silencing of Women in Science Continues Today
Olivia Campbell on the Unremembered and Underappreciated
Urania's Mirror was a boxed set of small, educational cards depicting the constellations. First published in London in 1824, just in time for Christmas shopping, the cards came with a copy of Jehoshaphat Aspin's book A Familiar Treatise on Astronomy. In lush, hand-painted watercolor, the collection depicted 79 constellations and three sub-constellations: wing-heeled Perseus leaps through the heavens wielding a bloody sword and the decapitated head of Medusa; the demure harvest maiden Virgo wears a rosy red tunic and holds a large palm frond while sporting angel wings; Draco the green serpent slithers across the night sky, curling back on himself several times, his pointy red tongue outstretched. Its authorship was attributed merely to "a lady."
On each card, the star points were punched out so they could be held to the light to let the constellation shine through, or held to the night sky to match up to the real thing. Adorning the card box was Urania, the lithe, star-crowned Greek muse of astronomy. The cards proved wildly popular, going through additional printings and being emulated by several other companies over the years. None were as successful or as beautiful as the original.
Was the "lady" that authored them German astronomer Caroline Herschel, or perhaps Scottish polymath Mary Somerville (the first women inducted into the Royal Astronomical Society in London)? In 1994, a librarian at the Royal Astronomical Society announced he had finally uncovered the "true" author: Reverend Richard Rouse Bloxam. More recently, though, some historians have put forth another possibility: that it was Bloxam's wife, Ann Lawrence, who created the cards. She was, after all, portrait painter Sir Thomas Lawrence's sister. Unfortunately, that's essentially where our knowledge of her ends.
My research for my next nonfiction book has led me through a number of archives and academic papers, looking for the stories of historical women; a few, in the scientific fields, have caught my fancy, but many have already received the book treatment. As for the others, there often isn't enough information available to fill an entire book. What intrigues me most is the hints of women I encounter; they are but shadows, ghosts whose contributions have been reattributed to men, figments whose fingerprints have been intentionally smudged into obscurity.
Women's work has so often been deemed unworthy of recording, labeled "lay" even when their skills far surpassed that of "professional" men. Despite the fact that science has always been the purview of women, the "Matilda Effect" of women's scientific contributions being erased, overlooked, or attributed to men has blazed a destructive path throughout history.
For a long time, women were only permitted to practice science as assistants, secretaries, or wives of scientists. These relationships became pseudo-apprenticeships at a time when women were largely barred from university study. Still, the work relegated to women assistants would largely be the rote duties of data collection, calculation, cataloging, the artistic work of illustrating scientific volumes, or the maternal work of writing science books for children. Building on that injustice, Victorian-era historians made a sport out of questioning the authenticity of historical women scientists and their work. They needed to preserve the narrative that women's brains were not built for scientific genius.
Prominent male scientists of the Victorian era often developed letter-based "think tanks" of sorts: groups of experts who regularly shared their observations with each other in regular correspondence. Amateur women scientists were common correspondents, too, but the findings they shared often made their way into the male scientists' published papers and books. If a male scientist shared data gathered by his secretary, he would take the credit.
Cases where we have more specific examples of egregious erasure are especially enraging. While Swedish chemist Jöns Jakob Berzelius is credited with discovering chemical catalysis in 1835, Scottish housewife Elizabeth Fulhame actually beat him to the punch by more than 40 years. In 1916, Alice Ball's untimely death at age 24 prevented her from publishing her invention of a new method of injecting leprosy medication, so Arthur L. Dean stole her work and published it as his own. (Dean later became president of the University of Hawaii.) Ida Henrietta Hyde announced she'd invented a microelectrode in 1921, but it's Ralph W. Gerard who is seen as its inventor, despite the fact that his creation came 20 years after hers. It earned him a Nobel Prize nomination.
The stories we do know about hint at the scores of others that we don't. Across history, I see shadows of so many women who made significant contributions to science, yet little evidence that they've been given the credit they deserve. I mourn all of the innovations, inventions, and breakthroughs our world has missed out on because women weren't allowed full entry into the academic realm of science, or were harassed or bullied out of their positions.
It's very easy for us to look back and say these women were clearly victims of sexism. Some people have the impression that, because women are now allowed into universities, it is a lesser problem than before, but sexism in science continues to silence and sideline women today. A January 2021 article in Proceedings of the National Academy of Sciences concluded that women seeking advanced chemistry degrees largely lack the financial support and mentorship required to complete their studies, and women of color were especially under-supported.
Thanks to the COVID-19 pandemic, I fear the erasure of women's contributions to science is about to happen all over again. Our persistently patriarchal society ensured that, after the pandemic hit and lockdowns shuttered schools and daycares, it's been largely women's careers that have been affected.
Default caregivers, and especially single parents, have found themselves thrown into the role of full-time caregiver to children and/or aging relatives. It's one thing to juggle homeschooling and working from home, and quite another to recreate a lab at home amidst small, boisterous children. Most scientists and doctors don't have the option to work remotely, let alone for such a prolonged amount of time. This new reality has necessitated difficult choices, sometimes impossible choices. "I have to choose between my daughter's school and my job," I overheard a nurse say while waiting for my flu shot. (We know, from decades of research, that the most effective promoter of equal gender participation in the workplace is early childhood education.)
They are but shadows, ghosts whose contributions have been reattributed to men.
A study of how pandemic closures were affecting scientists, published in Nature Human Behaviour in July, concluded that women, people with young children, lab workers, and younger scientists whose experiments were disrupted at a key point in their career were the most likely to experience pandemic-related career damage. (It's important to remember that one person may tick all of these boxes.) Loss of childcare is exacerbating the preexisting "well-documented, persistent gender gap in science," the researchers noted.
Professors Keymanthri Moodley and Amanda Gouws of Stellenbosch University wrote in The Conversation, "increased pressure on women academics caused by the COVID-19 pandemic is magnifying this fractured landscape of gender parity in academia… The impact is being felt in terms of productivity. This is manifesting itself in terms of public exposure, knowledge generation and who is being called on to provide advice." When comparing early 2019 with 2020, researchers found that women's authorship of medical journal articles declined 23 percent, while men were submitting significantly more than usual.
As the pandemic drags on, more and more people have been forced to quit or move to fewer hours or to lesser positions. Their names will be removed from research teams, from papers describing findings. They will no longer be called upon as experts, and eventually they will fade from the record. Their role on the path to breakthroughs, inventions, advances, discoveries: erased.
This is harder for us to recognize as sexism, making it all the more insidious. But make no mistake: this is the result of our culture's antiquated ideas about gender roles and the gender wage gap. What's worse, the current removal of women from the workplace only stands to worsen both of these problems. Our society's push to open bars and restaurants over schools and daycares tells you everything you need to know about our warped priorities and our poorly informed ideas of economic infrastructure.
When future authors mine our history looking for amazing women in science to profile, what will they find? Shadows, ghosts, hints. Women blotted out by patriarchy, excised by sexism. Women's fingerprints, smudged into oblivion.
__________________________________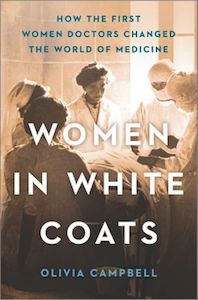 Women in White Coats: How the First Women Doctors Changed the World of Medicine is available from Park Row Books, an imprint of MIRA Books. Copyright © 2021 Olivia Campbell.
---