The Literature of Elder Care is Often About Shifting Power Dynamics
Ellyn Lem on Works by Shakespeare, Lauren Fox, and Others
More than one critic has noted that William Shakespeare's King Lear is currently experiencing a "renaissance" as the topic of aging family members and their relationship with offspring resonates for growing numbers of people. King Lear even appears on television with a BBC/Amazon Studios collaboration featuring Anthony Hopkins in the title role. But before the dramatic worldwide population increase in older adults seen today, Lear captivated audiences both in its original form and in various artistic adaptations, most notably Akira Kurosawa's film Ran in 1985 and Jane Smiley's Pulitzer Prize-winning novel Thousand Acres in 1991, later made into a film as well.
The pull of the story comes from Lear's inability to see his three daughters for who they are. Two of them, Goneril and Regan, use false flattery in order to inherit large portions of the kingdom, while Cordelia, who earnestly cares for her father, refuses his request that the sisters compete to show who loves him the most.
Audience members are riveted by Lear's blindness to the true nature of his filial relations and cannot help but wonder if a similar type of blindness happens in real life—one that prevents people from accurately assessing the true nature of ties among friends and family. Despite King Lear bringing to light questions of loyalty and perception, it remains unmistakably a play about growing old, and, hence, has contemporary topicality.
In the first scene of Act I, Lear discusses his desire to "shake all cares and business," so that he can be "unburdened" in his "crawl toward death" (41-43). Comments on "age" versus "youth" permeate King Lear, which focuses on generational interplay and, particularly, how parents and their adult children get along with one another.
According to Martha Nussbaum in Aging Thoughtfully: Conversations about Retirement, Romance, Wrinkles and Regret (2017), the "age theme" is what has contributed to the "play's recent surge in popularity." While Nussbaum sees this interest as "narcissistic" in that audiences connect the play to their "own future, near or far," it is also possible that large numbers of individuals are interacting with parents who are seniors and coming to terms with the shifting dynamics of those relationships. This is a present reality, not a future one.
Statistics tell one side of the story: at least ten million adult children in the United States are looking after their senior parents, three times more than 15 years ago. Put another way, this year, one in three adults will have some kind of "elder-care responsibility," a practice that begins earlier on in various ethnic and racial minority communities, especially in intergenerational households. One other noteworthy statistic is that due to increases in longevity, parents generally have "twice as much time" with their grown-up offspring than they did when their children were young.
The willingness to take responsibility for an aging parent in need is complicated for those who have not had a strong relationship with that parent.
Numbers like these also show that parents increasingly need care from their children, as does a wave of literary works that deal this new reality. Such books include Roz Chast's 2014 graphic memoir, Can't We Talk about Something More Pleasant?, about her relationship with her parents in their later years, as well as Richard Ford's latest Frank Bascombe story collection, Let Me Be Frank with You (2014), in which Frank observes that "complications and unfathomables in dealing with one or another's aging parents seems to be the new norm for modern offspring."
*
An important facet of these relationships, which often appears in fiction and nonfiction works, is the shifting power dynamic between older adults and their adult children, particularly in the United States and other predominately white Western countries. For instance, Lauren Fox's 2015 novel Days of Awe captures the difficult and poignant moment when the grown-up child is looked to for comfort and reassurance by the parent who no longer fills that role. The protagonist, Isabel Moore, shares that she "sometimes wants to crawl into the lap of the person who has loved me the longest and the best," but now sees that her mother, Helene, looks to her daughter as if she is the "only one" who can "save her."
This wistfulness also comes through in Jonathan Kozol's memoir, The Theft of Memory: Losing My Father, One Day at a Time (2015), in which Kozol is struck by how his father, a brilliant neurologist, had become "an almost . . . totally dependent child." . The typical "balance of power" shift for Kozol is accentuated by the mental degeneration that his father experiences and that eventually necessitates Kozol's looking after the best interests of his parent.
He describes the process as a full circle, starting from "his father's exercise of competence and judgement and authority in helping" Kozol "get through the some of the most uncertain and unstable times" to his "own responsibility" to use "competence and judgment to protect" his father in his final stage of life. These role reversals can understandably be difficult for parents as well, as psychologist Mary Pipher points out in Women Rowing North: Navigating Life's Currents and Flourishing as We Age.
After years of being consulted for guidance on everything from riding a bike to making a pot roast, parents must face not having their "advice and opinions" sought as adult children want to demonstrate their independence. This change in "power relationships," Pipher explains, can be "confusing and painful," but is part of normal individuating.
*
The willingness to take responsibility for an aging parent in need is complicated for those who have not had a strong relationship with that parent. Lynne Segal in her 2014 book Out of Time: The Pleasures and Perils of Aging explains that the "role reversal" from being the one "cared for" to the "carer of," especially in midlife, can be jarring enough, but it is "all the more challenging if the earlier relationship with the parent was tense or ambivalent, as is quite often the case."
People's responses in the surveys for my book, Gray Matters: Finding Meaning in the Stories of Later Life, gave a sampling of those types of parent-child interactions that were difficult to rectify later on and rendered future caregiving by those offspring unimaginable. One 84-year-old woman described giving her son "unappreciated and hurtful advice which separated him from" the family "forever." A 68-year-old man shared regrets that in his first marriage he spent very little time with his children, which he felt contributed to his son being in and out of jails later on as the son struggled with drug addiction, possibly the result of growing up without a "father figure."
Some respondents noted that they let their jobs overshadow their personal lives. A former electrical engineer, now 70, explained on behalf of himself and his wife, a retired lawyer, "There were lots of times where we could have been home, but we decided to stay at work." Others were less specific about their insecure relationship with their adult children but noted that they had not parented very well and, as a result, there is not much closeness in their families now.
This type of "estrangement" was the subject of a New York Times article entitled "When Families Fall Out," based on the research of Lucy Blake in The Journal of Family Theory & Review and Kristina Scharp's findings from a study on the topic as well. Scharp believes that separating from one's family is actually difficult to do since "our culture" makes people feel badly if they do not repair broken familial bonds: "Achieving distance is hard, but maintaining distance is harder." )
Research has also revealed that when these relationships remain "broken," the parents experience significant declines in happiness. Gerontologist Karl Pillemer, who heads the Cornell Legacy Project, which gathered practical advice from over 1,500 older Americans beginning in 2004, reported that those who were no longer in contact with their adult children were the "unhappiest" among all the people studied.
New medical reports also link dementia risk to older people with negative relationships with their adult children, citing reasons such as more "stress" arising from that missing familial contact and less communication on health-related issues such as medication complications and the importance of exercise.
Several recent films depict how a ruptured relationship between parent and offspring is challenging to repair, despite time and the erosion of parental power. The debut film of video essayist Kogonada, Columbus (2017), for instance, features a Korean American son, Jin, whose famous architect father has fallen into a coma during a speaking tour in Columbus, Indiana. While Jin is expected to stay in town to look after his father rather than return to Seoul, where he currently lives, Jin seems unwilling to do so.
As he explains to Casey, the young woman he befriends, who looks after her mother struggling with drug addiction, "He never paused his life for me." The contrast between the two young people's sense of responsibility toward their aging parents demonstrates that often adult children make the decision of how much care they are willing to provide their family member based on their perceptions of how well the parent had looked after their well-being.
Adult children's contrasting attitudes toward aging parents are a reminder that there is not one objective standard of "good parenting."
The fact that Casey still wants to help her mother despite the drug problems shows that personal flaws and struggles are not necessarily deal breakers for some children; in other situations, physical or emotional distance often proves to be a greater future barrier.
Another 2017 film, The Hero, directed by Brett Haley and starring the indomitable Sam Elliott, depicts the struggle to make amends for negligent parenting with one's adult child, as the main character, Lee Hayden, a famous former western film star desperately tries to reach out to his daughter, Lucy, who has had many years to "get over" her absentee father. Viewers see how Lucy has hardened her heart toward her father who has consistently disappointed her by prioritizing his film career over the needs of his family; she struggles with the conundrum of whether she owes him anything or even wants to forgive him for years of being devalued by him.
A twist on this theme of the struggle to forgive a flawed parent in adulthood can be seen in the 2015 film Trainwreck, written by and starring Amy Schumer and directed by Judd Apatow. The movie begins with the father of two young girls, Amy and Kim, explaining why he can no longer be married to their mother by using an analogy of how children need more than one doll for companionship; the speech ends with his instructing them to repeat after him, "Monogamy is unrealistic."
Twenty-three years later, the sisters are shown having to make decisions for the father's medical care. The younger daughter Kim argues, "We should put him in a shithole" as her feelings toward her dad, whom she calls a "dick," have left her bitter and less sympathetic now that he needs their assistance. This example differs from the others in that the audience sees contrasting responses from offspring to the same parent.
While one sees the dad as the "worst father ever" and wants to reciprocate the years of "bad parenting" now that the power dynamics have shifted, the other sister recognizes that he was "not that great of a guy" but was the "greatest dad" by making her "feel loved." Adult children's contrasting attitudes toward aging parents are a reminder that there is not one objective standard of "good parenting" and that people growing up in the same household might come to different conclusions about a parent's treatment of them, which, in turn, can affect their willingness to be involved in the parent's life later on.
Households, too, shift as years pass; factors such as work, divorce, and extended family may create entirely different environments in the home, some more positive or more negative, that can color siblings' memories of their parents and their attitudes about them over time.
__________________________________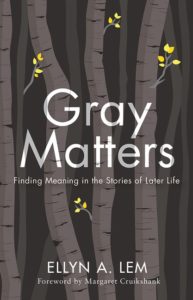 Excerpted from Gray Matters. Reprinted with permission from Rutgers University Press. Copyright © 2020 by Ellyn A. Lem.
---