The Life and Times of "The Most Intelligent Bird in the World"
Jonathan Meiburg on the Remarkable Mental and Physical Dexterity of Tina the Striated Caracara
Tina entered Geoff's life by accident, when a talented young falconer named Ashley Smith offered her to him in trade for a goshawk. Goshawks are powerful hunters who excel at chasing prey through dense woods, but they're rarely own for an audience because of their skittish, aggressive temperaments. Geoff, not without affection, calls them "psychotic," and adds that there's a saying among falconers that if you can train a goshawk to hunt for a season without becoming suicidal or getting a divorce, you've mastered the art.
This goshawk, however, played against type. It was utterly relaxed on public display, sitting blithely on its perch and fluffing its feathers even when it was surrounded by strangers. Ashley coveted it for his own collection, and Geoff, who wasn't particularly attached to it, swapped it for Tina out of pure curiosity. He'd never come across a striated caracara in twenty years as a falconer, and had only recently heard of them; it was 1983, the year after the Falklands War, and soldiers were returning from the islands with stories of crow-like birds that peered into their foxholes and perched on the rotors of their helicopters.
Geoff also felt comfortable with the trade because he knew Tina's life story. She was a little more than a year old, the offspring of a pair of captive striated caracaras who'd raised and edged Tina with minimal help from people. Geoff assumed that Tina would be an interesting but not maddening challenge—but he'll tell you, with a touch of surprise in his voice, that it was Tina who trained him. In their first years together, he mostly left her alone, though he indulged her preference for running and walking in demonstrations, which earned chuckles from the audience instead of the gasps of wonder that greeted eagles and owls. After a job took him away for several years, Geoff expected he'd need to slowly rehabituate Tina to his presence, as he did with any captive bird he left for longer than a few months. Instead, Tina gave him the first of many surprises: she leaped onto his shoulder, calling and calling, as if to say, It's you! It's you! "She was all over me," Geoff says. "Like a dog."
As they played together, Tina began to defy nearly all of falconry's conventions. She didn't ignore Geoff or try to mate with him: she simply wanted to interact with him, whether she was hungry or not.
Shortly after that, Tina let Geoff know she wanted more from their relationship. He dropped his keys one morning while cleaning her aviary, and before he could retrieve them she jumped down from her perch, grabbed the keys in her beak, and ran to the other side of the enclosure, where she turned and looked Geoff squarely in the eye. Geoff was stunned: no bird in his care had ever done anything like this. He took a step toward her, and she leaned forward, poised to run. This is a game, he thought. She wants to play. For the next few minutes, Tina ran around the perimeter of the aviary with the keys in her beak, deftly evading his grasp, until she finally traded them for food. From then on, this was how each morning began.
As they played together, Tina began to defy nearly all of falconry's conventions. She didn't ignore Geoff or try to mate with him: she simply wanted to interact with him, whether she was hungry or not. She loved inedible objects and would study, carry, and manipulate anything Geoff brought her, from plush toys to rubber balls and lengths of rope, and she called for him if he didn't turn up on schedule. On quiet afternoons she sometimes fell asleep on his shoulder.
Months passed, and their daily games evolved: keep-away became fetch, then the shell game, then tasks that seemed to require abstract thought. Geoff built a device out of PVC pipes to test Tina's ability to distinguish objects by color and to associate colors with spoken words— and she could. He also bought a set of rubber balls and blocks to see if she could distinguish between objects by shape—and she did. Then he modified Tina's public performances to reflect her new skills, combining his passions for tinkering and falconry into something approaching behavioral science. Tina went from comic relief to the star of the show, and Geoff began calling her the most intelligent bird in the world.
*
Flying demonstrations are hard to picture if you haven't seen one. They're part circus act, part educational display, and they always carry an element of risk, since they require giving the birds a moment of freedom. Woodlands' flying arena seats about fifty people, but some larger parks and zoos employ dedicated teams of keepers who fly dozens of birds each day for large audiences; some displays feature extras like theme music and fog machines.
All this window dressing is meant for the audience, of course, not the birds, whose jobs are as straightforward and predictable as possible. "Demo" birds are usually trained to fly from a perch to a falconer's glove in exchange for a food reward; a well-trained barn owl, for instance, will bounce from one post to another in exchange for bits of chicken, and after the show will pose obligingly for photos, resuming its daily habit of not doing very much. Some falcons can also be trained to show off their hunting techniques, diving to strike at a lure twirled on a line, until the falconer calls the traditional "Ho!" and flings the lure for the bird to catch in the air.
But that's about the extent of it. The performances seldom vary, and demo birds rarely seem to realize they don't have to do what they're told. They seem to like the predictability of the routines, or at least become resigned to them, and they have the comfort of knowing exactly where to find their next meal. From the audience's perspective, birds of prey are so striking and majestic that it's easy to forget their behavior isn't all that exciting: fly in, get food, land on perch, get food, fly out, get food, job done.
Tina's performances at Woodlands were quite different. She became bored and distractible when the same things happened too often, and Geoff found that the best way to keep her attention was to offer her new tasks. She began a typical demonstration by crawling through a pipe to retrieve a hidden morsel, then jumping into a garbage bin and knocking over flower pots to see what might be under them—tasks Geoff's other birds would never attempt. "Most birds," he says, "if they can't see a food item, it's like it doesn't exist."
Then the performance shifted focus from Tina's dexterity to her mind. First, she would retrieve, at Geoff's request, a square or round object from a group of blocks. Then she would fetch a red, blue, or green ball—this time at the audience's request. (No matter what color the audience chose, Geoff says, Tina never picked the wrong one.) And then there was the grand finale, in which Geoff threw a handful of miniature stuffed animals—usually Nemo, Piglet, and Donald Duck—over his shoulder while Tina stood watching from a low perch in front of him. Then Geoff would lock eyes with Tina and say, "Go find Nemo," at which Tina would obligingly hop down, run across the arena, pick up Nemo in her beak, and return it to Geoff, dropping the toy in a bucket to receive a food reward. Then Geoff would say, "Now go find Piglet." And she would.
Geoff insists that he wasn't giving Tina secret cues; she actually seemed to understand his intentions and associate his words with specific toys. Sometimes he would tell her, mid-retrieval, that he'd changed his mind and wanted a different character—and she'd drop the toy she was carrying and pick up the one he'd asked for. Finally, Tina would accompany Geoff back to her aviary, riding on his shoulder, and hop back into the enclosure on her own. There was more food in store for her if she entered the cage under her own power, and she'd learned to read Geoff so well that she seemed to anticipate his actions without much effort.
She could also be impatient if things weren't moving fast enough. If Geoff began to digress during a demonstration, she'd nip his earlobe to get him back on track. If an audience member brought any kind of food to the arena, Tina would steal it and eat it on the spot, whether it was a hamburger or an ice cream cone. (Once, to Geoff's horror, she landed on a stroller and snatched a pacifier from a baby's mouth.) It was no use trying to control her with a falconer's traditional tools of jesses and a hood; she only pulled them off and tore them to bits. She performed, it seemed, because she liked to, and she stayed, it seemed, because she didn't want to leave.
This kind of thinking—improvisatory, abstract, several steps ahead—was something Geoff had never seen before from a bird.
There's only one video of Tina in action, working with Geoff's assistant Lyn in 2013, and it's difficult to say who's demonstrating whom. Tina is in an imperious mood, and Lyn, who's nearly Geoff's age but has a less imposing presence, seems a bit cowed. As the clip begins, Tina is perched on Lyn's shoulder, screaming into his ear, and won't quiet down until he gives her a piece of food. "Stop it!" he pleads. "I'm trying to talk!" After Tina retrieves Nemo and Donald Duck, Lyn leads her back to her aviary in some haste, explaining as he walks that if he doesn't give her an extra morsel once she's safely back inside, she'll punish him in the morning. "The trouble with intelligent birds like her," Lyn says, fastening the latch of her cage with palpable relief, "is that they don't forget, and if I don't give her that extra tidbit there, in the morning she'll chase me around and bite at my ankles, and I'll tell you what, it bloody hurts!"
This kind of thinking—improvisatory, abstract, several steps ahead—was something Geoff had never seen before from a bird. He couldn't account for the difference between Tina and the other members of his collection, but whatever its source, he was smitten. He even issued a challenge in a local newspaper, daring anyone to produce a smarter bird of any kind. (No one did; but the terms of the challenge, to be fair, weren't very clear.)
When Tina became severely arthritic at the age of thirty-three, Geoff and Lyn were heartbroken. Birds' minds don't usually decline with age, and Tina's seemed keener than ever—but she could barely move without obvious pain, and a hobbled Johnny rook is a picture of misery. A last-ditch surgery failed, and when Geoff made the decision to put her down, he asked Lyn to bury her and not to tell him where.
"I can't—" Geoff says, then corrects himself. "I don't want to know." For once, he seems at a loss for words. Then a thought strikes him, and he clears his throat. "You know," he says, "Shakespeare was a very good falconer." A mashed-up verse follows, in a stage-ready baritone, that's part Othello, part Juliet, and part Geoff.
"O, for the voice of a falconer," he begins, "—because they're always shouting 'Ho!'—To lure my tassel-gentil back again—tassel, that's a tiercel, a male peregrine—though her jesses were my dear heart-strings, would I woo her back, and prey her down-wind at fortune."
He takes a beat, then another. The harp music creeps forward again, along with the monotonous rasp of a tawny owl's begging call. Geoff seems pleased by the sound of his own voice, but his eyes are far away.
It doesn't seem to have occurred to him to wonder what Tina was doing in England in the first place. In a way, it didn't matter: Geoff was interested in her, not the land of her ancestors. But at even a slight remove, the presence of captive striated caracaras in the UK seems improbable, to say the least. The international trade in birds of prey is tightly regulated, and capturing and importing a striated caracara would be nearly impossible today. Even if international treaties weren't an issue, transporting enough Johnny rooks from southern South America to breed them in England would be wildly expensive. Who would have had the means or the inclination to do it—and why?
________________________________________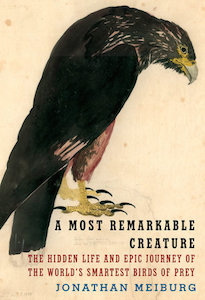 Excerpted from A MOST REMARKABLE CREATURE by Jonathan Meiburg. Copyright © 2021 by Jonathan Meiburg. Excerpted by permission of Alfred A. Knopf, a division of Penguin Random House LLC. All rights reserved. No part of this excerpt may be reproduced or reprinted without permission in writing from the publisher.
---