Deep in an Icelandic Archive, the Earliest Roots of Nordic Mythology
Andri Snær Magnason Navigates a Sacred Text
Translated from the Icelandic by Lytton Smith
I graduated with a literature degree from the University of Iceland in 1997. That summer, I worked in the basement of the Árni Magnússon Institute for Medieval Studies. The Institute was behind a locked door on the university campus; for some reason, despite having studied in this same building for years, I'd never once gone through that particular door. It was a mysterious threshold, like the so-called elvish rocks where Iceland's "hidden people" are said to live. I'd heard stories of people who'd disappeared through the door never to reemerge. Inside, manuscripts of Icelandic sagas were housed alongside scholars who needed peace and time to pore over these treasures. Ringing the doorbell was so daunting that it felt more like pulling a fire alarm. I didn't dare push the button until the day I found myself filled with a burning desire to see what lay inside. I rang and was invited in.
Behind the door it was quiet and twilit; the air hung with a heavy smell of old books, a stillness that was truly overwhelming for a young man. I felt a pang of unease. I was here, inside, among the scholars of old manuscripts, some of them my grandparents' contemporaries. I was struck by my own insignificance when discussions around the carafe turned to whether Thorvald had been in Skagafjördur in the summer of '86: I had no idea whether they were talking about 1186, 1586, or 1986. My fear that I'd be considered poorly read increased in tandem with my inarticulacy. I felt myself simultaneously (did I mean concurrently?) witless and ungrammatical.
I'd always done outdoor jobs in the summers—paving and gardening. I'd pitied office workers for having such little freedom. Inside the Institute, I'd catch myself looking out the window at my lightly dressed peers mowing the grass on the university green while my mind traveled farther out, past them, into the wider world. John Thorbjarnarson, my mom's half-brother, a biologist, had invited me to come and help him study the mating habits of anacondas in the Venezuelan mangroves. We'd also work with a team of scientists in the Amazon rainforest, counting crocodile eggs in the Mamirauá Sustainable Development Reserve as part of efforts to save the black caiman crocodile, Melanosuchus niger, the largest predator in South America.2 The water level in the flooded forest fluctuates about ten meters a year, so we would be staying in floating houses. "It's no small joy to wake up in the morning to the sound of dolphins fishing right outside your door," John remarked.
At the time, my girlfriend Margrét and I were expecting our first child; it would have been somewhat irresponsible of me to charge off on such an adventure. You might say two tracks diverged in my life. The train steamed off to Venezuela and on to the Amazon without me, leaving me a sort of bystander to my own existence, doubtful whether serious scholarship and the solitude of writing suited me.
One day, I was asked to document a manuscript exhibition in a small gallery on the upper floor. The philologist Gísli Sigurdsson was in charge of the exhibition; he told me to follow him to a hefty steel door in the basement, where he produced three keys. When he opened the door, I was amazed to see this was where the manuscripts lived: this was the sacred heart of Icelandic cultural history. I was surrounded by awe-inspiring historic gems. Inside were vellum manuscripts, the oldest of which had been written around 1100, depicting events from bygone ages. Inside were the original manuscripts of the Icelandic sagas: about Vikings and knights, about kings, ancient lawbooks. Gísli went to a shelf and opened a box. He brought out a small manuscript, and gently handed it to me.
"What's this book?" I whispered.
I don't know why I was whispering. It simply felt right to use a hushed tone in that space.
"This is the Codex Regius. Konungsbók, the King's Book."
I felt weak at the knees, starstruck. Codex Regius, containing the Poetic Edda, is the greatest treasure in all of Iceland, perhaps even the whole of Northern Europe: the second major source of Nordic mythology and the earliest manuscript of the famous poems "Völuspá," "Hávamál," and "Thrymskvida." A primary inspiration for Wagner, Borges, and Tolkien. I felt like I had Elvis Presley himself in my arms.
A shiver ran down my spine: this was Ragnarök itself, the end of the world as described in the original prophecy in the poem "Völuspá."
The manuscript was unassuming. Considering its contents and its influence, it ought to have been shining golden, resplendent. In reality, it was small and dark, almost like a book of spells. It was timeworn but not wizened, a beautiful brown vellum with simple, distinct lettering and almost no illustration beyond a few initial capitals. It offered the oldest evidence that a book shouldn't be judged by its cover.
The philologist carefully opened the manuscript and showed me a clearly legible S in the middle of the page. "Read that," he said, so I squinted at the script until I could read it myself: Sól tér sortna sígur fold í mar (The sun goes dark, the lands sink, the shining stars disappear from the skies, the great ash will burn and fierce heat will lick the skies).
A shiver ran down my spine: this was Ragnarök itself, the end of the world as described in the original prophecy in the poem "Völuspá." The sentences were all in one continuous line, not broken up into verses the way poems usually are when printed in books. I was in direct contact with whomever had written these words down on the page over seven hundred years ago. I became hypersensitive to my environment, scared to cough, fearing I would drop it, feeling a touch guilty for even breathing this close to the book. Perhaps that was an overreaction; after all, this manuscript had been stored in damp turf houses for five centuries and transported on horseback in chests across surging glacial rivers; in 1662, it had been sent by ship to Denmark as a gift to King Frederick III. I felt an extreme sensation, a connection to deep time. I spoke practically the same language as the person who'd written the manuscript. Could it last another seven hundred years? Until the year 2700? Would our language and civilization live that long?
As a species, humankind has preserved relatively few of its sacred ancient mythologies: ideas about the forces and gods that ruled the heavens and about the genesis and end of the world. We have Greek, Roman, Egyptian, and Buddhist mythologies. We have the Hindu worldview, that of Judeo-Christians and of Islam, fragments of the Aztec worldview. Nordic mythology is one such worldview; for that reason, the Codex Regius is more important than even the Mona Lisa. Most of what we know about the Nordic gods, Valhalla, and Ragnarök, comes from this book. The manuscript is a never-ending inspiration, a wellspring for beliefs and for art. From it come works of modern dance, death metal bands, even contemporary Hollywood classics such as Marvel Studios' Thor: Ragnarok, in which Thor and his friend Hulk combine their might against the treacherous Loki, the giant Surtur, Hela, and the terrifying Fenris Wolf.
I put the manuscript in a small dumbwaiter and sent it up to the next floor. In the meantime, I galloped up a flight of narrow stairs to meet it. I set it with extreme care on a little cart that I pushed down a long corridor. I locked it securely inside a glass case where it was protected like a premature baby in an incubator. That whole week my dreams were troubled. In them, I was usually downtown and had managed to lose the book. One time, I met a woman with a cleaning cart walking along the corridor; I foresaw a cultural disaster, the manuscript falling into a pail of soapy water and bobbing up squeaky clean, pages blank. A tabula rasa.
Marketing was not a strong suit of the medieval scholars at the Institute, so I spent whole days alone with these treasures while tourists shuttled out to waterfalls and geysers, to Gullfoss and Geysir. It was certainly privilege enough to hang out with this Mona Lisa of ours, but there was so much more besides. The Institute's foremost gems were also on display alongside the King's Book: Grágás, containing the Viking Age laws; Mödruvallabók, containing the major Icelandic sagas; Flateyjarbók, with its two hundred calfskin sheets and vivid illustrations. I sometimes stood over the glass boxes trying to read the text on the open pages. The King's Book was the most legible, its lettering clear enough I could stumble through these ancient words: Ungur var eg fordum, fór eg einn saman (When I was young and set out on my own, I lost my way. I thought myself rich when I came into company. Man is a joy to man).
This was the same week Margrét and I rushed to the maternity ward in the middle of the night and I held my newborn son in my arms. Never had I handled anything so novel and so delicate. Nor had I handled anything so old and so delicate. I continued dreaming I was downtown, but now suddenly aware I was only in my underwear, and had lost both my son and the manuscript.
I really didn't know what I was looking for, I was just trying to collect anything I could so that people in the future might appreciate it.
In the room next to the manuscript vault were more treasures: a hoard of tapes, recordings folklorists had collected all around Iceland between 1903 and 1973. There one could hear the oldest recording in Iceland, set on wax cylinder, Edison's "Graphophone," in 1903. There were old women, farmers, and sailors singing lullabies and chanting ancient rhymes, telling stories. I'd never heard anything so strange and beautiful and the thought flew into my head that it was urgent these ancestral voices reach the ears of the general public. My chief task that summer was to work with the folklorist Rósa Thorsteinsdóttir, compiling a selection from the archive so we could put out a CD.
Each time I threaded the black coils on the tape player and put on the headphones, I stepped into a time machine. I was in the living room of an old woman who had been born in 1888. The clock was ticking in the kitchen and she was reciting a rhyme she had learned from her grandmother, who had been born in 1830, a rhyme she had learned from her grandmother, who was born in the late eighteenth century during the time of the great Laki volcanic eruption—a rhyme she had learned from her grandmother, who was born in 1740. The recording was made in 1969, so the cycle spanned nearly 250 years. It was from a world in which the eldest taught the youngest. The old-fashioned aesthetics of the rhymes differed from our idea of beautiful singing. The vocal tone and singing style did not resemble anything I'd ever come across. I collected samples on a reel and let my friends listen and asked them to guess where the music was from. They guessed Native Americans, Sami reindeer herders, Tibetan monks, Arabic prayers. When they had listed all the remotest cultures they could think of, I said, "This was recorded here, in the Westfjords, in 1970. The man you hear singing was born in 1900."
I played the recordings at home for my son when he was fussy; he calmed down as soon as the melodies started up. (I had half a mind to do a scientific study into whether ancient chanting has a marked sedative effect on infants.)
I was fascinated by the idea of ​​capturing time. I realized how much around me would soon disappear like the women on those slick black reels. I had five living grandparents and that summer I began collecting their stories in haphazard fashion: Grandpa Jón was born in 1919, Grandma Dísa in 1925, Grandma Hulda in 1924, Grandpa Árni (Hulda's second husband) in 1922, and Grandpa Björn in 1921. Theirs was a generation at an unparalleled turning point, born just after World War I and living through the era of the Great Depression. They lived through World War II as well as many of the greatest changes of the twentieth century. Some of them were born before the time of electrical lighting and machines, born into a society of poverty and hunger, even. Inspired by the reel collection, I decided to interview people close to me. I used a handy VHS recorder, a Dictaphone, and then my smartphone once that technology arrived. I really didn't know what I was looking for, I was just trying to collect anything I could so that people in the future might appreciate it. I was making my own archive: the Andri Magnason Institute.
__________________________________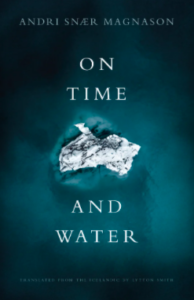 From On Time and Water by Andri Snær Magnason, translated by Lytton Smith and available from Open Letter Press.
Lytton Smith is a poet, professor, and translator from the Icelandic. His most recent translations include works by Kristin Ómarsdóttir, Jón Gnarr, Ófeigur Sigurðsson, and Guðbergur Bergsson. His most recent poetry collection, The All-Purpose Magical Tent, was published by Nightboat. Having earned his MFA and PhD from Columbia University, he currently teaches at SUNY Geneseo.
---