The Inertia of Whiteness in the World of Postwar Publishing
"Big Manhattan book publishers publish hundreds of authors each year, but in their eyes, only a very few really matter."
Over the past twenty years, scholars have identified multiculturalism as a signal, defining feature of postwar American literary history. A second defining feature that has more recently come to view is conglomeration. The book business changed after the war. Facing twin pressures of a rapidly growing American population and rising literacy rates as a result of more people going to college, American publishers such as Random House started to expand and publish more books. Before the war, book publishing was run more like, as Jason Epstein describes, a "cottage industry": small and personal, with book deals.secured on the basis of a handshake, and so forth. After the war, publishers moved toward a more "consumer-oriented" model that resembled a conventional business. As a part of this transition, book publishers increasingly were acquired by larger media conglomerates, which were better equipped to meet the challenges of scale now facing book publishers.
Random House offers a prime example. Random House was founded in 1927 by Bennett Cerf and Donald Klopfer, mainly to republish literary classics like Great Expectations. By the late 1950s, it had grown into a large and successful company, publishing major authors such as James Joyce and William Faulkner. By the 1960s, the publisher had attracted the attention of large corporations, and in 1965, it was sold for $38 million to RCA, a media conglomerate principally known for interests in radio and television. More consolidations and mergers would soon follow. One historian estimates that by 1990, 60 to 80 percent of the total American and European book market was controlled by no more than five to ten individual publishing firms.
Writers, critics, and scholars were predictably outraged by this turn of events and fiercely protested the commodification of literature. Specifically, they lamented the fact that books were now judged by their profitability, their status as commercial products, rather than, as it once was, as social goods that bore a responsibility to enlighten the public. Editors were now under severe pressure to acquire and promote bestsellers, books with the potential for film adaptation in particular. Children's literature and genre fiction thrived; literary fiction suffered. Writers of the old regime worried that this new trend inhibited the spread and debate of serious ideas vital for a robust public sphere—democracy itself was threatened. In 1990, when Random House hired Alberto Vitale to ensure that every title at their Pantheon Books imprint be profitable, Kurt Vonnegut, Studs Terkel, and hundreds of other writers protested outside their offices.
Multiculturalism and conglomeration thus appear to be two main drivers of postwar American literary history. But what is their relationship? Michael Schudson suggests a positive dynamic. He concedes that while the intense postwar corporatization of the book trade brokered the rise of a specific type of book, namely, the "bestseller," it also forced publishers to diversify their lists in order to reach new and broader reader constituencies. Moreover, the overall expansion of the book trade created opportunities for smaller presses to claim various niche markets, thus leading to a growing diversity of books published each year in general. This balancing market effect of diversification, Schudson implies, in part facilitated the emergence of black and ethnic literatures in the 1970s and 1980s. And we have evidence of this effect.
Big Manhattan book publishers publish hundreds of authors each year, but in their eyes, only a very few really matter.
Take Random House. In 1968, they hired their first Black acquisitions editor, Toni Morrison, precisely to tap into a growing African American readership demographic. Morrison acquired and published books by Toni Cade Bambara, Gayl Jones, and many other Black writers. During a moment of peak conglomeration (the early 1970s), a publisher well known for embracing conglomeration hired a Black editor in order to racially diversify and expand its fiction list.
What stands out is not so much the intensity of that spike but its ephemerality—its near-instant regression to the mean. And this trend line maps neatly onto Morrison's time at Random House: 1967 to 1983. As soon as Morrison leaves, the data suggests, the publisher returns to its pre-Morrison levels of Black exclusion. Increasing authorial diversity at Random House, as a parallel or related effect of conglomeration in the 1970s on, is not a total illusion. But at best, at least based on the data, it is a passing trend.
Ultimately, conglomeration—or, more broadly, postwar industrial print culture—serves in part as an engine of racial inequality, one discernible in terms of both author demographics and the literature itself. I will argue that racial inequality is a specific feature of postwar print culture, an indissociable constant, even as this industry experiences perpetual and profound changes in its constitution. Conglomeration did in fact directly impact Random House—namely, an increase in its number of female novelists and young-adult novels. However, against this backdrop of conglomeration-induced change, the racial representation of authors, as well as how race gets represented in the novels themselves, remains unchanged or continues to benefit the racial status quo—whiteness.
At the same time, I track the extended effects of postwar print culture beyond just book publishing. Conglomeration, consolidation, and corporatization not only forced large American book publishers to change; it also had a reverberating effect within the broader book marketplace, from reception to distinction. Book reviews changed; bestseller lists changed; book awards changed. I argue that despite all of these changes, the effects of racial inequality we see in publishing remain stable within each of these next phases. Racial inequality persists as a key feature in how these subindustries function. Yet I also show that inequality gets modified and nuanced, often in surprising ways, and takes on increasingly subtle demographic and textual shapes as we move deeper into the cycle.
What caused this inertia of whiteness in postwar print culture? One possible explanation concerns one of conglomeration's most potent effects: rationalization, or, simply, the promotion of only a few books that the publisher thinks will be a bestseller or prizewinner, at the expense of promoting its entire list. In the postwar period, publishers discovered that it was more profitable and efficient to focus on just a handful of titles each season and push them very hard through marketing, in the hopes that one or two would become breakout hits, whether as bestsellers or film crossovers. This inevitably promoted a "star" system that necessarily drew resources away from a publisher's so-called midlist—authors who sell between ten thousand and one hundred thousand copies per book. In short: big Manhattan book publishers publish hundreds of authors each year, but in their eyes, only a very few really matter.
Publishers often do not have a good understanding in terms of how they operate at scale.
Rationalization helps explain the main strangeness of this trend: the fact that as soon as Morrison retires as an editor at Random House, the press reverts to its pre-Morrison levels of Black authorship, about one Black novelist per year. Random House did not publish many Black or other nonwhite authors, but those that it did, particularly during Morrison's time as editor and after, they put a good deal of effort into supporting. Writers like Toni Cade Bambara and Gayl Jones did not write bestsellers, but they got reviewed widely and sometimes won awards. They lent a certain critical prestige to the publisher. The problem, of course, is that supporting one or two prominent Black authors ("known quantities") came to stand in for supporting a much larger and diverse group of Black writers. It meant that writers like Bambara and Jones and others became synecdoches for the entire contemporary Black literary field. The postwar evisceration of the midlist inadvertently meant the evisceration of a broad and inclusive field of Black authors at large American publishing houses. Editors at Random House were unlikely untroubled by its immediate and severe "regression to the mean" for Black authors after Morrison's departure simply because they didn't know it was happening.
Indeed, one thing I have learned about large book publishers over the course of my research is that publishers often do not have a good understanding in terms of how they operate at scale. I was unable to secure a reliable and complete list of novels and authors published at Random House between 1950 and 2000 directly from the press, and no such resource exists in the public domain. It seems possible that, at least during this period, large American book publishers like Random House and others had a good grasp of how things were working at the day-to-day, interpersonal editorial level but a relatively weak understanding of how things were working at scale, such as what kinds of authors they were publishing or what kinds of stories and cultural representations they were producing. Reading through their editorial archive held at Columbia University, I found no attempts at quantitative self-analysis of what they were doing.
The problem with this blindness is that it sustains the inertia of whiteness in print culture because no one is able to see its broad contours. It also has a reverberating effect within the larger pipeline of the book market. Random House's valorization of a handful of Black authors at the expense of acquiring books from many different Black authors gets reproduced, if not amplified, in the world of book reviews, where an even smaller number of nonwhite authors grabs an outsized proportion of attention. And this pattern continues in the world of book prizes. Like their counterparts in publishing, book reviewers and prize committees have a good understanding of what they are doing at the local decision-making level, but they don't necessarily have a very strong grasp of what they are doing at scale—how those decisions accumulate over decades to constitute patterns regarding what types of authors get included and what kinds of stories get told.
Literary scholars have also been unwittingly complicit in this illusion. In 1992, about ten years after the numbers of Black authors at Random House start to dip to their pre-Morrison levels, Henry Louis Gates Jr. identified a "proliferation of titles" being written by Black authors and "high sales figures" for those books, guided by an overall upward trend in Black authorship. He mentions "Toni Morrison" and "Toni Cade Bambara" as evidence. Gates is not wrong that certain Black authors are publishing more books and getting read, but he mistakes the success of a few individual authors for a transformation in the larger field. The larger field, from mainstream book publishing to book reviews to book sales to book awards, saw no enduring transformation. The trouble is that scholars like Gates, who serve as influential public proxies for the academy, have provided a false and potentially dangerous alibi to the literary world. They've helped promote the illusion that whiteness is attenuating in American fiction. Editors at Random House, book critics at the New York Times, and prize juries are more than happy to accept this university-sanctioned version of recent literary history. No one is to blame for a problem that doesn't exist.
__________________________________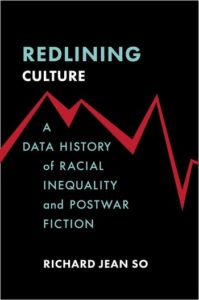 Excerpted from Redlining Culture: A Data History of Racial Inequality and Postwar Fiction. Copyright (c) 2020 Richard Jean So. Used by arrangement with the Publisher. All rights reserved.
---