How Wolfgang Amadeus Mozart Came to Compose His First Symphony
Jan Swafford on the Influence of Leopold Mozart on
His Precocious Son
In her diary, Nannerl (aka Maria Anna Walburga Ignatia Mozart, older sister of Wolfgang Amadeus Mozart) wrote that at Calais, on the way to London in April 1764, they observed "how the ocean ebbs and waxes." For the Channel crossing, Leopold hired a private boat and picked up four more paying passengers. On the way the family all got wretchedly seasick; Leopold wrote home that he was champion at vomiting. They reached London on the twenty-third, staying for a few days at an inn in Piccadilly before settling into cheaper rooms above a barber's in St Martin's Lane. Discovering that their Parisian attire attracted cries of "Bugger the French!" from street urchins, Leopold hastened to equip the family with English clothes, including fashionable round hats. The children's reputation had preceded them: five days after their arrival, Wolfgang and Nannerl played before King George III and Queen Charlotte at Buckingham House. They would stay in London for an initially glorious, then exasperating fourteen months.
When the Mozarts arrived in London, Handel was five years in his grave; many in the city remembered his performances. At that point George III was nearly twenty-six, Charlotte nearly twenty-one. The queen was German-born, the king's family German. Besides occupying the British throne he was also elector of his ancestral Hanover, so the court had a distinctly German tone. Leopold found them the warmest and most welcoming sovereigns they had yet encountered: "Their easy manner and friendly ways made us forget that they were the King and Queen of England."
During the first audience, the king presented Wolfgang with sight-reading challenges, works by Wagenseil, J. C. Bach, Abel, and George's favorite, German-born Handel. Wolfgang accompanied Queen Charlotte in an aria—she was a fair singer and clavier player—and improvised melodies over Handel bass lines. Afterward Leopold lamented that their gift for the performance was a mere 24 guineas (around 250 florins), but a second court appearance in May made them 24 more. Already Leopold was grousing about proceeds for an event or two that garnered more than his yearly Salzburg salary. As the Mozarts strolled in St James's Park between their court appearances, the king and queen clopped by in a carriage and George leaned out the window to give them a wave. It was a sure sign of royal enthusiasm.
London at that point was the largest and richest city in the world, one of the most cosmopolitan, and a mecca for musicians. As a center of music publishing it rivaled Paris. Compared to what the Mozarts were used to, it was a seething hive of activity in the arts, with citizens on the prowl for entertainment, including concerts public and private, opera, theater, dancing, card playing. The court was highly musical, but that had little influence on the rest of the city's arts, which took shape in a maze of patrons and entrepreneurs. A fascinated Leopold wrote patron Hagenauer reports of everything from the number of streetlamps in London (55,435) to the amount of cheese consumed per annum (21,660,000 pounds) to observations on the high quality of meat and produce, the various types of beer and punch, women's fashions, Oxford students' habit of cutting their hair short so it would not interfere with their thoughts.
London at that point was the largest and richest city in the world, one of the most cosmopolitan, and a mecca for musicians.
The children took up their familiar round of concertizing. Advertisements described them as "Prodigies of Nature." Leopold scheduled their public debut for June 5, the king's birthday, when he knew the nobility would be in town. For the occasion, held in the spacious Great Hall of Spring Gardens, Leopold hired a small orchestra of London players and two singers to present arias. About two hundred people showed up—fewer than Leopold had hoped, but still bringing in ninety guineas, which amounted to more than nine hundred German florins. There was a second concert at the end of the month in the rotunda of Ranelagh Gardens. Public concerts were a singular feature of music in London, more common than most places on the Continent. During the time of the Mozarts' sojourn, two Germans, Johann Christian Bach and Carl Friedrich Abel, established London's historic first subscription series, which would be a feature the city's music life for sixteen years.
Active as was public concert life, it tended to be mainly an entrée into private performances, which were more frequent and often paid better. Grimm in Paris had recommended to Leopold a new and semi-private hub of concertizing at Carlisle House, in Soho Square. Run by Mrs. Teresa Cornelys, once an operatic singer and now society hostess, the concerts were somewhere between public and private, catering to a select aristocratic clientele. It was a bit of a startling situation: the rooms, hung in blue and yellow satin, were a former brothel. They could accommodate up to six hundred attendees for concerts, cards, dinners, and masked balls. Impresario Cornelys was a former (or not-so-former) procuress who notoriously had a daughter by Casanova. In 1765 the rooms became the home of the historic Bach-Abel concerts. Mrs. Cornelys herself, however, did not appear interested in the Mozarts, though they may have attended her programs.
Musically, since leaving Salzburg the children had made dazzling strides. Wolfgang's playing, Leopold wrote, "has become at all points different." "My little girl, although she is only twelve years old, is one of the most skillful players in Europe, and . . . my boy knows in this his eighth year what one would expect only from a man of 40."
As usual Leopold made wide contacts and had boundless ambitions for the visit, but the usual tricks of fate turned up too. The first had to do with timing: they arrived in town at the end of the concert season, when the upper classes were about to leave London for the countryside. The other unexpected factor, once again, was health. For a July concert at the home of the Earl of Thanet, in Grosvenor Square, Leopold could not find a free carriage, so he hired a sedan chair for the children. As there was no room for him and the chair carriers were swift, he had to jog alongside. The exertion overheated him, which, he believed, led to a cold, which a week later turned into a miserable sore throat and fever. "I have been clystered, purged, and bled," he wrote Hagenauer. "I feel like a child. My stomach does not fancy anything and I am so frail that I can hardly think sensibly . . . It depends on the grace of God whether He will preserve my life. His most holy will be done." With family in tow, he was spirited in a sedan chair out to a country house in Chelsea, three miles from London.
From a friend, Leopold got a recommendation for a doctor who turned out to be a Dutch Jew. He developed a great respect for the man, mused about trying to convert him, finally decided to leave well enough alone. In London the Mozarts got to know a number of wealthy Jews, most of them Portuguese. Leopold marveled that they dressed like Parisians and hardly looked like their coreligionists in Austria. Now he fretted that these Jews seemed too secular, neglecting their faith. He appears to have come to something like Voltaire's admiring and ironic description of England, "a place more venerable than many courts of justice, where the representatives of all nations meet for the benefit of mankind. There the Jew, the Mahometan, and the Christian transact together as though they all professed the same religion, and give the name of Infidel to none but bankrupts."
As usual Leopold made wide contacts and had boundless ambitions for the visit, but the usual tricks of fate turned up too.
While Mama took care of suffering Papa, the children had to find their own diversions. Though Leopold talked to his wife about who might take over their education if he died, the potential disaster turned out well for Wolfgang. So that Papa could have quiet and rest, the children were not allowed to touch a keyboard. To pass the time, Wolfgang decided to write a symphony for full orchestra. He was able to write the piece without a clavier because he had the inborn faculty called "perfect pitch," meaning he could hear notes accurately in his head or name any note played to him. (All the same, most of the time he composed at the keyboard.) Perfect pitch is a rare gift. Some musicians have it, most do not. Because of his remarkably precise sense, Wolfgang was pained at hearing any deviation from exact pitch.
Many years later, Nannerl described the scene as their father lay dangerously ill: "In order to occupy himself, Mozart composed his first symphony with all the instruments of the orchestra, especially trumpets and kettledrums. I had to transcribe it as I sat at his side. While he composed and I copied he said to me, 'Remind me to give the horn something worthwhile to do!'" The work later known as Symphony no. 1 in E-flat, K. 16, might be this piece, but probably not—that symphony was indeed written in London, but it does not have trumpets and drums. In any case, after his first try, Wolfgang started turning out symphonies for small orchestra designed for his and Nannerl's London concerts.
By the last week of September 1764, Leopold was well enough to bring the family back to London. They appeared for the third and last time before the king and queen on October 25, the fourth anniversary of George III's taking the throne. It may have been on this occasion that Queen Charlotte asked for the dedication of six sonatas for violin (or flute) and harpsichord that Wolfgang may have just written, or that he produced after her request.
Those sonatas, K. 10–15, are another step up in ambition and sophistication, two-or three-movement pieces with a first in sonata form, most with a minuet or two for the finale. Leopold had shown Wolfgang the formal outlines appropriate to each movement of a sonata or symphony. The first movement should have three sections, starting with a first theme or group of themelets in the "tonic," the home key, that establish the mood and main ideas of the movement. Then you modulate to the key of the fifth scale degree, the "dominant," and write a second theme or themelets that complement and contrast the first theme. You repeat that section; then there is a section in which you may modulate to more distant keys. Then you return to the opening material, now putting it all, or most of it, in the home key. (Only decades later would this pattern, already common in works of the 1770s, be named "sonata form," its three main sections called "exposition," "development," and "recapitulation," to which may be added an introduction at the beginning and a coda at the end. In practice, the pattern is a general guide that can have endless variations.)
Like all violin sonatas of the time, these of Wolfgang's are, again, mainly piano pieces with the violin along for the ride. The fast movements are confident and exuberant, and among the pieces is a nice variety of keyboard textures. The third movement of K. 14 has at the head "en carillon," and features high writing on the harpsichord and pizzicatos for the violin. The composer's youth is shown in occasionally static harmony, in the piano part still relying on babbling Alberti bass in the left hand, and in a frequent sense of inattention to the violin part; for stretches he lets the fiddle dither around aimlessly on the low strings. The violin writing, with Leopold looking over his shoulder works well enough, but the eight-year-old is far more involved with the clavier part.
Like all violin sonatas of the time, these of Wolfgang's are, again, mainly piano pieces with the violin along for the ride.
Leopold had the sonatas engraved at the end of the year, the dedication page to Queen Charlotte necessarily obsequious, this time in French, signed by Wolfgang but surely written either by Papa or a hired writer of such things: "When the Queen deigns to listen to me, I surrender myself to thee [meaning music] and I become sublime; far from Her, the charm grows weak, her August image gives me a few ideas which art then takes charge of and completes. But let me live, and one day I shall offer Her a gift worthy of Her. . . I shall become immortal like Handel. . . and my name will be as celebrated as that of Bach." There is a good deal more of the like twaddle. Two points: the Bach he cites is Johann Christian; and this is perhaps the only time history records Mozart (though it is not really him speaking) talking in terms of the kind of immortality for composers that Handel's enduring reputation had pioneered.
In some ways musically more interesting from that period is a series of sketches and drafts Wolfgang wrote down in a new manuscript book Leopold gave him. It would survive as "the London Notebook." Father or son signed it in the front, "di Wolfgango Mozart à Londra 1764." Here are forty-three ideas in various directions and states of completion, all of it, for a change, in Wolfgang's own hand, which by now is neat and clear and would remain so for the rest of his life.
There are surprisingly few strikeouts or corrections in the London Notebook; probably he worked out the pieces at the clavier and then copied them down, relying on a remarkable memory for music, whether his own or works by others. The pieces, some incomplete, range from tentative to fascinating. Three of them may be sketches toward orchestral movements. Most striking is No. 15 in G Minor, a through-composed piece that deftly develops its opening ideas throughout and en route works in a quote from Gluck's ballet Don Juan. Wolfgang may have looked at it as a harmonic study; its altered chords and modulations from key to key range farther than anything he had yet explored. Beyond that, there is a driving intensity to the piece that foreshadows a distinctive G-minor mood that would be with him to the end, most famously in his two symphonies in that key, one early and one late.
__________________________________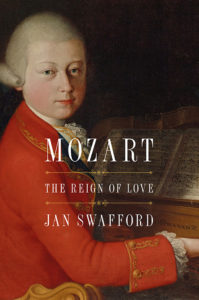 From Mozart: The Reign of Love by Jan Swafford. Used with the permission of Harper. Copyright © 2020 by Jan Swafford.
---