The Impossible Exercise of Interviewing Leonora Carrington
Heidi Sopinka in Conversation with Claudia Dey
Heidi Sopinka's debut novel The Dictionary of Animal Languages is the deceptively gentle tale of the aging artist Ivory Frame, whose character and life are based, both loosely and closely, in alternation, on Leonora Carrington. In fact, Sopinka was struggling to write the book—struggling to get to the heart of the older woman protagonist—until, on a whim and armed with nothing but an outdated telephone number, she flew down to Mexico City to try to track down Leonora Carrington for a personal, intimate interview.
Spoiler alert: she succeeds, and spends two days with Carrington in her salon, with Carrington chain-smoking and challenging question after question.
Based on that two-day interview, Sopinka crafted the character of Ivory Frame, a straight-talking elderly woman driven by the urge to create. The book opens in the frozen north, near the end of Ivory's life. Now 92 years old, she is working, along with her assistant, on what she knows to be her final artistic project: cataloguing the sounds of animals.
Sopinka sits down with Claudia Dey, author of Heartbreaker, to discuss the inspiration, research, and grit that went into the "coming-of-death novel" that is The Dictionary of Animal Languages.
*
Claudia Dey: Can you pinpoint the moment you felt you needed to write the novel?
Heidi Sopinka: It began after I gave birth to my first child. I started to think about birth's flipside: death. Not in the way of a mother saying, "I am worried about not being around for my child when they grow up." It was more the actual moment between being and non-being. Martin Amis once wrote about the cosmic joke of how in birth two people go into a room and three people come out. And how in death, one person goes in and no one comes out. I really fixated on that––on how both vast and abrupt that moment is, and that led me to people who live on the threshold. I had an image of an old woman working on a project and it wouldn't go away. I began to think of it as a coming-of-death novel.
She'd lived this grand life––a radical life, really––and she refused my line of questioning.
CD: When we meet the radical, fierce heroine, Ivory Frame, she is 92-years-old. She's described as living more like an animal or a man than as a woman. You told me once that you wrote the novel to construct a mentor for yourself. Can you speak to that more? What was it that you were looking for? What was it that you found?
HS: I think when I fixated on an old woman character it made me realize that I had never had a mentor in my own life. I sort of agonized over how to write about such a person if I hadn't actually encountered them. So I started to do a lot of reading about women I admired who were nonagenarian––people like Louise Bourgeois and Agnes Martin, Jane Jacobs, and the editor, Diana Athill. But I realized that what I really needed to do was to be in a room with one of them. To understand where they were at and what they were thinking and how they spoke. So I ended up flying to Mexico City and tracking down Leonora Carrington who, at the time, was the last living surrealist. She was 92. I had just read her novel, The Hearing Trumpet whose protagonist, Marian Leatherby, was 92. My protagonist, Ivory Frame, was also 92––it felt like a coincidence too great to ignore.
CD: Can you tell me about that conversation? I understand it took place over two afternoons in Mexico City––in Leonora Carrington's house where a tree grew through it––
HS: She answered the door piled with sweaters and she smoked like crazy. That punctuated the conversation continually. She wasn't at all sentimental. She'd lived this grand life––a radical life, really––and she refused my line of questioning. I kept asking her the big questions: what does it mean? What are you working on? How do you feel about getting closer to death? She stopped me at every turn. It made me realize that you can't answer those kinds of questions. You have to live through them. There are no real answers to those questions in life. They're too unknowable. She said that there are things unsayable—that's why we have art.
CD: How did the interview with Leonora change you?
HS: It was amazing to be in a room with somebody who had lived that size of life. Had made so much extraordinary work. Had been the lover to Max Ernst. Had experienced madness. She had been expelled from convent schools for attempting to levitate. For writing backwards. She was called a witch. And during WWII she escaped out a window to avoid being sent to a psychiatric institution in South Africa by her wealthy family, for good. She married a Mexican poet and wound up in Mexico City. She was good friends with Remedios Varo, the surrealist painter. She knew Frida Kahlo. She was a larger than life character. I felt amazed to be in a room with her. That my life would overlap with hers.
And then on a sentence level, when I got home from Mexico, I rewrote my draft. I realized I hated the tone of my book. I did not want to write an old woman character who was dispensing wisdom or was some kindly grandmother figure. I feel we aren't shown old women in their full power. I think we're averse to that kind of female power so we portray them in their extreme ugliness––like crones in fairy tales. She was not that. She was an example of something totally other. And it was thrilling to be around. And then on a technical level, she informed the sentences––her terse, clipped sentences are how you speak when you're 92––it's really hard to get breath in a sentence. The sentences are economic and without sentimentality.
CD: That is the line then between Leonora and Ivory Frame––the sentence level but also the mentor refusing to be the gateway to a deeper truth.
HS: I think so. You're just an example of how you live. You can't really give your wisdom to anyone.
CD: How did you find Leonora Carrington?
HS: We looked up her phone number in the paginas blancas in Mexico City. Her phone number was under her husband's name who had died. I went with two friends, a writer/artist and a photographer. We didn't have her address and she didn't give interviews anymore. We flew down only with this telephone number. We kept calling and calling and while we were waiting to make contact, we did performance pieces around the city. We made and photographed picnics and tried to conjure her through her own iconography––so we assembled her strange animals and cabbages and the transformative objects she painted. Someone eventually answered the phone—and it was a hair salon. The person we were staying with in Condesa was a French filmmaker. He couldn't believe we came to Mexico without an address or a concrete interview lined-up.
CD: You told me that you were feeling dejected and drinking tequila with the French filmmaker––
HS: On his roof. Yes. You could see all of Mexico City from there. We were feeling like the interview was never going to happen. I was trying to make peace with the notion that maybe this is the quest that does not end the way you hope, that it would be something else entirely. The next day, the filmmaker called us and said excitedly, "You're never going to believe this but my ex lives on her street." Suddenly we had her address in a city of––I think it's 20 million people. We were knocking on her door in Roma that afternoon.
CD: I want to move on to flying. You have a helicopter pilot's license. You have said in the past that you figured out flying in your dreams. Can you relate that at all to writing––did you receive any crucial instruction from your subconscious when you were making the book?
HS: Ivory, as a young character, lives in 1930s Paris with the surrealists who attached great importance to dreaming as a portal to creativity, but also as a way of informing life. Andre Breton said something about how he didn't understand why we attach so much importance to events in waking life––and not to those in dreams. The strange dream logic informed the book. Its structure is fragmented, as opposed to a linear narrative. I felt to organize events sequentially took away their power. It's not how we experience memory.
CD: A lot of writers have spoken about parallel lives––that they could have been other things––an oceanographer, a painter. You once told me that you could have been a hermit in the woods. I wonder if Ivory allowed you to live out that solitude.
I remember reading somewhere that all writers have a sliver of ice in their heart and I remember thinking it's because you have to.
HS: I think that writing a novel requires you to drop out. Because I have a family, I had to physically remove myself at certain points––there was too much life happening. I had to disappear. I went into the woods to a friend's cabin, and I would wake up hearing birds, the creak of the trees, all the strange noises, the rituals that you get up to when you're alone in the middle of nowhere. I felt such a connection with my character in that way. It's so rare in life to get to sustain your thinking. Especially now.
CD: It allows for a deepening whereas a lot of conventional living can be a form of un-deepening.
HS: That's the beauty of novel writing. It's sort of the treachery of it and the beauty of it—that you go away. That you have to go away.
CD: What about re-entering the atmosphere. Is that hard for you?
HS: I don't have any instructions that work. You're so raw when you enter back in. You see things as they are. You feel things so deeply. I remember reading somewhere that all writers have a sliver of ice in their heart and I remember thinking it's because you have to––you have to be a little removed from the world to really see it.
__________________________________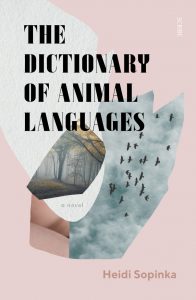 The Dictionary of Animal Languages is now out in paperback from Scribe U.S.
---