The Imperious Magnate Who Built a Magazine Empire
Stephen Bates on Henry Robinson Luce
Henry Robinson Luce said he became a journalist because it enabled him to "come nearest to the heart of the world." He was born in China, where his parents were Presbyterian missionaries, in 1898. (Later he would note that the foreign birth rendered him ineligible for the presidency.) As a student at Yale, he tried writing poetry but concluded that he could never be a first-rate poet, "so the hell with it." Instead, after graduating in 1920, he became a reporter. In 1922, he and a college friend, Briton Hadden, left their jobs at the Baltimore News to launch what they called a "news-magazine," which would organize, summarize, and simplify the events of the preceding week for "the illiterate upper classes, the busy business man, the tired debutante." After contemplating Facts, Hours, Briefs, Destiny, Chance, and the Synthetic Review, they decided to call it Time. The first issue was dated March 3, 1923. Hadden had just turned 25; Luce's 25th birthday was a month away.
Time developed a style all its own, with words lifted from other languages (kudos, tycoon) or invented (cinemactor), quotidian details ignored by other news outlets (a middle name, the color of a necktie), capitalized epithets ("Pundit Lippmann"), and uncharitable compound adjectives ("blubber-lipped"). The magazine featured sentences that were "twisted, ductile . . . like a Modigliani woman," as Mary McCarthy put it, such as "Forth from the White House followed by innumerable attendants, Mr. and Mrs. Warren G. Harding set out on a 1,500 mile journey to Alaska and return." As Wolcott Gibbs wrote in his renowned takedown, published in 1936 in the New Yorker, "Backward ran sentences until reeled the mind." The magazine's cofounder, the bubbly and antic Hadden, was responsible for many of the quirks.
Luce was more standoffish than Hadden. If journalism brought him closest to the heart of the world, perhaps he never made it all the way. "I have had the reputation of not caring enough about 'people,'" he remarked to the philosopher William Ernest Hocking. He tended to prefer ideas. Though he revolutionized journalism, his greatest legacy, according to David Halberstam, may have been bringing culture to the masses. The first issue of Time featured articles on T. S. Eliot and James Joyce. In the 1920s and 30s, John Dewey, Alexander Meiklejohn, George Santayana, Franz Boas, and Lewis Mumford all appeared on Time covers, as did Robert Hutchins.
After Hadden died in 1929, of a blood infection incurable in the pre-penicillin era, Luce started Fortune in 1930 and Life in 1936. Fortune was dominated in its early years by a claque of left-wing literary intellectuals that included Dwight Macdonald, James Agee, and Archibald MacLeish. Luce wanted Life to nurture "America's intellectual health," and each issue featured at least one upscale offering in literature or the arts alongside the fluff—as Macdonald put it, "nine color pages of Renoir paintings followed by a picture of a roller-skating horse." In the mid-1940s, Time Inc. began developing a highbrow magazine devoted to culture, though it never got off the ground.
At a dinner for the Time staff, Luce told his guests, "I could fire any of you. . . . But I don't know anyone who can fire me."
Luce and the New Yorker editor Harold Ross feuded from time to time. Wolcott Gibbs's article mocking Luce and his magazines was a fusillade. The two editors present a sharp contrast. Ross was a high school dropout whom Brendan Gill termed "aggressively ignorant." On one occasion, according to Gill, Ross shouted to colleagues, "Is Moby Dick the whale or the man?" By contrast, the historian Alan Brinkley calls Luce "an intellectual omnivore." Yet the New Yorker managed to be more intellectual than its editor, whereas Time Inc. magazines, by design, tended to be less intellectual than theirs. Luce sought the audience that Ross, in his prospectus for the New Yorker, famously spurned: "the old lady in Dubuque."
Luce often pondered the relationship between the press, the public, and the First Amendment. "How are you going to regulate a free press?" he said in a letter to former president Herbert Hoover in 1937. "And if you don't regulate it, I can see nothing to rely on except private conscience. And if you will rely to some extent on the private conscience of editor-publishers . . . why not rely also on the private conscience of bankers, manufacturers, educators, etc.?" In 1938, President Roosevelt charged that greedy publishers were choosing private profits over public service. In a response published in the St. Louis Post-Dispatch, Luce credited FDR with raising important issues about media responsibility. "The time has come for a thorough-going public debate on the whole question of the position of the free press today," he wrote, "and I congratulate you on your contribution to it."
The same year, Luce offered to pay the Columbia University School of Journalism to research public attitudes toward the press. The New York Times publisher Arthur Hays Sulzberger objected that such a study of the press—"what is wrong with it, and what should be done about it"—would be "dangerous." He may have thought that quantifying the press's unpopularity would only reinforce it. He may also have been angry over Time's reference in 1937 to "the Jewish-owned New York Times," which had prompted him to protest to Luce. In any event, Columbia pulled out, and the project died.
Luce didn't need Columbia, the University of Chicago, or FDR to tell him that freedom of speech entails responsibility. He believed that the media must give citizens what they need, not what they want: "The people are to be served, not necessarily to be pleased." He resisted proposals to raise the price of Life, saying that working-class Americans needed the education it provided, and Time Inc. "has other purposes besides the maximizing of profits." To whom is a publisher ultimately answerable? Not the readers, the stockholders, or the board of directors. "I decided that my ultimate accountability," he said, "had to be to my Creator."
According to Luce's onetime employee and longtime friend Theodore H. White, he was motivated above all by Christianity; money ranked second. He enjoyed the company of theologians and Christian philosophers such as John Courtney Murray, Paul Tillich, and two members of the Hutchins Commission, Reinhold Niebuhr and William Ernest Hocking. He publicized them as well: Murray, Tillich, and Niebuhr all appeared on the cover of Time. Luce prayed, read the Bible, attended church, pondered God's will, and spoke of himself as a sinner. One friend called him the most guilt-ridden Gentile she had ever known.
In the course of promoting American aid to Britain, Luce remarked that he had declared war on Germany in 1939; FDR needed to catch up.
The Seventh Commandment appeared to give Luce particular trouble. Married to the former Lila Hotz since 1923, he had an affair with the playwright and journalist Clare Boothe Brokaw in 1934. When he talked of leaving his wife for her, Clare teased that her "little minister" would never do such a thing. But he did. In 1935, he married her, and she became Clare Boothe Luce. Later, as he was nearing 60, Luce had a long affair with a woman half his age, Jeanne Campbell, granddaughter of the British publishing mogul Lord Beaverbrook. When Campbell referred to herself as Luce's mistress, he grimaced. "The son of a Presbyterian minister can't have a mistress," he told her. Clare affected lightheartedness. If Luce married Campbell, she told friends, she might marry Lord Beaverbrook and "become Harry's grandmother." John Courtney Murray stepped in as counselor, Jeanne Campbell began dating Norman Mailer, and the marriage survived.
*
Luce was the "most powerful private citizen" in the United States, according to William Benton, a Yale classmate and friend who underwrote the final expenses of the Commission on Freedom of the Press. The media empire became a state within a state, presided over by the sometimes imperious "Il Luce." In the course of promoting American aid to Britain, Luce remarked that he had declared war on Germany in 1939; FDR needed to catch up. In "The American Century," published in Life in 1941, Luce, the son of missionaries, called on the United States to become "Good Samaritan of the entire world." Later, Time Inc. created a Post-War Committee to plan for the future—not the future of the magazines but that of the nation.
Success spoiled Henry Luce. The scrappy striver became surly and charmless, a "self-conscious 'great man,'" according to Alan Brinkley. At a dinner for the Time staff, Luce told his guests, "I could fire any of you. . . . But I don't know anyone who can fire me." His style at times became domineering. In the late 1930s, at a meeting with leaders from business, academia, and law to talk about the defense of England, Luce insisted on discussing his moral quandaries as a publisher instead. "He would not drop the matter, and the rest of us became increasingly wearied," wrote one of those present. During Luce's affair with Campbell, she later said, "I couldn't get a word in edgewise." In conversation, Luce interrupted everyone, even the pope.
Benton liked Luce but found him heavy-going and boorish. At one lunch, Luce cross-examined him on whether he believed in God. On another occasion, he demanded to know why Benton didn't read Time Inc. magazines. When the conversation turned to Eleanor Roosevelt, who had died a few weeks earlier, Luce declared that she would burn in hell.
The poet and playwright Archibald MacLeish wanted nothing from Luce, and he felt free to speak his mind. The two grew close in the early 1930s, when MacLeish was Fortune's most prolific writer. Luce sought his counsel on personal as well as business matters. After MacLeish resigned in 1938, Luce tried repeatedly to lure him back to Time Inc., without success. "I loved him very much," MacLeish said, "although I thought him wrong as hell much of the time." Their contact was infrequent; MacLeish rarely made good on his promises to Luce that they would get together. "The last person I'd think of to call was Harry," MacLeish told an interviewer. "He was so awkward to be with, so heavy-handed, so lacking in a sense of humor." On the page, though, the relationship could be almost intimate. "I wish you hadn't been so successful," MacLeish told Luce in 1938. "Because it's very hard to be as successful as you have been and still keep your belief in the desperate necessity for fundamental change. I think you hate being rich. I think you hate being a pal of the people who want you to be their pal."
Later, in 1949, Luce told MacLeish that they both were inclined to be crusaders. Sounding wistful at fifty-one, Luce wrote, "On the whole you have been much luckier (and deservingly so) than I have been in the fulfillment of this inclination." In 1958, MacLeish's play based on the Book of Job, J.B., opened on Broadway. During rehearsals, MacLeish told the director, Elia Kazan, about Luce. Kazan was captivated, MacLeish recalled, by "this man whose wildest aspirations of himself and his country could swallow him up." The tragedy of Henry Luce, Kazan said, would make a great play.
Luce kept trying to give his country what he thought it needed. In 1960, he decided that the United States lacked a sense of purpose, so he commissioned MacLeish, Walter Lippmann, and eight others to come up with one. When Luce concluded that Americans hadn't found contentment in prosperity, he delivered an address on the subject. "We have won all the marbles—and it just isn't enough," he told the audience. Because he believed Americans needed to recommit their lives to God, Life devoted an issue to Christianity. In the Cold War, Sports Illustrated filled a national need, too. "He gave me a forty-five minute speech," Robert Hutchins said, "about how he was starting a sports magazine because we had about seven years to annihilation and he wanted us to have a good time while we could." Perhaps Luce was mistaking his own yearnings for the nation's. He may have been the one in need of purpose, contentment, a deeper faith, a good time.
Luce died in 1967. Hutchins didn't go to the funeral. His feelings about Luce were tangled, and after decades of asking him for money, perhaps he felt the beggar's grudge against the almsgiver. In a letter to Benton, he briefly reflected on Luce. "Of course he didn't enjoy life—much. A Presbyterian minister's son was not supposed to," wrote Hutchins, another Presbyterian minister's son.
*
At lunch at the Drake Hotel in 1942, Hutchins dismissed Luce's idea of a corporate-sponsored, university-produced restatement of freedom of the press. Luce periodically raised the subject in subsequent meetings, and Hutchins continued to show no interest. Then, in fall 1943, the two men sat together at a board meeting of Encyclopædia Britannica. Rather than listen to the discussion, they began passing notes. Hutchins told Luce that the study of press freedom might be feasible. They passed more notes. "By the time the meeting was over," recalled Luce, "a scheme had taken shape in his mind."
In a phone call afterward, Hutchins raised a few concerns. Luce asked why he was wavering. He replied that he was thinking, not wavering; business leaders needed to learn the difference. Although Luce had initially talked of it as a job for the University of Chicago philosophy department, Hutchins said that they would need to look elsewhere, because "we haven't got the people." (He had clashed with the philosophy department for years.)
Hutchins was ready to begin. "I will undertake—with proper financing—to organize a national group" to study freedom of the press. Luce told him to get started.
Three years later, as the Commission on Freedom of the Press was completing its work, Hutchins would write, "I am sorry I ever met Harry Luce."
__________________________________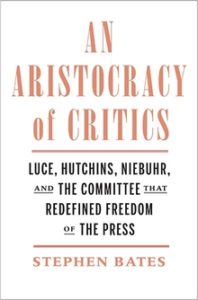 From An Aristocracy of Critics by Stephen Bates. Used with the permission of Yale University Press. Copyright © 2020 by Stephen Bates.
---