The Good, The Bad, and The Delicious: 20 Unexpected Literary Cookbooks
A Confederacy of Dunces: The Cookbook?
It's the week of Thanksgiving, which means that many cooks in America are gearing up for a few solid days of cooking. (As one very poor chef once reminded us, Thanksgiving is a sham, but it's a sham with yams. It's a yam sham.) Many of those avid cookers and consumers of yams being also avid consumers of literature, I thought I'd find out how many literary cookbooks were out there in the world. The answer is: there are many. Some are predictable: there are Redwall cookbooks, Jane Austen-themed cookbooks, Little House on the Prairie cookbooks. There's that Tequila Mockingbird book that everyone who works in the book world has received at least once as a gift (stop). Others are a little more puzzling: the A Confederacy of Dunces cookbook? Cooking with Anne McCaffrey? I don't know why they exist, but I have to admit that I'm glad they do. For your holiday planning, or just your holiday amusement, I present an incomplete collection of unexpected literary cookbooks that you can buy and hold and spill hot cheese on.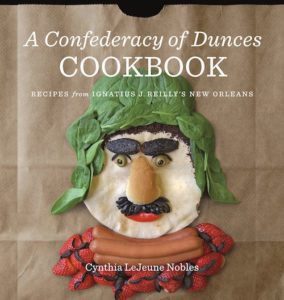 A Confederacy of Dunces Cookbook: Recipes from Ignatius J. Reilly's New Orleans, Cynthia LeJeune Nobles (2015)
From LSU Press:
In John Kennedy Toole's iconic novel, Ignatius J. Reilly is never short of opinions about food or far away from his next bite. Whether issuing gibes such as "canned food is a perversion," or taking a break from his literary ambitions with "an occasional cheese dip," this lover of Lucky Dogs, café au lait, and wine cakes navigates 1960s New Orleans focused on gastronomical pursuits. . . . Dishes inspired by Ignatius's favorites—macaroons and "toothsome" steak—as well as recipes based on supporting characters—Officer Mancuso's Pork and Beans and Dr. Talc's Bloody Marys—complement a wealth of fascinating detail about the epicurean side of the novel's memorable settings. A guide to the D. H. Holmes Department Store's legendary Chicken Salad, the likely offerings of the fictitious German's Bakery, and an in-depth interview with the general manager of Lucky Dogs round out this delightful cookbook.
A Confederacy of Dunces is not a novel that makes me hungry, particularly, and most of the food described therein sounds . . . pretty bad. But the word "toothsome" should really come back in style.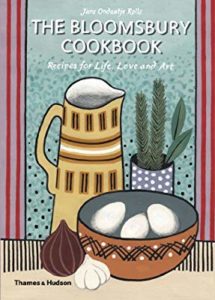 The Bloomsbury Cookbook, Jans Ondaatje Rolls (2014)
From Thames & Hudson:
Part cookbook, part social and cultural history, the book tells the story of the Bloomsbury Group with nearly 300 recipes, many from previously unpublished material by members such as Frances Partridge, Helen Anrep and David and Angelica Garnett, accompanied by paintings, photographs, quotations, letters and personal reminiscences.
Together they paint an intimate and astonishingly detailed portrait of the group, conjuring up the scents, colours and textures of breakfasts at Monk's House, lunches at Charleston, tea in Tidmarsh, evening parties in Gordon Square and dinners in the south of France.
Again, I don't exactly associate the Bloomsbury Group—Virginia Woolf, E. M. Forster, Roger Fry, John Maynard Keynes, Lytton Strachey, Vanessa Bell, etc.—with fine dining (this is England, after all), but that said, I would like to have dinner parties like theirs.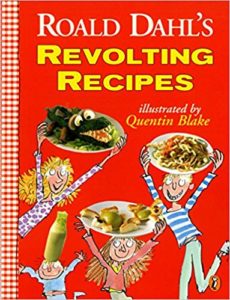 Roald Dahl's Revolting Recipes, Roald Dahl, Felicity Dahl, and Josie Fison (1997)
From Puffin Books:
Who but Roald Dahl could think up such mouthwatering and deliciously disgusting foods as Lickable Wallpaper, Stink Bugs Eggs, and Eatable Pillows? Now theres a practical guide to making these and other delicacies featured in Charlie and the Chocolate Factory, James and the Giant Peach, and Roald Dahl's other books, with easy, step-by-step recipes that range from the delectable to the truly revolting. Quentin Blake's illustrations combine with full-color photographs of the luscious results to perfectly capture Roald Dahls wicked sense of fun.
Cute—as long as we don't have to swallow any of Roald Dahl's Revolting Politics. . .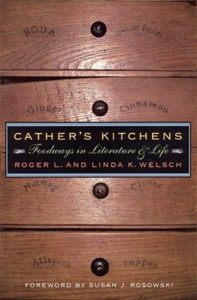 Cather's Kitchens: Foodways in Literature and Life, Roger L. Welsch and Linda K. Welsch (2002)
From University of Nebraska Press:
Roger and Linda Welsch matched references from Willa Cather's writing with recipes they collected from Cather family recipe files, from other period cookbooks, and from old-time ethnic cooks still living in the Bohemian tradition. Cather's Kitchens comes as close as possible to the precise recipes Cather had in mind and memory as she wrote.
The first in the somewhat odd category of collections of writers' personal recipes—as though their literary prowess should make us interested in copying their culinary habits. Maybe it's because there's something alluring about tasting the food that fueled the masterpieces, or maybe because our instinct to mythologize and lionize our literary heroes knows no actual bound.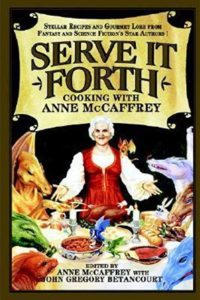 Serve it Forth: Cooking With Anne McCaffrey, Anne McCaffrey (1996)
From the promotional copy:
What do the world's most imaginative minds feast upon? Spiderfish Stew . . . Shrimp Anarchy . . . Surrealistic Fudge . . . Pa's Peasant Soup . . . and Marvelous Morphed Meat. How do the world's great science fiction and fantasy authors feed themselves when they're not whipping up tales of wonder? What did they eat before they were famous-and what do they serve to their friends? Compiled and annotated by bestselling author Anne McCaffrey, Serve it Forth is an unparalleled collection of recipes submitted by the writers themselves, so you can eat like Patricia Anthony (The I've-Been-to-Brazil-I-Know-What-Black-Beans-Are Dip), David Gerrold (Death to the Enemies of the Revolution Chili), and Poul Anderson (The Great Pumpkin). Each wonderful, dunce-proof recipe is accompanied by personal notes from the author-chefs, as they guide you into the preparation of such repasts as: Sherried Walnut Cake by Lois McMaster Bujold, Pig by David Drake, Comforting Clam Chowder by Peter S. Beagle, Night of the Living Meatloaf by Allen Steele, How (and Why) to Dress and Prepare Texas Armadillo by Ardath Mayhar, Catfish and Red Meat Flavoring by Larry Niven and over 100 more!
This was the first of McCaffrey's cookbooks—the second was Cooking Out of This World, also a compilation of submitted essays from other writers in the SFF community. The names of the dishes are deeply silly but you have to love that book cover.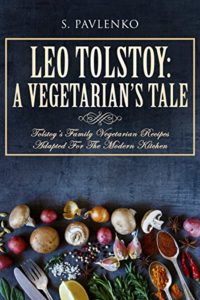 Leo Tolstoy: A Vegetarian's Tale: Tolstoy's Family Vegetarian Recipes Adapted For The Modern Kitchen, S. Pavlenko (2016)
From the promotional copy:
Leo Tolstoy was a trendsetter. He was one of the most important and prolific writers of his time—his novels, like Anna Karenina and War and Peace, are still being taught in schools and adapted for the screen. But he was also one of the first widely known vegetarians. Though a meat-eater early in his life, by the time he turned 50 he'd decided it was immoral for someone to kill on his behalf just so he could enjoy a slab of beef for lunch. He became an ovo-lacto vegetarian, but because of the time in which he lived it was up to him (and particularly his lovely wife, Sofia) to create vegan and vegetarian recipes that would both taste good and keep him healthy. Now, for the first time ever, Tolstoy's mouth-watering, meat-free meals have been collected in Leo Tolstoy: A Vegetarian's Tale. This book features vegan and vegetarian recipes from Tolstoy's wife. Sophia Tolstoy's 1874 "Cookery Book," which was compiled for her by her brother from her diaries, provides a rich tapestry of the Tolstoy family's dining habits. The recipes range from homemade Macaroni and Cheese to Potatoes a la Maître D'Hôtel, with plenty of tasty options in between (including family specialties you can't find anywhere else, such as Tolstoy's Herbal Liqueur). Many of the original versions of the recipes lacked exact descriptions of ingredients and cooking times, but the recipes were edited by chef de cuisine at some of Moscow's best fine-dining restaurants to insert the missing elements to make the meals you prepare as delicious as possible. So whether you're looking for a modern revision on a classic or the original recipe right from the 1800s, you're guaranteed to find a meal you'll love.
Who knew? (Apparently the vegetarians in the Literary Hub office knew, but I did not.)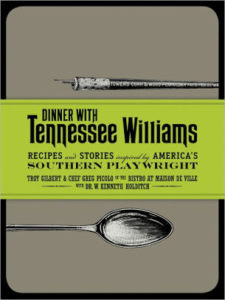 Dinner with Tennessee Williams: Recipes and Stories inspired by America's Southern Playwright, Troy Gilbert and Chef Greg Picolo with Dr. W. Kenneth Holditch (2001)
From the promotional copy:
Each chapter is based on one of Williams' plays and includes a short essay on food references within that play; highlighted food related quotes from the dialogue; a menu divined from the play; and archived photographs from Williams' life. With more than 80 recipes, fans will love the 50 full-color and black and white photos that showcase the recipes, locale, and history of this beloved American writer.
In case you love Tennessee Williams's plays so much you'd like to eat them.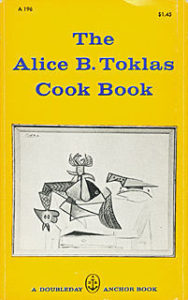 The Alice B. Toklas Cook Book, Alice B. Toklas (1954)
From Harper Perennial:
Long before Julia Child discovered French cooking, Alice B. Toklas was sampling local dishes, collecting recipes, and cooking for the writers, artists, and expats who lived in Paris between the wars. Hemingway, Fitzgerald, Wilder, Matisse, and Picasso shared meals at the home she kept with Gertrude Stein, who famously memorialized her in The Autobiography of Alice B. Toklas. The Alice B. Toklas Cook Book, however, is her true memoir: a collection of traditional French recipes that predates Child's Mastering the Art of French Cooking.
This is of the most famous cookbooks of all time, for two main reasons: First, its proximity and connection to Gertrude Stein's The Autobiography of Alice B. Toklas—"the similarity of tone of the two books only deepens the mystery of who influenced whom," Janet Malcolm wrote. Was Stein imitating Toklas when she wrote in Toklas's voice in the Autobiography, or did she invent the voice, and did Toklas then imitate Stein's invention when she wrote the Cook Book? It is impossible to say." Second, that infamous recipe for Hashish Fudge ("which anyone could whip up on a rainy day").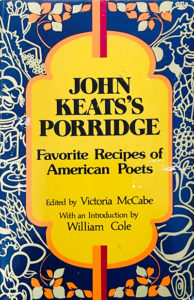 John Keats's Porridge: Favorite Recipes of American Poets, ed. Victoria McCabe (1975)
The title of this cookbook makes me want to stroke it fondly on the head, but I'm not sure such a thing would be appreciated. Anyway, after all my stroking was done, I got curious about it, because Keats is . . . not American. Turns out it may be a reference to the Robert Browning poem "Popularity," whose final stanza goes like this:
Hobbs hints blue,—Straight he turtle eats:
Nobbs prints blue,—claret crowns his cup:
Nokes outdares Stokes in azure feats,—
Both gorge. Who fished the murex up?
What porridge had John Keats?
Extremely meta for the book and also for this list.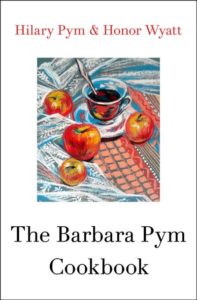 The Barbara Pym Cookbook, Hilary Pym, Honor Wyatt (1988)
From Open Road Media:
Straight from the kitchen of Barbara Pym, this winning cookbook delivers a delectable treat for readers who like their meals served with a generous helping of literary aplomb. Sharing favorite family recipes that Pym incorporated into her novels, The Barbara Pym Cookbook reveals how the author's life intersected with those of her memorable characters. Inside you'll find British classics such as steak and kidney pie, plum cake, sausage rolls, and toad-in-the-hole—dishes that Pym's characters would often prepare for each other. Other treats, such as moussaka and risotto, reflect Pym's fascination with Greece and Italy. Throughout, the recipes are interwoven with references to Pym's novels; Dulcie's musings on "love apples" from No Fond Return of Love accompany directions for tomatoes à la Provençale, for instance. There are glimpses of Pym's personal life, too, such as her description of kipper pâté for lunch with Philip Larkin. The Barbara Pym Cookbook is a must-have for both budding cooks and Pym aficionados.
If, like many Pym heroines, you are less than transcendent in the kitchen, you probably will not be improved by this cookbook (it's English cuisine from the 50s, okay), but Pym herself is so transcendent on the page that you won't be able to hold it against her.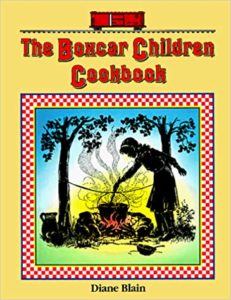 The Boxcar Children Cookbook, Diane Blain, Kathy Tucker (1991)
From the back cover:
The Boxcar Children love to cook! In all their adventures, Henry, Jessie, Violet, and Benny take time out to make and eat great food. Now you can impress your family and friends with these delicious homestyle Boxcar favorites, including:
Mystery Ranch French Toast
Golden Horn Pizza
Benny's #1 Favorite Sandwich
Aunt Jane's Birthday Cake
Correct me if I'm wrong, but in my memory the Boxcar Children lived in a boxcar in the 40s. Why should we be emulating their diets? Even after they move in with their rich grandfather, their food isn't particularly inspiring. Oh well, mystery-solving fuel, I suppose.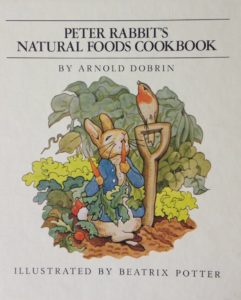 Peter Rabbit's Natural Foods Cookbook, Arnold Dobrin (1977)
From the table of contents:
BREAKFAST AND BREADS
Samuel Whisker's Roly-Poly Pancakes
Timmy Willie's Sunny Sunday Scrambled Eggs
Squirrel Nutkin's Banana-Nut Loaf
Pigling and Pigwig's Hot Rice Breakfast Treat
Johnny Town-Mouse's Granola
Tommy Brock and Mr. Tod's Wheat Germ Muffins
SANDWICHES
Alder-Rat Squeaker's Homemade Peanut Butter
Little Pig Robinson's Peanut Butter Sandwiches
Mr. Pricklepin's Cream or Cottage Cheese Sandwiches
The Flopsy Bunnies' Vegetable Sandwiches
VEGETABLES
Duchess and Ribbey's Tomato-Cheese Pie
Little Black Rabbit's Orange-Honey Carrots
Piggery Porcombe Green Beans and Mushrooms
This is actually adorable: of course Peter Rabbit would be eating what my extremely carnivorous father would refer to as "rabbit food." One imagines that every culinary rabbit at least has a copy of the Moosewood Cookbook in their warren.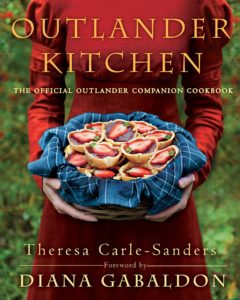 Outlander Kitchen: The Official Outlander Companion Cookbook, Theresa Carle-Sanders (2016)
From Delacorte Press:
Claire Beauchamp Randall's incredible journey from postwar Britain to 18th-century Scotland and France is a feast for all five senses, and taste is no exception. From Claire's first lonely bowl of porridge at Castle Leoch to the decadent roast beef served after her hasty wedding to Highland warrior Jamie Fraser, from gypsy stew and jam tarts to fried chicken and buttermilk drop biscuits, there are enough mouth-watering meals along the way to whet the appetite of even the most demanding palate.
Now professional chef and founder of OutlanderKitchen.com Theresa Carle-Sanders offers up this extraordinary cuisine for your table. Featuring more than one hundred recipes, Outlander Kitchen retells Claire and Jamie's incredible story through the flavors of the Scottish Highlands, the French Revolution, and beyond. Yet amateur chefs need not fear: These doable, delectable recipes have been updated for today's modern kitchens.
I thought these books were mostly about sex and time travel, but adding food to those two excellent items can only improve things.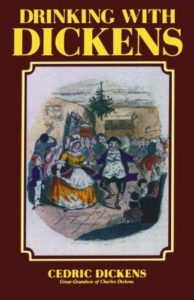 Drinking with Dickens, Cedric Dickens (1981)
From the promotional copy:
Drinking with Dickens is a light-hearted sketch by Cedric Dickens, the great-grandson of Charles Dickens. There are vivid and memorable drinking scenes in Dickens' books, and Drinking with Dickens abounds in recipes, many based on the drinks of Dickensian England and America: Bishop, Dog's Nose, Hot Bowl Punch, Milk Punch, Mint Julep, Sherry Cobbler, Shrub and Negus, to mention only a few. Unbelievably it seems to be the first book on this vast and important subject, and Cedric has added some recipes and experiences of his own. The Victorian sources include a penny notebook dated 1859 and kept by "Auntie Georgie," Georgina Hogarth, when she was looking after the younger children of Charles Dickens at Gads Hill. It starts with a recipe for Ginger Beer, a teetotal drink which calls for a quart of brandy! Then there is the catalogue for the sale of Gads Hill after Charles Dickens died which shows what was in the cellar at that time. This book transcends the generations. Cedric, with an eye for people and detail, describes a whole series of joyous episodes where drink, wisely taken, has been the catalyst."
Perfect for the holidays.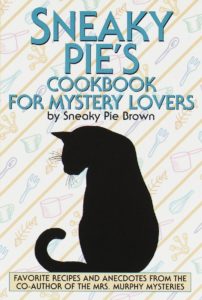 Sneaky Pie's Cookbook for Mystery Lovers, Rita Mae Brown (1999)
From the promotional copy:
What do you serve when a kitty is bored with all the old standbys? Since cookbooks are written by humans for humans, Sneaky Pie Brown has produced a cookbook with appeal for fastidious felines, including such treats as Veal Kidney and Salmon Pie.
Ever the thoughtful hostess, Miss Pie has also included plenty of recipes to accommodate the visiting human or finicky dog. There's Mother's Fried Chicken, Christmas Goose, Big Dog's Delight, and, of course, Mrs. Hogendobber's Orange Buns, the very thought of which makes Mrs. Murphy fans' mouths water.
So yes, the author of Rubyfruit Jungle is also the author of a series of cozy mystery novels featuring (and co-written by) her cat, who is named Sneaky Pie Brown, who has apparently written this cookbook. (This is why she is the Queen of the Cat Cozy.) The recipes alternate between Human food and Cat food, so don't have too many glasses of brandy and find yourself confusedly eating a mash of tuna and half-and-half.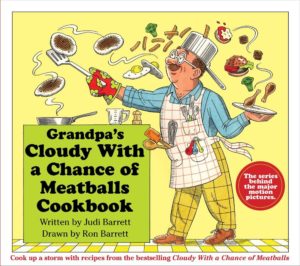 Grandpa's Cloudy With a Chance of Meatballs Cookbook, Judi Barrett, Ron Barrett
From the promotional copy:
The tiny town of Chewandswallow is known for its edible weather: soup rain, mashed potato snow, and hamburger windstorms. And now people everywhere can also enjoy the delectable dishes featured in the bestselling Cloudy with a Chance of Meatballs. Grandpa has been hard at work editing and compiling his favorite recipes, and he's ready to share.
However, this is Grandpa we're talking about, so don't expect a dry, straightforward collection. No, in addition to his thorough directions on how to make everything from Strawberry Tallcake to—oh yes, yes, yes—Meatballs, this spiral-bound book is filled with clever asides and scrumptious illustrations.
From the Foggy Pea Soup to the Hamburgers Heading Toward Earth, these legendary recipes are delicious and easy to follow—so you can re-create culinary scenes from a cherished classic (no umbrellas necessary).
For those who dream of cooking up . . . weather . . . in their kitchens.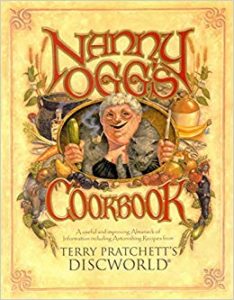 Nanny Ogg's Cookbook: A Useful and Improving Almanack of Information Including Astonishing Recipes from Terry Pratchett's Discworld, Terry Pratchett
From the promotional copy:
They say that the way to a man's heart is through his stomach which just goes to show they're as confused about anatomy as they gen'rally are about everything else, unless they're talking about instructions on how to stab him, in which case a better way is up and under the ribcage. Anyway, we do not live in a perfect world and it is foresighted and useful for a young woman to become proficient in those arts which will keep a weak-willed man from straying. Learning to cook is also useful.
Nanny Ogg, one of Discworld's most famous witches, here passes on some of her huge collection of tasty and interesting recipes. In addition to such dishes as Nobby's Mum's Distressed Pudding, Mrs. Ogg imparts her thoughts on such matters as life, death, and courtship, all in a refined style that should not offend the most delicate of sensibilities. Well, not much. Most of the recipes have been tried out on people who are still alive.
Ah well, I suppose I shouldn't be surprised.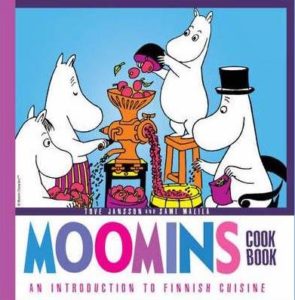 Moomins Cookbook: An Introduction to Finnish Cuisine, Tove Jansson and Sami Malila
From the promotional copy:
Now readers can prepare a feast: Moomin-style! The Moomins Cookbook contains all the secrets to the tasty dishes prepared by the unflappable Moominmamma for the lovely little characters that live in Moominvalley. The recipes are a wonderful introduction to Finnish cuisine, presented by season, and include over 150 differest forest dishes ranging from salads, soups, fish, meat and desserts plus all the delicacies of Finnish life, from breakfast at the end of a sunny Nordic summer night to garden parties, campfires and birthday celebrations.
It is actually shocking how much this cookbook covers: it tells you how to make tea, offers nine different kinds of porridge/gruel, many, many different kinds of sandwiches, plus soups and pies and all sorts of goodies. It's the only one on this list that makes me excited to have dinner later.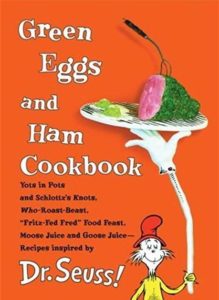 Green Eggs and Ham Cookbook, Georgeanne Brennan and Frankie Frankeny (2006)
From Random House:
Ever wonder what green eggs and ham really taste like? They're yummy. And now everyone can whip up a batch for themselves using this fabulous cookbook. Filled with simple, scrumptious, wacky recipes for such foods as Cat in the Hat Pudding and Moose Juice and Schlopp, this unique cookbook will have the whole family hamming it up in the kitchen.  Each recipe is accompanied by the original verse that inspired it, and the pages are laminated to protect against getting splatters of Sneetch Salad, Oobleck, and Solla Sollew Stew.
It seems rather limited, is all I'm saying.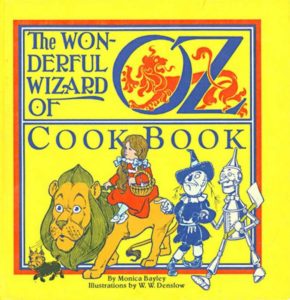 The Wonderful Wizard of Oz Cook Book, Monica Bayley, W. W. Denslow (1981)
Sample recipe: Cowardly Lion Quivering Gelatin
1/2 cup cold water
2 tablespoons unflavored gelatin
1/2 cup boiling water
1/2 cup sugar
1 cup ice water
1 3/4 cups orange juice
4 tablespoons lime or lemon juice
1 tablespoon grated orange peel
Soak gelatin in cold water until soft. Heat 1/2 cup water to boiling in a saucepan. Add gelatin and stir until gelatin is dissolved. Add sugar and stir until sugar is dissolved. Remove from heat. Add ice water, orange and lime juice and stir well. Add grated orange peel. Pour into a buttered quart-size mold. Chill until quivery.
If you don't know what other recipes one might wring from L. Frank Baum's legacy, well, apparently there are over 100 of them in this book.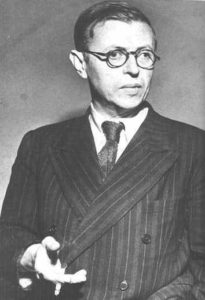 BONUS: The Jean-Paul Sartre Cookbook, Marty Smith (1987)
This is a parody, originally published in the Portland alternative newspaper The Free Agent in March 1987. It begins: "We have recently been lucky enough to discover several previously lost diaries of French philosopher Jean-Paul Sartre stuck in between the cushions of our office sofa. These diaries reveal a young Sartre obsessed not with the void, but with food. Aparently Sartre, before discovering philosophy, had hoped to write "a cookbook that will put to rest all notions of flavor forever." The diaries are excerpted here for your perusal." You're welcome!
October 3
Spoke with Camus today about my cookbook. Though he has never actually eaten, he gave me much encouragement. I rushed home immediately to begin work. How excited I am! I have begun my formula for a Denver omelet.
October 4
Still working on the omelet. There have been stumbling blocks. I keep creating omelets one after another, like soldiers marching into the sea, but each one seems empty, hollow, like stone. I want to create an omelet that expresses the meaninglessness of existence, and instead they taste like cheese. I look at them on the plate, but they do not look back. Tried eating them with the lights off. It did not help. Malraux suggested paprika.
October 6
I have realized that the traditional omelet form (eggs and cheese) is bourgeois. Today I tried making one out of a cigarette, some coffee, and four tiny stones. I fed it to Malraux, who puked. I am encouraged, but my journey is still long.
---