The Final Journals of Antigone Kefala
Writing From One of Australia's Most Significant Writers
The poet, novelist, and diarist Antigone Kefala has been described as "one of the most significant of the Australian writers who have come from elsewhere" and a "cultural visionary." Mapping the experiences of exile, displacement and otherness, her writing also expresses a charged, keenly observed and profoundly affecting dedication to art, friendship and nature, and the continual reaffirmation of the inner life through creativity.
Born in 1935 in Brăila, Romania, Kefala was displaced by war early in life, her family living in refugee camps in Greece before locating to New Zealand; they were rejected from Australia, where they had hoped to settle, on the basis of her mother's illness. It was only in 1960, when in her twenties, that Kefala arrived in Australia, and made the country her home. The experience of dislocation, and writing in a language other than her mother tongue, imbued a distinct sensibility and tone to her writing: "the kind of imagery that I use," writes Kefala, "the kind of vocabulary that I use, the whole texture of my language is not an English texture."
While holding to a minimalist aesthetic, Kefala's body of work over five decades—three works of fiction, five poetry collections, and three collections of "journals"—has had a significant influence on Australian literary culture.
But even now, the influence of Kefala is acknowledged primarily within literary circles, by academics, and most recently by literary awards. When her work is commented upon, it is usually marginalized within the category of "migrant writing." Among the wider reading public and to mainstream critics, her significance remains largely unrecognized.
When her work is commented upon, it is usually marginalized within the category of "migrant writing."
Late Journals is the last of her journal collections, and as Kefala is now in her late 80s, likely to be her final work. The journals abound in portraits and tributes, reflections on art and life, and descriptions of places and landscapes. They give full rein to her imagination, and her ability to express the vitality and strangeness of the life around her.
–Editors, Giramondo Publishing
*
January
Last night at the Opera House to see the Argentinian tango. We booked too late and could only find tickets in the front row. We could not see the dancers' feet when too close to us, nor half of the bodies of the musicians.
A clean, muscular performance, interesting dissonant music, the woman dancer very beautiful. More like acrobats.
A lot of showmanship, but little passion or inner movement. A perfect outside imitation of a tango passion they could not bring to life.
The second male dancer a very interesting face, as if Russian, the three of them impeccably dressed.
A stylised machismo, but the woman responding with equal force, so that you had a balanced distribution of energies.
Re-reading Interviews with Film Directors edited by Andrew Sarris.
In his introduction he is discussing film techniques, directorial styles and so on…
The choice between a close-up and a long shot, for example, may quite transcend the plot.
If the story of Little Red Riding Hood is told with the Wolf in close-up and the Little Red Riding Hood in long shot, the director is concerned primarily with the emotional problems of the Wolf with a compulsion to eat little girls.
If Little Red Riding Hood is in close-up and the Wolf in long shot, the emphasis has shifted to the emotional problems of vestigial virginity in a wicked world…
Thus two different stories are being told with the same basic anecdotal material…
What is at stake in the two versions of Little Red Riding Hood are two contrasting directorial attitudes towards life…
Sarris's book is dedicated to his mother Themis and his brother George, and all the little film magazines that have kept the faith despite inadequate funding.
We went to see the exhibition in the old house and gallery. We had not been there for a long time, when we used to come for picnics on the old verandah with the kids, in summer. Ileana, very small and philosophical-looking, full of interest for things around her, textures, the movement of trees which she was trying to imitate with her small hands, her blue eyes marvellously deep, a real person already.
We stayed there on the verandah talking, eating, laughing. Very few people on the grounds, the day very hot, and then a short, heavy rain, the scent of the earth and the heat rising from the ground and behind us the galleries, closed in their air- conditioned perfection.
The landscape outside bleached in the heat, the grass brown, the small hills looking like an early Nolan— Wimmera.
February
We went to hear Hilik speaking at the squat. The young were cooking, some came with cooked food. All these squatters, young, vulnerable looking, some amazing hairdos, partly shaved heads, rings through their lips, tattoos…
Squatting upstairs and in some empty houses nearby.
Some of them artists, radio people, some wanting to be writers. A friendly atmosphere of broken-down chairs, cedar staircase painted black, all trying to escape into a freer world.
During Hilik's talk, about sculpture, his sculptures, at one point, near the kitchen some talk, the level rather high, and the young man who introduced Hilik calling out:
'Silence please. An artist is speaking.' I rather liked that.
Reading the new book. The poems, as if constantly saying something, yet an empty sort of phenomenon, like an artificial essence they put into drinks to make people want to drink more, but which leaves them empty.
Afternoon, white light.
Hot dry wind blowing on the terrace. Tight, stretched blue sky. A summer afternoon as in Brăila, only I left to remember it.
Reading again Sviatoslav Richter: Notebooks and Conversations, with an introduction by Bruno Monsaingeon, who made a documentary about him…
As an antidote to anxiety, he is listening to records, his own and others, painting, looking at films…he appeared in a film about Glinka playing Liszt.
Watching a film by Tony Palmer about Maria Callas, a film he does not like…'made by people with no talent who are unworthy of their subject.'
He writes: 'Maria's last words as Jacques, Christian and I were setting off downstairs after the only visit that I paid her in her flat in Paris were:
"Don't forget me and never break the thread that binds us together."'
—Amen—
At Beth and Warwick's last night.
We looked at Beth's latest work using Australian grasses. Very detailed, fine work, this amazing shoe made of grasses that looks like a Magritte apparition.
The rest too, implements, guns, an abstracted version of implements used by the colonists to tame the land.
The exhibition in Canberra.
March 
They were discussing memories of childhood. Thinking of mine:
Instruments, music, struggles with music, instruments that had to be played again and again to yield music.
books, books, books, reading them, discussing them, life evoked in books.
Lectures, concerts, theatre, films, walks, summer, winter, autumn, acacias, the Danube, the gardens, statues, revolutions, war, problems, the moon, fear, bombs, material unease, illness, desperation.
Reading some tankas by Takuboku Ishikawa (1886–1912):
When I breathe
This sound in my chest Lonelier than a winter wind…
It made me think of Mother.
Fellini:
'The visionary is the only true realist.'
In the magazine writers describing their difficulties with writing.
He was describing his efforts to become part of the Australian scene after he migrated here with his parents, by trying to mirror Aboriginal writing and approaches, to be told off by an Aboriginal writer with whom he shared a platform at a reading.
I thought last night—a deeper alienation than mine.
In my case neither mirroring nor mimesis, from when we left Romania, and even before that, I was aware that I was trespassing on someone else's territory. Constantly trying not to venture on their patch, appropriate, trying to define my limits, my territory, mostly inwardly, my experience, finding a language for it.
In spite of the intellectual gloss of the paper, nothing but inner desperation.
Late on SBS a program on the sun. What mysteries! What forces! And its eventual, possible annihilation and we with it.
A dark hypothesis, or more factual knowledge? Who knows finally the essence of the universe? I went to bed. I could not sleep for a long time. Unsettling forces at work.
The programme finished with the American Indians doing a dance to thank the Sun for looking after us.
Who knows to what forces the planet responds…
A description of Australia as:
'The most flammable continent.'
Agnes Varda and her film The Gleaners—
After it was shown people wrote to her about what they were gathering too.
This young woman gathering small objects that people were throwing away, she called the pieces:
Des Objets Inconsolable
Inconsolable objects.
Discussions about the Nobel Prize and who got it.
When Beckett got it, the response of his wife Suzanne: 'Quelle catastrophe!'
An article about Georges Perros, the French writer.
He has a sensitive spot for the hard work and isolation of writing, the estrangement from self and family and the impossibility of simultaneous connection to one's readers:
'Writing is saying something to someone who is not there. Who will never be there. Or if he is there, we'll be the ones who have gone away.'
Ivor rings in the afternoon:
'Has the ABC started to broadcast Summer Visit?'
He was in Berkelouw's, a man ran in and demanded a copy of the book.
I was laughing:
'You should have photographed him immediately.' finally a reader!
Archbishop Stylianos very enthusiastic about his poetry book and the translations.
He is always vital, full of energy, grasping the language full on, as in his poetry.
He is pleased when something is good, we are all part of things, sitting together at the same table.
The translations work well, his only uncertainty—the numinous—he feels should have been to theion.
I said: 'Send us your alternatives.'
'No, no,' he said, 'just an impression, the things are good as they stand, we must not undermine their value with small stuff.'
He was complaining that there is so little response.
He thinks that the community should stir itself and become an active part of the scene.
April
A peaceful night, we came on the terrace, a light wind was blowing, the moon was rising on the right of the bridge, the little train was rattling in the wind.
At the dinner, Julie, who does not seem to like me…I was making some ironic remark that with the Bicentennial money, every small town has now a bronze statue of a shearer. And she, in an acrid tone: 'Why shouldn't they have it?'
I did not reply, but plenty of other things to be celebrated, the statue of a woman pioneer, a country singer, a poet… Why would a shearer be considered the essence of Australia?
A dove crying in the tree and the garden full of pigeons resting on the grass, fanning their wings in the sun, sparrows finding tidbits…
Bruce rang from Hamburg. A long conversation which always starts with the state of his health—not good.
His wife is translating his poems into German, they sound quite pompous, as if Goebbels had written them.
Each language carries its own past.
Australia, he feels, a place of sun, space, people responding more directly to life.
At the end of some television programme—there is the Opera House, Bondi Beach and a sunset.
'Propaganda! Propaganda!' I said laughing, he was laughing too.
Vivienne describing the attitude of the young to us: 'They think we are camphorised.'
Angelopoulos's small film in black-and-white in memory of Mastroianni, with Jeanne Moreau.
In an interesting building, elegant staircase, umbrellas, rain, and Moreau with a ravaged face, beautiful but sad, with a strong voice.
Moreau: 'My face has changed with the years and has enough history in it to give audiences something to work with.'
In The Guardian, a review by Peter Conrad of a new biography of Proust by William C. Carter.
'Despite his neurasthenia, the ferocity of his ambition was positively Napoleonic.'
___________________________________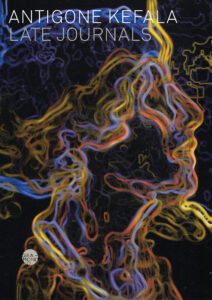 From Late Journals by Antigone Kefala. Used with permission of the publisher, Giramondo Publishing. Copyright 2022 by Antigone Kefala. 
---