The Early Days of Voting in America: A Lot of White Men Drinking in Taverns
Erin Geiger Smith on the Roots of Electoral Inequality
The dates of voting rights victories can sound like ancient history, but the 1965 Voting Rights Act gave many people alive today their first opportunity to vote, and other groundbreaking voting laws benefited the parents and grandparents of today's Americans. A white woman born in 1900 would have been among the first able to vote nationwide as soon as she turned 21. Many immigrants of Asian descent born that same year wouldn't have their citizenship approved until the year they turned 52.
An African American born at the turn of the 20th century and living in the South may not have cast a ballot on Election Day until she was 65 years old.
Election Day in the modern world often ends with anchors on the various news channels breaking the country down to our most basic facts. CNN's John King is famous for standing at his giant touch screen of the United States, employing his savant-like electoral knowledge to zoom in on states and congressional districts to discuss demographics, party preferences, and population numbers. Those of us who can't turn away from the political drama spend the night in front of the TV, logging onto our most trusted election polling website or tossing off proclamations to family and friends or on Twitter. After voting, in other words, there's nothing to do but wait.
But in the early days of voting in America, Election Day brought a party-like atmosphere, with taverns often serving as voting locations. There was drinking and laughing and, with no secret ballots or rules about politicking close to the polls, plenty of yelling and in-your-face voter intimidation, sometimes violent. Of course, if you weren't a landowning white man over 21, well… you weren't so welcome. An early American John King wasn't needed to break down the characteristics of the electorate, because they were simple: they mostly looked like the Founding Fathers, and not the versions onstage in Lin-Manuel Miranda's Hamilton.
It took the United States a very long time to get to an era in which men and women of all ethnicities, races, religions, and income levels were able to vote in all elections. Those of us lucky enough to cast a ballot today with relative ease and no disturbance often forget what it took to get here. Those of us for whom voting remains a struggle likely still feel the weight of history.
Our country now recognizes that citizens eighteen and over have a right to vote, assuming they've met registration requirements and (in some states) haven't committed a felony. But in America's infancy, the British voting requirements of male and landowning were largely carried over. Though the new country was asserting its independence and seeking to build a democracy, those in power didn't see reasons to expand the electorate. They didn't present extensive arguments explaining why such an expansion was impossible; they simply preferred to protect the benefits of their privilege and power. Limiting the vote for reasons of self-interest is a scenario that played out repeatedly as the country grew.
In 1776, founding father John Adams wrote about what would happen if men who had no property were allowed a voting voice.
New claims will arise. Women will demand a vote. Lads from twelve to twenty-one will think their rights not enough attended to, and every man who has not a farthing, will demand an equal voice with any other in all acts of state. It tends to confound and destroy all distinctions, and prostrate all ranks, to one common level.
That quote is cleaned up a bit to reflect current punctuation and capitalization conventions, and here's my shorter interpretation of Adams: We must keep the voting power for ourselves, or people will see that they too are entitled to it in a true democracy. Everyone would be equal! The nightmare!
Adams's prediction that all people would eventually demand the benefits of citizenship was correct.
Even then, though, there were exceptions to the white-men-only rule. In 1776, Pennsylvania's new constitution did not require property ownership, so freemen who paid at least some taxes could vote. The next year, Vermont's constitution abolished slavery for men over 21 and gave those males the right to vote.
For about 30 years, starting in 1776, property-owning women and free black men in New Jersey could vote. That ended in 1807, when the state legislature limited voting to white property-owning men. Additional regression for African Americans followed. From 1819 forward, any state admitted to the Union prohibited black people from voting, and multiple states either made it harder for black men to vote or outlawed it completely. Pennsylvania, for instance, limited voting to whites only in 1838, and did so despite the reasoned and heartfelt argument in an "Appeal of Forty Thousand Citizens, Threatened with Disfranchisement," written by Robert Purvis, the first African American member of the Pennsylvania Abolition Society. "When you have taken from an individual his right to vote, you have made the government, in regard to him, a mere despotism; and you have taken a step towards making it a despotism to all," it read in part.
Purvis pointed out that free black men had been voting in Pennsylvania for a half century, and that raises a question we should all consider: What happened when women and black people could vote? The sky did not fall. The country survived and grew. Lawmakers were presented with the concept of broad forms of suffrage from the start; the majority of them just didn't want it.
Adams's prediction that all people would eventually demand the benefits of citizenship was correct. Americans learned to use their voices to advocate for themselves, and used the Constitution's language to argue that equal should mean equal and that citizenship didn't count for much if you didn't have the vote. As the nation grew, women, African Americans, Native Americans, and immigrants were among the groups who would have to overcome blatant discrimination, skeptical politicians, physical attacks, and court battles to secure their right to vote.
__________________________________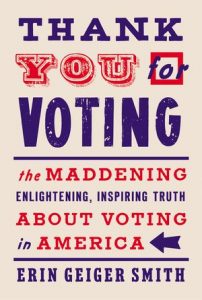 From Thank You for Voting by Erin Geiger Smith. Used with the permission of Harper. Copyright © 2020 by Erin Geiger Smith.
---