The Countess Who Wanted to be the Most Photographed Woman in the World
Nathalie Léger on Virginia Oldoïni of Castiglione
One July day in 1856, the very young Countess of Castiglione appeared for the first time at Mayer & Pierson, a photographic studio for high society. We know that the studio was luxurious; engravings show its salons, antechambers, vast porticos, enormous bay windows bathing the galleries with light. But the photographs reveal only a rather mediocre parlor that looks like a hotel room (a bourgeois wardrobe in one corner, a rug with big flowers, and, in another corner, the little embossed velvet armchair posed awkwardly). One of the first shots of her is a group portrait with her child and nanny. She, Virginia Oldoïni of Castiglione, very upright, radiant, lacking any imagination except for that inspired by the confidence of her beauty; the child, seated in the center, absent; and the nanny, set slightly back, playing her utilitarian role to perfection, in a way even ensuring, by means of a highly acute sense of her social position, that her face is out of focus, nearly illegible.
The photographer, Pierre-Louis Pierson, is 34 years old. He has photographed all of France's most illustrious society people of the period. And since 1853, he has been the emperor's official photographer. The court, the aristocracy, and the world of high finance all crowd into his rooms. It comes as no surprise that Nadar, the republican, severely condemned the activities of the Mayer & Pierson studio: "Without putting any thought into arranging the lines in accordance with the point of view most favorable to the model or the expression on their face, nor to the manner in which the light happens to fall on the whole scene, the client is posed in the exact same place and a single shot is taken, dull, gray, and haphazard."
There he is, third-rate photographer Pierre-Louis Pierson, who would create the most enigmatic photographic work of his time, a body of work at once secret and emblematic, by photographing this woman over the course of forty years, shooting, without batting an eye, her splendor and her fall. She has no need for him to be an artist, nor to do any soul-searching. She only needs his expertise and his discretion. People praised "the simplicity of the poses he gave, or rather that he let his models take"; it was said that he would simply let things happen, that he would direct from afar and with few words. As for the rest, the scene, the intention—in short, the art—it's no use, there is nothing to be done, she takes charge of everything. And besides, one can't help suspecting that the real reason she has herself photographed is not for the result, not the image, the elusive substance covering the little cardboard rectangles that she will later scrutinize in vain; no, she comes for the time spent posing. She is there for this respite, this moment of self-oblivion, achieved through sheer concentration.
The librarian perched on her little wooden podium is very kind. She seems to like me. She even shows affection for my clumsiness with the registration process. Like she would protect me from all the administrative vicissitudes that inevitably crop up. She explains to me, smiles, explains once more, goes over it again slowly, calmly, nods kindly, replaces my regular library card with another that will give me access to another that should allow me to reserve my place ("and make sure to give me back the entrance card so that I can exchange it for the exit card, which will allow me to give you your user card"). From one visit to the next, I forget her directives, and so I abandon myself to her benevolence, to the infinite murmuring of her instructions. But eventually she loses patience.
Maybe my absentmindedness exasperates her, my excessive reliance upon her kindness concerns her, my excessive affection, an emotional gesture troubles her. She has a sense of decorum but she's become irritated, it's obvious, by the hushed conversation we had about our childhood reading habits, a few sentences she tossed off, turning her head absentmindedly, or with feigned absentmindedness, as if it were all in passing, platitudes practically, generalities about the melancholia of books once you've read them, then, lowering her voice again and speaking more quickly: "The thing that saddens me the most is to have lost the emotions of those first readings forever, it seems. I remember that Grimm fairy tale, 'The Goose Girl'—do you know it? When the little girl leans over the river to confide her sorrows and the three drops of blood shed by her mother on her little handkerchief to protect her can be heard moaning, alas, alas, if your mother knew, her loving heart would break in two. Well, this anxiety, the sweetness of her lament, the exquisite sentiment of sadness, it was useless to reread the book, everything had disappeared," she slid the card with my seat number toward me, "and my sobs at reading Lassie Come-Home! Tears! It was simply impossible to keep reading, impossible, but today, nothing, there's nothing left."
"Her beauty was too great to be captured by any sort of likeness."
To ward off more confessions, I quickly tried to make an admission myself, but another patron had by then appeared and taken his card, throwing me a reproachful look. And now she takes everything back, her kindness, her murmurs, her avowals. She even neglects to tell me about the locker, indicating with a brusque gesture which card I should hand over. Henceforth her face is plunged into shadow, perhaps because of the splash of light falling from the high window. I take my entrance card and advance into the mingled whispers of pages turning, between the rustling and the flapping of paper, between the toppled sheaves. I advance among bodies hunched over heaps, faces turned away from the sky, turning toward it occasionally, as if rising back up from the depths, inspired, coming up to take a breath, but always blinded and with no desire to see.
The pages are dry like the tiny desiccated skeleton of some long-dead insect. All of the documentation on the Countess of Castiglione is assembled in large notebooks, compiled, I am told, by Montesquiou's secretary, a certain Pinard, a careful, meticulous man—each document pasted in and labeled in beautiful script: the will of the deceased copied out in a friend's handwriting, obituaries that appeared upon her death in 1899, annotations from the sale of her belongings in 1901. There are also letters from those who knew her, and whom Montesquiou had questioned: "Her beauty was too great to be captured by any sort of likeness," wrote Madame Odie in her beautiful sloping script; Élisabeth de Clermont-Tonnerre told the story of a ball at the Nadaillac home that ended in the dazzling light of a May morning, when "her face appeared whose beauty, owing much to artifice, caused a stir"; many wrote to say that they didn't know anymore, that they'd forgotten, forgotten everything—there was no need to go stirring things up, old possessions, old relics at the back of a courtyard.
Montesquiou pasted in blurry photos that show nothing more than vague silhouettes: "Curious, nearly indecipherable print. Depicts her aboard I don't know what ship, naval officers listening to her reading, she bare-headed." He conducted a veritable inquest on the woman, an investigation of an apparition, this so very beautiful subject that troubled him. He begins one chapter "Influence," and on the page of a new notebook, he writes of "the urgent necessities that, at certain hours, drive us toward those subjects which seize hold of us and possess us, to the point that we can no longer breathe, that we hardly live, for as long as they still require our attention to bring them to fruition." I raise my head toward the bay windows at one end of the high-ceilinged room. "But she's nothing to you . . ." "No." "Then . . ." "Then nothing." Later, walking down the deserted streets, beneath a porch I overhear the end of a conversation, when, from the indistinct medley of voices, the peaceable brouhaha that settles in at the moment of parting, one final phrase rises, cast off like a quiet farewell: "We're looking for something very, very small." The other person laughs softly in the darkness. Each draws away. The door closes between them.
________________________________________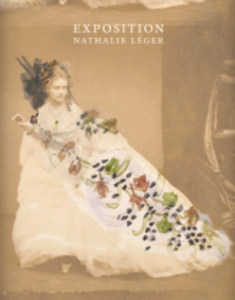 From Exposition by Nathalie Léger, translated by Amanda DeMarco, published this month by Dorothy, a publishing project.
---