War, Anonymity, and the Dangerous Line Between Truth and Fiction
Eva Nour on the Writer's View of the Syrian Regime
"A cat has seven souls in Arabic. In English cats have nine lives. You probably have both nine lives and seven souls, because otherwise I don't know how you made it this far."
The first time I knew there was something special about Sami was when he showed me a picture he had taken. It showed a couple of kittens that he'd given a bowl of yogurt to. It turned out that the photo was taken in his home shortly after the house was destroyed by missiles. How could that be possible, I thought. Your home has just been destroyed and yet you feed the animals.
I call myself Eva Nour, but it's not my real name. Nor is Sami my husband's, though he did inspire the character in my novel City of Sparrows. The pseudonyms are necessary to protect Sami and his family back in Syria. When I met him in 2015, he had recently arrived in Paris as an asylum seeker. I was there as a journalist reporting on the terror attacks in France. We became good friends over coffee and cigarettes, and then, after a while, more than friends.
At first, Sami preferred not to talk about the war and his escape. I thought I was being considerate by not bringing up the bad memories. It was actually the other way around. He was being considerate of me since he thought his stories would make me sad. His memories came out in fragments and flashes. When he buried his little brother, when the bombs exploded like fireworks, when he ate grass and leaves so as not to starve. He had nightmares and I got them too. It felt like his memories became my memories, and so I started writing them down in a diary.
The narrative gradually grew while Sami encouraged me to keep taking notes and asking questions. Our conversations were intimate and not similar to interviews I do as journalist. It was only afterwards that I found myself searching for reports, photos and videos. I asked myself: Could this be true? Could this really be happening while the whole world is watching?
*
Writing a novel was a decision I came to slowly. Even before the diary, I had written some poems based on Sami's stories. A few lines are kept in the book, when Sami's girlfriend explains the sensation of her first demonstration:
We're like a kaleidoscope, Sarah wrote. Voices and hands are raised in the square, a cascade of mirrors. We are glass, shards and fragments, and no matter which way you turn, twist and shake us, we overflow with color, improbable patterns. We fit inside a single broken ray of light that contains the echo of every spring."
A diary, poems, and journalistic research ended up as a novel. How?
To write under pseudonyms wasn't a difficult choice. It was the only choice.
I remember re-reading a book from high school, Fatelessness, by the Hungarian writer and Nobel laureate Imre Kertész. His language is clear, one can even be fooled to think it's simple, but to write simply is the most difficult thing of all. His language leaves room for the reader to fill in her own thoughts and feelings.
Kertész's novel is about a young Jewish boy who is brought to the concentration camps at Auschwitz and Buchenwald. It is a semi-autobiographical story based on the author's experiences in the Nazis' death camps. By merely observing and telling what is happening, from the smell of burnt bodies to the shoes that grow into the skin, the violence appears in all its absurdity and brutality. In each chapter, the evil unfolds like Dante's circles of hell. You cannot close your eyes or look away.
This was the shape of narrative I wanted for Sami's story. His childhood is much like any other, an innocent blend of family and school, friends and relations, time spent feeding the stray cats and turtle he keeps on the roof. But growing up in Homs, one of the largest cities in Syria, ruled for decades by the Assad regime, means that nothing is really normal. When the revolution starts, he makes a decision that will change his future forever. Instead of fleeing his hometown, he decides to stay.
In the novel, Sami reaches the same conclusion as the boy in Fatelessness—there is no fate. "We knew nothing. The only thing we could do was look at the place we were in and take a step in one direction or another. Life required nothing more than that. That was freedom. One step at a time."
I often think of this word, freedom, and what it means to be a writer. Toni Morrison used to tell her students: "When you get these jobs that you have been so brilliantly trained for, just remember that your real job is that if you are free, you need to free somebody else. If you have some power, then your job is to empower somebody else."
I've never done anything of great importance, but when I heard Sami's story, I knew it had to be told.
*
To write under pseudonyms wasn't a difficult choice. It was the only choice. Anyone openly criticizing the Syrian regime is considered a threat, and your family can be a target for retaliation. People who are not dying in battle zones or from starvation are taken to prisons and "disappear."
Despite everything happening in Syria and around the world, I feel a deep hope.
Last August, after Toni Morrison died in New York, the French writer Édouard Louis wrote a beautiful memoir of her in The Guardian. He recounts their first and only meeting:
I remember her first question was: "I wonder why and how a young, white, French, gay man is so interested in a black, American, heterosexual woman from a very different generation." I answered: "Not only because you wrote the most important books on racism, but because your books go so far in the analysis of the mechanisms of violence that they speak to all people who have experienced this oppression – women, LGBT people, the poor."
Édouard Louis found his own answer clumsy, but for me, he perfectly describes the wonder I feel for literature. The possibility of identification and transcendence, no matter the time, space or body.
The Syrian case is also a story of violence, oppression, and justice-seeking. Despite everything happening in Syria and around the world, I feel a deep hope. People gather and speak up against social injustices—Black Lives Matter, the #MeToo movement, the Arab Spring. What has been said before is true: nobody's free until everybody's free.
Meeting Sami started as a love story and turned into a novel. Which in turn is an act of love, both for him and the Syrian people. All major events in the novel are based on reality and are seen through Sami's eyes. Nothing is left out or omitted, but some years and places have changed, and several characters and situations are fictitious.
And my name? Eva is a common Swedish name that means "life." Nour is a common Arabic name that means "light." Light and life. Since writing is, after all, about keeping hope alive.
__________________________________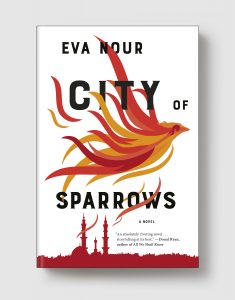 City of Sparrows by Eva Nour is available via Melville House.
---