The Complicated History of Feminism's Impact on Incarceration
Aya Gruber on Anti-Prostitution Sentiment and Its Implicit Racism
Feminists' more than century-long battle against abusers and rapists is far from over. As with the war on terror, there is an endless supply of frightening bad guys who inspire fear and loathing and have symbolic political meaning. The feminist penal regimes implemented in the 1980s and 1990s are now entrenched institutions overseen by prosecutors, advocates working for the courts, administrators, and for-profit actors with vested interests in their continued survival. Politicians are certainly not apologizing for VAWA as Clinton did for the 1994 Crime Bill that enacted it. Moreover, plenty of feminists, veteran and ingenue, remain committed not just to upholding the existing feminist crime control regimes and closing "loopholes" in them but also to creating new ones—new antitrafficking laws, revenge-porn laws, laws against hosting prostitution ads, laws against coercive control in relationships, laws against stealth condom removal. Emboldened by a modern anti-trafficking consensus so powerful that Trump has touted preventing sex trafficking as justification for his wall, prostitution abolitionists have redoubled efforts to criminalize commercial sexual activities.
The punitive logics intensified by the campus rape crisis and the #MeToo movement have already affected criminal law and policy. Campus antirape sentiments have proven a boon to prosecutors eager to implement strict versions of affirmative consent, adopt "trauma-informed" case processing, and expand pro-prosecution trial rules. Interestingly, some of the most ardent prison critics remain untroubled by this. They proceed as if there were a carve-out to the mass incarceration critique for sexual misconduct—including, or perhaps especially, intoxicated sex or sex without affirmative consent—even though there is no such carve-out for aggravated assault, drug dealing, or even murder. When it comes to these serious but nonsexual crimes, many feminists are willing to exercise empathy for offenders, look to structural causes, and reject state violence as the solution.
The exception for sexual offenses is so taken for granted that few feel the need to mention it or stray from the presumption that sex offenders are just a small minority of those swept up in mass incarceration. However, the reality according to a 2015 Bureau of Justice Statistics report on the US prison population is that sex offenders, at 12.4 percent, constitute a higher percentage of prisoners than burglars and nonsexual assaulters (both approximately 10 percent) and nearly as high a percentage as all drug offenders (15.7 percent). But because of the silent exception made for sexual offenses, mass incarceration concerns have not diminished political and popular support for carceral feminist activism as it moves ahead full throttle with new criminalization proposals.
*
In early 2019, the press was all a-twitter with the revelation that the police in Jupiter, Florida, had caught Robert Kraft, the billionaire owner of the New England Patriots, receiving sexual services from two women at the Orchids of Asia Day Spa. The case cast a spotlight on the type of human trafficking interdiction that has become popular among prosecutors (many of whom claim to be "progressive prosecutors") and police departments. In October 2018, Jupiter police detective Andrew Sharp became suspicious of Orchids after he read postings about the spa's sexual services on www.rubmaps.com. He confirmed his suspicions by observing that only men went into the day spa. Sharp directed a health inspector to search the spa, under the pretense of checking to see if the female owner-operators or employees were illegally residing there. The inspector interviewed the women and took pictures of a refrigerator where the staff kept snacks.
Although the inspection report did not find unlawful habitation, Sharp regarded the fridge as smoking-gun evidence that prostitutes were enslaved and forced to live inside a brothel. He directed officers to follow men leaving the spa, wait for the men to commit any minor traffic infraction, and pull them over and question them about Orchids. Apparently, several men admitted to sexual activity like manual stimulation. In January 2019, citing evidence of "trafficking," the police obtained a "sneak and peek" warrant for the spa, after which they faked a bomb scare so they could evacuate the spa and install video cameras inside. For five days officers monitored and recorded activities in the spa in real time.
The police arrested and charged 25 men with misdemeanor solicitation. Also arrested and charged were four women who worked at the spa: the owner, 58-year-old grandmother Hua Zhang, the 39-year-old manager Lei Wang, 43-year-old Lei Chen, and 58-year-old Shen Mingbi, who gave Kraft the hand job and whose face is now splashed across the web. Announcing the charges in a televised press conference, state attorney for Palm Beach Dave Aronberg began with the observation that human trafficking was "modern day slavery" and "evil in our midst." Aronberg counseled that "the cold reality is that many prostitutes in cases like this [have been] lured into this country with promises of a better life."
Aronberg reassured his audience that arrested women could be eligible for expungement of charges or protection against deportation "if they speak up" about trafficking. However, when pressed by the media, Aronberg admitted that the case did not actually involve trafficking. A few months later, an assistant state attorney would confirm in court, "There is no human trafficking that arises out of this investigation." This did not stop the New York Times from blaring the headline, "'The Monsters Are the Men': Inside a Thriving Sex Trafficking Trade in Florida," accompanied by a story printed in English and Chinese.
The state promptly offered plea deals involving community service and fines to the men who had been secretly, and likely unconstitutionally, surveilled. The Asian female Orchids employees, by contrast, were hit with an array of felony and misdemeanor charges related to prostitution and profiteering and faced a maximum of 15 years for the felonies and up to a year for each of the misdemeanors (Zhang and Wang were charged with 26). Unable to post bail immediately, Wang, the former manager, spent six weeks in jail, where inmates asked if it was really her on TV. All the women had various bank accounts and assets frozen for possible forfeiture. Zhang's lawyer, Tama Kudman, attributed the fact that her client was facing decades in prison to racial "stereotypes" of helpless trafficked Asian women, adding that Orchids employees, in fact, "were in their 30s and 40s" and "held multiple massage and cosmetology licenses."
To be sure, the discourse justifying modern-day "brothel" rescue raids is disturbingly reminiscent of the yellow slavery panic of late 1800s. Trafficking experts Grace Chang and Kathleen Kim write that today, "Symbolically, 'trafficking' has regressed to stereotyped images of poor, uneducated, and helpless young women and girls, forced into prostitution, reminiscent of historical conceptions of 'white sexual slavery' at the turn of the twentieth century." When Detective Sharp's colleague Michael Fenton applied for a warrant to search another Florida massage parlor, Bridge Foot Massage and Spa, he stated in his application that the spa used a "standard Asian model," meaning a "place to operate prostitution under the guise of a massage therapy business."
The discourse justifying modern-day "brothel" rescue raids is disturbingly reminiscent of the yellow slavery panic of late 1800s.
In 2005, the FBI in coordination with local authorities executed one of the largest prostitution interdiction raids in US history, "Operation Gilded Cage." Between 5 p.m. and 6 p.m. on a Thursday evening in San Francisco, 400-plus officers descended upon Korean-owned massage parlors and businesses suspected of human trafficking. "I thought they were going after Osama bin Laden," said a neighbor. "There were many people running at full speed. I thought there was a terrorist attack." Another bystander saw the rescued women—there were 102 in total—led outside in handcuffs. By the time advocates for the women arrived, the government had already placed most in immigration detention. Officials had already begun sorting out who was a "voluntary" sex worker (immediately deportable) and who was a "trafficked" woman who could cooperate with the government and receive immigration protection.
A San Francisco Chronicle reporter explained their status: "The women can at any time decide to return to South Korea, although law enforcement officials could then declare them a 'material witness' to the case, forcing them to stay in the United States without any benefits." Indeed, Chang and Kim reported that this was precisely what had happened to one "uncooperative" victim who was "denied . . . the ability to return to Korea and held . . . in jail as a material witness for the case."
From the second wave to today, antiprostitution feminists have supported, even championed, law enforcement raids to rescue—as in arrest—the primarily poor and minority women engaged in commercial sex. Consider the case of Rhode Island, where from 1980 to 2009 "indoor" prostitution was legal. In 1980, a lawsuit by a sex workers' rights group challenging the felony prostitution law prompted legislative change. The state legislature decided to make prostitution a misdemeanor to promote more widespread enforcement. However, in amending the statute, the legislature deleted the language that made sex for money a crime, leaving illegal only the attendant acts like loitering for prostitution, transporting, and profiteering.
Nevertheless, the police continued to raid indoor sex establishments, until a 2003 parlor raid, "Operation Rubdown," led to a state trial court ruling that confirmed that the act of prostitution was not itself a crime and dismissed charges against several women. The case coincided with a wave of public frustration over the growing number of Asian massage parlors in Providence. It spurred several legislative attempts to recriminalize indoor prostitution, which all stalled because of civil libertarian concerns over arresting the women. That is, until 2009, when Democratic House member Joanne Giannini joined with Donna Hughes, a Rhode Island University women's studies professor and activist, and reframed the issue as antitrafficking and gender justice.
Giannini reformulated the prostitution-criminalization bill to include, for those being charged with prostitution, an affirmative defense of being trafficked and introduced it with a tough-on-trafficking bill. This effort drew the attention of the Rhode Island antitrafficking coalition, and although it did not take an official position on recriminalizing indoor prostitution, it held rallies on the eve of the vote to support the entire legislative package. Progressives in the Senate asked advocates why criminalization of the workers was necessary, given the provisions intensifying penalties against traffickers and buyers. Feminist activists and the police responded that it gave the officers the necessary tools to raid brothels, pursue evictions, and force victims to cooperate in prosecutions of traffickers.
The criminalization effort drew strong objections from the ACLU, NOW, and anti–domestic violence groups. "The truth," Hughes rejoined, "is that these very groups are to blame for obstructing efforts to equip police to protect victims of trafficking." Korean spa workers, many using translators, met with legislators to urge them not to pass the bill. Fifty-three-year-old Sunyo Williams asked lawmakers to hold off until her twenty-year-old daughter graduated college. "I need a little more time to help my daughter," she said. Asian workers also testified during the bill's hearing. One 31-year-old explained that providing services to men who are "depressed or who just can't meet girls" earned her far more than the $7 an hour she could otherwise earn with no education. Despite these voices, the bill passed, and now, ten years later, a resolution to study decriminalizing prostitution is under consideration by the Rhode Island legislature.
Also making a resurgence in contemporary feminist discourse are notions of sexual purity. Recall that early temperance activists sought to control licentiousness because of their Christian beliefs and feminist sentiments that sex is "male." Today's campus rape reform efforts reflect dominance feminists' similarly sex-averse view that intercourse is inherently subordinating and is acceptable only under strict conditions like mutual affection, passionate desire, and clear communication. Feminist commentator Jaclyn Friedman, for example, argues that for sex to be acceptable, "You have to be continually in a state of enthusiastic consent with your partner." Whereas first-wave regulation adopted Christian morality, today's regulatory impulses tend toward sapphic morality, restricting sex to that which produces idealized non-male-dominant female-style pleasure.
Just as temperance moralism combined with progressives' social engineering tendencies to produce purity reforms, modern feminist sentiments on acceptable sex combine with college bureaucrats' natural regulatory tendencies, with the effect of pushing the definition of consent beyond even "Yes means yes." Professors Jake Gersen and Jeannie Suk explain the cycle:
As nonconsent became the distinguishing feature of illegal sex, schools, parents, advocacy organizations, and the government gave commonsense advice: if there is any ambiguity about consent, stop. Don't take the absence of a no to mean consent. Out of an abundance of caution, avoid ambiguity, get a yes, and avoid the cliff of nonconsent and sexual assault. In short order, however, the extra-cautious strategy of steering clear of the cliff became the new legal definition of consent. Once the line moved, commonsense advice was again to stay well clear of the edge: do not settle for a nod, a smile, or even a yes. Make sure the yes is enthusiastic Very rapidly, however, the consent line shifted again to make enthusiasm a requirement of consent itself—anything less than enthusiasm is sexual assault.
It is naive to believe that this radical redefinition of rape and consent remains safely ensconced within campus codes and administrative publications. Police and prosecutors across the nation enforce sexual assault statutes that define rape in terms of nonconsent and lack of affirmative consent. They decide what these statutes mean and the types of conduct they prohibit. Influenced by the campus rape crisis and #MeToo movements, they are more likely than ever to adopt the most regulatory interpretation of affirmative consent as "Yes means yes" or clear permission. In January 2018, the National District Attorneys Association of Women Prosecutors Section issued a white paper outlining "best practices" for investigating and prosecuting sexual assault cases. The best practice, it states, is to adopt a "Yes means yes" definition of consent. It explains, "'No means No' has been the contextual framework of sexual assault, both stranger and non-stranger, for decades, but oftentimes prosecutors and investigators find themselves confronted by cases in which a victim has not, in fact, said the word 'No.'" It goes on, "In these cases it is critical that prosecutors and investigators remember that only 'Yes' means 'Yes.'"
One might take comfort that prosecutors will not actually pursue cases where sex appears consensual but a "yes" was lacking—that they will still look for signs of force or nonconsent (lifelessness, crying, turning away). However, when there is a policy that only yes means yes, it means that prosecutors, per policy, must pursue complaints where a "yes" was absent, regard- less of the lack of other evidence that sex was nonconsensual. Moreover, if prosecutors are like the M.T.S. judge or the students discussed in chapter 5, they will invoke "Yes means yes" as a tiebreaker in favor of prosecution when evidence of nonconsent is weak. Worse, they may selectively pursue "Yes means yes" cases when the defendant appears to be a bad guy or the victim a good girl—factors that easily map onto race, class, and social status. To be sure, researchers note that rape "charging is more likely if the defendant is nonwhite, or if the defendant is black and the victim is white." In the end, we may never know for sure how the "Yes means yes" prosecutorial policy plays out or whether it will ever be checked by a jury. When prosecutors pursue close cases because of the policy, the defendant will likely just plead out to a lesser, even nonsexual, charge to avoid trial for felony sexual assault, with all the risks that it entails.
__________________________________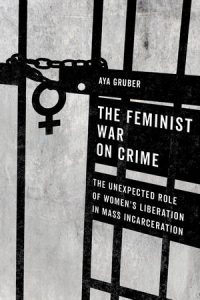 Excerpted from The Feminist War on Crime by Aya Gruber. Copyright © 2020. Reprinted with permission of the publisher, University of California Press. 
---