The Cast of Characters at Chelsea's Legendary
Flea Market
On the Iconic, Recently-Ended Market and the Treasures Found There
I was a regular at the Chelsea Flea Market. I was more than that; I was a die-hard citizen of the flea, a regular so regular I might have worked there. The garage was open every weekend of the year, from Saturday morning at seven o'clock through Sunday afternoon at five o'clock. I was there every weekend, all weekend. If I needed to be somewhere else, I would go and then return to the flea.
Though the flea only opened early Saturday morning, many of the vendors set up the night before. I would go at three or four in the morning, and while they set up we would discuss what they had found that week, and they would educate me in etchings, ceramics, guns, oriental rugs, portraits, animal trophies, fountain pens, corkscrews, hallmarks, costume jewelry, Buddhas, maps, canes. They taught me how to distinguish oriental rugs based on the manner in which the carpets were knotted, the importance of using black light to identify paintings that had been painted over or repaired, how to distinguish gold leaf and artificial gold in frames, whom to trust and not to trust.
I was a die-hard citizen of the flea, a regular so regular I might have worked there.
During the day, my pattern was always the same: a silent homage to Jokkho and his inscrutable piles of treasure and junk; a visit with Paul the haberdasher; and then into the rest of the market, where I met other vendors in an order and length of time that rarely varied. Along the way, I would encounter pickers, collectors, and the people who moved goods in and out of the flea for the vendors, pickers, and collectors. If I ran into a friend, we would leave for a café and then return to the flea. If a picker wanted to discuss something that they had for sale, we would go to the street or a café and then back to the flea.
Often I was with my wife and daughter. My daughter grew up there and developed her own relationships. Instead of on Paul, she relied for clothes and friendship on Eve, a vendor who claimed she was a descendant of a plantation owner and one of the slaves on his Jamaican plantation. She came to the United States to study psychology at Rutgers. She married a German man and loved him. He died young, and she was left with little money. The flea offered immediate support: with a refined eye for clothes and a honed understanding of what women in the flea were looking for, she bought designer dresses, scarves, and shoes from thrift stores in New Jersey and resold them in the market. Like Paul, she lectured her customers, including my daughter and her friends, on stitching, the hand of a fabric, and the history of design.
Once a professional tennis player, Eve had grown large. This affected her health. When she was unable to walk, owing to swelling in her legs that often lasted months, she could not replenish her inventory of clothes and her business suffered. Forced to come to the flea by bus, she could only bring what would fit into a suitcase. But others at the flea helped support her.
I was once talking to Eve when a man in red corduroy pants and horn-rimmed glasses, his hair lacquered back over his head, dropped off a painting and an envelope of money. She told me that the man, Bobby, would purchase paintings at a "secret auction" in the flea and then give them to her. The paintings were often worth thousands of dollars. The paintings and money were a gift. As we spoke, an octogenarian wearing all denim, his head radiating two vertical spikes of gray hair, dashed in to give Eve a kiss on the cheek. Before he left, he grabbed a Playboy magazine off one of Eve's tables. "Evelyn Waugh," he said quizzically, staring at the cover. "A present from a friend," she responded, with everyone understanding that it was from Paul the haberdasher.
*
At the flea,  vendors did not want to sell an object not knowing what it was, for it could have been of great value; nor did they want to sell something for a lot of money when it was a forgery or was painted by an art student who, as a class exercise, was copying the style of an important artist. Getting authentication was time-consuming, and in the case of those buying from abandoned storage units and thrift shops it was almost impossible. Few experts, however convinced they are of the correctness of a work, would authenticate an object that had no history; also, many experts are contemptuous of flea vendors and pickers. So vendors needed someone they could trust to tell them whether a painting was worth $25 or $25,000.
And that person needed to make the decision in minutes, not days. People constantly came through the flea offering items to the vendors. These sellers could be pickers, who came with trucks full of what they had bought during the week, or someone who had just inherited a rug from grandparents. The vendors knew that if they passed on the offered items, the seller would continue to the next vendor and the vendor after that until the item was sold. So the vendor had to make snap decisions, often given no more than a minute or two to decide whether to make a purchase.
At the flea, the person vendors trusted to give them a quick and solid second opinion was Frank. His booth was across from Paul's. According to the most sophisticated vendors and pickers, Frank had "the eye"—though he had no formal education in art history, having never worked at a gallery or auction house, Frank seemed able to know the truth of what was presented to him. Objects and people opened themselves to Frank in ways they did to no one else.
Frank was also known throughout Brooklyn and Queens as the person who would buy things no one else wanted, objects rejected by the companies that were in the business of buying and selling local estates: used clothing, mixed lots of tableware, clocks with cracked faces, the shattered stuff that ended up in basements, garages, and dumpsters. But once inside your house, Frank, the clever, winning Frank, Frank with the Italian accent, the old sports coat, and pants belted well above his waist, would convince you to sell him something that you had never thought of selling, something old and intact. Something you kept in the bedroom or on the mantel in the living room and was too dear to you, or just too dear, to consign to an estate company. So Frank would end up taking much away that was not broken, dirty, or cracked.
Frank had "the eye"—he seemed able to know the truth of what was presented to him.
Frank sold objects ranging from trinkets to Old Master paintings. His method of transferring these objects to his booth at the flea was to toss them into a large box and then empty the box onto his table in the garage. Upended and unsorted, they formed a collage. The next week all objects, minus those that had been sold, would be redistributed on the table into a new construction.
Frank grew up in southern Italy and retained the quick smile, accent, and gestures of that place. At some point, he lost his thumb. He came to the United States after the war. He worked at various jobs around New York but his persistent interest was art. He went to museums, churches, and public parks, wherever he could encounter paintings, sculptures, and murals that moved him. When he started cleaning out homes and buying estates, he was able to identify immediately the objects of value. By the time I met him in the flea, he was in his seventies.
Knowing that regular buyers at the flea, especially pickers, would always stop at Frank's booth to say hello, people who had expensive antiques or paintings and did not want to go through auction houses or galleries would ask Frank to sell them on consignment. Frank would do so, but for those customers in the flea who regularly bought from him and for those he liked, Frank would indicate, in a set of gestures he brought with him from Italy, what he thought of the item. An index finger below his right eye meant that the object was probably not what the consignor claimed and that you should proceed carefully; the same index finger to the upper side of his head suggested that the item was probably genuine but that the price was crazily high; but if Frank brought a fist to his mouth, kissed it, and then opened it quickly, you knew that he thought the item was authentic and priced well below its worth.
There was always a flock of people in his booth: regular customers who delighted in the hunt through his tables, and women who, young and old, found Frank invigorating. And Frank, in turn, was happy to entertain them.
The exchanges with these women were conducted through a kind of theater that Frank improvised in his booth. His accent meant that his English was full of emphatic consonants and a tendency to mix up gender, though the latter may have been slyness on Frank's part.
From across the aisle, Paul witnessed it all.
"Frank is a troubadour," explained Paul. "He seduces women with his stories and songs, but he does it not just for himself or the women but for the rest of us, who are forced to spend our weekends here. You'll see."
And I did see, for if I was in the flea when Frank began one of his performances, Paul would make certain to find me.
One Sunday afternoon in late spring, just before the garage was closing, a well-dressed middle-aged woman with red hair and navy-blue dress entered Frank's booth. Paul knew what was coming and found me. He and I returned to his booth, where we watched.
Frank cast himself in the role of a young Italian soldier and the woman as the marchesa he loved but who did not love him. He confessed and cursed the passion that her beauty had inflicted upon him and that she, married to another, refused to return despite the jewelry (at this Frank drew a handful of costume necklaces from his table) and the fine robes (Frank gestured toward the racks of clothing at Paul's) that he had given her.
Frank did nothing to suggest that any of the rumors were right or that any of the rumors were wrong. And each week he allowed more to accumulate.
But before the woman could respond, Frank announced, "There can be only one end to this." He grabbed a knife from the table and held it against his neck.
The woman, drawn into the drama and staring fixedly at Frank, gasped and grabbed the knife. She pulled it away from his throat. He drew it back. They struggled. Then they stopped, silently gazing at each other.
Before leaving his booth, she returned the knife to Frank. She also looked to see if anyone in the garage had witnessed what had happened. Her eyes met Paul's.
"'Since it no longer pleases you that he loves you,'" Paul responded, "'you have killed him and he is happy to respond with death.'"
The woman exited.
Paul returned to his egg sandwich.
There was speculation that Frank, who was married, had lovers, that some were young women and some old and that some were men who dressed as women. Then again, there was much speculation about Frank: how he had lost his thumb, where he lived, whether he was happy or unhappy. Frank did nothing to suggest that any of the rumors were right or that any of the rumors were wrong. And each week he allowed more to accumulate. So they grew, like the objects on his tables, into an enchanted collage.
It was not only customers who came to Frank's booth. Frank was also the person to whom all vendors came if they needed personal help; and it was Frank who figured out how they could be helped. Many vendors in the flea could not afford insurance; if one of them got sick and Frank knew about it, which he almost always did, he would approach the other vendors to help out. If someone came to thank him for his assistance, he would wave them away.
Through his interventions, Frank built a group of people—those who inhabited the lower level of the garage—who came to trust and depend on each other. And if they fought, Frank was there to calm them and remind them of their concern for each other. The Mayor of the Flea was his moniker.
__________________________________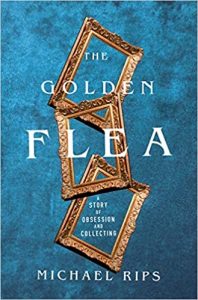 Excerpted from The Golden Flea: A Story of Obsession and Collecting by Michael Rips. Copyright © 2020 by Michael Rips. Used with permission of the publisher, W. W. Norton & Company, Inc. All rights reserved.
---