The Case of Oscar Wilde's Mistaken Identity in Naples
Renato Miracco on a Scandalized Italian Public
After extensive research in newspapers of the time, we can state that in 1897, many papers in the Naples area confused the presence of Oscar Wilde with that of another person who arrived there at the same time. The articles are shown below.
Article from Corriere di Napoli, September 30, 1897:
An English friend of ours writes to warn us that those who affirmed the presence of Oscar Wilde, the notorious English aesthete, who returned from forced labor due to a conviction following unspeakable accusations, have fallen into error. Mr. Douglas, owner of Villa Gaiola (formerly Becchi) in Posillipo, is an English diplomat still in service and has nothing to do with Lord Alfred Douglas, Oscar Wilde's close friend. He is not even a very distant relative. The alleged Wilde is only a Spanish diplomat, a guest of Mr. Douglas.
This is what happened: the arrival of Oscar Wilde was first reported in L'Eco di Napoli (The Naples Echo), an English-Italian bulletin which announced the visit of Mr. Sebastian Melmoth in the city of Naples. A few days later the same paper revealed the real name of Sebastian Melmoth: Oscar Wilde. The news spread to the other Neapolitan papers and the poet's presence was reported also by many gossip columns, or mosconi. But was it really Wilde? Oscar's peculiar reluctance to give statements added to the mystery, and when he moved to Villa Giudice the facts became even more complicated. Norman Douglas (whose last name was the same as Wilde's friend, Alfred Douglas) recounts in Looking Back of an incident which occurred to him and a friend, Count de Monte Alegre, during their sojourn in Villa Maya in Posillipo:
The Count, a Counsellor of the Embassy of Spain in St. Petersburg, renowned bon viveur and eloquent humorist, was suffering from a form of paralysis which had reduced him to the point of being unable to walk, to which he was resigned and he was dragging himself from one place of care to another. Now obese and destroyed by pain, he had come to Naples for a change of climate, and also to listen to Leonard Bianchi.
Il Mattino had made vague mention (in the moscone Matilde Serao was awaiting confirmation of this) of Oscar Wilde, who had secretly taken refuge in a villa in Posillipo. Finally a reporter, scouring the roads of Posillipo, saw a couple in a carriage that made him jump for joy: an obese man with flaccid cheeks, of deformed aspect but of great distinction and, next to him, a young beautiful blond man, certainly an aristocrat. The carriage turned off on a slope, descended towards the sea and stopped at the Grotta di Seiano. There, the reporter was assured, lay the entrance to Douglas's villa. This great news, once published, was immediately denied by British Consul Neville Rolfe, a literate and habitual visitor of Villa Maya where, now and again, Lord Rosebery sometimes stopped by in his beautiful yacht and Marion Crawford often visited from Sorrento. Matilde Serao did not believe the denial and so the investigations continued and Oscar Wilde did not find his desired oblivion.
As an aside, it should be noted that Matilde Serao was a really incredible woman: she was born in the Greek city of Patras to an Italian father, Francesco Serao, and a Greek mother, Paolina Borely (or Bonelly). Her father had emigrated from Naples for political reasons to Greece. With her husband, Edoardo Scarfoglio, she founded Il Corriere di Roma, the first Italian attempt to establish a daily newspaper with the layout of a French newspaper. The newspaper was short-lived, and Matilde settled in Naples where she edited Il Corriere di Napoli. In 1892, with her husband she co-founded Il Mattino, which soon became the most important and most widely read newspaper in Southern Italy. She also founded and directed the newspaper Il Giorno in 1904 until her death.
May the Lord have mercy on him, that callow youth, enamored of aesthetics, and leave him alone, in the company of his beautiful ghosts!
On October 7, 1897 the following moscone appeared on the newspaper Il Mattino signed Gibus, a pseudonym used by Matilde Serao for her column:
IS HE HERE, OR NOT?
Someone has announced that Oscar Wilde, the English 'decadent' who provided such abundant matter to reporters some years ago about a repugnant trial, is in Naples. This announcement has given many people, including the humble undersigned, a certain amount of trepidation, bordering on panic. How so? Oscar Wilde in Naples? But this would be a calamity! The presence among us of that British aesthete, albeit—as announced—under a false name! We would be in close proximity to that most unbearable of nuisances that contemporary chronicles have as yet inflicted on patient publics! Do you recall the lengthy and deafening uproar which surrounded his name, which became notorious throughout the world as much for the foul faults attached to it, as for the prized works of a keen and sparkling wit?
At that time, there was no refuge from the Oscar Wilde trial: no newspaper, big or small, held back from daily dedicating at least a column to him; no scribbler to applying his analytical and critical spirit to the study of the poet, the aesthete and the distinguished offender. Even his sentence to hard labor for a number of years sparked an outpour of erudition and debate on the notion of forced labor in England, on the bitter sentences of those condemned and on the harshness of Her Glorious Majesty's judges. Then, finally, the trumpets of the sad notoriety immodestly acquired by one who had been close to being crowned Poet Laureate of the English court became silent, either out of exhaustion or out of a belated sense of pity for the public's ears. Oscar Wilde was left to his misfortune, to his repentance and to his sufferings.
One could breathe a little: the Wildeian scourge seemed to have vanished. It would surely be a while until it would wear upon mankind's patience once more! One could almost be grateful to British judges for their severity in inflicting penalties on hateful perverts! But suddenly, there is talk once again of Wilde. Curiosity returns, and reporters set themselves to finding this wretch—repentant, perhaps reformed, wishing for peace, wishing to hide in silence and oblivion: they are ready to hound him, perhaps—or rather, certainly—to interview him and to describe his most minute occupations! And can we resist the rekindling of this disease that to all accounts had been vanquished? Oh no! Whether he is or he is not in Naples, this refined aesthete—refined in his own way, of course!—I protest in the name of good people, in the name of those who wish to live in peace, in the name of peace for Wilde himself (who has the right to ask for pity and discretion, since even great offenders sentenced to the gallows are entitled to this) against the infliction of an umpteenth Wilde chronicle!
But then, on balance, can that unfortunate one be hidden amongst us? It seems to me not: he must still be in a cruel English prison, atoning for his errors and mourning the bizarre exaggerations of his instinct. Except for this—which perhaps explains the misunderstanding which led to the rumors of his presence in Naples: investigations scrupulously conducted by my informants reveal that the other—in the words of the good Colautti "Wilde accomplice"—the young Lord Douglas who so indecorously bears the name of one of the greatest historical families of Great Britain, has now been residing for six or seven months in Naples, in the seductive quiet of Posillipo, in a secluded villa and dedicated, apparently, to literary pursuits. And may the Lord have mercy on him too, that callow youth, enamored of aesthetics, and leave him alone, in the company of his beautiful ghosts!
*
This intransigent article by Serao is part of an anti-Wilde movement that pervaded Italy at that time. This is followed soon after by Paolo Valera's book which states, among other things, the following:
Oscarwildism is the religion of inverts. It is not a disease of certain men or of certain degenerates as many suppose. It is that of the cultivated, flaunted, widespread aestheticism, that has penetrated all classes. Men who worship men have not yet reached the brazenness of publicly posting their sexual perversions, nor to seeking comrades for their carnal revels in paid-for newspaper ads. However, in social gatherings they are not afraid to uphold the right of men to Socratic marriages, to sadistic frenzies and to same-sex turpitudes. Those who take on the feminine role belong to the upper classes, to the noble classes. . . Oscar Wilde is his own party, a religion in reverse, the first seed planted in the life of modern nations and raised as a flag to feminine extinction.
I want people to talk about me–says Wilde—to public indifference I prefer insult and derision. The society of Oscar Wilde's is too ugly, too sick, too foul to allow to live. Let it be persecuted everywhere.
__________________________________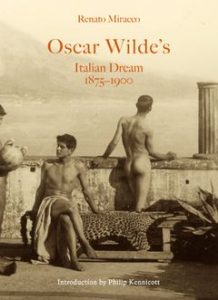 From Oscar Wilde's Italian Dream 1875–1900 by Renato Miracco, with an introduction by Philip Kennicott. Used with the permission of Henry Holt and Company. Copyright © 2020 by Rick Moody.
---