The Bay Area Book Festival in Three Acts
Jane Ciabattari Reports From the Best Fest in the West
Act I.
The sun was setting, the fog slipping along the edges of San Francisco Bay on the eve of the fifth annual Bay Area Book Festival, presenting 250 authors, including Ann Beattie, Tom Barbash, Esi Edugyan, Sheila Heti, Tayari Jones, Lacy Johnson, Christian Kiefer, Barry Lopez, Joyce Carol Oates, Ishmael Reed, and newly minted Pulitzer winner David W. Blight, biographer of Frederick Douglass. Founder Cherilyn Parsons kicked off the proceedings in high style, with a cocktail party at the campus University Club with its three-bridge view high in the Berkeley Hills.
The buzzing crowd included Berkeleyside co-founder and author Frances Dinkelspiel, Graywolf Press editorial director Ethan Nosowsky, Zyzzyva managing editor Oscar Villalon, Paul Yamazaki, City Light's book wizard, Grant Faulkner, executive director of NaNoWriMo, and Janis Cooke Newman, who was heading to Esalen to re-launch the Litcamp writers conference she founded (its original home at Mayacamas Ranch was destroyed in the 2017 wildfires).
Jill Bialosky, Adrienne Rich's editor from W.W. Norton, flew in from New York for the tribute moderated by poet-scholar Sandra Gilbert, editor of Rich's new Essential Essays. Nora Krug, whose Belonging won the National Book Critics Circle autobiography award in March, Nell Painter, whose Old in Art School was an NBCC finalist, also made the trip. Norwegian author Hanne Ørstavik, whose novel Love won the 2019 PEN translation prize, and Helsinki-based Laura Lindstedt, winner of the 2015 Finlandia Prize, were among the Scandinavian authors on hand. Locals included San Francisco Chronicle columnist Vanessa Hua, whose novel A River of Stars was just optioned for film; Julia Flynn Siler, days away from launching The White Devil's Daughters, her book about the women who fought human trafficking in San Francisco's Chinatown; Aya de Leon, whose next feminist heist novel will be about Puerto Rico's Hurricane Maria, and Carolina de Robertis, whose new novel Cantoras ("code word for lesbian," she pointed out) is due out in September.
Article continues after advertisement
Adding to the Berkeley vibe: Jennifer Chapin, co-founder of the women-owned cannabis company Kikoko, passed out samples like CBD-infused chamomile/lemon/myrtle Tranquili-Tea and hibiscus/cardamom/rose Sensual-Tea, which promises "a little buzz" with 6.1 milligrams of THC per cup.
Act II.
The first session, 10 am on Saturday, was one of the most popular festival events, focused on What My Mother and I Don't Talk About, the provocative new essay collection edited by Michele Filgate. In a theater filled to the top of the balconies, a deeply empathetic silence greeted the readings and commentary from authors Kiese Laymon, Carmen Maria Machado, and Nayomi Munaweera, moderated by writer Natasha Singh. "There's something deeply lonely about confessing your truth," Filgate noted. Breaking the silence brought intimate conversation. "We need to keep it going," said Laymon's father, who was in the audience.
The Critic's Choice panel I moderated highlighted the work of three first-time writers, all currently based in the Bay Area, whose work resonates on a global scale.
Article continues after advertisement
Jamel Brinkley worked on his story collection A Lucky Man for five years, spent a year revising and another year working with his editors. His title story, he said, was rooted in his experience teaching high school English in New York City high school.
The Incendiaries went through thirty to sixty drafts over eight-plus years. R.O. Kwon drew on her background—being raised in a fundamentalist religion and having "distant family who fled North Korea"—for her story of a domestic terrorist cult.
"I started The Old Drift in 2000, while getting a Ph.D," Namwali Serpell told us. At that point, the multigenre, multigenerational story she wanted to tell about Zambia, her homeland, was not yet on the literary horizon. Now her novel is being published to rave reviews.
Down Allston Street, Miriam Pawel, author of The Browns of California, a joint biography of governors Pat Brown and his son Jerry, shared stories with the eldest Pat Brown granddaughter, Kathleen Kelly, a Superior Court judge, and her father Joe Kelly, who was married to Jerry's sister Cynthia. Moderator Peter Richardson coaxed out memories of the deep divide between the austere, Jesuit-trained Jerry and his gregarious father Pat. Jerry once took his father on a silent religious retreat, the story goes, but Pat couldn't keep his mouth shut.
That afternoon I explored the jammed outdoor bookfair, with some 200 literary exhibitors, lots of fun for kids, two stages and a storytelling circle, all accompanied by the tempting fragrance from the La Cocina food court. A happy crowd filled an outdoor tent to hear Moby talk about his latest memoir, Then it Fell Apart, and sing an acoustic set, his mournful "Oh babe, Oh babe… so hard, so hard" drifting on the Bay breezes.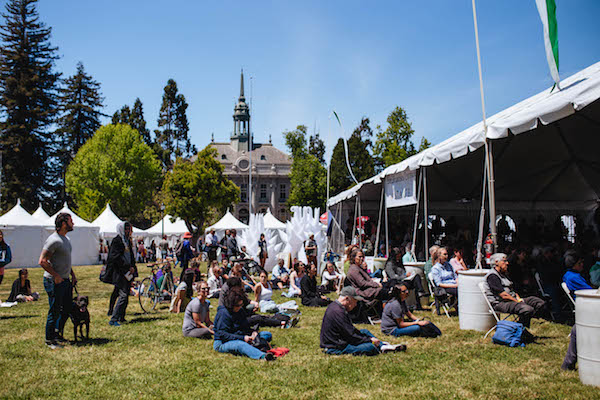 That evening Charlie Jane Anders, whose The City in the Middle of the Night had just garnered five pre-publication starred reviews, presided over an appreciation of Berkeley-raised Ursula Le Guin, who died last year at 88, beginning with a screening of Arwen Curry's new documentary about Le Guin's life.
And Robert Reich (The Common Good) and Anand Giridharadas (Winners Take All: The Elite Charade of Changing the World) railed against the uber-wealthy to an enthusiastic crowd of 2,000.
Act III.
Cherilyn Parsons kicked off the Courage in Publishing in an Age of Political Polarizaion panel of gatekeepers with a question about what is right in the state of literature today. One measure: winners of recent awards competitions. Kwame Anthony Appiah, author of The Lies That Bind: Rethinking Identity, was head judge for the latest Man Booker Awards. "I felt cheerful at the end," he said, noting the range of books on the longlist and how these books "reflect our times." John Freeman, editor of Freeman's, was a judge for this year's National Book Awards in nonfiction, I was a judge for the National Book Critics Circle awards in March, and the Washington Post's Carlos Lozada was the first book critic in 20 years to win the Pulitzer Prize for criticism.
We discussed the effects of #MeToo and cancel culture on publishing, Lozada's review of The Mueller Report, and the evolving downside of Twitter. "Books do change the world," concluded Michael Naumann who flew in from Germany (decades ago he was publisher of the US edition of Salman Rushdie's Satanic Verses). Vaclev Havel's Letters to Olga, written while he was jailed as a dissident, made him president of Czechoslovakia; "Havel created a nation."
Tribal chair, novelist, and professor Greg Sarris kicked off a day of events sponsored by the Federated Indians of Graton Rancheria with a panel on Indigenous writers reinventing identity: Kali Fajardo Anstine (Sabrina & Corina); Susan Devan Harness (Bitterroot: A Salish Memoir of Transracial Adoption), Hugo and Nebula award-winning author Rebecca Roanhouse, who has just written a new Star Wars book, and Whiting and American Book Award-winning poet Tommy Pico.
"The legacy of my work?" Pico asked. "Here's Whitman, Allen Ginsberg, Anne Carson… But I come from another tradition. Kumeyaay story cycles."
A new Paris Review interview of legendary San Francisco poet Lawrence Ferlinghetti, who just turned 100, was the centerpiece of a tribute hosted by Paris Review editor Emily Nemens. Poet and City Lights editor Garrett Caples, who conducted the interview, read the poem Ferlinghetti considers his last great work, "At Sea," written in Belize in 2010. We slowed down to listen, and let out a collective sigh as the final lines sang through the air:
We are not our fathers
yet we carry on
breathing like them
loving and killing like them
Away then away
in our great tall ships
over the hills of ocean
to where Atlantis
still rides the tides
or where that magic mountain
not on any map
wreathed in radiance still hides
At a celebration of the ancient redwood forest that also questioned its future, mention was made of the new UN report warning that a million species are threatened with extinction. "Including us," lamented Mill Valley author David Harris.
Soon nine young tribal members from Sonoma County were drawing cheers for their performance of "Rattlesnake Wins Hummingbird's Heart," from Sarris's collection How a Mountain was Made. Coached by the Word for Word theater group, they made their costumes, danced, sang, and spoke the story's lines.
Soon after, many of them joined other young Indigenous writers on an outdoor stage to read from their own work. They wrote of grandfathers, of wildfires, of a commitment to following tribal traditions in the face of social pressure and disrespectful teachers who only acknowledge Indigenous voices of the past, in a paragraph or so in history books. The future is promising for these talented teens. "Ten years ago, nearly 80 percent of our youth dropped out of high school," Sarris said. "Today 100 percent are graduating." In what Sarris calls "a miraculous continuance," these young writers and performers whose ancestors lived in the Bay Area and were erased from history, were now filling the stage. "I've got your back," Sarris told them. "You've got the pen, you've got the power."
At the festival's final keynote, Albert Woodfox, who spent 43 years in solitary confinement for a crime he did not commit, spoke with power and humanity, echoing the conclusion of his memoir, Solitary: "To those of you who are just entering the world of social struggle, welcome. To those of you who have spent years struggling for human rights and social justice, don't give up. Look at me and see how the strength and determination of the human spirit defies all evil."
These glimpses of hope were a fitting finale to a festival that, in keeping with its Berkeley location, has become known for its focus on social justice and diversity as it presents established literary stars alongside new talent. Fiction, nonfiction and poetry covered topics from race to immigration, climate change to capitalism—all affirming the power of words to create a better world.
---