The Art of the Hand-Sell: Booksellers Recommend Translations
14 Books To Read In Honor of National Translation Month
Where would we be without translators, that linguistic bridge between countries and cultures? To celebrate National Translation Month, we've asked a indie booksellers from A Room of One's Own (Madison, WI), Seminary Co-Op and 57th Street Books (Chicago, IL), the Center for Fiction (Brooklyn, NY), and Greenlight Bookstore(Brooklyn, NY) to share their favorite works in translation.
*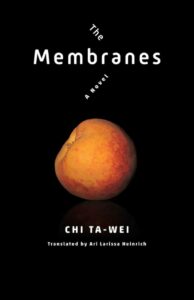 Chi Ta-Wei, tr. Ari Larissa Heinrich, The Membranes
First published in 1996, and heavily influenced by the speculative aesthetics of the era, The Membranes follows a beautician named Momo. She is responsible for treating the wealthy's skin, protecting them from the cataclysmic climate. She does this somewhat prestigious work in her home, a bubble at the bottom of the sea. While the world of the book seems large in scale, the majority of the story is told internally. It begins as a fairy-tale of a girl born from a peach, but shifts to Momo's memories as a girl not born with the right parts undergoing a procedure to manifest her girlhood. The reading experience is like peeling back thin layers of truth, as each chapter reveals the darker and twisted realities that Momo inhabits. Like nesting dolls, or a dream inside a dream, each layer takes hold onto a sublimated anxiety of our collective consciousness. This book is a diamond, it's a double edged sword, and it's a bubble ripe to pop. I was fascinated by the essay afterword written by the translator Ari Larissa Heinrich, in which they explore the books contemporaries of punk Taipei, its subliminal queerness, and gender fluidity. I loved the experience of reading the whole book in one afternoon!
–Iris Tobin, A Room of One's Own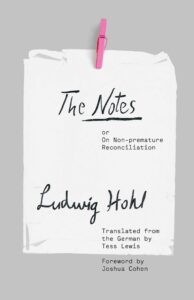 Ludwig Hohl, tr. Tess Lewis, The Notes
These are meditations so wise and so beautiful, they will make you ache with awe. For instance:
That we can't take anything from our lives into death is something everyone knows. Yet who knows the equally important truth that we haven't brought anything of any value into our lives? The only thing anyone could bring are conditions; value, if one desires it, must be generated, hour by hour, minute by minute.
Because value cannot be preserved. This is precisely the meaning of all change: the constant renewal of value that cannot be preserved.
You burn: the flame is the value.
Translated by the always discerning Tess Lewis, and published by the always reliable Margellos World Republic of Letters series from Yale University Press, The Notes is a gift of the highest order.
–Jeff Deutsch, Seminary Co-op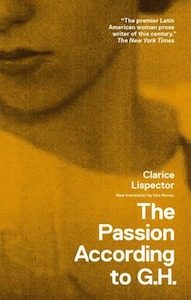 Clarice Lispector, tr. Idra Novey, The Passion According to G.H.
You could pick up a few different Lispector titles and come away with a similar sense of awe. Should you pick up The Passion According to G.H., you'll find a book that feels cosmic in its granularity, that requires close attention to understand a massive picture, that is filled with small features that scale up to a portrait of big ideas. It is a book where time and action seem to move in all directions at once while being frozen in place; a rapturous hallucination spanning barely more than a moment in time.
–Bryce Lucas, Seminary Co-op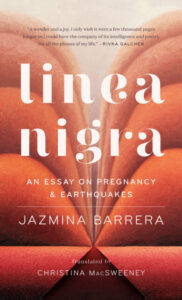 Jazmina Barrera, tr. Christina MacSweeney, Linea Nigra
Jazmina Barrera's Linea Nigra marvels at both the magics and terrors of motherhood in inventive and captivating prose. Following in the obsessed and confessional vein of On Lighthouses, Barrera turns her attention to pregnancy. Tracking this obsession with measured words on its history, its implications, its wonder and its pain, Barrera adds this crucial examination to the body of work on motherhood. Weaving intimate memoir and historical narrative, Linea Nigra contemplates the similarity of fractured existence through pregnancy and parenthood with the experience of earthquakes. I am stunned by the body through Barrera's work.
–Kaitlynn Cassady, Seminary Co-op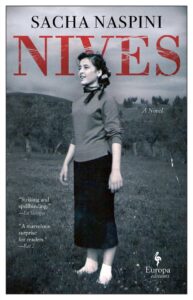 Sacha Naspini, tr. Clarissa Botsford, Nives
Sacha Naspini's novel Nives explores the unexpected friendship between Nives and Giacomina, a Tuscan widow and her chicken. Though at first this bond is light and fun, the relationship becomes highly dependent, throwing light on the narrator's loneliness. When Giacomina becomes inexplicably paralyzed in the middle of the night, Nives calls the town veterinarian. In a phone call that seems to never end, Nives and Loriano quickly stray from discussing the bird to discussing the mistakes of the past and the hardships of their present. Naspini's novel moves forward in twists and turns, leaving even the reader craving the simpler times for which the narrator longs. Though full of loneliness and vindictiveness, Nives also speaks to the power of companionship and support, in whatever shape it may take. 
–Sonja Coates, 57th Street Books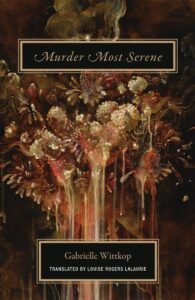 Gabrielle Wittkop, tr. Louise Rogers Lalaurie, Murder Most Serene
I religiously collect Gabrielle's books, and all of them are translated and published by small presses, to whom I am forever grateful. Murder Most Serene is my second favorite of Gabrielle's. A baroque tale set in the corrupt and decomposing Venetian Republic, it follows the life of an elderly bookish aristocrat. The main story is woven into the city's grotesque festivities, night encounters of conspirators, whose identities we can only guess as volto masks cover their faces. We hear something about poisonings; secret letters on embossed paper are passed discreetly; someone is dumping bodies in the river at night. An exquisite memento mori, in other words. The book is also rich in historical detail, and is inspired by Wittkop's interest in toxicology, morbid aesthetics, and history of fashion. 
–Marina Malazoniya, Seminary Co-op Bookstores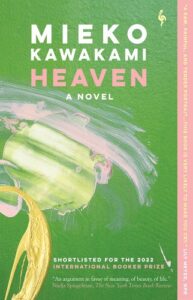 Mieko Kawakami, tr. Sam Bett and David Boyd, Heaven
With Heaven, Mieko Kawakami unquestionably secures her place as one of Japan's preeminent contemporary literary talents. Freshly translated into English, Heaven, much like the author's previously translated Breasts and Eggs, shines light on the sordid aspects of Japanese life.
In this devastating short novel, Kawakami explores human cruelty through focusing on two school-aged children who are the victims of incessant bullying by their peers. Bonded together through the violence that is inflicted upon them, which escalates to a level of intense violation and perversity, her protagonists make a strong case for the power of friendship, even in the face of deep depravity. Both children are bullied on surface level for their difference—one has a lazy eye, the other refuses to bathe out of solidarity with her beloved father—but upon deeper investigation, when pressed for a reason as to why, the bullies seem unable to come up with any reasoning beyond simply because they can.
Despite their naivety and age, Kawakami's characters speak to and reflect the interior lives of adults; she writes of the seemingly inherent ability for cruelty within us all, and the injurious toll this cruelty can take on its target. Through her precocious narrators, Kawakami, in light but painstakingly careful prose, offers poignant, thought-provoking reflections on what it means to be human, on what we share and what sets us apart. Heaven is a short but profound read from one of the most astute and unafraid writers of our time.
–Meghana Kandlur, Seminary Co-op Bookstores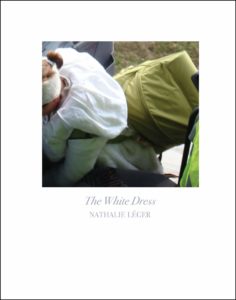 Nathalie Léger, tr. Natasha Lehrer, The White Dress
"Let us admit for a moment that forgetting was invented for killers," writes Léger in The White Dress, the last book in her triptych, which takes as its subject the Italian performance artist Pippa Becca, who was raped and murdered in 2008 while hiking across Europe in a wedding dress. The purpose of Becca's project was at once idealistic, rooted in a desire to spread goodness, seeking to repair the world by showing up in a white dress, a symbol, for Léger, of both naiveté and undisturbed innocence. And yet, The White Dress is not interested in idling on Becca's intentions or the grandeur of her project.
Instead, Léger lingers with the performance artist's desire to mend something that was out of proportion in the world—and her ultimate failure to do so. Léger places Becca's failure alongside a history of performances which her mother could have equally given: her mother would scrub the grass in front of the courthouse in her wedding dress; she'd pull a block of ice along the seafront until it melted; she'd let the paint trickle out of a pierced can as she walked through the city; she'd make a scene; she'd be seen. The paralleling of these actions gestures towards a central line of investigation for Léger between the highly visible performances of these women, their suffering exhibited openly, and the inaction of her mother, whose suffering is shouldered in silence. 
–Clancey D'Isa, Seminary Co-op Bookstores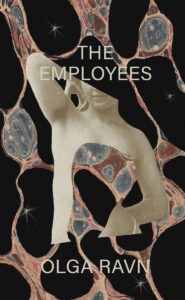 Olga Ravn, tr. Martin Aitken, The Employees
Something is happening to the employees aboard a space vessel, something that the employees slowly reveal through a series of memos. Some of them are human others are humanoid, but they are alike in their workplace discontent: objects they collected for their job are giving them terrible dreams and causing physical mutations. I promise this novella will creep under your skin the way capitalism has no doubt slid into every dimension of your life. I read it months ago and I still find myself thinking about what capital demands of labor. If the Great Resignation has not convinced you to scrutinize your relationship to money, time, and your boss, then please let Ravn do it.
–Danni, Greenlight Bookstore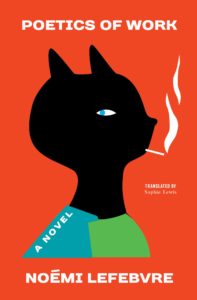 Noémi Lefebvre, tr. Sophie Lewis, Poetics of Work
In this novella, we follow a young poet who does not want to get a job. The narrator's thoughts and actions are all motivated by the desire to not participate as a laborer in the world of Capitalism. We see the narrator walk around the city, spend nights drinking, pondering the role of the State in organizing labor and capital. Lefebvre does not make clear when this novel is set but it feels like a perennial topic of The Youth. The topic of how can I live a life of meaning and beauty when I am expected to spend my one precious life at work. This is for fans of Perec's The Art of Asking Your Boss for a Raise. It is clever and deeply relatable to anyone who has had to work.
–Danni, Greenlight Bookstore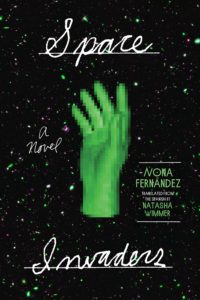 Nona Fernández, tr. Natasha Wimmer, Space Invaders
A novella about a group of adults who find themselves collectively remembering and dreaming of a friend who grew up with them under Pinochet's dictatorship. Fragmented in a dreamy way, fast-paced in its storytelling, and just stunning, Space Invaders is easily one of my all-time favorite books.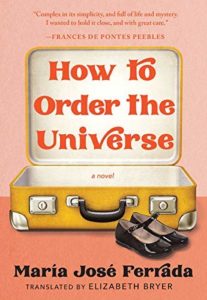 María José Ferrada, tr. Elizabeth Bryer, How to Order the Universe
A seven year old girl named M narrates this very grown up novel in which she and her traveling salesman father make their way around Chile, becoming an increasingly determined sales team. M is charming and proud, but gradually sobered by the realities of her father's life and the Pinochet dictatorship. This and Nona Fernández's Space Invaders (see above) complement each other well while approaching childhood under Pinochet from remarkably different angles.
–Maritza, Greenlight Bookstore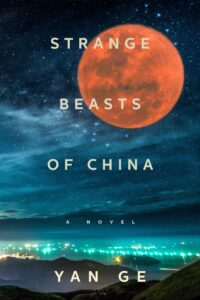 Yan Ge, tr. Jeremy Tiang, Strange Beasts of China
A stirring serialized tale that form a cohesive set of vignettes to shape an overarching narrative examining xenophobia, tradition, familial ties, government overreach, and plenty of other minutia that form the lives of these oddly familiar monsters and the sometimes-monstrous humans that accompany them. A lapsed cryptozoologist turned newspaper writer encounters all the sordid corners of her city, populated by every manner of wild, winsome creature that are more like humans than we'd like to admit. The text can be a bit dense for someone more used to western style narratives, but the bite sized components and evocative through line make for a stunning read.
–Sol, Greenlight Bookstore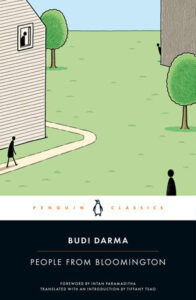 Budi Darma, tr. Tiffany Tsao, People from Bloomington
I'd been looking forward to this book for a long time before I finally got a copy, and it absolutely did not disappoint. Super strange and darkly funny, it's a delightful collection of stories that Tiffany Tsao did a masterful job translating, really bringing to life the mischievous absurdity that runs through the whole collection, with frequently sort of crotchety narrators who are bothered by their neighbors and take their responses to that annoyance… maybe a bit too far. I can't recommend it highly enough!
–Jacob Rogers, Center for Fiction
---