"The Anti-James Bond." Read This Early Review of Tinker, Tailor, Soldier, Spy
How John le Carré's Masterpiece Was First Received
90 years ago today, in the English coastal town of Poole, David John Moore Cornwell—the man who would go on to become John le Carré, perhaps the greatest spy novelist of all time—was born.
When le Carré died in December of last year, not long after completing work on his final novel, he left behind an incomparable body of espionage fiction that includes The Spy Who Came in From the Cold (1963), Smiley's People (1979), The Little Drummer Girl (1983), The Night Manager (1993), The Tailor of Panama (1996), and The Constant Gardener (2001).
In honor of le Carré's birthday, here's a look back at one of the earliest reviews (a New York Times piece magnificently titled "The Spy Who Spied on Spies") of his most acclaimed novel: 1974's Tinker, Tailor, Soldier, Spy.
*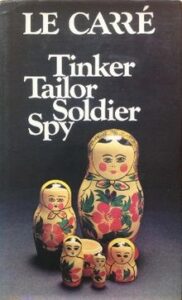 The more identities a man has, the more they express the person they conceal.
"John Le Carré new book—his seventh in thirteen years—is a thoroughly enjoyable English spy novel about the discovery of a double agent at the highest level of the British Intelligence bureaucracy. It reconfirms the impression that Le Carré belongs to the select company of such spy and detective story writers as Arthur Conan Doyle and Graham Greene in England and Dashiell Hammett, James M. Cain, Raymond Chandler and Ross Macdonald in America. There are those who read crime and espionage books for the plot and those who read them for the atmosphere; the former talk of 'ingenious puzzles' and take pride in 'pure ratiocination'; the latter think themselves more literary, worry about style and characterization, and tend to praise their favorite writers as 'real novelists.' Le Carré's books—like those of the six authors just mentioned—offer plenty for both kinds of readers.
Tinker, Tailor, Soldier, Spy is fluently written; it is full of vivid character sketches of secret agents and bureaucrats from all levels of British society, and the dialogue catches their voices well. The social and physical details of English life and the day to day activities of the intelligence service at home and abroad are convincing. Unlike many writers Le Carré is at his best showing men hard at work; he is fascinated by the office politics of the agency since the war. He even has a go at such 'novelistic' effects as interlocking themes of sexual and political betrayal. Yet the plot is as tangled and suspenseful as any action fan could require, and the inductive skill of the diffident, intellectual hero should bring joy to the hearts of the purists. The scale and complexity of this novel are much greater than in any of Le Carré's previous books. It marks a happy return to the spy genre for Le Carré; his last book, The Naive and Sentimental Lover (1971), was a pretentious romantic story about a businessman, a writer and the woman they share—an inept psychosexual portrait of the bourgeois and the bohemian soul.
…
"Tinker, Tailor, Soldier, Spy is a full recovery, which in many ways consolidates Le Carré's career. Its hero is a character whom Le Carré has used in almost every book, sometimes as the hero, sometimes in a minor role. Now he is more carefully developed than ever before.
George Smiley is a pudgy, middle-aged secret agent who seems 'breathtakingly ordinary.' He's a quiet, bespectacled Oxford man with an interest in 17th-century German literature, an embarrassed or abstracted air, considerable physical awkwardness, and ill-fitting though expensive clothes. He is married to a glamorous, intelligent, aristocratic wife who (as at the start of every novel) has run off with one of her many lovers.
Smiley is thus an anti-James Bond, an unheroic, frequently cuckolded secret agent who looks like a shy and miserable clerk in an old London bank. In fact, of course, Smiley is the finest secret agent in the world; his pathetic demeanor conceals a brilliant mind and stout heart. Smiley is one of the last English gentlemen—not a strutting parody of the clubman, like Bond, or a foppish and conniving political type, but an honorable, decent fellow who hasn't much hope or comfort in the postwar world. He is the sorry witness of national decline, epitomized by the service: 'The inspired amateurism of a handful of highly qualified, underpaid men had given way to the efficiency, bureaucracy and intrigue of a large Government department.'
…
"In Tinker, Tailor, Soldier, Spy Smiley comes to stand for moral and intellectual authority. He is the best man, responding to the call of duty: to spy against his former colleagues. Le Carré has learned a lot since he first created Smiley; he now can handle complementary heroes and intertwining plots. The story of Jim Prideaux, a strong field agent like Leamas who was shot in the back in suspicious circumstances abroad, counterpoints Smiley's research activities with melodramatic foreign adventures. In yet a further reclamation of old territory, Le Carré also sets the subplot at a public school, which is much more vividly portrayed than that in his second novel. His characterization too has become much richer: we meet Cabinet ministers, Whitehall officials, aides, journalists, old office hands; and there is an extremely dextrous off-stage portrait of Smiley's faithless wife. Le Carré has never presented so much detail about the intelligence Establishment, and he moves easily from past to present, from adventure to research and induction, and keeps one guessing right to the end which of the five top men is the double agent. Smiley has become humanity at its decent English best; the glamour of the Empire has faded, but he quietly carries on."
–Richard Locke, The New York Times Book Review, June 30, 1974

---