The Annotated Nightstand: What Erika T. Wurth is Reading Now and Next
Reading Benjamin Percy, Cleyvis Natara, Rachel Harrison, and More
Erika T. Wurth's debut novel White Horse follows our protagonist Kari, who lives in the Denver area and frequents a dive bar of the book's same name. Kari's sharp tongue, simmering sense of uncertainty about herself, along with a few shots of heartbreak, make her undeniably compelling. She's tough and smart, and you like her right away. The heartbreak for Kari starts essentially right after she's born. Her mother up and left when she was two days old. Her dad, bereft, drove for stretches with a bottle to numb the pain—until he had a wreck so bad it left him bedridden and Kari to care for him.
Kari's cousin Debby is her foil—femme, married with kids to a controlling low-key jerk—and her best friend. It is Debby who tells Kari she was clearing out some boxes in her dad's attic and found a bracelet that belonged to Kari's mother. Debby holds it out to Kari while they sit at the bar, and a strange feeling passes over her. "It hummed with power," Kari tells us, "with history. My history." Kari has spent her thirty-plus years of life running from different parts of her history, but particularly any thoughts of the mom who abandoned her—as well as the traditional knowledges of her tribal heritages.
As the Kirkus review states, up to this point, Kari has "mostly ignored the spiritual aspects of her Apache and Chickasaw ancestors, preferring a good party instead." The bracelet, which is clearly Indigenous and patinaed with age, begins to make these parts of Kari's identity more immediate for her—particularly once it triggers a vision for Kari of her mother's ghost trying to survive a bloody attack. Kari begins to quickly investigate whether her mother's disappearance was indeed of her own volition, or due to something more terrifying.
Her distant relative, an Apache woman Kari calls Aunt Squeaker, holds knowledge, but doesn't give it all. Ultimately the journey to understanding her history is one Kari must take largely alone. The Publishers Weekly starred review describes White Horse as a story that "brims with monsters and the ghosts of both past and present—from supernatural visions to everyday racist microaggressions."
Erika wonderfully shares her thoughts on each of the titles in her to-read pile below, and gives a sense of the many voices with whom she is in conversation in her writing.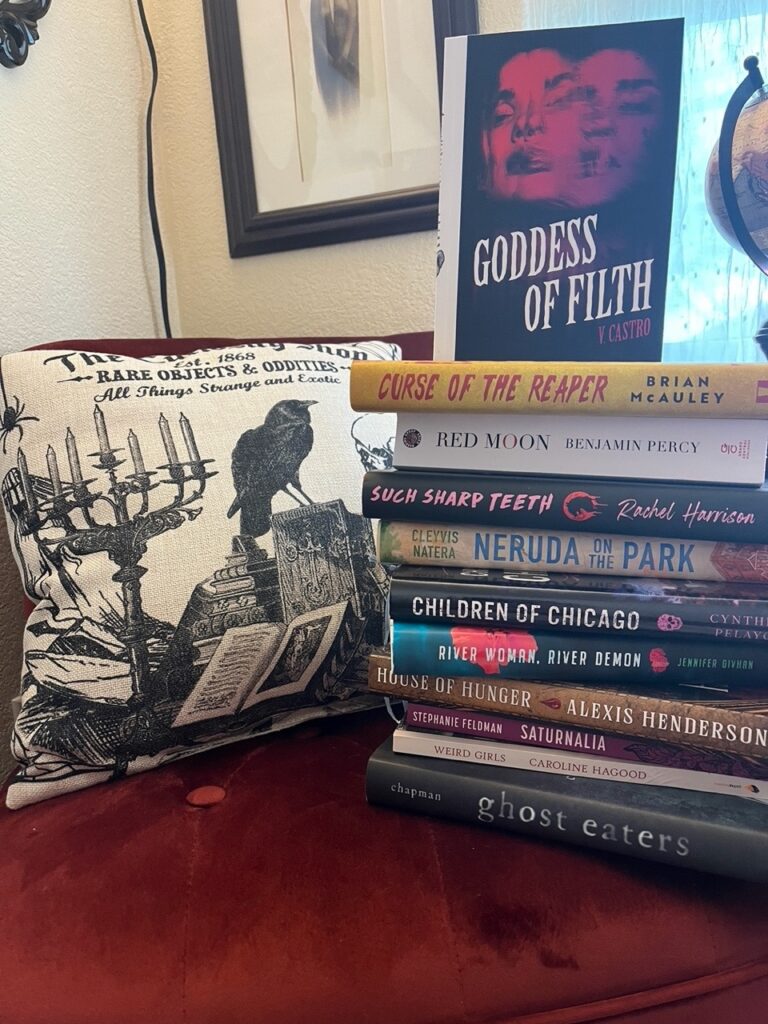 V Castro, Goddess of Filth
Speaking of Goddesses, Castro is the goddess of Indigenous Mexican Indigenous horror, and I also can't wait for The Haunting of Alejandra. Filth looks right up my alley: séances that call up Indigenous ancestors? YES.
Brian McAuley, Curse of the Reaper
Like my Indigenous brother from another mother, Stephen Graham Jones, McAuley's hitting those slasher notes—but in the case of this novel, it's all wrapped up in has-beens in Hollywood.
Benjamin Percy, Red Moon
Is there a cooler dude in all of horror? NOPE. This multiple POV, dystopic treat looks rad as hell.
Rachel Harrison, Such Sharp Teeth
Harrison's brilliantly feminist take on werewolf tropes looks like something—don't hate me—that I can't wait to sink my teeth into.
Cleyvis Natara, Neruda on the Park
This is the kind of layered, multi-dimensional take on gentrification, Dominican identity, and family dynamics that makes a novel a classic.
Cynthia Pelayo, Children of Chicago
Pelayo lives in that lovely, murky world between crime and horror, and Children is no different: a detective still healing from her sister's murder ends up working on solving a teen's murder.
Jennifer Givhan, River Woman River Demon
Givhan, one of the most talented (and kindest) Latinx Indigenous writers I know serves up a psychological thriller with elements of magic and murder.
Alexis Henderson, House of Hunger
I'll read anything Henderson writes. Hunger, about a woman who's been raised in poverty and ends up serving as "blood maiden" for the wealthy in this alternative world novel, looks spooky, dark, and gothic.
Stephanie Feldman, Saturnalia
This literary horror novel has all of the right elements: tarot, elite clubs, the occult—and secret societies.
Caroline Haygood, Weird Girls
Part memoir, part cultural critique, this is one of those genre-defying books—about the "art monster"—to learn from.
Clay McLeod Chapman, Ghost Eaters
I can't describe how much I've been anticipating this novel about a drug called "ghost" that allows you to communicate with the dead. COME ON.
---