The Alluring, Barrier-Ridden Promise of the Great Outdoors
Phoebe S.K. Young on Camping, COVID, and Perils of Transience
Outdoor retailer REI titled one of its 2017 marketing campaigns with the inviting suggestion "Let's Camp," but many individual advertisements took a more adamant tone. One insisted, "We MUST camp," and proceeded to lay out the reasons: "We need dirt. And air that smells like air. We need to gather wood and our favorite people, to stuff our faces with marshmallows and bodies into sleeping bags. We need to ponder a pinecone—or nothing at all. Now more than ever, we must camp." This appeal echoes some of the attractions that recreational camping acquired over a century or more. The outdoors promised the chance to escape from everyday stressors and commune with nature. It also beckoned as a place for social connection and sensory experience.
Missing from the scene, however, is much trace of the campers' republic and its physical or philosophical infrastructure. In one image, two young campers appear snug in their puffy sleeping bags as they gaze out at a pristine mountain valley. No driveway, picnic table, or fire ring. No sense of how they and their hip camping gear arrived at that panoramic perch. A different ad in this series framed the scene this way: "Camping is an instinct. It's an outside homesickness constantly trying to get our attention. With summertime here, we must tune in to it. We must camp." Here camping entails hardly any choice at all, much less infrastructure. People camp to satisfy innate urges or universal bodily needs. The imperative tense, the ALLCAPS command, demands following our instincts and heading straight into the wilds—with a quick stop at REI, of course.
The idea that camping, or other leisure time spent in nature, can fulfill human biological needs is not limited to REI marketing strategies. Outdoor recreation promoters and environmental advocates alike have increasingly adopted this reasoning. Perhaps an innate, physiological, or even genetic drive for nature proposes a novel, present-day answer to the question of why camping matters. The biological case for outdoor recreation, however, does not account for history and culture. Nor does it consider the variable social and political contexts for sleeping outside, which remain as critical as in earlier eras. Or is the role of public nature, and the idea of a social contract itself eroding? The contemporary landscape for recreational, functional, and political camping provides some clues.
Ironic or no, the onset of the COVID-19 pandemic in 2020 revealed intriguing dimensions of the camping landscape and highlighted Americans' desires to get outdoors. In many communities, outdoor recreation was declared an essential activity for mental and physical health, one of the few permitted reasons to leave the house under stay-at-home orders. As many campgrounds remained closed, however, REI shared "CFH (camp from home) tips" for transforming a living room or a deck into a "full blown campsite." The store's Instagram followers posted their attempts at "indoor camping," from lounging in a cozy tent to "streaming a campfire, a starry sky, or forest sounds" from myriad devices. As the weather warmed, the idea of backyard camping, as a whimsical and nostalgic quarantine activity, began to circulate.
While backyard campers might miss "the piney cathedral of the woods," outdoor fun, complete with s'mores, could still be had. The absence of the usual hassles—packing up the car, fusty public bathrooms, or "the thick, slow and steady traffic to your campsite"—might even amplify the charm. As soon as public campgrounds started to open up in early summer, however, Americans scrambled to reserve sites. Reduced capacity, combined with a sense that camping represented a safe travel choice, meant that campgrounds filled quickly. Campers turned to "dispersed camping" beyond regulated campgrounds, travel by camper vans or RVs, and sought out "glamping" resorts. Any of these choices might support what Outside magazine called "the ultimate socially-distanced weekend" in "the fresh air, the trees, the sense of escape, and the quality time by the campfire."
The pandemic-driven enthusiasm for camping rested on a decade of surging interest and promotional efforts following a brief period of relative decline in campers at the turn of the 21st century. The Great Recession that began in 2009 served as one catalyst, as the affordability of camping increased its appeal in comparison to other vacation types. The temporary closing of the national parks during a federal government shutdown in the Fall of 2013 provided another. While the shutdown affected myriad critical government functions, closed signs barring entrance to the parks gave Americans particular offense. They underscored how much people had come to view recreational access to public nature as a right. A new generation discovered a love for camping through novel options like the plush amenities of glamping, the convenience of online reservation systems, and the connectedness of on-site Wi-Fi and cell phones.
The biological case for outdoor recreation, however, does not account for history and culture.
The National Park Service (NPS) and other public agencies had also embarked on projects to expand access to outdoor recreation, especially to historically marginalized groups. As the nation continued to diversify demographically, campers and visitors to the national parks remained whiter and older than the general population, as did its employees. Attracting Americans from all segments of the population became a goal for many outdoor organizations. In collaboration with corporate sponsors, including REI, Subaru, Humana, and Disney, the NPS launched a new multimedia marketing campaign, "Find Your Park/ Encuentra Tu Parque," in 2016. The intention was twofold: to celebrate the agency's centennial and to attract younger and more diverse visitors. "Find Your Park" featured a multiethnic cast of spokespeople promising a renewed vision of the national parks, both leaning on historical sentiments and rebranding the venerable agency for a new generation.
NPS Director Jonathan Jarvis reflected on the motivations behind "Find Your Park" in 2018. They included both "a parochial interest in building constituency" and a broader desire to remove any "sense of barrier to participation in the outdoors from all Americans." While Jarvis remained unsure whether the NPS had created this barrier or exactly "how to fix" it, he affirmed his belief that no "demographic or segment of our society" should miss out on the "inherent human benefits" of the outdoor experience that should be "common to all people. I mean you can take pretty much anybody to the South Rim of the Grand Canyon and they'll be in awe, right? It doesn't matter what their socioeconomic or ethnic background is." Jarvis assumed that the barrier was getting people to the outdoors, presuming that the experiences they would have when they arrived would be universal.
Class or racial barriers appear here as surface effects of a deeper human experience, rather than part and parcel of the development of the national parks or outdoor recreation practices. The rationale of "inherent human benefits" took a page from the new biological need paradigm which did not account for the social history that often made public nature a policed and unequal space. It also embodied the tightening connections between forms of camping and individual identity or lifestyle. Telling personal stories has been a key ingredient in the development of recreational camping, from the Shaybacks' temporary home to the backpackers seeking self-discovery. Today's search for Instagram-worthy outdoor adventures further elevates camping as a vehicle for self-expression. You are how you camp. Find Your Park.
Matching, and perhaps surpassing, the uptick in recreational camping has been a rise in the number of Americans engaged in some form of functional camping or transience. Pinpointing how many Americans are homeless and regularly unsheltered, or houseless and essentially nomadic is difficult. Still, most evidence suggests that both groups are growing. Reporter Jessica Bruder has written revealingly of the resurgence of itinerant work, particularly for those at or near retirement age whose nest eggs were wiped out by the Great Recession.
Taking to the roads in used RVs, older model vans, and camping trailers, they have swelled the stream of "workampers" who chase seasonal jobs across the nation, for modest wages and a free or low-cost campsite. They work concessions at amusement parks and sporting events, they run fireworks stands, pumpkin patches, and Christmas tree lots, they guard oil fields and state hunter check stations, they process the sugar beet harvest, and increasingly they handle the seasonal rush at Amazon's "Fulfillment Centers." Branded as CamperForce, Amazon targets recruitment among this nomadic population, promoting its demanding physical work of picking, packing, stowing, and receiving as "Your next RV adventure."
The irony of recruiting temporary labor as if advertising a vacation is only heightened in the common workamping job of "campground host." Drawn by the promise of earning money while living for free in the great outdoors, the thousands who take these minimum-wage positions labor under often difficult conditions, managing unruly campers, cleaning latrines, and dealing with late-night emergencies. Despite this, recruiters who used to have to beg for applicants now routinely turn them away by the tens of thousands.
This new "shadow economy," like the older one at the turn of the last century that employed bindlestiffs, the Reeves family, and others, depends on the willingness of workers to do without a permanent address. It is especially poignant that many of these workers service the outdoor recreation economy and extractive industries alike, and that they work largely for private concessionaires contracted to manage public lands. Not only does it testify to the complex relationships between functional and recreational camping but it also points to shifts in the social contract. Arriving at an ostensibly public campground, managed by private companies and staffed by workampers, are campers still guests of the nation, or citizens of Aramark?
For people without permanent shelter, opportunities to camp lawfully can be hard to come by.
Getting a sense of how many Americans live without even such mobile dwellings is also tricky. The Department of Housing and Urban Development enumerates people experiencing homelessness, but cautions that its numbers represent only rough approximations. In 2018, it estimated that 554,000 people were homeless on any given night, with close to 35 percent of them classified as "unsheltered"—living outdoors without benefit of shelters or transitional housing. These numbers have ticked steadily upward in recent decades. New York City, for example, averaged about 22,000 people experiencing homelessness each night in the 1980s and 1990s, and 34,000 in the early 2000s, but the expansion since then has been dramatic. The Great Recession years (2009–2015) pushed nightly counts to 49,000, and since 2016 they have averaged over 63,000.
As in earlier waves, multiple factors have contributed to this sharp rise, including lack of treatment for mental illness and drug addiction, now especially opioids. Steep costs of housing in prosperous areas and disinvestment in affordable housing programs, however, have played increasingly significant roles. Advocates trying to address these problems report frustration with a persistent "myth that people experiencing homelessness decline help or prefer to live outdoors." As with earlier waves of tramps and transients, such beliefs say less about the preferences of people without housing than the fears observers hold for society. Sleeping outside persists as a rational means of last resort in cities with skyrocketing costs of living and dwindling will to build affordable alternatives.
For people without permanent shelter, however, opportunities to camp lawfully can be hard to come by. Though most public campgrounds operate without regard to an individual's housing status, they have not proved a reliable option. Not only can these be far away from urban support systems, but some recreational campers have also voiced fears about functional campers infiltrating the great outdoors. Sporadic proposals to use organized campground facilities for homeless campers have met with strident resistance. Meanwhile, recreational forms of urban camping have flourished in recent years, despite the tightened urban camping bans instituted in the wake of the Occupy movement.
City law enforcement has largely tolerated modern traditions of camping out on sidewalks for Black Friday doorbuster sales or the debut of new Apple products. Urban Parks and Recreation departments have also begun to develop programs to encourage families to camp in local parks. New York City's agency holds a lottery for coveted spots in its popular summer series of campouts in Central Park and other city greenspaces. To get a spot, a city resident must register online and provide a permanent address. Whether any of the more than 63,000 New Yorkers without housing might qualify is unclear.
In late 2019, the Supreme Court chose to leave intact a lower court's ruling that people experiencing homelessness "cannot be punished for sleeping outside on public property in the absence of adequate alternatives." Cities were scrambling to evaluate the constitutionality of their camping bans in the wake of this ruling when the COVID-19 pandemic arrived to shuffle the dynamic. Suddenly, states and municipalities were renting out hotel rooms to house the unsheltered in fear of the virus spreading rampantly in crowded shelters and tent cities.
__________________________________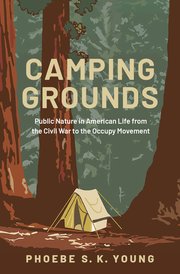 From Camping Grounds: Public Nature in American Life from the Civil War to the Occupy Movement. Copyright© 2021 by Oxford University Press and published by Oxford University Press. All rights reserved.
---