The Age of Small-Scale Societal Reforms Should Have Ended Long Ago
Michelle Jackson on the Myths of American Opportunity
We are living in a time of crisis. Disease and economic hardship have wreaked havoc and will continue to wreak havoc for years to come. Income inequality is at unprecedented levels, and many types of social and economic mobility are stalling and even declining.
The racial wealth gap is a persistent feature of the American economic landscape, and mass incarceration continues to tear at the fabric of poor and minority communities. As the forces of climate change play out, these and other inequalities are likely to intensify and stretch the social contract to the breaking point.
In the context of such monumental challenges, the policy community has—with a few prominent exceptions—maintained a strikingly timid approach to reform. We have developed a precisely focused and ostensibly science-based approach that offers specific, narrow-gauge, and evidence-informed "interventions." We have pushed toward a set of policy recommendations that are ever more incremental. We have assumed that the best we can do is to contain the problem. It is largely taken for granted that we will never solve it.
Outside of the policy community, the larger public sees the world burning. Even politicians have stopped trying to pretend that the United States is a land of opportunity. Senator Elizabeth Warren proclaimed in a speech to the Democratic National Committee, "This is a time of crisis . . . not the time for small ideas."
And Alexandria Ocasio-Cortez struck a similar note when she introduced her Green New Deal legislation, stating that "small, incremental policy solutions are not enough. They can be part of a solution, but they are not the solution unto itself."
There was a time when social scientists approached policy reform with expansive visions of how the world might be improved. The War on Poverty period, for example, was a time during which there were "experiments, hopes, new beginnings," as Martin Luther King described it.
Privileged parents have knitted together a pathway from one human-development institution to the next that serves as a virtual cocoon for their children.
Many of the more radical policy initiatives that feature in current public debate draw upon research that was initiated in this period: the negative income tax experiments of the 1960s and 1970s are referenced by supporters of a universal basic income, while the early childhood literature relies heavily upon the high-quality data collected in the Carolina Abecedarian Project, the Perry Preschool Program, and Head Start.
Over time, our social science has narrowed. We have discovered beauty in the details and lost interest in the integrity of structures. For academics with an eye to having impact, narrow-gauge proposals for reform offer a seductive appeal. Such proposals can be robustly defended because they tackle established inequality-producing mechanisms, and their efficacy can be demonstrated in a straightforward fashion.
Politicians, foundations, and research institutions have enthusiastically embraced small-scale reforms, for they provide the opportunity to have an impact even when resources and political will are in short supply. All of the actors involved in the process of policy design have incentives to highlight the promise of incremental policy, and to work on the assumption that enough incremental changes might bring forth profound social transformation.
We should celebrate all that is gained through incremental science and policy. But it is important that we do not dismiss what has been lost. When we focus on precise mechanisms, quasi-experiments, and nudges, we lose an overarching appreciation of where inequality comes from, and we thereby lose an opportunity for authentically radical reform. In moments of crisis we have an obligation to move beyond incrementalism and its mechanistic understanding of the social world.
The deficits of the incremental approach become clear when we contemplate the full scale of the problem that policymakers must address if the aim is to equalize opportunity. At the heart of the inequality-generating process is a set of deeply flawed and poorly integrated social institutions, with which parents must engage to raise a child to full flourishing.
Instilling necessary human, social, and cultural capital in a child requires navigating this sprawling and complicated constellation of institutions. We have developed highly specialized human development institutions, each configured to solve a very narrow problem, but we have not developed the integrative capacities that help children and families to successfully negotiate the resulting highly specialized and disconnected institutions.
It is up to parents to ensure that hospitals and health care institutions are doing their job at the prenatal moment, that a low-stress and high-engagement postnatal period is available, that the nutritional needs of the child are met, that high-quality child care is delivered, that an environment conducive to cognitive stimulation and language acquisition is present, that the transition to preschool is well negotiated, that properly stimulating extracurricular activities are available, that a college preparatory curriculum is set in motion by the time the child reaches adolescence, that any potentially perilous interactions with drugs, gangs, or the criminal justice system are nipped in the bud, that internships are set up and volunteering activities organized, that SAT prep courses are attended and taken seriously, that high-quality teacher recommendations are cultivated, that the risk of college dropout is deterred via active mentoring and other interventions, that the initial integration into the labor market is well facilitated, and so much more.
We must attack the institutional roots of inequality of opportunity, rather than treating a flawed institutional structure as binding and fixed.
Raising a child has not always looked like this. It used to be that even poor children could follow a simple and well-lit path; there was no complicated array of institutions that had to be successfully negotiated to get into the middle class. But over the past half century we have developed a highly specialized and poorly coordinated array of such institutions that only richer parents are able to make work.
In effect, privileged parents have knitted together a pathway from one human-development institution to the next that serves as a virtual cocoon for their children, so that from the child's point of view it is a single, coordinated institutional structure. By contrast, when underprivileged parents face this complex of social institutions, they find that they do not have access to the same road map and so they lack ways to coordinate their engagement with institutions so as to ensure their child's opportunity.
To them, each institution presents a new set of constraints, a new set of challenges, a new and foreign world. It is this hybrid institutional structure—interlocking and coordinated for the privileged and disconnected for the underprivileged—that is overlooked in a small-scale, mechanistic, and incremental approach to policy.
In a time of crisis, there is a hunger for change. But when an entire policy infrastructure has been built on a foundation of incremental reform, endogenous change is hard to come by.
Meaningful social change will require radical reform. We must attack the institutional roots of inequality of opportunity, rather than treating a flawed institutional structure as binding and fixed. We must ask how the building blocks of inequality can be remodeled and recombined to produce new institutional structures that will protect the opportunities of the underprivileged just as our current structures protect the privileged. We must reconstruct our institutions so that everyone, not just the well-off, has a route to success.
My book Manifesto for a Dream rejects the position that the scale of current policy is sufficient to deliver on the promise of the United States. It is only when social scientists propose—and test—a variety of radical options that we will be able to provide the same well-orchestrated pathways for underprivileged children as are currently available to the privileged. An emboldened social science has an obligation to design the radical policies that would be necessary for equality to be assured to all.
__________________________________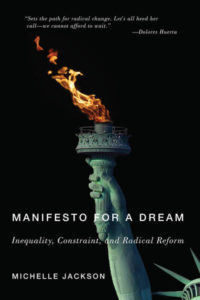 Excerpted from Manifesto for a Dream: Inequality, Restraint, and Radical Reform by Michelle Jackson, published by Stanford University Press, ©2020 by the Board of Trustees of the Leland Stanford Junior University. All Rights Reserved.
---