The Republic of Consciousness Prize for Small Presses celebrates the best fiction published by presses with fewer than five full-time employees every year. The 2020 winner is Fitzcarraldo Editions, a small publisher based in South-East London that also published Olga Tokarczuk before she won the Nobel Prize.
The winning title is Animalia by Jean-Baptiste Del Amo, translated from the French by Frank Wynne. Animalia follows a peasant farming family in France across five generations. (You can read an excerpt here.)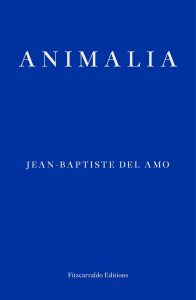 As a symbol of solidarity in these terrible times, the prize money will be split evenly among the five small publishers who were shortlisted, which also includes: And Other Stories (for Hanne Ørstavik's Love), Dostoyevsky Wannabe (for Isabel Waidner's We Are Made of Diamond Stuff), the 87 Press (for Minoli Salgado's Broken Jaw), and Galley Beggar Press (for Toby Litt's Patience).
Consider this a friendly reminder to support small presses, if you can!
[via London Review of Books]