The 10 Russian Literary Heroines You Should Know
And Why Russian Women Know Better Than to Expect a Happily-Ever-After
The recent screening of BBC's War and Peace has inspired many a TV viewer to dust off their old copy of Tolstoy's masterpiece and give it another go. Daring ones, seduced perhaps by the radiance of Natasha Rostova, might be persuaded to dig into the vast world of Russian literature in search of other memorable female characters. Where to begin? Look no further. Here is your guide to the VIPs of Russian literary heroines.
Yes, we know, all happy heroines are alike; each unhappy heroine is unhappy in her own way. But here's the thing: In Russian literature, happy characters are scarce. In fact, Russian heroines share a predisposition to making things difficult for themselves. And that's ok, because their beauty as literary characters derives, in great part, from their capacity to suffer, from their tragic destinies. From their Russianness.
The narrator of Back to Moscow, my debut novel, finds himself in Moscow, working—or pretending to work—on a PhD about Russian literary heroines. He navigates his way among the real women he encounters by recalling lessons he has learned reading the Russian classics. Except that, as he soon finds out, Russia is no longer the country described by Tolstoy or Chekhov. And Moscow at the turn of the 21st-century is a chaotic metropolis undergoing fast and profound transformations where women, well, rarely behave by the book.
The most important lesson to remember about Russian women characters is this: Their stories are not about overcoming obstacles so that they can live happily ever after. As the custodians of long-honored Russian values, Russian heroines know better; they know that there is more to life than happiness.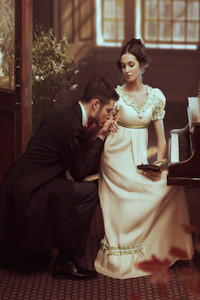 Tatyana Larina, Eugene Onegin
In the beginning, there was Tatyana. She is the Eve of Russian literature. Not just because she came first, but because Pushkin occupies a unique, godlike place in Russian hearts. Any Russian worth his salted cucumber is able to recite entire poems by the father of modern Russian literature (and, after a couple of vodkas, many will do so). Pushkin's masterpiece, Eugene Onegin, is, in reality, not the story of Onegin, but that of Tatyana, the young innocent girl from the provinces who falls for him. Unlike Onegin, who is a cynical bon vivant corrupted by modern European values, Tatyana embodies the essence and purity of the Mysterious Russian Soul—including a proneness to self-sacrifice and a disdain for happiness, as exemplified in her celebrated rejection of the man she loves.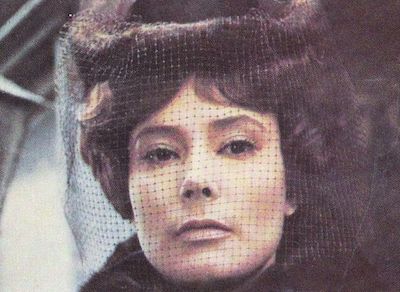 Anna Karenina
Unlike Pushkin's Tatyana, who resists the temptation of taking off with Onegin, Tolstoy's Anna decides to dump both her husband and her son so that she can elope with Wronsky. A bit of a drama queen, Anna is particularly good at making all the wrong choices, choices for which she will have to pay. Her main mistake is not, however, to have an affair or to abandon her child. Anna's sin, the source of her tragic fate, is that in her "selfish" attempt to feed her own romantic and sexual desires, she forgot Tatyana's self-sacrificing lesson: If you see light at the end of the tunnel, cool down and step aside; it might just be an oncoming train.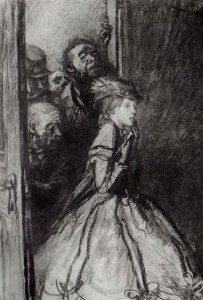 Sonya Marmeladova, Crime and Punishment
In Dostoyevsky's Crime and Punishment, Sonya stands as the antithesis of Raskolnikov. Both a whore and a saint, Sonya accepts her existence as a long road of martyrdom. After learning about Raskolnikov's crimes, she doesn't take off; on the contrary, she takes it upon herself to save his soul, including, in a memorable scene, by pestering Raskolnikov with her Bible and reciting the story of Lazarus' resurrection. Sonya is able to forgive Raskolnikov because she believes all men are equal before God, and God forgives. For remorseful murderers, a real catch.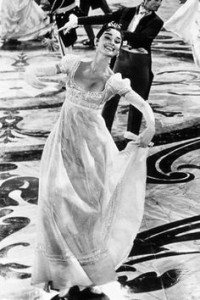 Natalya Rostova, War and Peace
Natalya is everyone's dream. Smart, cheerful, spontaneous. Natalya is fun. If Pushkin's Tatyana seems too good to be true, Tolstoy's Natalya feels real, alive. Partly because, in addition to her many qualities, she is also capricious, naive, coquettish and—in her own early 19th-century way—a bit of a tease. In War and Peace, Natalya begins as a charming teenager, exuding joy and vitality. As the novel advances and she grows older, she learns the lessons that life has set for her, taming her fickle heart and managing to become a fuller and wiser person, a woman who—uncharacteristically for Russian heroines—is still smiling after more than a thousand pages.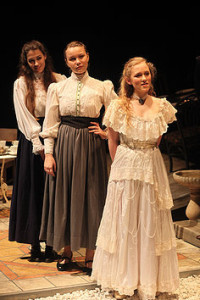 Irina Prozorova, Three Sisters
At the beginning of Chekhov's Three Sisters, Irina, the youngest, is radiant and hopeful. While her older siblings, bored of life in the provinces, are whiny and moody, Irina's naive soul is filled with endless optimism. She daydreams of going back to Moscow where, she believes, she will find true love and they will all be happy. But, as the chance of moving to Moscow evaporates, and Irina understands that she might be stuck in her village, she can't help but lose her spark. Through Irina and her sisters, Chekhov shows us that life is a long succession of dull moments, only occasionally interrupted by short bursts of joy. As Irina, we all spend our time distracted by irrelevant thoughts, dreaming of a better future, but gradually accepting the unimportance of our own existence.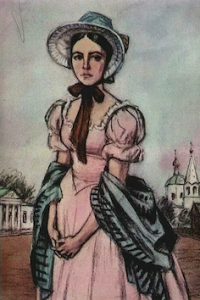 Liza Kalitina, Home of the Gentry
In Home of the Gentry, Turgenev nails the quintessential Russian heroine. Liza is young, naive, pure-hearted. She finds herself with two suitors: a young officer—handsome and cheerful—and an older sad married man. Guess her pick? Liza's choice tells us a great deal about the Mysterious Russian Soul. She clearly goes for misery. Liza's choice tells us that, in life, the pursuit of melancholic sorrow is as valid an option as any. At the end of the story, Liza gives up on love and enters a monastery, embracing a life of sacrifice and privation. "Happiness was not for me," she says, by way of explanation. "Even when I had hopes for happiness, my heart was always heavy." What a bundle of joy.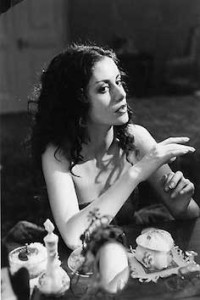 Margarita, The Master and Margarita
Chronologically the latest addition to the canon, Bulgakov's Margarita—from The Master and Margarita—is as bizarre a heroine as they come. Beginning the novel as an unhappily married woman, she becomes the master's mistress and muse, only to turn, later on, into a broom-flying witch. Margarita is a source of energy for the master, becoming—as Sonya had done for Raskolnikov—his healer, his lover, his savior. When the master is in trouble, Margarita turns to no other than Satan for help, and, after a love-driven Faustian arrangement, she is finally reunited with her lover, if not exactly in this world.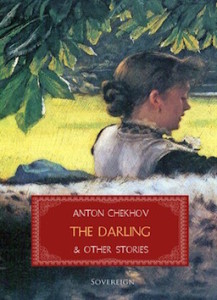 Olga Semenova, "The Darling"
In "The Darling," Chekhov tells the story of Olga Semenova, a loving and gentle soul, a simple person who, we are told, lives to love. Poor Olga finds herself a young widow. Twice. With no man left to love, she has nothing to live for and retreats into isolation, with only the company of her cat. In a review of "The Darling," Tolstoy wrote that Chekhov, intending to mock the unsophisticated woman, had accidentally created a most endearing character. Tolstoy went further, scolding Chekhov for being too harsh on Olga, by judging her intellect and not her soul. According to Tolstoy, Olga embodies the capacity of Russian women to love unconditionally, a virtue unknown to men.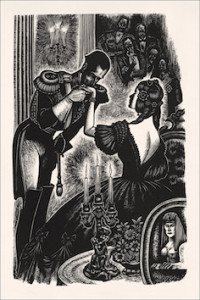 Madame Odintsova, Fathers and Children
In Turgenev's Fathers and Children (often mistranslated as Fathers and Sons), Madame Odintsova is, as her name suggests in Russian, a lonely woman. At least by the standards of her time. Even if created as an odd character, Madame Odintsova has aged well and has become, among literary heroines, a kind of a pioneer. In contrast to other female characters in the novel, who submit to the obligations imposed on them by society, Madame Odintsova—who is not only childless, but also motherless and a widow—stubbornly perpetuates her independence, refusing, in a gesture reminiscent of Pushkin's Tatyana, her one chance at true love.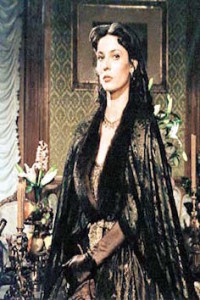 Nastasya Filipovna, The Idiot
The heroine of The Idiot, Nastasya Filipovna, is, in herself, a study in Dostoyevskian complexity. Nastasya is an exploited woman and a victim of her own beauty. Orphaned as a little girl, she is raised by an older man to be a kept as a mistress. But in her attempt to break free from her destiny—and as she tries to become her own version of the femme fatale—wounded Nastasya cannot escape a sense of guilt that will cast a shadow over her decisions. In the tradition of other Russian heroines, life presents Nastasya with different options—mostly in the form of men. But by honoring that very tradition, she will be unable to make the right choices, succumbing instead to the forces of destiny and, ultimately, letting herself drift toward her own tragic end.
---