Ten Books Making News This Week
Retromix: Seuss, Didion, and Doctorow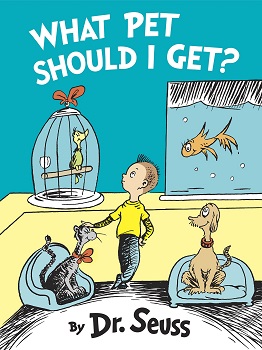 What Pet Should I Get? Dr. Seuss
Maria Russo's review of the posthumous book by Dr. Seuss (Theodor Seuss Geisel), who died in 1991, prompted editor Pamela Paul to explain why she chose to put a review of a picture book—"a book that, for all of its 32 pages, holds fewer words than the first page of an average novel"—on the cover of the New York Times Book Review for the first time ever. Dr. Seuss, Paul explains, was a transformative figure in children's literature (and yes, she writes, "let's face it—the current editor of the Book Review is a former children's books editor here").
So what does Russo think of this unexpected new book from a man who once said his formula was "logical insanity"? "What Pet Should I Get? will remind us, delightfully," Russo writes, "that Dr. Seuss, over half a century ago, made learning to read an adventure, a club children would actually want to belong to. And, not least, he made reading aloud something parents, too, could reliably enjoy."
Russo also has fun speculating about the author's intentions:
Why, then, did Geisel leave this one in the drawer? The answer, I think, lies in the book One Fish Two Fish Red Fish Blue Fish, one of Dr. Seuss' most popular, published in 1960 and featuring the same pair of siblings. (Fun fact: The brother also appears in the art Geisel provided for his 1957 Book Review piece, which suggests he began What Pet Should I Get? shortly before or after that, using the character he had been developing.) And while Cathy Goldsmith, who was his art director toward the end of his life, places What Pet sometime between 1958 and 1962, I think it was finished before One Fish was published in 1960.
Welcome to Hard Times, E.L. Doctorow
E.L. Doctorow, author of Ragtime, Billy Bathgate, The Book of Daniel, and The March, among others, died on Tuesday at 84 in New York City. Tributes multiplied as news of his death spread.
George Saunders (The New Yorker) wrote of Doctorow's bravery: "He articulated our American darkness as well as any writer ever has—our hubris, our greed, our stupidity around race and class—but this awareness of darkness vibrated alongside a deep optimism, a fascination with the beauty and genius of the American experiment. The reader felt the books as great technical accomplishments, yes, but more so as accomplishments of spirit—of artistic generosity—as acts of love, even: love of nation, love of actual phenomenon, of mankind, of a human being's constant and renewing freedom, even in the face of history."
The Los Angeles Times' David Ulin called Doctorow "the most American novelist of his generation. More than Philip Roth or John Updike, more even than Norman Mailer, Doctorow created fiction that existed at the intersection of American myth and hypocrisy."
David Abrams (The Quivering Pen) revisited Doctorow's first novel, Welcome to Hard Times (1960). It's a "grim" look at the Old West, he points out. "There's nothing pretty inside these pages; but once you start reading, I dare you to set the book down again…"
Doctorow was inspired to write this first novel after working as a script reader for Columbia Pictures in the late 1950s, an era when cowboy movies were all the rage. However, Doctorow cleverly turns the horse opera stereotype on its head. If you're not a fan of sagebrush prose, don't let the notion that this is a "western" dissuade you from reading this short, intense book. This is closer to Joseph Conrad than it is to Louis L'Amour.
The Discreet Hero, Mario Vargas Llosa
Marcela Valdes calls 2010 Nobel laureate Vargas Llosa's new novel "an exquisite concoction, a delicious melodrama of sex and betrayal, love and revenge."
Valdes suggests that with the Nobel for his "serious political works" behind him, he's free to return to "bawdy tragicomedy" and to Don Rigoberto. And, she reveals, "my favorite character, perhaps Vargas Llosa's greatest character of all time, is Rigoberto's son, Fonchito. Described as 'a viper with the face of an angel' in The Notebooks of Don Rigoberto (1997), Fonchito has grown up a bit here. Critics have long referred to Don Rigoberto as Vargas Llosa's alter ego, but I'd vote for this provocative little trickster: a brilliant fabulist who's always three steps ahead of everyone else."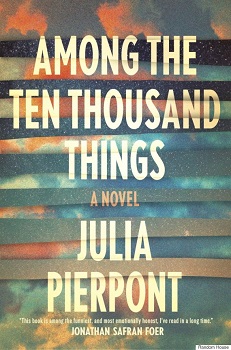 Among the Ten Thousand Things, Julia Pierpont
Julia Pierpont's first novel, writes Sarah Lyall (The New York Times) "shows a remarkably mature understanding of the delicate emotional balances in families—how feelings can flow back and forth like electricity in some kind of zero-sum game—and the subtle, irrational vicissitudes of people's psyches. We follow first one character and then another as each tries to manage what has happened. It is an old story, a crumbling marriage, but Ms. Pierpont gives it fresh insights, making the particular unhappiness (and occasional happiness) of the Shanleys by turns poignant, funny and very sad."
This novel may deal with a familiar staple of fiction—unhappy families, notes NPR's Maureen Corrigan, "but it does so in such unexpected ways that it's a fresh pleasure to read."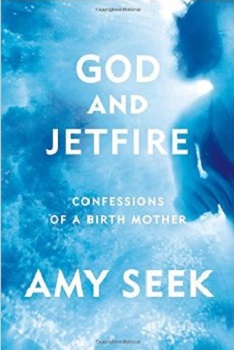 God and Jetfire: Confessions of a Birth Mother, Amy Seek
Jillian Lauren (Los Angeles Times) calls God and Jetfire a "provocative, emotionally resonant" memoir. "Seek beautifully expresses the universal experiences of loss and longing," she writes, "and elucidates how adoption, and motherhood itself, is a lesson in holding conflicting realities at the same time."
Other reviewers agree:
The revelation of God and Jetfire, writes Kathryn Joyce (The New Republic), "is that even in the best of all possible adoption worlds, the wounds of an open adoption resist easy healing; that even when everyone does everything they said they would, with a spirit of honor and trust, everything that follows from relinquishment still ends up being 'shaped by… absence.' "
Barbara Spindel (San Francisco Chronicle) finds God and Jetfire "a devastating and beautiful" book: "The beauty is in the elegant, assured writing and also in the solace that comes from Seek's recognition that she… chose wisely, that Jonathan is being raised by extraordinary people."
"I have not read a more comprehensive book on the grieving that accompanies the adoption process," writes Jennifer Gilmore (The New York Times). "Seek's eloquent if occasionally self-indulgent prose makes this important memoir resonate. As she shows, adoption does not end when a child changes hands. It's a sad, lovely and continuing conversation that she bravely documents."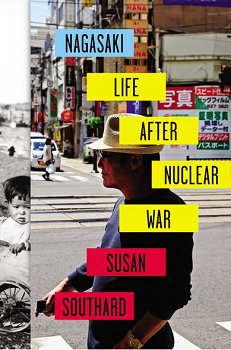 Nagasaki: Life After the Bomb, Susan Southard
Susan Southard's Nagasaki is "magnificent and necessary," writes Louise Steinman (The Los Angeles Times), and a "powerful way to engage with the moral conundrums surrounding our country's use of nuclear weapons." As we approach the 70th anniversary of the blast, Steinman concludes, "let us hope that many will read this important book: to imagine the unimaginable suffering caused by the bomb and to join these eloquent survivors in their determination that Nagasaki remain the last nuclear bombed city in history."
Carlos Lozada (The Washington Post) calls Nagasaki a "riveting" narrative, writing of the five survivors, "Their story is as timely as ever. American politicians debating the nuclear deal with Iran would do well to spend some time with Southard's Nagasaki. It does not tell us what to do. It only reminds us of the stakes."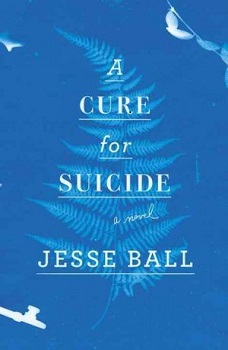 A Cure for Suicide, Jesse Ball
"If you're going to withhold from your audience—tease them with strangeness, secrecy—you have to play fair or you'll fail," writes Charles Finch (The Chicago Tribune) of Jesse Ball's "intentionally elusive," "hushed, enigmatic and intermittently remarkable" sixth novel.
…in the last third of A Cure for Suicide, we flash back in time to the saga that precedes the claimant's awakening. This turns out to be a love story about a penniless man and a rich, dying woman, and it's one of the finest things Ball has ever written, a magical, gripping burst of emotional history, which interrogates the book's ultimate subject, suicide and the desire for oblivion. "If animals excel us, defeat us in one thing," he writes wonderingly, "it is this: they all want their lives. Life is given to each one of them separately, and they all want it. We do not."
Sarah Gerard (New York Times Book Review) calls Ball's new novel "elegant" and "spellbinding," adding, "With the simplicity of a fable and the drama of a psychological thriller, Ball tells a story about starting over from nothing, reconstructing life from its most basic elements. These acts of narrative deconstruction highlight his strength as a deeply questioning writer at home in fact as much as abstraction."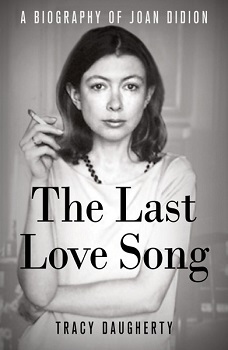 The Last Love Song, Tracy Daugherty
Laura Marsh (The New Republic) positions Joan Didion as "the ultimate literary celebrity," in her review of Tracy Daugherty's new Didion biography. The Last Love Song, she writes, "draws heavily on Didion's published accounts of her own life; he wasn't able to speak to her closest friends and collaborators. Those who did speak to him—the fun in a celebrity biography is seeing who gets thanked in the acknowledgements—are people who've been out of touch with Didion for some time: an ex-boyfriend, a couple of figures from the Hollywood party scene of the 1960s, and former colleagues." Although he approached Didion for an interview, she "chose not to cooperate."
The book is most interesting when Daugherty turns to Didion's early career:
The paradox of Didion might be that she is best known for her shortest writings, while commentary on this early stage of her life grows more voluminous by the day. This is the version of Didion that appears on the cover of Daugherty's book, a young woman smoking a cigarette nonchalantly. Add to this the distant air she cultivated in subsequent decades, and you see how compatible this slightly unreal version of Didion, who existed on the page and in some photographs for a few years, is with the status of a celebrity…"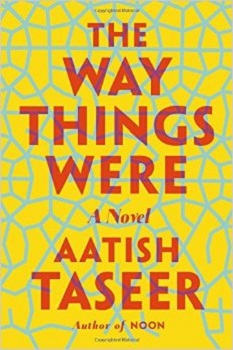 The Way Things Were, Aatish Taseer
Indian author Aatish Taseer "writes out of a compulsive need to understand his own fragmentary and complicated history," notes Karan Mahajan in his review (Los Angeles Review of Books) of The Way Things Were. "His mother is the renowned Indian journalist Tavleen Singh; his father, Salmaan Taseer, was an advisor to Benazir Bhutto and was serving as the governor of Punjab in Pakistan when he was assassinated in 2011. The two never married. They separated shortly after Taseer was born in 1980, and, though Taseer took his father's last name, he grew up with his mother in Delhi. Taseer has described his sense of alienation and shame about this cross-border parentage movingly in his first book, the memoir-travelogue Stranger to History (2009), which seeks to fix him in a historical milieu…" This novel uses the same themes, Mahajan writes, but now, "Taseer has found a voice that liberates his talent and that raises his personal concerns to a universal level."
Jason Sheehan (NPR) is a fan of The Way Things Were, pointing out the "tight, small details of the love story and the fiddliness of Taseer's… obsession with Sanskrit, the mother of all language, so cooed over here that it almost becomes its own character." Sheehan also admires the "effortlessness" with which Taseer handles the novel's complexity. "There is, astoundingly, among all these hundreds of thousands of words, rarely a dull moment… And rarely a page without something beautiful to behold."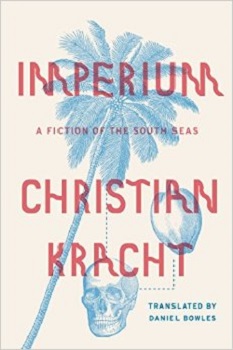 Imperium: A Fiction of the South Seas, Christian Kracht (trans. by Daniel Bowles)
Henry Alford (New York Times Book Review) calls Los Angeles-based Swiss writer Christian Kracht's Imperium, an "amusing and bracingly oddball novel." It "does feature several palm-covered islands—not to mention many gallons of coconut oil and copious amounts of undress," he adds, but "calling it a beach read is like calling Psycho maternal."
Based on a true story, Imperium, which was a best seller in Europe, is the fable-like account of a scrawny, nervous vegetarian and nudist from Nuremberg named August Engelhardt. It is the early 1900s—in a century that "until just before the midpoint of its duration looked as if… Germany would take its rightful place of honor and precedence at the table of nations"—and our bony, bearded idealist has set off for the German protectorates in the South Pacific to found a colony devoted to growing and eating only "the vegetal likeness of God." By which is meant: coconuts.
"Fiercely erudite," writes Henri Lipton in Zyzzyva. Kracht's narrative sensibility, he adds, "echoes the self-conscious playfulness of 19th-century French and Russian tale-tellers, and his obsessive focus on coincidences and ostensibly dissimilar yet interrelated phenomena reminds one of Pynchon's intricate cataloguing of stories-within-stories, regardless of whether they are germane to the plot."
Imperium, Lipton concludes, "becomes a cautionary tale, an examination of how capricious men with opaque motives can morph from insecure, misunderstood outsiders into fanatics with platforms, and of how loathsome ideology can metastasize under certain circumstances."
---