Tales of Port-au-Prince: Letting Haitians Speak For Themselves
Edwidge Danticat on a City of Survivors
The following appears as the foreword to Lavil: Life, Love, and Death in Port-au-Prince.
It is the morning of the feast of Corpus Christi, fête Dieu, in Port-au-Prince. The sun rises early and fast, along with a chorus of voices singing hymns. Altar boys in flowing white robes and girls in long, spotless communion dresses weave rosary beads through their gloved fingers, or adjust crowns of white flowers on their heads. The parents walk at their children's side, their beaming faces glowing in the hot sun. "He must be present in my life every day," they sing. Fòk li prezan chak jou nan vi mwen.
Corpus Christi processions are meant to commemorate Christ's body, in pain, but Haitians have plenty of their own pain. The procession circles a makeshift displacement camp where mothers are bathing their children in buckets of cloudy water in front of the layers of frayed faded tarp they call home. Before entering the crowd with her grandmother, my six-year-old US-born daughter, who is returning to Port-au-Prince for the first time since the January 12, 2010 earthquake, repeats something she's told us many times since we landed in the city. "I thought everything was broken."
Built for 200,000 people yet home to more than 2 million, Port-au-Prince is a city that constantly reminds you of the obvious, as though you were a six-year-old. No, everything is not broken. And no, not all the people are dead. Every person in that procession, and every person living in the city, bears that communal testimony, and Port-au-Prince is a testimonial city. It is a city that everything—fires, hurricanes, earthquakes, political upheaval—has conspired to destroy, yet still it carries on, in part due to the resoluteness of its people, a few of whose stories you will read about here.
The republic of Port-au-Prince, as it is often called, is a city of survivors. Even those who would like to see the country decentralized or have the capital moved elsewhere talk about creating another Port-au-Prince, a different one for sure, but an improved version of the old one. Still, Port-au-Prince is also a heartbreaking city. It is a city where a restaurant that charges over 20 American dollars for a steak might stand inches from some place where others are starving. It is a city where the dead can lie in a morgue for weeks as the family clamors for money to pay for the burial.
It is also a city where paintings line avenue walls, where street graffiti curses or praises politicians, depending on who has paid for them. It is a city of so much traffic that it has become a city of back roads, short cuts that rattle your body through hills, and knolls that at first don't seem passable. It's a city of motto taxis, which are better fitted for such roads. It is also a city of cell phones, where conversations often end abruptly because someone's prepaid cards have run out of minutes. It is a city, as one of Haiti's most famous novelists, Gary Victor, has written, where people who might run toward bullets will flee the rain, because the rain can reconfigure roads in an instant and can take more lives in a few minutes than a gun. It is also a city of commerce, a city of entrepreneurs, a city of markets where the vendors are as numerous as the products being sold, a city where I once saw a woman walking through the streets with a cluster of grapes, like many people have in their refrigerators, that she was selling by five or ten. Must I even say that it is a city of dreamers?
It is a city of music, from the vendors who sing the values of their wares, to the konpa blasting from the colorfully painted tap tap camions and lotto stands, to the lyrical laments rising from open-air Protestant revivals to the drums throbbing from the Vodou temples. It is a city of street pharmacists whose giant cones of pills look like mosaic art. It is a city of canal-clogging used clothes—pèpè—foam food boxes, and un-recyclable plastic. It is a city of smoke and haze, of trash being burnt, of dust-covered trees.
It is now also a city of tremors, tremors that are sometimes felt based on your level of experience with previous tremors, where you might be sitting with someone and that person feels the earth shake and you don't feel a thing. It is a city where sometimes you both feel the tremors and panic equally, especially when others have dashed outside or leaped out of windows in fear. Traumas are sometimes as visible as amputated limbs in Port-au-Prince and sometimes they linger deep beneath the surface, like phantom limbs. Port-au-Prince is a city of seen and unseen scars.
This book too is filled with narratives of seen and unseen scars. It is a book about choosing to live and not to die in Port-au-Prince, to fight, to survive, to thrive. You will read here about residents of Port-au-Prince who though they share a city, a nationality, live very different realities, based on their level of access, their age and schooling, their neighborhoods, and the amount of time they've spent in that city. There are testimonials from street merchants, teachers, doctors, professors, activists, young people, old people. There are also testimonials from people like me, people who were born in or used to live in Port-au-Prince, but who now make their home elsewhere.
The gatherers of these stories are wise to (aside from the act of translation) allow the voices here to speak for themselves, to tell their own stories. There are many post-earthquake stories here, but the January 12, 2010 earthquake is not Port-au-Prince's only story, nor is it the only story of many of the people you will hear from here. There are also plenty of testimonials involving political instability, lack of access to health care and educational opportunities, and incidents of violence that preceded the earthquake. Particularly heartbreaking are the testimonials of sexual violence told by women who, even when they make every effort to prosecute their attackers, end up threatened, persecuted, and not receiving justice.
One might expect these testimonials and others to contain nothing but self-pity and heartbreak, but like Port-au-Prince, many of the people who tell their stories here have an unconquerable will that lifts them beyond their daily pain. Embracing hope, even as they fight for basic rights and necessities, these men and women exemplify determination and fortitude not only as survivors, but as narrators of their own stories. These testimonials are not about people who elsewhere might be considered downtrodden; they are about people who are indeed present in their own lives and are searching for ways to make this much-tried-and-tested city, and their country in general, not only a better and more humane place for themselves, but also for their neighbors, as well as for future generations.
__________________________________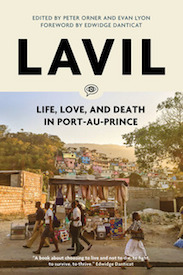 From Lavil: Life, Love, and Death in Port-au-Prince, ed. Peter Orner and Evan Lyon, courtesy Verso.
---