Taking Fashion Seriously:
A Critical Reading List
Francesca Granata Recommends Judith Thurman,
Monica Miller, and More
Bemoaning the lack of a critical approach to fashion is hardly a novel idea. As early as 1845, the French novelist and literary critic Jules-Amédée Barbey d'Aurevilly, writing under the female pseudonym "Maximilienne de Syrène," complained in the pages of Le Constitutionnel how fashion critics "do not consider ourselves as frivolous as all that in describing Fashion as a matter of considerable import beneath its apparent triviality." Almost 200 years later, a full-fledged academic field of inquiry—fashion studies—has developed, and cultural criticism on fashion has widely expanded.
Critics and writers who have tackled the topic of fashion include Hilton Als and Susan Sontag, but also novelists like Angela Carter, who penned incisive pieces of fashion criticism in the 1970s and 1980s for New Society (now The New Statesman), Bebe Moore Campbell who wrote about fashion and style in the 1980s and 1990s for Essence and Ebony, and Eve Babitz, who wrote fashion criticism in her uniquely personal tone for Vogue.
In academic circles, though, there is often a dismissal of fashion criticism as frivolous—an illegitimate field of cultural criticism. This can, in part, be attributed to fashion's historical relation with femininity and consumption. But fashion criticism is central to constructions of femininity and masculinity, and, especially starting in the post-war period, it played an important role in negotiating shifting understandings of race. While the critical literature on fashion is vast, some of the most engaging books on the topic straddle the line between academia and cultural criticism for a more general readership.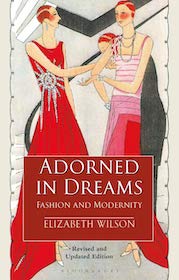 Elizabeth Wilson, Adorned in Dreams: Fashion and Modernity
This is a formative text in the legitimization of the study of fashion in academia, while also reaching a larger audience outside of it thanks to English writer Elizabeth Wilson's accessible and yet evocative prose. Wilson, whose writing is rooted in feminism and politics (while spanning across genres), wrote this book in the 1980s when a certain anti-fashion sentiment still pervaded feminism in England and beyond. Her book discusses the role of fashion in the advent of modernity with a particular focus on Western fashion. It tackles "oppositional" dress, the conditions of fashion productions and consumptions, fashion, gender and its uneasy relation with feminism, while arguing for the centrality of fashion to city life and the construction of the self. Angela Carter, reviewing the book in LRB, praised it as the "the best I have read on the subject, bar none."
Elizabeth Hawes, Fashion Is Spinach: How to Beat the Fashion Racket
Elizabeth Hawes (1903-1971), renowned as an innovative American designer, started her career in the 1920s in Paris, where she had moved after graduating from Vassar. Among other activities, she would file articles about the Paris fashion shows for the New Yorker under the pseudonym "Parasite." In 1938, she published the collection Fashion is Spinach. Part ethnography, part memoir, the book includes humorous and first-person accounts of her work in fashion first in Paris and later in New York, which also constituted an incisive early critique of the fashion system. Among the most hilarious essays are her account of her work as a copyist for a Parisian fashion house that would illegally copy the work of the French couture houses, and of her work as a fashion critic for US publications in Paris. The latter article provided a self-reflective account of what it meant to be a fashion critic in the 1920s and of the difficulties in delivering unvarnished criticism. Singling out the New Yorker, Hawes writes: "Anyone who has ever written fashions will, I am sure, appreciate what it means to be allowed to write with no embroidery just what you think about them." To which she adds more explicitly, "The advertising department never raised its ugly head and said that if I thought Patou was no designer, I'd better keep still about it or someone would withdraw its advertising."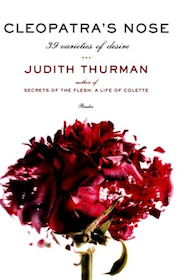 Judith Thurman, Cleopatra's Nose: 39 Varieties of Desire
This is a collection of previously published essays and while not technically about fashion Thurman's book on "women's work" contains some of the most lyrical fashion criticism ever written in the English language. A cultural critic who is a recipient of the National Book Award, Thurman began writing on fashion later in her career, when she returned to the New Yorker as a staff writer in 2000. As Thurman herself describes, she approaches fashion "as an important element of culture and itself a culture […] a form of expression, a kind of language dealing with identities." The fashion pieces collected in the book are numerous and span designer profiles (Bill Blass, Giorgio Armani), a detailed article on kimonos, fashion show reviews and a standout in-depth profile of the elusive Japanese fashion designer Rei Kawakubo.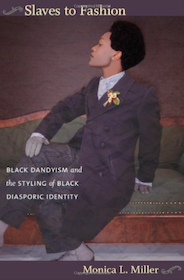 Monica Miller, Slaves to Fashion: Black Dandyism and the Styling of Black Diasporic Identity
You would be remiss if you did not have a book on dandyism in a list on influential fashion books. In this book Miller revisits the history of dandyism through the lens of black masculinity. In a tour-de-force covering black dandyism in the Atlantic diaspora from its inception in Enlightenment England through the Harlem Renaissance to the present day work of artists and designers such as Iké Udé, Isaac Julien and Yinka Shonibare, the book traces the complex interactions of class, race and sexuality articulated by black dandies throughout history. It highlights the ways in which self fashioning allowed for a critique of normative identity and a questioning and renegotiation of  the meanings attached to black masculinity in the diaspora.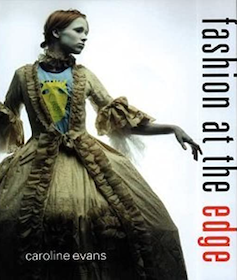 Caroline Evans, Fashion at the Edge: Spectacle, Modernity, and Deathliness
Evans's book is an indispensable journey through avant-garde fashion produced in the 1980s and 1990s and the way it articulated contemporary anxieties regarding the body, the environment and the changes Western societies was undergoing in the period. Containing some of the best writings on late twentieth century designers such as Alexander McQueen and Martin Margiela, the book is as beautifully written as it is illustrated. It argues for the centrality of fashion design and photography to contemporary culture as Evans explains how fashion in the late twenty-century mediated both the anxieties and exhilaration at the rapid technological, economic and social changes and how in its intimate relation to the body fashion can articulate both loss and becoming "new social and sexual identities, masquerade and performativity."
_______________________________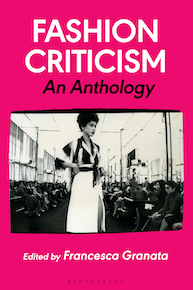 Fashion Criticism: An Anthology, edited by Francesca Granata, is available now from Bloomsbury.
---