Stacey D'Erasmo on the Fun of Writing Cryptic Characters
"The world itself is an ambiguous, complicated place."
The following first appeared in Lit Hub's The Craft of Writing newsletter—sign up here.
I have a lifelong fascination with the in-between. The liminal, the indeterminate, the cuspy: all of this draws me in. In my house are photographs and drawings in which images seem to be just about to disappear, or perhaps emerge. An ex of mine used to joke that in any given gallery or museum, I could be found making a beeline for anything that you couldn't really tell what it was. Sea or sky? Face or cloud? The blurrier the better. I wrote an entire craft book called The Art of Intimacy that was subtitled The Space Between. To me, that was actually the title.
As with many things in life, the in-between has a brighter side and a darker side. On the brighter side is the in-betweenness of gender, sexual orientation, nationalities, oceans, what happens when an animal gazes into your eyes, and the ending of Chekhov's short story "The Lady with the Dog," among other phenomena. On the darker side is the in-betweenness of denial, collusion, crime, and characters (not to mention actual people) who can't entirely be trusted. Or can they? Many thrillers rely on this kind of deep unease—is that helpful neighbor a good Samaritan or a serial killer? is the smiling nurse offering medicine or poison?—because that experience taps a core anxiety about whether we are safe or not.
Conventional thrillers eventually pick a side, the last acts proceed accordingly, and order is restored. Less conventional work may use ambiguous characters to explore the shadowy depths of the heart, social strictures and contradictions, existential questions, or all of these, and more. In order to write a character who can't be trusted, however, and have that untrustworthiness matter, you have to commit to feeling continually unsafe and be willing to head into the in-between space where you might find yourself identifying with a character of whom you don't entirely approve or who even frightens you. Given that writing at all is hard enough, this can seem like a journey you'd rather not take today, thanks.
If, however, you choose to take the risk of spending a lot of time with a character who roams unsettlingly among moral, ethical, or political ambiguities, there is one thing that is not blurry at all to me: everyone is the hero of their own life. Everyone walks around thinking, on some level, If you only knew. True, accountable confessions with a view to making amends are rare. Much more common are explanations, defenses, rationalizations, and self-mythologizing. Not far underneath many an apology is a much sulkier, more stubborn, sotto voce You don't understand what really happened.
In life, this is maddening. In art, it can be a narrative's reason for being and a wonderfully double-edged technical sword. Your ambiguous character is doing whatever they're doing, and saying whatever they're saying, in order to get something that's important to them. Moreover, that thing, whatever it is, including the reader's sympathy, matters to them for a deep, human reason. Gatsby built that mansion, and threw those parties, to win Daisy's love. The fact that it was all built on crime and lies is secondary to Gatsby; all he's looking at is his reflection in Daisy's eyes. To Gatsby, we misunderstand him if we see him as a cynical criminal; to himself, he is a self-sacrificing romantic.
We write, and read, from the way we see things. I like to think, though, that we also write and read from the questions we keep asking.
Most important, the novel doesn't ask us to choose. Through Nick Caraway's eyes as narrator, we see the criminal, the romantic, and the class politics in which this ambiguous character is embedded. Were the novel to moralize in favor of any of these—Gatsby was a villainous manipulator who tricked poor Daisy and everyone else; Gatsby was just a fool for love; Gatsby was a victim of the ruling class—it would go flat. We would close the book knowing just what to think, and never think about it again.
On a craft level, this is fairly simple stuff: we know Gatsby truly loves Daisy; we discover how he made his money so he could pass himself off as someone else; we see that he takes the fall for a crime Daisy commits and is killed because of it. His ambiguity in terms of identity is reframed by the injuries of class privilege, which comes to us very graphically in the plot. But it's a queasy business that Gatsby loved such a cruel, heedless person in the first place. What does that say about him? No one is all that "likeable" here, not even Nick, who passively observes everything and then leaves. It's not like he becomes a union organizer to fight against the system that produced Daisy and her kind. Fitzgerald's relative simplicity craftwise blossoms into endless complexities thematically because he doesn't push these facts into a shape that would let anyone, including us, off the hook. I mean, the parties were great. We know that, too.
I'm sure you can tell by now that my fondness for ambiguous characters in fiction rests on my sense that the world itself is an ambiguous, complicated place in which safety is never guaranteed and clean lines between good and evil are very, very few. We write, and read, from the way we see things. I like to think, though, that we also write and read from the questions we keep asking. In that in-between space, and the people who dwell there, lie many of mine.
__________________________________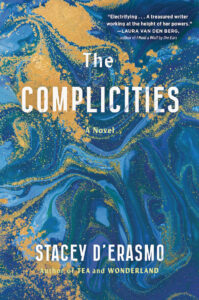 The Complicities by Stacey D'Erasmo is available via Algonquin Books.
---