Some Very Doable Steps Toward a Plant-Based Kitchen
Tips for Batch Cooking, Meat Alternatives, and More
When you choose to eat for the planet, you'll want to be able to cook for the planet. If you're new to plant-based cooking, it's important to know that it does not have to be especially time-consuming. With a well-stocked kitchen and some time-saving strategies, you'll be well on your way to eating healthy, home-cooked, plant-based meals. 
Out with the old
Not everyone is going to go all plant-based, all the time. But if you do decide that plant-based is your goal, before you stock your kitchen with ingredients, you'll want to consider eliminating all animal-based products, including any food made with meat, animal fat, or meat stock. Also eliminate eggs and all dairy products, including cheese, milk, yogurt, butter, ice cream, sour cream, coffee creamers, mayonnaise, and any salad dressings or other prepared foods containing dairy or eggs. 
The good news is that virtually all these animal products can be replaced by plant-based ingredients and products. 
A well-stocked pantry
One key to effortless plant-based cooking is stocking your kitchen with the right ingredients. This includes the nonperishable ingredients on your pantry shelf (the canned, dried, and bottled ingredients); the stash of prepared foods that you keep in your freezer; and the fresh vegetables, fruits, and other perishables that you keep in the fridge. 
Your kitchen should include a variety of vegetables, fruits, herbs, dried or canned beans, pasta, rice and other grains, basic seasonings, nondairy milk, nuts, seeds, and nut butters, as well as ours, spices, and other standard baking items. (Make sure your spices, baking powder, and ours are fresh for optimal flavor and results.) 
Grocery list
What follows is a fairly comprehensive grocery list, broken down by where the ingredients are stored (pantry, freezer, refrigerator). You don't have to purchase every ingredient on the list, and you may well already have many of these items on hand. You will want to tailor the list to your likes and dislikes (and those of your family). In addition to some basic ingredients (such as plant-based milk, fresh produce, and so on), choose some recipes that you want to try and buy the ingredients to make those recipes. Do this every week, and before long, you'll have a well-stocked kitchen. 
Not included in this list are general pantry items such as dried herbs and spices, our, cornstarch, and salt. 
On the pantry shelf 
artichoke hearts, canned or jarred
beans, canned and dried: chickpeas, lentils, white beans, black beans, kidney beans, pinto beans
chipotles in adobo sauce
coconut milk, unsweetened (canned)
dairy-free chocolate chips
dried chiles
dried fruit: dates, apricots, cranberries, raisins, figs, mangoes
dried mushrooms
grains: quinoa, barley, millet, oats, cornmeal, bulgur, couscous
jackfruit, packed in water or brine
liquid smoke
miso paste
nutritional yeast (which many of us now refer to simply as "nooch")
oils: olive oil, toasted sesame oil, neutral vegetable oil
olives
pasta and rice noodles
rice: brown, basmati, jasmine, Arborio
roasted red peppers
soy sauce: tamari, mushroom sauce (vegan oyster sauce)
sweeteners: agave nectar, beet sugar, molasses, maple syrup
tahini and nutbutter
tomato products (canned: diced, whole, puree, paste; sun-dried: dehydrated or oil-packed)
vegan soup base
vinegars: balsamic, wine, and rice 
In the freezer 
breads and doughs: whole-grain breads, tortillas, pita bread, pizza dough, puff pastry, fillo dough, flatbreads
frozen fruits and vegetables (as a backup to fresh fruits and vegetables)
ground flaxseed meal
homemade vegetable broth
nuts and seeds: cashews, pistachios, sesame seeds, pine nuts, walnuts, sunflower seeds, pumpkin seeds, pecan pieces, roasted peanuts
pesto, tomato paste
plant-based "meats," such as veggie burgers, burger crumbles, and veggie sausages
tofu in blocks 
In the refrigerator 
cooked beans or legumes
cooked brown rice
fresh herbs
hummus
plant milk (soy, oat, etc.)
plant-based proteins: seitan, tempeh, tofu
vegan cheese
vegetables and fruits, including dark leafy greens, salad greens (washed and dried), and ready-to-eat, sliced fresh fruit 
Time-saving strategies
Here are some ways to save time in the kitchen: 
Keep a well-stocked pantry: The surest way to make certain you can get dinner on the table is to have a well-stocked pantry, so you can always be just minutes away from a healthy, great-tasting meal. 
Wash and dry fresh produce when you bring it home from the market: This ensures that your ingredients are ready when you need them and allows you to remove any wilted leaves and so on. Exceptions to this strategy are mushrooms, berries, and other fragile ingredients that should be washed immediately before using. 
Pre-chop vegetables and fruits and store them in airtight containers in the fridge or freezer. Freeze cherry tomatoes for easy additions to recipes. Drain and freeze tofu. Double tofu recipes and keep cooked tofu for quick snacks or additions to wraps, salads, and tacos. Double mu n and pancake recipes and freeze the extras—they are just as delicious when rewarmed a week later. 
Keep your kitchen well organized: This makes it easier, when you're ready to cook, to assemble your mise en place, which means gathering the equipment you'll need and measuring out ingredients in advance. Organize your pantry shelves so you know where everything is at a glance. 
Read and reread a recipe: When you are familiar with your recipe, and you have your ingredients and equipment at hand, you will be amazed at how much more easily you can prepare a meal. Good prep can also help avoid kitchen mishaps, such as missing ingredients or burning dinner while you search for a spoon. 
Lettuce and leafy greens will keep much longer if you take a few minutes to prepare them for the refrigerator.
Be flexible: While it's best to plan ahead and make sure in advance that you have everything you need, it sometimes happens that you run out of an ingredient at the last minute. In those cases, rather than dropping everything to rush out to the store, try to determine if you have something in the house that can be substituted. To avoid running out of the ingredients you use most frequently, keep an ongoing grocery list in the kitchen so you can write down items the minute you run out or see that you're getting low. 
Plan ahead
The best way to guarantee that you can get dinner on the table quickly involves some advance planning in the form of an ongoing grocery list and a menu plan for the week. Here are some ways to plan ahead: 
Keep a list of your family's favorite dishes and rotate them regularly. If you are new
to plant-based cooking, you can still make your family favorites by simply swapping out animal products and using the plant-based alternatives. 
Make meals in advance, serving make-ahead, one-dish meals that you just need to reheat on especially busy nights. 
Plan your menus: This doesn't have to be a complete formal menu plan. Instead, just make a brief note, such as "Monday: chili, Tuesday: tempeh stir-fry, Wednesday: pasta and salad," and so on. Having an idea of your menu for the week will help you with your grocery shopping and save you time all week long. Refer to this list when you make your grocery list, so you'll have all your ingredients on hand. 
Keep your grocery list handy to jot down items as they become low. 
Keep a variety of condiments on hand that add flavor to recipes, such as soy sauce, Sriracha sauce, chutneys, and salsas. 
Batch cooking
When time is at a premium, consider doing a weekly cooking session during which you prepare several meals at once. Set aside a few hours to spend in the kitchen and prepare a few dishes to get through the week. Make things that reheat well or that can be portioned and frozen, such as a pot of chili, a hearty soup, a casserole, or a grain pilaf. It's also a great time to cook a big batch of brown rice, dried beans, or vegetable stock to portion and freeze. 
Here are some guidelines for a batch-cooking session: 
Portion and freeze: Cook a large pot of a staple grain or beans, then portion and freeze them for later use. When you need them, just thaw and heat. 
Double batch: Prepare double batches of long-cooking recipes, such as stews, soups, or chili. Bonus: Their flavor improves when reheated, so they're even better when served later in the week or after being frozen for a time. 
Double prep: Double up on prep work, such as chopping onions, when making more than one recipe, so you have enough for both. When you need only half an onion, chop the whole onion and refrigerate the unused portion in a sealed bag. 
Make homemade vegetable stock: Rinse vegetables and greens thoroughly to get rid of sand or dirt. Place discarded trimmings (stalks, root tips, tomato hearts, vegetables that are past their prime but not rotten, greens, ends of carrots, the tough inside shells of onions, etc.) into a stockpot and cover with water. Add a few bay leaves, 1 teaspoon whole peppercorns, and 2 peeled cloves of garlic. Bring to a boil over high heat, then reduce the heat to low and simmer, covered, for 20 minutes. Strain the liquid and portion it into containers, discarding the boiled trimmings and seasonings. Stock will keep in the refrigerator for a week, and indefinitely in the freezer. 
Plant-based proteins
Protein-rich foods such as tofu, tempeh, and seitan are popular plant-based alternatives to meat. 
Tofu is a hearty food that has the ability to absorb flavors, making it extremely versatile. Also known as bean curd, tofu is made from ground, cooked soybeans in a process similar to the way cheese is made. Tofu comes in several varieties. Silken or soft tofu blends into a smooth, creamy consistency and is good for making sauces, desserts, and smoothies. Hard or rm tofu retains its shape, is generally higher in fat, and can be sliced or crumbled. Tofu that is packed in water should be drained before using. Hard tofu can be drained and pressed to remove excess water—to do so, place two paper towels on a plate, then the tofu, then 
two more paper towels, then a cutting board, then a heavy object (such as a book or a bowl filled with water). Let sit for at least 30 minutes. Crumble, slice, or dice it, and add it to the skillet with your favorite vegetables and seasonings. 
Try draining and freezing blocks of tofu. After it thaws out, frozen tofu soaks up marinades easily because it has been drained and then dehydrated further by the freezing process. Freezing tofu also changes its consistency slightly, making it chewier. 
Marinate tofu the way you would chicken or fish—with herbs, citrus juice, cracked black pepper, vinegar, tamari, and/or wine. Cook marinated tofu under the broiler in a skillet sprayed with cooking oil, or on a sprayed grill, until it is nicely browned. 
Tempeh is made from fermented, compressed soybeans and is well suited to using in stews, stir-fries, and sautés. Tempeh turns a crisp golden brown when fried and it marinates well. Originating in Indonesia, tempeh is high in protein with a chewy texture. Tempeh can be found in the refrigerated or freezer sections of natural foods stores, Asian markets, and some supermarkets, and is usually sold in 8-ounce (225-g) slabs. The slabs can be cut into strips, cubed, or grated. Tempeh requires refrigeration, where it will keep, unopened, for several weeks. Once opened, it should be wrapped tightly and used within three days. Tempeh will keep for a month or so frozen. As tempeh can have a strong nutty flavor, it is often suggested to steam tempeh for 20 minutes before using in a recipe to mellow the flavor and make it more digestible. 
Seitan is a wonderful alternative to chicken or beef because it slices and dices easily without falling apart. It is made from wheat in a process that extracts the gluten, or wheat protein. Seitan is an extremely versatile ingredient owing to its chewy texture and the forms and flavors it can take on. It can be diced, cut into strips for stir-fries, cubed for stews and soups, shredded or ground, stuffed like a roast chicken, thinly sliced, or made into sausage, loaves, and burgers. 
Ready-made foods
There was a time—not many years ago—when if you wanted plant-based alternatives to animal foods, you'd have to make them yourself. These days, however, plant-based food products are common in small-town grocery stores, and new plant-based foods come out practically every month. Meat- and dairy-free consciousness has become so prevalent that restaurants that once offered an occasional vegan option on their menus now provide a page of vegan choices, and this goes for everything from the sandwich shop to high-end restaurants. We are also seeing the emergence of plant-based "butcher" shops, where top-quality, organic, non-GMO vegetables are prepared as prime cuts. 
Most well-stocked supermarkets offer rows of plant-based milks made from cashews, oats, and soy, sitting right next to cow's milk in the dairy case, just as vegan buttery spreads perch alongside dairy butter. Also available are numerous vegan varieties of ice cream, cheese, yogurt, sour cream, and cream cheese. Even chain supermarkets and big-box stores carry meat alternatives such as plant-based sausage, burgers, cold cuts, bacon, and meatballs, as well as vegan seafood. 
For maximum nutrition, leave the skins on your vegetables. Most skins are edible and delicious, if they are simply scrubbed first to remove dirt, wax, and pesticides.
For reasons related to health, ethics, and, of course, the environment, food is better when it's made with plant-based ingredients rather than animal products. Plant-based food is better still when it's homemade and not processed. However, it is often impractical to make all your ingredients from scratch. That is where plant-based food products can help. When there's no time to cook, it's far better for you (and the planet) to quickly heat and serve ready-made plant-based products than to eat animal products. Whether you regularly eat ready-made plant-based foods such as burgers and sausages or prefer to enjoy them as occasional treats, the sheer quantity and quality of products now available is simply amazing. You'll notice that several of the recipes in our book call for such products, giving you the opportunity to try some of these foods for yourself. 
Kitchen equipment
Like any kitchen, a plant-based kitchen requires all the basics for efficient food preparation. 
Baking dishes and pans: The most useful sizes are a 9 by 13-inch (23 by 33-cm) baking dish, an 8-inch (20-cm) square baking dish, a variety of casserole dishes, rimmed baking sheets, and cake and pie pans. 
Blender: A high-powered blender (such as a Vitamix or Blendtec) can be a wise investment if you do a lot of cooking at home. The blender is reserved for smoothies, sauces, soups, and anything else you want to make super-smooth and creamy very quickly. Other useful blenders are the immersion (stick) blender, which is handy for pureeing soups and sauces right in the pot, as well as a personal-size blender, which is great for small amounts of liquids, such as salad dressings and sauces. 
Food processor: A food processor is essential for making pesto, pureeing vegetables, chopping nuts, and making breadcrumbs. It is also great for making pie dough, chopping vegetables, and numerous other mixing and chopping tasks. The trick is knowing when it will be faster to cut, whisk, or chop by hand, and that can usually be determined by the quantity of food involved. In addition to a large-capacity processor, some people also have a smaller model that they use for smaller tasks. 
Knives: You can accomplish any task with just three knives: a paring knife for peeling and trimming; a long serrated knife for slicing bread, tomatoes, and other fragile foods; and a good 8- or 10-inch (20- or 25-cm) chef 's knife for virtually everything else. Buy the best quality knives you can afford, and keep them sharp. You can chop more quickly and safely with sharp knives than dull ones. 
Microwave: Ideal when you need a small amount of melted vegan butter, chocolate, or hot liquid, a microwave can also be used to soften hard winter squashes to make them easier to cut. 
Other kitchen tools: You'll also need the various items used to prepare foods, including a cutting board, mixing bowls, baking pans, measuring cups and spoons, whisks, spatulas, a vegetable peeler, and a colander. It's also handy to have a box grater, salad spinner, a hand mixer or stand mixer, parchment paper, and cheesecloth. 
Pots and saucepans: A 5- to 6-quart (4.7-to 5.7-L) pot or Dutch oven with a lid can be used for soups and stews or as a pasta pot. A 1-quart (960-ml) and 2-quart (2-L) saucepan (with a steamer insert) can take care of the rest. 
Rice cooker: Great for making perfect rice every time. 
Skillets: A good 12-inch (30.5-cm) skillet can handle most needs. It can be used to sauté, stir-fry, and braise. A good nonstick skillet is indispensable. A cast-iron skillet is great for certain things, such as cornbread, but it's heavy for everyday use. A smaller skillet is handy when you have only a small amount of ingredients to cook. 
Storage containers: Keep a variety on hand for batch cooking (freezer-to-oven casserole dishes are especially handy). 
Toaster oven: Perfect for toasting bread and also for baking sweet potatoes or foil-wrapped beets when you don't want to heat a large oven. 
More kitchen tips
Before moving on to the recipes, here are a few more tips and tricks to use in the kitchen. 
Cutting, slicing, and chopping: For maximum nutrition, leave the skins on your vegetables. Most skins are edible and delicious, if they are simply scrubbed first to remove dirt, wax, and pesticides. Chop and slice vegetables into different shapes for a more interesting presentation and varied taste. For example, beets can be sliced into thin or thick rounds, diced into cubes, or shredded raw for salads and garnish. Smaller shapes cook more quickly. For example, take care not to cook shredded carrots for as long as you would carrots sliced into rounds. 
Roasting peppers and fresh chiles: Toast fresh chiles and peppers over a gas flame, on the grill, or in a hot skillet until the skins are browned and pulling away from the flesh. Place toasted chiles in a covered container or closed paper bag for 10 minutes, then peel the skins away from the flesh. Cut the peppers in half and remove the seeds and veins. Slice into strips. Make extra and freeze for future use. 
Storing greens: Lettuce and leafy greens will keep much longer if you take a few minutes to prepare them for the refrigerator. Fill the sink with cold water and separate the leaves from the head. Remove any brown bits. Allow the greens to soak for a few minutes or longer to rehydrate them. Layer them in dish towels or paper towels and place them in the hydrator. 
Storing other foods: Guacamole, avocado slices, and peeled or sliced fruits will keep their beautiful color if you store them in airtight containers or zip-top baggies with a splash of lemon or lime juice. Be sure to keep the mother seed with leftover avocado, or throw it in with the guacamole, to help prevent the avocado from turning an ugly shade of green. 
And one more suggestion . . . 
Buy local and in season
Produce that is in season and locally grown is better for you and has more flavor. Try to buy organic when you can afford to, and support your regional community by buying locally produced food from farmers' markets and food co-ops whenever possible.
__________________________________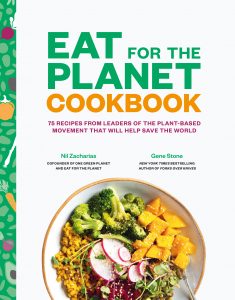 From Eat for the Planet by Nil Zacharias and Gene Stone. Used with the permission of Abrams. Copyright © 2020 by Nil Zacharias and Gene Stone.
---