So Many Damn Books Has Some Ideas for Your Holiday Wishlist
Chris and Drew Open the Phone Lines for a
Recommendation Extravaganza
It's the holiday season and since folks are getting a head-start on their shopping, we opened the phone-lines to some of our Patreon supporters to help recommend some books for their wishlists or to pick up for their loved ones! Imagine Christopher and Drew in a big ol' telethon studio, with phones ringing off the hook and the number flashing across the bottom of the screen… except they're in their respective homes, doing this on Zoom.
Moti (Montreal, QC) was looking for horror-reads for a friend, so we recommended…
Hark the Herald Angels Scream edited by Christopher Golden
Tiny Nightmares edited by Lincoln Michel and Nadxieli Nieto
Seth's Christmas Ghost Stories
Bonnie (Middletown, CA) was looking for messy female protagonist novels for herself, so we recommended…
The Margot Affair by Sanaë Lemoine
Jillian by Halle Butler
The New Me by Halle Butler
Self Care by Leigh Stein
Erin (Portland, OR) was looking for fantasy books or series for her brother, so we recommended…
Ambergris by Jeff VanderMeer
The Dresden Files by Jim Butcher
Sea of Rust by C. Robert Cargill
Check out the episode for more recommendations, and feel free to give the guys a shout @somanydamnbooks if they can help with your holiday book-shopping needs! Remember: buy indie!
*
This week's themed cocktail: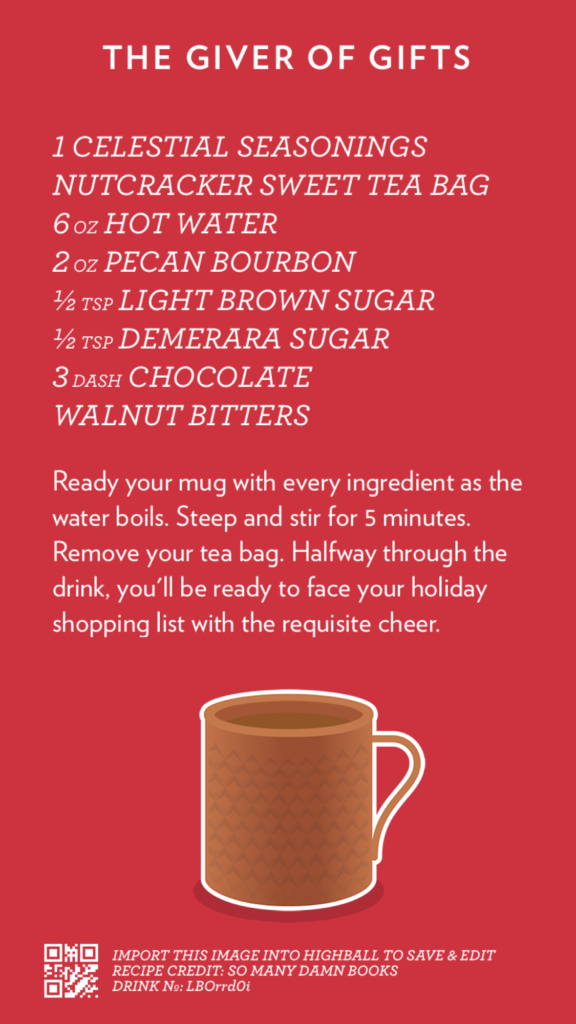 ---