Sinéad O'Connor on Discovering Van Morrison in Her Lonely Early Days in London
"There'll be a lifetime of goodbyes. I can't have a problem with that."
There are about eight million people in the whole of London. That's twice the entire population of Ireland. I'm finding that a little frightening for the same reason infinity is frightening. It's just too big. The Thames is a hundred times the width of the Liffey.
There are always the lights of planes in the sky. Planes from all over the world always on the way in. Planes only fly past Ireland on their way to somewhere else. Unless they're Irish planes carrying Irish people into and out of the country for amounts of money that increase toward Christmas, the very time anyone who's had the intelligence to leave needs to come back for fear of being a bad son or daughter.
I hate Christmas. I feel pain in my soul like someone drove a tree through my chest.
Apart from my cousins and my aunt, the only people I know in London are Chris and Nigel, from Ensign, and Fachtna, my manager.
I spend a good bit of time at Chris's house. He's really kind and nice to me. He looks after me a lot. I suspect he's slightly in love with me, but he has a wonderful wife he would never disrespect.
Nigel gave me two tapes of Van Morrison songs. I never heard him before. He sounds like one of those Tibetan monks, the kind who use their voices for healing. I get hoovered up by him into some university beyond the veil. It isn't about his words; it's what he does with the sounds of them. He's taken me to where I'm supposed to study. I see beautiful stone buildings, golden-buttressed.
My flat has one sitting room at the front of the building, looking out onto Hither Green Lane. A small bedroom next to it and a small kitchen. It's above an Indian grocery shop. The people down there are nice to me; I was friends with their skinny son who was about my age and into music. We didn't fancy each other or anything, it was just a friendship. We'd just sit and shoot the breeze. I had a record player and he didn't. He could smoke a cigarette away from the wrath of his parents.
He was a very sensitive lad. At some point his father decided he needed toughening up and forced him to join the paratroopers. Poor thing ran up my stairs in a panic with terror in his eyes saying, "What am I gonna do?" There was nothing either of us could do. His father had sprung it on him, and he was to leave the very next day.
There'll be a lifetime of goodbyes. I can't have a problem with that.
About two weeks later I heard my bell ringing in the night. I went to see who was there and it was him! He'd run away. I was filled with pride at his bravery. His face was a picture of shock. Not only from what he'd endured over the fortnight—being screamed at, push-ups, all the usual stuff you see on telly—but from the fact he was defying his father.
He was afraid to go home, so he stayed with me and slept on my sofa for about a week, during which I would go downstairs every day and buy the food we were gonna eat, chatting away with his parents, careful not to mention their son (and they never mentioned him), then back up I'd go. Once he left and went "on the run," I never heard from him again. I didn't live in Hither Green Lane for long after that.
I'm lonely but I'm writing songs for my first album, and songs are a lonely person's occupation; songs are ghosts. When my album comes out I'll become a traveling "ghost delivery woman." There'll be a lifetime of goodbyes. I can't have a problem with that.
I wrote a song called "Troy," about my mother and about the minister. I did the demo vocal in Chris's house. I made him stand outside the door. When I let him back in, he was really shaken. He said he'd never heard anything like it or the volume of it. He made me play it over and over.
Sometimes I walk around Fleet Street when it's empty on Sundays because I secretly want to write for newspapers. Not about news or even music, but about poems and plays. I wonder if they would have me. But I never did any exams.
I also go to the Spiritualist Society for the public readings to see how the different mediums work.
I vividly remember getting into a fight with a skinhead outside a red phone box. An East Asian woman was inside, spilling out a million words in some exotic language quick as she could because she had only a few coins. The skinhead dude was yelling at her to hurry up and he started banging on the door, though I was next in the queue. I said he should leave her alone. He detected I was Irish and yelled at me, "London phone boxes are for London people!" I said, "Well, if you lot had left us a thing of our own in our own countries, we wouldn't need to use your manky phone boxes with their stickers of hooers everywhere, so shut the fuck up." Three of his friends were in the queue, and I think I'd have got my face broken if they hadn't started laughing at him because he'd been out-argued by a girl, and, thank God, for pride-saving alone, he had to pretend he saw the funny side. I got to make my call and they all shook my hand when I was finished, then stood back on the path to make way for me like I was Bishop John McQuaid in Dublin imperially strutting down Grafton Street on Christmas.
______________________________________________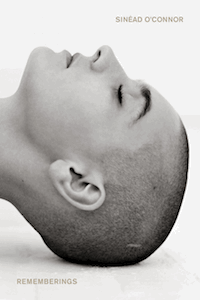 Excerpted from Rememberings by Sinéad O'Connor. Copyright © 2021 by Sinéad O'Connor. Published and reprinted by permission of Mariner Books, an imprint of HarperCollins Publishers. All rights reserved.
---