How the Xenophobic Legacy of Ebola Shaped America's Fear and Denial of COVID-19
Kari Nixon on the Harmful Effects of American Disease
Fantasies Like The Hot Zone
Dallas, Texas, 1994
I remember peering at it on my biological mother's nightstand. I hadn't ever seen her unable to stop reading before, like some insatiable, hungry animal. It was a plain white book, with an angry-looking circle emblazoned on the middle, and the simple title The Hot Zone. It was on the bedside table of every American housewife that summer. Perhaps it's little more than an indication I was always destined to be a literature professor specializing in infectious disease, but I have oddly vivid memories of staring at the book by her bedside, entranced. What could its contents hold that had so thoroughly hypnotized my mother?
"What's it about?" I said, sitting by her one evening while she tried to focus on reading and not on the questions I was itching to ask as they hung palpably in the air around us.
"A disease." Now I was really interested (so, yes, I guess I was always this way).
"What kind?" Here my memory lapses. I'm not sure if she told me the name of it just yet. I do remember asking for all the gory details of what the illness did to a person's body. (See? Always this way.)
"You bleed from every hole in your body."
"Every one?"
"Every single one." She turned back to her book.
"Your eyes?" I inched closer, trying to peer at the horrors, written in black and white, and translate them into my visual imagination.
"Yes." She didn't look up. "Your nose?"
"Mm-hmm."
"Well, that's all the holes there are." Success!
She put down the book and looked at me, thinking. "Your skin has lots of tiny holes, called pores."
My eyes widened. "Do you bleed from those, too?"
"Yup. You die within 12 hours."
I don't remember the rest of the conversation precisely, but I do know that later that week, I had talked my friend next door into developing a song about what I now knew to call "Ebola" in order to educate future generations in early symptom detection. I had heard in music class that "Ring Around the Rosy" was a song describing the Black Plague, and I wanted to help out with the next big disease song. (I repeat: I was, apparently, always this way.)
I'll leave for your own discretion the consideration of whether a mother and a music teacher should have bestowed such grisly details about Ebola and the bubonic plague upon a seven-year-old, but there you have it. These moments marked me and how I thought about disease for a long, long time. What's much more important, however, is the way that The Hot Zone marked all of Western society.
My students leave my courses knowing it's the only book I cry over when I lecture—because, in my mind, it's fiction. At least, its depictions of Ebola and what it does to the human body are vastly inaccurate. Catherine Belling, professor of medical humanities and bioethics at Northwestern University's Feinberg School of Medicine, even notes that Charles Monet—the man whose ghastly story famously opens The Hot Zone—wasn't even suffering from Ebola virus; he had Marburg hemorrhagic fever.
Indeed, Belling notes that "diarrhea and vomiting, along with fever and aches, are typical, and in some cases, these excretions do contain blood. Severe hemorrhages can occur, especially in pregnant women, but the kind of explosive bleeding Preston represents is hyperbolic. He describes the appearance of symptoms in a worst-case clinical scenario." These inaccuracies, combined with the book's wide circulation, created a new set of xenophobic myths about a virus, triggering the need to believe that it can't happen here, that these horrors simply won't happen to Americans. The Hot Zone is one of the most dangerous books ever to become a bestseller.
*
Preston's depiction of Ebola (in my view, an inaccurate and sensationalistic one) catalyzed an American fear so great that it slid easily into denial. Risk aversion, denial, and hubris are surprisingly linked in the human psyche, one leading easily to the other in a never-ending cycle. As discussed in the anti-chapter, it is admittedly scary to truly confront the notion of our own mortality. Preston's depictions of Ebola were so extreme that Americans turned for comfort to the one constant in American disease fantasies: that fatal Western hubris that silently assures us "It won't happen here, it won't happen to us."
The more we think "not us," the more we give pathogens a chance to spread and wind up right at our doorstep.
The entire plot of The Hot Zone—in spite of its classification as nonfiction, it is highly editorialized—is that of a terrifying foreign disease emerging from the bowels of Africa, ultimately to be subdued by American military ingenuity. If that's not the most self-satisfied wish-fulfillment fantasy ever, I don't know what is. While disease in general causes a pendulum swing of panic and denial, in a Western world where we've forgotten much of the specific horror of infectious disease, I think Preston's book is a prime example of how we've developed a zeitgeist of xenophobic panic/denialism in response to disease—one that is as self-defeating as it is bigoted. The book, I believe, aims to incite panic with images of melting flesh and contagious fluids emanating from an undifferentiated Africa (no countries necessary for this xenophobic fantasy). But remember, these are images that don't align with Ebola's actual presentation. American gumption and know-how then conquer the disease (in the book, anyway).
Should we be at all surprised, then, that when Americans heard about the novel coronavirus in China—in January 2020, before we were aware of its presence in the West—they either: (1) completely panicked before they knew much about the disease's spread, or (2) completely buried their heads in the sand? In January and February 2020, my social media feeds were filled with people masking up before the CDC formally recommended it and absolutely obsessing about not touching their faces. In other parts of my life, students were telling me about COVID-19 costume parties, where people congregated in great numbers, dressed in hospital gowns and masks, in obvious flippant disregard for a disease that was killing their fellow humans on the other side of the globe. Such behaviors are only possible when we think an issue won't affect us.
Around that time, I went on the local news to share the same lesson I'm sharing with you here: We can't live in fear or denial. The only certainty we have is that disease will spread to all the hosts it can, and if we can embrace this reality, we can work together with all our global citizen-neighbors to combat it. If we do otherwise, we're simply its next victims.
The legacy of Ebola in America began in 1994 when Preston's book was published. But it continued on in the legacy of the novel coronavirus (foregrounded by the histories of syphilis and HIV), and it makes it clear that the more we think "not us," the more we give pathogens a chance to spread and wind up right at our doorstep.
__________________________________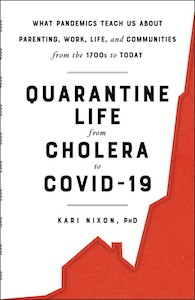 Excerpted from Quarantine Life from Cholera to COVID-19: What Pandemics Teach Us about Parenting, Work, Life, and Communities from the 1700s to Today. Used with the permission of the publisher, Tiller Press. Copyright © 2021 by Kari Nixon.
---