Shirley Hazzard's Heroines and the World That
Misunderstood Them
Zoë Heller on the Collected Stories
The early years of a writer's career are often a period of throat-clearing, of trying on and discarding styles, but in Shirley Hazzard's case, this awkward probationary phase seems to have been skipped: she emerged with her distinctive talents fully formed.
She was 28 years old when she wrote her first short story, "Harold," in 1959. For seven years, she had been toiling unhappily and without hope of advancement in the general service ranks of the UN Secretariat. ("A young woman was given a typewriter and told to shut up," she said later.) "Harold" is a fable of sorts about a group of travelers at a Tuscan guesthouse who are amazed when a gauche, apparently unaccomplished new arrival reveals himself to be a gifted artist. Within a few weeks of sending it to The New Yorker (together with a note indicating that the manuscript need not be returned if it proved unsuitable for publication), she received a letter from the magazine's fiction editor, William Maxwell. Of course they would publish her story, he wrote, and did she have any others they might look at? Her submission, he later recalled, was "an astonishment to the editors, because it was the work of a finished literary artist about whom they knew nothing whatever."
The stories that Hazzard went on to produce in a steady stream throughout the 1960s are not typical literary artifacts of their time. Their characters—single young women and their married lovers, adulterous suburban couples, disillusioned salarymen—are recognizably of the period, but their rigorously elegant style is less so. The stately rhythms of Hazzard's sentences, the epigrammatic precision of her observations, the decorousness of her glancing, ironic blows—have a closer affinity with the classic prose of the 18th and 19th centuries than with the frank, unbuttoned work of her contemporaries.
The possibility of worldly success had never, by them, been entertained; they conjectured only as to the form that failure would take. ("Vittorio")
She had a proprietary way of admiring other people's possessions, as if all good taste were in some measure a tribute to herself. ("In One's Own House")
The three boys, now reseated, looked him over with courteous reserve, exercising that perception for affinities and failings with which public-school life had endowed them. ("Harold")
Hazzard disdained the tendency toward a conversational, plainspoken style in modern fiction. It seemed to her a perverse rejection of art's proper aspiration to beauty. (Writers, she told The Paris Review in 2005, had abandoned "the power of formal language" in favor of trying "to seem casual, sassy, democratic, 'young.'") In Hazzard's work, beauty in whatever form—a sentence, or a table setting—has a moral value. Demotic idiom rarely appears in these stories, even in the mouths of her protagonists, and when someone does use ugly slang or jargon—when, for example, a woman worries an acquaintance will find her "a bit dykey," or a man says "utilize" instead of "use"—it almost always denotes a certain crudeness of character. (By the same token, caring about and quoting poetry is a reliable indicator of virtue—the equivalent of riding into town wearing a white cowboy hat.)
To the extent that these stories withhold earthly satisfaction from their romantics, they might reasonably be described as austere, or even bleak.
Much of the drama in Hazzard's work arises from the bruising interactions between those who are responsive to beauty, and those who are not. Her heroes and heroines are modern romantics who cleave to high feeling and high seriousness in a world largely hostile to their idealism. ("One said 'relationship' nowadays about those one loved," a gloomy bureaucrat muses in "Official Life.") Her villains are pragmatists and philistines who want at all costs to "keep the poetry separate." The puzzlement and condescension that Hazzard's high-minded characters inspire as they make their pilgrim's progress through 20th-century life supply the comedy of these stories. The sufferings they endure for their romantic integrity supply the tragedy. Here is Nettie, the teenage protagonist of "A Place in the Country," responding to the news that her married lover is abandoning her.
Nothing could convince her that this first sharing of her secret existence, more significant even than the offering of her person, represented less than it appeared to. That circumstances might oblige him to withdraw from her she perfectly understood; that he actually felt himself to be less committed appalled her. It confounded all her assumptions, that something so deeply attested should prove totally unpredictable.
This is rather how one might expect George Eliot's Dorothea Brooke to sound, were she to be spirited out of Victorian England and given contraception and an apartment. Nettie is not nearly as clever, or as reliably high-minded, as Dorothea. (In a later story, we meet her again, in early middle age, and discover that she has grown up to become a slightly silly person.) Yet in the moment of Nettie's earnest adolescent heartbreak, Hazzard endows her with something approaching nobility. Urged by her sheepish lover not to "exaggerate the importance" of her broken heart, she understands instinctively that the greater sin is to take matters of the heart lightly.
The portrait of the permissive era that emerges from these stories is a rather somber one. Eros is less the bringer of carnal fun than a dark and rather dangerous force on which men and women (but mostly women) pin their romantic hopes at their peril. Hazzard's female characters are not constrained by conventional sexual morality, inasmuch as they engage in premarital and extramarital sex without compunction or shame, but they evince none of the antic libertinism or experience-gathering curiosity of, say, Mary McCarthy's women. Sex remains for them a solemn rite, a significant act of surrender, and their inability to divorce the act from higher feeling leaves them horribly vulnerable to the emotional sadism and moral carelessness of men.
In Hazzard's later novels, her noble characters are ultimately rewarded for their integrity: they get to walk out of their soul-crushing jobs, to thumb their noses at the insufferable snobs who have oppressed them, to find enduring love with their Platonic other halves. In these stories, the pure of heart are largely denied such satisfactions. They remain chained up in their grim offices, or else they get sacked; the people they fall in love with don't requite their love, or aren't worthy of their love; the people who love them, they don't want. What few glimpses of romantic fulfillment Hazzard affords us are either in rear view, or from a distance: a woman grieving a dead husband in "Cliffs of Fall," two lovestruck Norwegian travelers seen on a ferry in "Out of Itea." ("But what will they eat?" "Tomatoes." "Where will they sleep?" "Together.")
To the extent that these stories withhold earthly satisfaction from their romantics, they might reasonably be described as austere, or even bleak: "Il est plus facile de mourir que d'aimer" is the line that one unhappy wife in "The Worst Moment of the Day" happens upon in a book of Louis Aragon's poetry. Yet, these stories insist, to be open to the difficulty and pain of love is better than to be comfortably protected from its sting. Hazzard's seekers of truth and beauty may suffer, but, as one wise character remarks, "We should remember that sorrow does produce flowers of its own. It is a misunderstanding always to look for joy."
__________________________________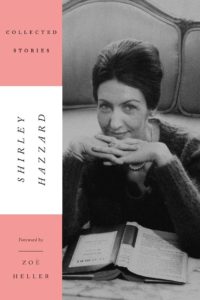 Excerpted from Collected Stories by Shirley Hazzard, edited by Brigitta Olubas, foreword by Zoë Heller. Published by Farrar, Straus and Giroux on November 3, 2020. Foreword copyright © 2020 by Zoë Heller. All rights reserved.
---