Shakespeare and His Stuff
Understanding the Artist Through His Things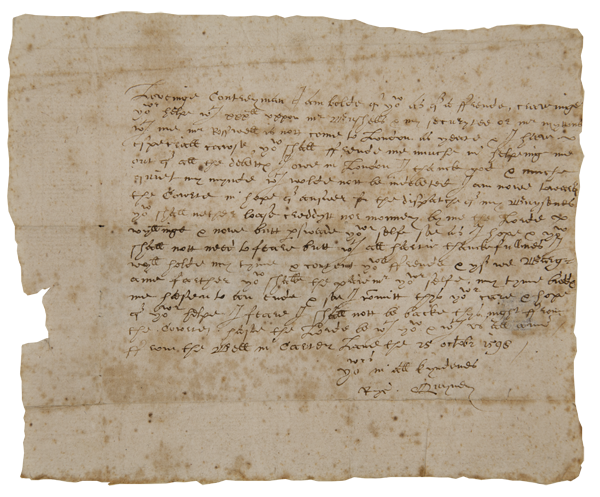 A Letter to Shakespeare
This is the only known surviving letter written to Shakespeare. It was discovered in 1793 amongst the many papers of the Stratford-upon-Avon Corporation archives. On the reverse it is addressed to "To my Loveinge good ffrend & contreymann Mr. Wm Shackespere." It is dated "from the Bell in Carter Lane the 25 October 1598" and signed by Richard Quiney.
The Quiney and Shakespeare families were well known to each other in Stratford-upon-Avon. In 1598, Richard Quiney was in London on civic business as town alderman and bailiff. Stratford was experiencing hard times. Bad weather had caused poor harvests and two fires had caused devastation throughout the town; Stratford was also in trouble with the central authorities over the payment of its taxes. In the letter Quiney asks his friend and fellow wealthy townsman for help in raising money to pay the debts he has incurred on behalf of the town: "Loving countryman, I am bold of you as a friend, craving your help with 30 pounds." The letter highlights Shakespeare's success and status having established his career and wealth in London; Quiney expects that Shakespeare has sufficient funds to act as moneylender, or sees him as someone able to secure credit in London. The letter also clearly illustrates the two worlds in which Shakespeare had influence, in London but also continuing in Stratford-upon-Avon.The letter is surrounded in mystery; did Shakespeare ever read it, did he ever arrange a loan of £30 for Quiney on behalf of the Corporation of Stratford? As the letter was found in Quiney's own archive, we assume it was never sent to Shakespeare, or perhaps they met in London, rendering the letter unnecessary.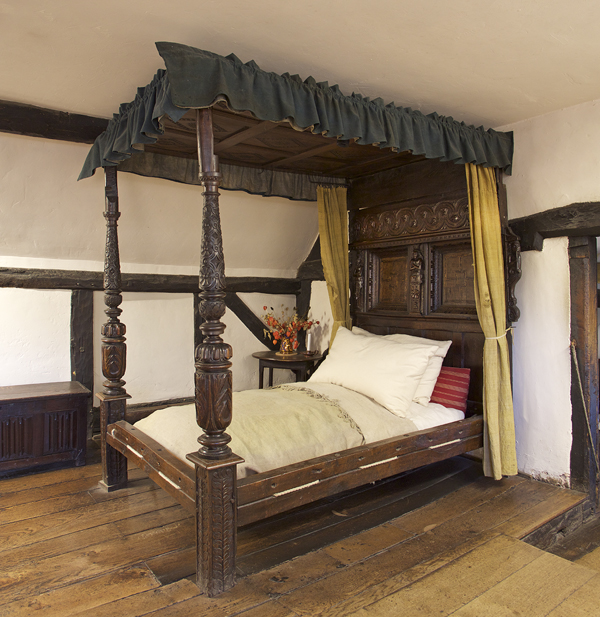 The Hathaway Bed
One of the most expensive items in early modern households of the elite and middling sort was the tester bedstead. This impressive oak, four poster bedstead is English and dates from the 16th and 17th centuries. It is made up of parts from different periods; the tester (canopy) dates from around 1650 while the headboard, posts and rails date from 1580 to 1630. Traditionally known as the "Hathaway Bed," it was purchased by the Shakespeare Birthplace Trust in 1892 along with Anne Hathaway's Cottage itself, and it is thought to have been in situ there for many years prior to this. Shakespeare's wife, Anne, lived at the cottage as a child and the house remained in the Hathaway family for several generations.
Tester beds were a symbol of wealth and status, and were often acquired on the occasion of a marriage to be first used by the couple on their wedding night. This bedstead is decorated in the fashionable Flemish style. Elaborate carving on the headboard includes hybrid human and animal figures known as caryatids and atlantes, and the bedposts and tester are covered with carved flowers and geometric designs. This kind of imagery was associated with fertility and regeneration, and might serve to symbolize the three major rites of passage—birth, marriage and death—each of which took place in beds. As it was not uncommon for multiple people to sleep in a room, whether on the floor or on smaller truckle beds, which rolled out from under the main bed, tester bedsteads were hung round with curtains. These were for warmth, as well as privacy, and were often woven with rich colours and fabrics, perhaps with images of flora and fauna, creating a simulated "flowery bed" (A Midsummer Night's Dream).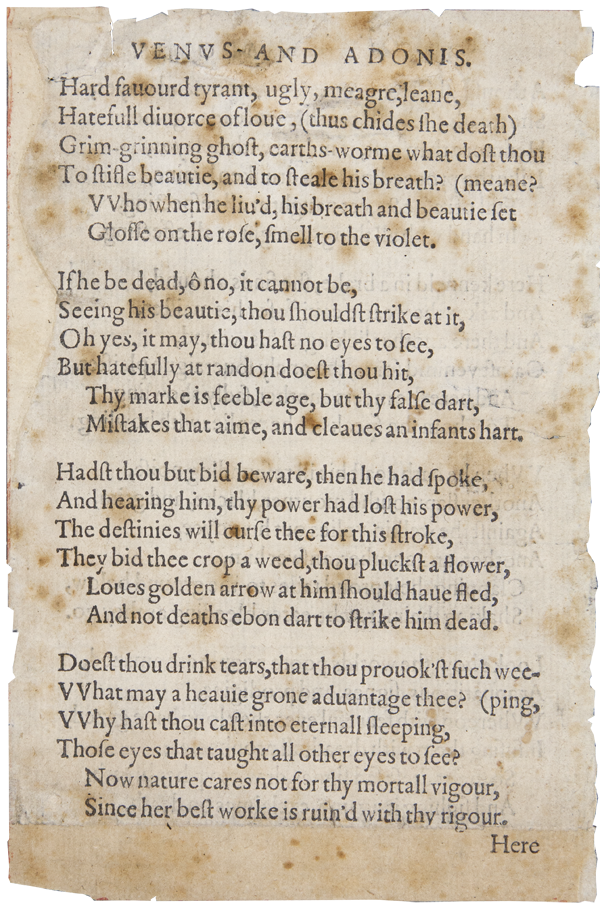 Venus and Adonis
This single sheet of paper is an extremely rare survival. It is a loose leaf from the poem Venus and Adonis. Many will be surprised to discover that Shakespeare's first, and one of his most popular, published works was not a play but an epic poem inspired by a Roman poet. The story of Venus and Adonis is taken from Book 10 of Ovid's Metamorphoses, where Venus the goddess of love falls deeply in love with a human, the young hunter Adonis who dies after being attacked by a boar in a tragic accident. In Ovid's version Adonis is a willing lover, while Shakespeare twists the tale so that Adonis resists Venus; showing off his poetic but also his comedic skills.
Written during a period when the London theatres were frequently closed due to the plague, Venus and Adonis was a huge success, indeed, it was the most popular poem of the Elizabethan age; read by many and quoted in poetry and prose of the day. It was first published and printed in quarto format by Shakespeare's fellow townsman Richard Field, and due to its popularity was printed again and again; and yet of a thousand original copies produced only one full copy of that first edition survives. This single loose page comes from a rare second quarto edition of 1594. It is from towards the end of the poem and contains the lines 907–54, here we read the moment when Venus sees the boar's mouth covered in blood and wonders if Adonis is dead.
When in 1594, the plague abated and the theatres reopened, Shakespeare returned to writing for the stage employing his skills of crafting poetry to the great pleasure of his audiences.
All photos Shakespeare Birthplace Trust.
From SHAKESPEARE AND THE STUFF OF LIFE, ed. Delia Garratt amd Tara Hamling. Used with permission of Bloomsbury Arden Shakespeare. Copyright © 2016 by Shakespeare Birthplace Trust.
---