Searching For Myself in Working Class Art
Cynthia Cruz Recommends Books by Didier Eribon, Mark Fisher, Clarice Lispector, and More
I was already a voracious reader by kindergarten. During recess, while the other children were outside, I would sit, alone, on the rug of the classroom, escaping into the vortex of a book. Back at home, I did much of the same: laying on the floor in a corner of the room, reading whatever I could get my hands on for hours.
In high school I switched from books to records: wasting my days listening to David Bowie's Berlin trilogy, Joy Division or The Jam. These albums were not unlike the novels I'd been devouring: parallel worlds I saw myself in.
Most the books I came across seemed drab to me: boring replications of the middle-class world I saw everywhere I looked; stories in which the protagonist experiences one succinct challenge, overcomes it, and becomes a "better" person for it. These films and books, optimistic and moralistic, ended, usually, in a transformation that left the protagonist happier. My encounters with such works left me feeling alienated. The worlds depicted in these works had no resemblance to the world I knew. Where were the stories of people who worked low-paying jobs and were unable or unwilling to participate in the neoliberal world? In stark contrast, when I came across books depicting the concrete lives of the working class and poor, I saw myself mirrored back in them.
In junior high school, I encountered the German book Christiane F. The book tells the story of a teenage girl living in a high-rise housing project in West Berlin. Alone most afternoons, Christiane seeks an escape from the sorrow and depression she experiences in her day-to-day life. Through a series of encounters, she is introduced to the music of David Bowie and then to heroin, eventually being forced to prostitute herself as a way to pay for her addiction.
After reading the book, I asked my mother to take me to see the film, shown in its original German, at the local independent cinema in downtown Santa Cruz. The soundtrack, which is constructed entirely of music Bowie made during his collaboration with Brian Eno during his time in Berlin, became the soundtrack for my life. I lost days listening to its melancholic soundscape. During this time, junior high through high school, I encountered other texts chronicling the lives of the working class, including Hubert Selby, Jr.'s Last Exit to Brooklyn, Jim Carroll's, Basketball Diaries, and Alan Sillitoe's The Loneliness of the Long-Distance Runner. Though none of these texts had the same impact as Christiane F., I also saw myself in them. These books provided me a respite from the onslaught of neoliberalism's sleekness and sameness.
I was determined to become a writer by the time I finally arrived at college in my mid-twenties. I was obsessed with the writing of Raymond Carver. His sparse everyday language and focus on the quotidian spoke to me. I had a manual typewriter in my dorm room and spent my free time typing out stories about my own life. Over the years, though my interests have changed, I am always drawn to writing by working-class writers about the working class. Here, then, are my top five works of prose in that same category.
*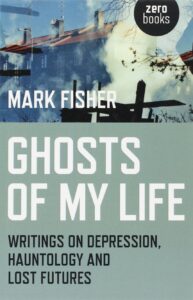 Mark Fisher, Ghosts of My Life: Writings on Depression, Hauntology and Lost Futures
(Zero Books)
Of the late philosopher Mark Fisher's books, Ghosts of My Life: Writings on Depression, Hauntology and Lost Futures remains my favorite. In this collection of essays, some of which first appeared on Fisher's blog, K-PUNK, Fisher explores, among other topics, capitalism and neoliberalism, depression, and the connections between neoliberalism/capitalism, the working class, and depression. Coming across this text for me was life-changing. After encountering this text, I could see my own life through an entirely different frame: I came to understand how my own depression was directly connected to my experience as a member of the working class. The result of this encounter was a sense of community and the ability to begin to understand and articulate my own life through the lens of social class.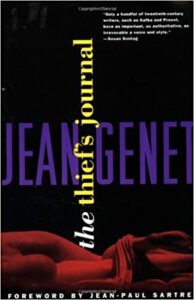 Jean Genet, The Thief's Journal
(Grove Press) 
In The Thief's Journal, Genet's beautiful autobiography, Genet tells the story of his experience as a queer criminal moving nomadically between the streets and prison. Here, Genet's writing is poetic and elliptical and yet, at the same time, never sentimental, moralistic, or evasive. Of the book he writes: "I want to rehabilitate this period by writing of it with the names of things most noble. My history is verbal and I owe it to the richness of the terms, but may the poverty that counsels such choices be blessed." In the current age of virtue-signaling, Genet's embrace of negativity is pure luxury.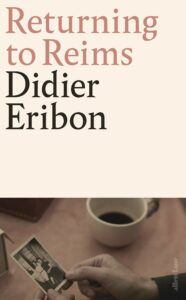 Didier Eribon, Returning to Reims
(Semiotext(e)/Foreign Agents)
In Eribon's memoir, the French sociologist describes returning to Reims, his hometown, and his subsequent reckoning with his working-class background. This text was formative for me when I was beginning to formulate the concept of the melancholia of class. The lives of the working class are varied, complex and do not adhere to the tropes or stereotypes neoliberal society has constructed about us. The author of a number of books including a biography on Foucault, in Returning to Reims Eribon's writing is brutally honest and resists reduction or easy answers:
'Why, when I have had such an intense experience of forms of shame related to class, shame in relation to the milieu in which I grew up, why, when I had arrived inParis and started meeting people from such different class backgrounds I would often find myself lying to them about my class origins, or feeling embarrassed when admitting my background in front of them, why had it never occurred to me to take up this problem in a book or article?' Let me put it this way: it turns out to be much easier for me to write about shame linked to sexuality than about shame linked to class."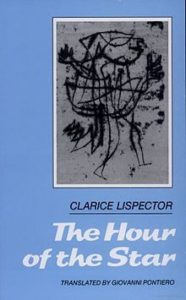 Clarice Lispector, The Hour of the Star
(New Directions)
The Hour of the Star is among Lispector's later works. These works are different from her previous; as Sonia Roncador writes, "Lispector's late style—a declaration of war against her own previous aesthetics and on the institution of literature—coincided with the entrance into her writing of degrading images of poverty and starvation." Macabéa, the book's heroine, a poor, working-class girl, is saint-like, has a rich interior life, and remains unaware of the overwhelming systems that inform and regulate her own precarious existence. Her final work, written as Lispector was dying, The Hour of the Star is a kind of manifesto for the poor and the working class.
Don DeLillo, Mao II
(Penguin Books)
Though Mao II is not specifically about the working class, it is written from the world view of the working class. With its focus on the concrete (DeLillo's stunning description, for instance, of Manhattan's homeless), lived experience, and paranoia (one manifestation of living as a member of the working class/poor under the constant violence and oppression of capitalism is that one may become "paranoid" and distrustful of authority figures), the text is written from the point of view of the working class. I've been a fan of DeLillo's work for many years, but Mao II is my favorite due to its focus on capitalism and its destructive effects on individual lives. Though the book was written in 1991, and though particular circumstances have changed, the overall message remains the same.
___________________________________
The Melancholia of Class by Cynthia Cruz is available now from Repeater Books. 
---